Day 4 (June 16, 2019 – Oslo, Norway): "The Scavenger Hunt"
This writeup is a continuation of the write-up "Completing Experiences" after the first four days of our Scandinavian Trip in Sweden. We pick up from the middle of Day 4…
…At 1:35pm, we returned to the car from Elgafossen. The weather started to drizzle and turn somewhat rainy.
So I guess this was our re-introduction to the fickle Norwegian weather.
Anyways, with hardly anything in the area around Elgafossen for a meal (or at least one that Julie could have given her diet restrictions), we decided to drive to Sarpsborg first and hope to find a place to have a late lunch.
The drive north on the 22 in Norway (was 165 in Sweden) meant that the radio stations were starting to not pick up NRJ anymore and we were now listening to spotty coverage of local Norwegian radio.
Once we got up to Halden, we then drove west past lots more speed cameras before returning to the E6 bound for Oslo.
However, we ultimately got off at Sarpsborg where we eventually got into the center of town, which seemed very quiet for this Sunday afternoon.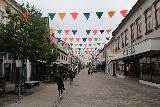 We eventually found a place to eat at this place called the Longhorn Steakhouse. The original spot that Julie wanted to eat at was the Kaffeliten, but it had been closed on Sundays.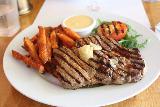 So we sat in and had a fairly pricey lunch (especially given the exchange rates, where the NOK was seemingly stronger than the SEK).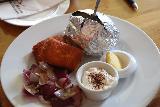 We had ribeye steak and salmon, while we had the veggies prepared simply as just steamed so it would be healthier.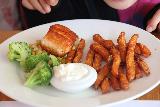 The guy who waited us was very friendly and seemed to love giving Tahia free stuff (well that was because kids ate free here apparently), and he reminded me of the wrestler Fandango for some reason.
Anyways, we were done with the meal at 4pm though we paid over 800 NOK for the meal (almost $100 USD). Indeed, we knew food in Norway was expensive, and we just had to get used to it.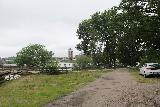 Next, we drove towards Sarpsfossen, and we managed to find some unsigned parking area as we weren't sure where we could stop the car at about 4:10pm.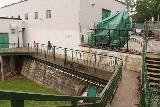 There was another family that pulled over and parked on the road connecting the Knut Bryns vei to much busier 118. We were on the Brattveien.
Regardless, we saw a sign that went to the Utsiktsplata (the overlook platform) for Sarpsfossen, which brought us on an industrian walkway towards the overlook peering right into the turbulence of the Glomma River.
Indeed this waterfall looked intimidating as there was such a rush of dirty brown water (that had that familiar polluted smell like any other waterfall in an urban area with infrastructure around it) spilling and throwing up lots of mist.
The falls had the powerful display reminiscent of what one might find at Niagara Falls but with a much more intimate and better experience than say Willamette Falls or Spokane Falls.
I could only imagine just how much more impressive and a world wonder this waterfall could have been had it not been surrounded by ugly smoke stacks and industrial buildings clearly harnessing the power of the Glomma for hydroelectricity.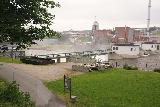 After having our fill of the falls at 4:40pm (including a nerve-wracking look from the 118 on the bridge with passing traffic), we finally headed out of Sarpsborg and towards Oslo in the hopes of ending off this eventful day.
Well, knowing that today was Sunday, we knew that there wasn't much that was open. So Julie sent us to the suburbs of Oslo in search of a place to buy groceries so we may perhaps have a self-catered brekkie.
Eventually at 5:55pm, we found a Rema 1000, but it turned out that the only part of the supermarket that was open was the convenience store part of it. The main part of the supermarket was not open. Bummer.
Regardless, we picked up some eggs, chicken, veggies, fruits, but we didn't have enough water (we had mistakenly picked up water with gas but no flat water).
Anyways, we were back in the car at 6:15pm and looked for the Forenom office so we could finally pick up the apartment keys.
Well by about 7:05pm, we finally found the 7-eleven that Julie's email said for us to go to after the office had apparently been closed since 4pm. Just driving to the area was a bit of a challenge even though it was Sunday light in downtown Oslo.
However, we spent quite a bit of time in the 7-eleven as there was no key code to open the box and get the keys. So we had to call the Forenom customer service.
Eventually, the customer service person had us go to the Dronningensgate 8B address (as the 7-eleven place was incorrect even though we were told the wrong info in the email). He said the key was somewhere there.
We were there at around 7:50pm as this was an apparent scavenger hunt. Good thing parking was light (albeit illegal) so Tahia and I could sit in the car while Julie did her thing talking to customer service.
Eventually, she got the keys when we got back to the car at 8:10pm.
Next, we had to look for the apartment. This time, we finally went to 19 Skippergata in downtown Oslo. And after finding the place at 8:35pm and parked illegally right in front of the apartment, we dropped off the luggage and put our stuff away.
Finally, when that was done, Julie and Tahia joined me back at the car and we drove around looking for a suitable parking garage. We eventually found the Paleet Parkhus, and regardless of how much it cost to not have to drive for the next two days, I just had to eat it.
Indeed, by around 9:10pm, we finally got settled in the apartment, and five minutes later, we had to go back downstairs to a quick casual spot for eating before closing. And we wound up going downstairs to some place called Mamma's Pizza at 9:20pm.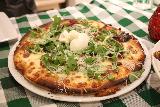 The pizza here wasn't that great, but they did have good ingredients regarding the cheeses.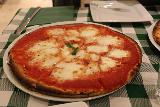 This time, we got two wheels of pizza and a salad, and we wound up paying around $60 USD for the meal. At least it wasn't the $50 pizza that Julie and I got in Hemsedal, Norway back in 2005. But still, we had to get used to high prices, and I just wondered how fast we're going to burn through our money on this trip.
Only time will tell…
When all was said and done, we finally returned to the room at 10:25pm, but it wouldn't be until after midnight when we finally got some shuteye. It was strange how outside wasn't really dark (like a perpetual twilight), and I'm sure that was going to be a foreshadowing of the lack of darkness in this part of the world.
Julie was fretting that we wouldn't be able to visit the interior of the Royal Palace in Oslo because they don't give guided tours until June 22 and later. I guess we were a week too early for that.
Anyways, there was a lot to see and do, and we were intending to make amends for the rushed and not-so-memorable visit to Oslo 14 years ago; especially now that we're older and wiser…