Day 5 (June 17, 2019 – Oslo, Norway): "Haphazard Events"
It was about 6:40am when I awoke. By this time, it was quite bright but overcast outside.
Tahia was long awake as well, but she went right to playing on the iPhone, which I found to be a rather disturbing trend as neither Julie nor I wanted to see her building a dependence on these devices.
When Julie finally came around to waking up, we were out of water, especially when we realized that the water bought yesterday had gas. There was none that was without gas.
Anyways, while Julie was making breakfast at 8:25am, I was sent on an errand run to do the groceries.
However, by around 8:45am, I finally found the Meny supermarket in the Oslo City mall right across from the central station. Unfortunately, they didn't open until 9am.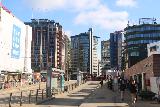 So I took this time to do a little bit of basic sightseeing right around the central train station area. By this time, the skies were bright blue and it was starting to warm up.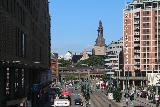 I primarily chilled out at a plaza in front of the train station, then I went over to a bridge over some busy streets with views back towards the Oslo Cathedral.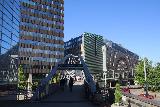 But all in all, without a map and without any real sense of what there was to see and do, it wasn't all that fruitful of a sightseeing jaunt.
I was merely just killing time.
Eventually, after Julie gave me more instructions on the shopping list over the phone (now that we were communicating via text with each other; justification for having two pre-paid sim cards), I promptly returned to the Meny and did the grocery run.
It took a while to end up buying nearly $80 USD worth of groceries, but I figured that we had to have been set for at least the next couple of days we were in Oslo.
Anyways, after lugging the heavy grocery bags back to the apartment, it was 10am and then I could finally have breakfast. Whatever aspirations of being efficient about sightseeing on this beautiful day were dashed as I suspected our late start to the day wouldn't have much benefits.
Indeed, it wasn't until about 11am when we finally started to go downstairs and check out the Oslo City Center.
Of course, we really had no clue how to go about touring the city and so we haphazardly walked towards the waterfront area where we saw an interesting-looking white building with large ramps on either side of it as well as its front.
It turned out that this building was the Opera House, and it looked quite sleek and modern.
We then continued to walk along the waterfront where we eventually walked through the Akershus Festning grounds. And we eventually made it to the Akershus Festning itself (i.e. the castle) by about 11:30am.
Next, we toured the castle grounds, which seemed to be undergoing some heavy restoration or renovation work. All that resulted in some unsightly tarps on the buildings that should have been the barracks.
The turrets of the tower itself was said to have inspired Elsa's Ice Castle in Disney's Frozen. But after seeing this place in person, it just seemed like another medieval castle in my book.
We then bought about 240 NOK worth of tickets to get into the fortress itself. And from there, we pretty much followed the program from room to room.
There wasn't anything particularly remarkable about the interior of the castle itself because most of the rooms seemed to be devoid of furnishings (something that Julie would rather see so she could envision what life must have been like here).
But then again, this place was an active military installation and not so much a royal residence. For that, there were other palaces, including the simply-named Slottet.
Anyways, after having our fill of the views and the self-guided audio tour itself of the Akershus Festning at 12:30pm, we thentried to figure out what was the best walking path to get to the Aker Brygge.
It turned out that there wasn't much of a shortcut way to get there, and we had to bite the bullet and walk past some shipping area to get there.
Eventually, we walked along the waterfront as the amount of foot traffic became more and more. Clearly, we were getting close to the Aker Brygge as well as the City Hall (Radhuset).
And since it was past 1pm, it was about time that had a bite to eat.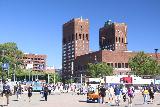 Eventually at 1:35pm, we found ourselves seats at the Fisketorget, ordered three fresh fish – mackerel, monkfish, and halibut. Then, we paid another 199 NOK for them to cook the fish meat that we selected.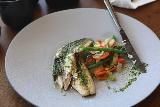 This food was supposed to be as clean as it gets considering the fish we chose were caught from the sea.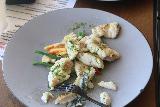 While we were waiting for the food to come out, I did some reconnaisance myself of the promenade in the Aker Brygge while also asking an informal tourist information mobile kart manned by a couple of nice young folks.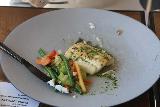 Once I got the info I needed, I realized that any aspirations of visit Frognerparken or at least the Viking Museum would have to be punted for tomorrow since the distances might be too impractical for a walk.
They definitely impressed upon me that we'd have to take a combination of tram and/or bus and/or subway for some of Oslo's main sites. Plus, we had to buy pre-paid cards (it sounded like we wanted the 108 NOK day pass, which would be good for 24 hours).
Anyways, the fish we got was fresh and simple.
Julie really liked the halibut as well as the mackerel. But it seemed like both her and Tahia weren't that keen on the monkfish.
When we were done eating at 2:35pm, Tahia pointed out that the dish of the day was whale meat (though we must have misread it to say "whole meat").
That might have been an alternate to having the monkfish in hindsight.
Regardless, we then walked a bit back and forth along the promenade around Aker Brygge. Then, we headed to the City Hall (Radhuset) but upon getting to the entrance, we were turned away by someone standing at the gate.
It turned out that there was some kind of special event going on and we'd have to come back tomorrow to check out the building's interior.
So that was a bit of a bummer, but regardless, we kept on walking past the National Theater then towards Karl Johans gate.
This buy street full of pedestrians made a beeline for the Royal Palace (Slottet). At this point, there was a little bit of deja vu as we noticed the columned facade of the University before getting up to the grand square fronting Slottet.
We got to Slottet at about 3:35pm, and whilst up there, we noticed quite a few people lined up to one side anticipating some kind of event going on here.
There were guards and a two motorcycle motorcade escorting a couple of fancy black limo-like vehicles that were clearly carrying dignitaries. Whether they were the Norwegian king and queen was anybody's guess.
I don't know what it was about our timing, but these special events were proving to be quite the inconvenience as far as sightseeing was concerned. And yet we always seemed to run into these things.
Case in point of this trip so far, we couldn't go inside Kunglinga Slot in Gamla Stan of Stockholm at the start of this trip.
Then, we had to deal with the Gay Pride parade that forced us to wait out the road closures before we could finally check into our accommodation in Goteborg.
Next, we had the Radhuset closure due to some "special event".
And now, we had this sighting of some important people as they were leaving Slottet.
Anyways, we decided to walk down along Karl Johans gate, which in hindsight should have been the street worth walking going in the other direction (as Slottet would undoubtedly be seen throughout).
We saw the famous Freia sign as well as the Parliament Building.
At around 4:45pm, Julie and Tahia decided they were going to shop for some goods at the H and M.
I didn't join them since I wasn't interested in wasting time shopping for clothes, especially when abroad.
Ultimately, we walked around the Oslo Cathedral before heading to some place called Harald's Vafler (which contained gluten-free waffles).
Unfortunately, according to TripAdvisor, it was at a closed facility on Torgata. It was actually moved to some other plaza that was closer to the university and to Oslo Central.
Upon understanding this issue, both Julie and Tahia lost interest in pursuing the food and decided to go back to the apartment.
By about 5:50pm, we finally made it back to the apartment to essentially call it a day. There was still some unfinished business to attend to (e.g. including picking up mass transit tickets in preparation for tomorrow).
That said, after a brief nap, Julie got right into cooking the shrimp that I bought from the grocery store.
And so ended the sightseeing on this day. But that was leaving us a rather hectic day tomorrow, where the weather was forecasted to deteriorate significantly towards the end of the day.
At 8:35pm, after having self-cooked dinner of shrimp curry, we decided that we should purchase our 24-hour mass transit pass at one of the 7-elevens. Then, take that to the place that Julie wanted to go to for gluten free Norwegian waffles.
Originally, I was going to go all the way out to Vigelandpark, but it seemed like a stretch to get there and enjoy the place as the day was getting darker and into perpetual twilight.
In any case, we headed downstairs, went straight back to the Oslo S Central Station, got our passes (costing us around 270 NOK for all three of our tickets as Tahia's was cheaper), and then took the tram line 12 up to the stop before Olaf Ryes plass (because the tram wouldn't stop there due to construction work).
Anyways, we eventually found Julie's waffle place and indulged. Both Tahia and I got a Nugatti topping (basically Norwegian Nutella) on the cinnamony gluten free waffle. I got whipped cream and vanilla ice cream on mine while Tahia got whipped cream and passion fruit.
Julie just got a plain one.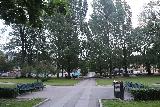 The dessert was satisfying though Tahia couldn't finish hers so I had to eat the funky combo of Nugatti with passion fruit iskrem.
When we were done with the dessert, we then scoped out the gluten free pizza place that Julie wanted to try out tomorrow. So we walked across St Olaf Ryes plass and found Villa Paradiso.
After mulling over the menu and Julie badly needing to go #2, we ultimately decided to have a second dinner at 9:55pm and share a wheel of pizza just before the kitchen was closing at 10pm.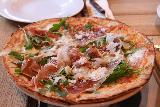 Julie managed to get the pizza to be gluten-free crust while giving in to the parma flavor, which had prosciutto, some kind of nuts (which she scraped off), buffala mozarella, and arugula. It was a delicious pizza and definitely better than the one we had last night at Mamma's.
When all was said and done, we left at 10:15pm (it was turning out to be a very expensive day since every time we eat out or eat a snack, it was costing me at least $30 or more at a time), and then walked to the nearest functional tram stop.
Eventually, we were deposited back in front of the Oslo Central Station, and then we walked back to our apartment on Skippergata. I couldn't believe that we didn't bother to walk the Karl Johans gate from the beginning as it was literally right next to our apartment.
Oh well, you live and learn.
Anyways, with that, we crashed for the night. We at least should have the opportunity to better use Norway's mass transit system now that we've already paid through the nose for our tickets…