Day 6 (June 18, 2019 – Oslo, Norway): "Loveland"
It was about 5:45am when I awoke. Julie waited last night until near 7pm to get ready to try to improve her prospects of recovery.
While Julie was sleeping in, Tahia and I had some kefir and lots of raspberries and blueberries bought from yesterday.
When Julie got up, she made the familiar brekkie of eggs with veggies in a curry.
We ultimately got ready and headed out by 8:10am. It was cloudy outside and contrasted heavily from the beautiful blue skies we were getting yesterday.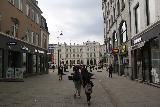 Still not quite knowing the lay of the city when it came to mass transit, we walked for a couple of blocks towards the Oslo Central Station. There, we went underground and took the T-banen (i.e. subway) towards the National Theater.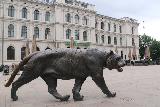 Once at the National Theater at 8:25am, we then waited at the nearest bus stop to take the line 30 towards Bygdoy. That was where we were going to head to the Viking Ship Museum and the nearby Folk Museum.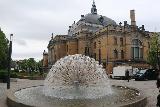 Those were a couple of the must do experiences on Julie's list of things to do after consulting with her Rick Steves book.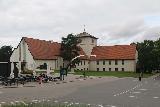 The bus surprisingly got us to the Viking Ship Museum (Vikingskipene Museet) by 8:45am, which was 15 minutes before the opening time of 9pm.
We then patiently waited for the opening of the museum while also using the lockers to store our backpacks (they seemed pretty strict about this).
Eventually, we went in and checked out the impressive Viking Ships, which occupied three of the wings of the building.
The furthest wing contained artifacts like carriages, statuettes, fabrics, staffs, tools, and other things.
It turned out that this museum was the result of excavations and discoveries by local Norwegians, which essentially brought the Viking Age to life.
While we were touring the museum, there was a Spanish tour group that pretty much inundated the museum. However, when we were done doing our museum visit (the part with the paid admission), there were at least two other tour groups which made for a very busy scene.
Right before leaving, we checked out a couple of videos upstairs where the music had a very Game of Thrones feel to it. Even though I didn't really watch the TV series, it kind of made me wonder if it was typical to associate dungeons and dragons type fantasies with Scandinavia.
Regardless, by about 9:40am, we were done with the visit. And it was just in time before the arrival of another couple of tour buses.
Next, we walked back towards the Folk Museum. By about 9:50am, we paid our admission and went onto the open-air museum where we checked out turf farms and some authentic homes from bygone eras from all over Norway.
The priority of this visit was to check out the stav church, and we had to go up a hill to get there. It had a black exterior, which made me wonder if it had tar on it to act as a fire suppressant.
Right across from the stav church, we visited one of the larger residences in the village, where a nice lady working there explained some things to us.
Among the education we were getting from her were the wealthy people who happened to have owned this house in the past. She also explained to us about the harsh winters here and how large abodes tended to be more difficult to retain heat.
Upon asking her about the turf farms, she said that they tended to have about 9 layers of birch trees on the roof before planting grass.
She said that the grass would bind the material and it could even keep moisture out of the house beneath. In some cases, they could even grow roots deep enough to grow trees so there was a bit of maintenance necessary to keep this all natural solution.
She also mentioned to us about how there was a project bringing some of the far north of Norway buildings to this museum but that was a currently ongoing project.
After thanking her for her explanations (as more people were going inside), we then walked around the grounds some more as we checked out more interesting farms.
We then checked out a farm with live horses and geese.
Then, we headed back to the Gamle Byen (Old Town) of Oslo, where there was a re-creation of more modern times post World War II.
Indeed, this Folk Museum was like a time capsule on Norwegian life, and we easily could have spent all day here.
Eventually by 11:30am, we were done visiting the museum and then we caught the 30 bus all the way to the end, where we were hoping to use our transit pass to catch a ferry to Aker Brygge.
Unfortunately, our pass didn't cover that particular ferry. So we had to wait until about 11:50am to take the 30 bus all the way back to the National Theater.
After getting off the bus at the National Theater, we then walked towards the City Hall (Radhuset); getting there at 12:30pm. This time the place was open, but we still had to wait to take a guided tour in order to go inside.
Once the tour commenced and we got past the airport-like security, we were then led to the main hall, which was surrounded with giant murals depicting all the struggles and ideals regarding how Norway became independent as well as how they want the society to run.
It was an educational tour, and it kind of required some assistance to interpret all the mural art as the amount of activity in those murals could be busy and overwhelming, especially given their size.
Eventually at 1pm, we were done visiting Radhuset, and then we walked to the familiar Pipervika Seafood restaurant at the Fisketorget building right at the north end of Aker Brygge. We got there at 1:15pm.
The weather was now more overcast than yesterday as well as threatening rain. However, we did see that the special of the day still included whale meat, which we wanted to try.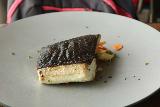 We also got two 200g of halibut since that was the best of the fish we had yesterday. And given these things, it turned out to be a less expensive lunch than it was yesterday though it was still pricey (costing me close to $80 USD by my estimation).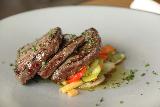 Next, Julie was fretting about not being able to top up our sim cards. So the next order of business was to visit the Telenor kiosk back at Torgata near the Oslo Cathedral, and then see if the clerk there can help us out.
It was Julie's insistance, but as I suspected the clerk couldn't do anything about this. But I guess it didn't hurt to try other than to kill time.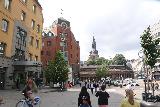 So at 2:10pm, we left the Pipervika Seafood and took the tram line 12 back to the central station. From there, we walked over to the Telenor (getting there at 2:45pm) and that was where the clerk pretty much told us that Telenor in Norway was different than Telenor in Sweden (where we bought the pre-paid sim cards in the first place).
Thus, we still had this issue unresolved.
But at this point, Julie and Tahia were going to go grocery shopping next door. Meanwhile, I was going to take the tram by myself to get to Vigelandspark (or Frognerparken).
Armed with my cell phone (so I wouldn't be locked out as long as Tahia had access to the other phone with the sim card), I managed to take the busy tram line 12 back in the other direction.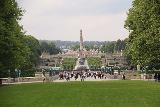 Eventually, I'd get to Vigelandspark at 3:20pm, where there were tour buses parked right at the main gate. There were also quite a few people gathered around some impressive sculptures up ahead.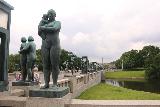 After walking across a long lawn area, I then got to a bridge lined with small green statues (green because bronze or copper turns that color after oxidation).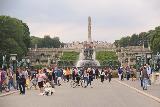 And near the middle of the bridge to the left (facing the big column up ahead), I saw the famous angry boy. It was nowhere near as big as I had imagined as it was merely one of the many of the smaller statues on top of the bridge rails.
I could clearly see that the boy had been touched on the left hand (as the green wore away and exposed a shiny brass there) as well as the tip of his penis.
It was kind of an incidental sculpture, and I was surprised at how few people were around it at the time.
Anyways, the rest of the statues by the bridge seemed to depict people in different postures. And the white ones on top of tall pedestals seemed to show humanoids interacting with sea creatures or something.
As I continued further up the park, I got up to the fountain where it looked like naked bodies were holding up some kind of cauldron that housed the fountain spraying water.
Surrounding the corners of the fountain were other smaller humanoid statues clinging to vines or something like that.
After having my fill of this fountain, I then walked up steps as I was headed up to the column. It seemed to have a kind of dildonic quality to it.
Anyways, as I got all the way up the steps to the column itself (surrounded by other sitting statues in different postures and poses), I could see the column was composed of human bodies all piled and meshing into one another.
It kind of reminded me of a fan video of the B-52s song Loveland where there was all sorts of artistic depictions of people making all sorts of shapes and touching each other.
And this Vigeland statue totally reminded me of something out of that video. Perhaps, maybe the video bit off of something inspired by Vigeland?
Anyways, after having my fill of this dildonic column, I could see there was still a couple more sculptures towards the back of the park.
As I descended the steps, I found myself in front of a half-globe with some smaller engravings showing astrology symbols or something like that.
Then, I continued further up to the back of the park, where there was the so-called Circle of Life, where bodies were bending over backwards touching another body bending over backwards until they made a ring.
It was interesting though it didn't draw nearly the amount of the people that the dildonic column had.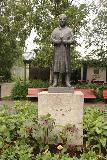 Eventually at 4:10pm, I had my fill of the park and returned to the tram stop to take the 12 back to the apartment.
By about 4:30pm, I got off at the Dronningensgate instead of the Oslo Central Station as it turned out that there was a stop right around the corner from our apartment on Skippergate. Indeed, this was one of those things where you live and learn as you explore the city.
And luckily, as I called the other cell, Tahia picked up and did her best to make her way down, then slipped the room key under the front door so I could open the heavy door myself. Julie had been dead asleep the whole time, and I kind of suspected that if Tahia wasn't awake with the phone, I would have been stranded outside the apartment!
Anyways, I was quite tired as it was kind of like the siesta wind down, which was how my body seemed to be working on this trip. At least I wasn't as sleep-deprived as I was on our first Norway trip back in 2005.
Regardless, I managed to be in and out of consciousness in front of the computer as I was busy processing photos and attempting to blog.
Heck, I even noticed some band playing outside at around 5:30pm but that didn't last long.
Eventually, Julie got up from her nap at around 6:15pm, but she suddenly realized that her little glass cup and metal straw that she used to take her meds was missing! She immediately realized that she might have forgotten it at the Fisketorget or Pipervika restaurant that we lunched at.
So in a desperate attempt at hoping against hope, we immediately got dressed and headed out the door to take the tram 12 back to Aker Brygge.
When we got there, we saw that there was some kind of private function going on. So we had to talk to the bouncers, who then talked to the staff.
But unfortunately, the staff member (who lived in Santa Barbara upon learning we were from Los Angeles) told us that he couldn't find Julie's cup and metal straw. It was likely to have been thrown away.
So with that, we were now on a different mission. We now had to buy a replacement set of metal straws as well as a replacement cup for Julie to take her meds.
After taking the tram 12 back to the Oslo Central Station, we then walked back to Torgata where we saw a shop that looked like the closest thing to a Target.
Inside there, we ultimately picked up replacement metal straws as well as a sturdy plastic cup. The cup wasn't ideal, but they didn't have any stainless steel cups.
Regardless, Julie now has what she needs as far as taking her meds again. Then, we walked over to a chemist (apotek), where she wound up buying another $50 USD worth of meds to try to sleep through chest congestion and cough.
Eventually by 7:15pm, we were back at the apartment where Julie could finally start making dinner.
However, there were still more things on the honey-do list. So at 7:50pm, I went back outside to go on another grocery run to pick up some water as well as a ginger and garlic.
Only at 8:35pm did I return to the apartment after dropping off the waters at our car. And so ended this rather eventful day where it seemed like we got to know Oslo quite a bit better than before.
But tomorrow, we were headed to the fjords, where we were well aware of the weather being more variable and how our excursions would be at the mercy of Mother Natures' whims when it came to the conditions.
The forecasts weren't looking promising for the places where it counted (for Kjeragbolten, Preikestolen, and Trolltunga hikes), but we'll just have to play this by ear and take the opportunities where we can even if the weather wouldn't be ideal…