Day 7 (June 19, 2019 – Rysstad, Norway): "Newbie Mistakes No More"
It was 4am when I awoke to a weird sounding alarm.
It took some time for me to process what this alarm was when it suddenly dawned on me that it was our home alarm!
So the first thing I did was to get up and check the phones. Sure enough, when I saw the footage, I saw that it was Julie's mom who had opened the door while it was still armed.
I guess they didn't realize that we were asleep (to disarm the home) as we were about 8 or 9 hours ahead of them.
Anyways, I managed to disarm the alarm, then communicated with Julie's Mom and our next door neighbor who was also helping her out.
Eventually, Julie got involved so there would be no more language barrier as they'd be communicating in Hainanese (my Mandarin wasn't the greatest to communicate effectively with her Mom anyways), and that was that.
Then, Julie went back to bed for another hour while I was busy washing the dishes, getting packed up, tending to my dental hygiene, and preparing kefir breakfast for both Tahia and I.
Ultimately, Julie got up and cooked breakfast, and after all the hoopla about sorting out the trash, we eventually left the apartment and headed to the Paleet P-Hus at 6:45am.
Ten minutes later, we finally loaded up the car, paid the parking fee (I paid near 1000 NOK or over $110 USD to park here!), and then drove off.
Like with our first trip to Norway in 2005, we followed pretty much the same driving route as before.
We drove southwest towards Drammen before going further inland to Hokksund then to Kongsberg (where we saw a surprise waterfall that reminded me of Willow Falls) before continuing west to Notodden.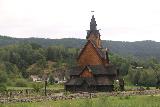 Just to the west of Notodden, we then arrived at the Heddal Stavkirke (Stave Church), which was something we only briefly stopped to take the exterior of in the past.
But apparently, we showed up an hour too early at 9am (it opened at 10am) so we had some time to kill to take pictures around the outside of the church.
There was a large graveyard surrounding the church, which was something a bit unusual or unexpected on our part. Then again, we didn't make a thorough visit the last time we were here 14 years ago.
Anyways, it didn't take long before we were done taking pictures of the wooden church from all possible angles under the overcast skies.
So rather than wait out the whole hour just to take a peek inside, we ultimately left the place before they opened.
We still had stuff to do the rest of the day, and the stave church wasn't the main thing. Besides, we still had two more chances to go inside one of these churches later on in this trip.
So with that, we took off at around 9:35am and made our way west to a junction with the 361, then we joined up with the Rv37 en route to Tinn then Rjukan.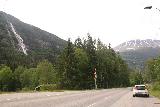 Along the approach to Rjukan, we started to see an imposing mountain still with snow on it. Although the skies were still overcast, we could see most of the mountain.
It turned out that this was Gaustatoppen, which was said to be one of the most beautiful mountains (if not the most beautiful) in Norway.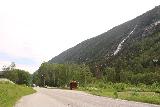 I managed to make a couple of roadside stops to take pictures of it. Right across the Rv37, I noticed a familiar-looking waterfall that was definitely not a tiny ephemeral one.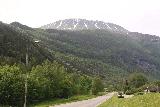 In fact, at the first pullout I was able to take, I managed to capture both that waterfall (I still don't know its name) and the Gaustatoppen in one shot.
The mountain was indeed impressive, and I'm sure we could have easily found an excuse to spend more time here to go up near its summit or go up a different road across the valley to get a more full view of the mountain.
Regardless, we wound up eating at a kro (cantine) in Rjukan town at around 11am. The choices were quite limited in town, especially with Julie's food sensitivities, but we decided we could order here and have them not put stuff like sauces or breadings, or even just bread.
The food costed us over 520 NOK (which was like nearly $60 USD), but at least we were fed and ready to pursue the Rjukanfossen waterfall (something we totally whiffed on the first time we came here 14 years ago).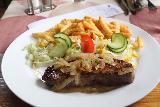 While the food was pricey, it wasn't that far off from what we've been spending back at home (if you account for the 25% markup on the hidden cost of tax and tip). In fact, Europe in general may seem expensive because the price you see is the price you pay.
No sneaking up on you with the extra costs like what happens back at home.
At about 12:10pm, we left the Hytterby cantina in Rjukan and then continued driving west out of town in pursuit of the main waterfall.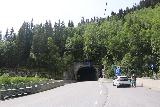 When we finally got to the Rjukanfossen pullout at 12:25pm, the most striking thing about the pullouts on either side of the tunnel were that there was no signage specifically for the waterfall.
No wonder why we couldn't figure out how to find this waterfall back on our first visit. That was when the internet and social media didn't even have much in the way of finding this spot if you weren't a Norwegian local.
Anyways, after crossing the road, we walked up what appeared to be the former road (Maristien?) before the Maristigen tunnel was built.
Along the way, we got some partial views looking back in the direction of Rjukan and the Vemork Power Station.
That power station was an instrumental part of the history of WWII since it was a heavy water facility – one of the ingredients to make a nuclear bomb.
The walk to the view of Rjukanfossen didn't take long. In fact, it was shorter than I had anticipated. However, there were dandelion-like things snowing all over the place.
To our surprise, the waterfall was actually flowing quite well! I had anticipated that this waterfall wouldn't have much flow since it was regulated and only allowed to flow for certain occasions.
I wondered what was the occasion this time around. Regardless, at least I wouldn't have to wait for July 24-27 to see this falls flow as coincident with some kind of local play that would take place here called Marispelet.
So we spent quite a bit of time checking out the waterfall from as many different angles as we could. I even managed to get all the way up to what appeared to be a shelter (which was nothing more than the far end of the Maristigen Tunnel).
It was too bad that the sun was right above the falls so we were somewhat looking against the sun (this was probably more of a morning waterfall).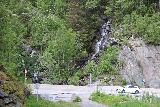 Still, I wasn't going to complain considering that this waterfall flowed well and displayed why it was Norway's "Cradle of Tourism" before it was regulated for hydro purposes.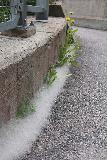 By about 1:15pm, we had returned to the car. The funny thing about our visit was that we were the only people here.
There were lots of cars that had passed by through the tunnel totally oblivious about the falls. Little did they realize what they were missing!
Anyways, the next leg of the drive was going to be a long one as we would go from Rjukan to Rysstad in Setesdal Valley. It was hard to believe that on our first visit back in 2005, we were nuts enough to drive all the way to Kristiansand via Setesdal Valley after visiting Rjukan with a start from Oslo!
As we continued to drive west, we passed by some familiar moorish or tundra-like mountain plateaus with tarns and even the odd patch of snow.
The weather also seemed to give way from partly cloudy skies to more ominous looking conditions as the clouds became darker and it eventually started to rain persistently.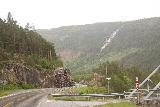 I was also fighting a little bit of road fatigue as the drive was slow and long. The roads taken didn't have center divider lines because the roads were tight even though they supported bi-directional traffic.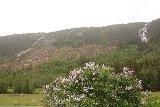 I remembered back on my first time driving here, the narrow roads took a bit of getting used to. However, these days, I've been versed enough in driving in Europe (particularly mountain roads) to be somewhat accustomed to this.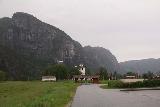 I don't even flinch that much anymore when it came to scootin by cars at near speed going in the opposite direction as us on these narrow roads.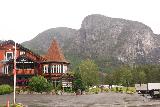 Eventually at about 3:55pm, we finally arrived in the town of Rysstad. Along the way, we made a brief stop or two to check out the familiar Kallefossen though with the rain, we didn't linger outside of the car for too long.
Once in Rysstad, we did a grocery run at the Coop in town. I also filled up on gas where the rates here were a whopping 16 NOK (nearly $2 USD) per liter!
We wound up buying quite a bit of food for tonight's dinner as well as breakfast tomorrow morning.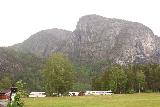 At 4:45pm, we checked into our hytte (cabin) at the Solvgarden Feriesenter which had a full kitchen but the place was a bit on the cold side as it lacked insulation and the outside weather didn't help.
We were also charged 450 NOK for renting towels and bedsheets (around $50 USD) which we treated as part of the room rate, but we mind as well buy our own! This wouldn't be the first place that does this on this trip either!
Speaking of the rain, the forecast for the next three days weren't looking great and that was going to put my aspirations of doing the Preikestolen and Kjerag hikes in jeopardy.
Anyways, I also checked the forecast for tomorrow morning concerning whether I should re-visit Reiarsfossen today rather than first thing tomorrow.
And it turned out that they were also predicting rain tomorrow morning. So why wait?
After getting settled in the hytte at 5:10pm, I went out on my own to continue on the Rv9 further south of town towards the Reiarsfossen.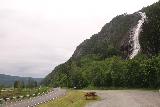 I'd eventually get there at about 5:40pm, and it still looked every bit as impressive as when Julie and I first saw it 14 years ago.
So far the weather was holding up when I showed up at the falls though it was still raining on and off during the drive here.
After having my fill of the official view from the bottom, I then pursued some kind of wide path before reaching a side branch of the trail that went through overgrown (with poison oak) spots. This was something that we didn't do before so I wanted to check it out.
Eventually, I scrambled my way up to some rocks (while dodging poison oak with my bare feet in Chacos) where I could get a look up at the impressive Reiarsfossen.
A young couple that just showed up when I got started also went to the rock before me and did their thing in documenting the experience.
I'd eventually have my fill of this viewpoint of Reiarsfossen at 6:05pm. Then, I took the car across the street towards the familiar camping area, where I could also get a nice contextual look at the falls.
And unlike the last time we were here when Julie and I were squinting against the late afternoon sun, we would have no such problems today given the overcast skies. However, the campground seemed like it had grown over the years.
It wasn't as wide open and as grassy as I remembered it when making the visit with Julie. So there were more things in the way, and it seemed like I was intruding on someone's property without staying here.
Anyways, satisfied with my visit of Reiarsfossen, I started heading back to the Solvgarden hytt in Rysstad.
It wouldn't be until about 7pm when I finally got back, but I took my time as I had noticed beautiful views of the Setesdal Valley as well as some secondary waterfalls.
The scenery of the knobby and steep granite-like cliffs were very much reminiscent of driving through Yosemite. Even with the low clouds and on-and-off rain, it was moody and beautiful.
Perhaps there was no coincidence about the resemblances to each other because there was clearly evidence of glaciers that might have shaped this place just like in Yosemite.
There was even one waterfall backed by the tall Yosemite-like cliffs reflected in the calm river or lake that I could see from a bridge near a side road leading to what appeared to be someone's farm just south of Rysstad.
Once I got back at 7:10pm, Julie was busy cooking but she noticed some weird white stuff growing or coming out of the shrimp we had bought earlier.
She wanted us to go back to the Coop to return this shrimp. So I guess the day still wasn't over yet.
Back at the Coop, after a little bit of debate with store clerk, Julie did manage to get her faulty shrimp refunded, and we managed to salvage a ground beef dinner.
And eventually by 7:20pm, we managed to accomplish our mission, and Julie could finally finish cooking with a clearer conscience as we cooked ground meat instead of spinning the roulette wheel with seafood from the supermarket.
When all was said and done, we got cleaned up and looked forward to sleeping in somewhat given that I had accomplished as much as I was reasonably able and willing to do considering the wet conditions.
And so ended this eventful day. With the last-minute change to finish Reiarsfossen today (instead of tomorrow), I definitely looked forward to sleeping in. Now's the time to relax and see where the weather and circumstances will take us next.
But I gotta say that it wasn't looking real good considering the rain was definitely coming down this night.
I had to hope against hope that I wouldn't be hiking in this hike of weather around the Lysefjord – particularly for Kjerag and Preikestolen (the two hikes that made me anxious about the weather).