Day 8 (June 20, 2019 – Stavanger, Norway): "Not Going To Be Denied"
It was 6:30am when we awoke. The original plan was for me to wake up early and visit Reiarsfossen while Julie and Tahia could sleep in.
However, given the weather forecast, I wound up visiting Reiarsfossen late yesterday.
It was a good thing I did this because indeed the weather forecast was spot on about the continuing rain. Besides, after all the long driving and sleep deprivation from earlier on in the trip, the sleeping in was welcome.
So we took our time preparing breakfast, getting packed, and getting ready for the day. This was becoming our usual routine by this point.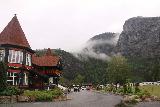 Outside the cabin, the weather seemed to have finally calmed down a bit, which revealed some very moody skies as clouds were clinging to the vertical Yosemite-like cliffs of the Setesdal Valley.
Ultimately by 8:50am, we finally checked out of the Solvgarden cabin and left Rysstad for the Dirdal Highlands.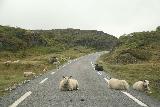 As we drove up the road, it started to become that familiar narrow paved mountain road where white dashed lines defined the "shoulders" (if you can call it that) while there were no dividing lines in the middle of the road.
That's because the roads were too narrow to have them. So it was essentially like driving 1.5 lanes and we'd have to drive into the "shoulders" for other cars to pass by.
Where the road was even narrower single lane, there were plenty of pullouts to let people go by (even faster drivers pass us if we were courteous enough to do that).
Anyways, this Summer only road passed through the highland moors where the terrain was mostly tundra with some alpine tarns or mountain lakes.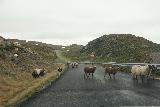 One thing I noticed about the moorish highlands in Norway (and even Scotland for that matter) was that you don't have to go that high in elevation (we were only around 3,000ft or so) the further up in latitude you are.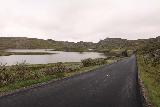 However, when you're closer to the equator, you have to be well over 10,000ft to experience such tundras.
Even with the dreary weather, the scenery up here was stunning. I was once again reminded of how rewarding driving in Norway can be regardless of the weather – just like it was when Julie and I first drove around the country 14 years ago.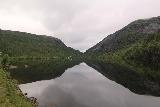 But now that we're older and wiser, we tended to take things a little more slowly while appreciating more of the subtle aspects of every experience to really make the trip more meaningful as well as memorable as opposed to how we used to tour just the highlights (like how most people travel).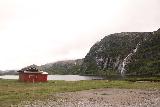 The weather seemed to be improving somewhat in one stretch in these moors before it started to go into Gjesdal, which was another stunning valley with granite cliffs flanking it.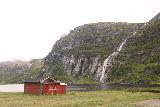 Along the way were more waterfalls that I'd imagine were nameless though they were definitely legit and not just some other random miscellaneous ephemeral waterfall.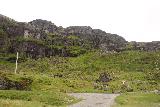 There was one in particular that we stopped for at 10:20am where a waterfall spilled into a lake as we watched from a clearing with a lot of barrels or something.
The road went from the Fv337 to the Fv987 when we crossed over from Aust-Agder county to Vest-Agder county. I had read somewhere that they were going to merge the two Agders though I wasn't sure if that was still the case during this visit.
Regardless, the road eventually joined up with the Rv45 where we kept going west instead of taking the other road which would lead to Lysebotn and the Kjerag trailhead. That would be for another day.
Eventually, we drove to Gilje, where we then turned off the Rv45, we then drove past the town and entered a spooky nearly 5km tunnel going towards Frafjorden.
The weather seemed to continue to be rather rainy and the weather seemed to continue to threaten to get worse as we went deeper into Frafjorden.
Unlike the last time we were here when it was mostly sunny, I had to reset expectations about what this experience would be like.
Indeed, there wouldn't be a rainbow at Manafossen, and we would have to contend with slippery terrain regarding the climb up to the viewpoint while holding onto chains.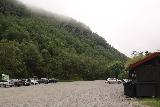 I didn't remember there being many steps being set up the last time we were here, but I wondered if they had improved the trail over the years.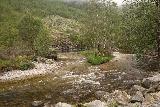 Anyways, we finally reached the Manafossen trailhead at 11:10am where there were quite a few cars parked at the trailhead.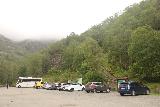 The last 600m of the road was somewhat unpaved or of a different grade than the asphalt we had been driving to this point.
Regarding the car park, it was definitely more visited and popular than when we did it 14 years ago judging by the number of vehicles parked here (and still coming in).
Somehow, we missed Eikeskogfossen on the way up, but I figured that we'll seek it out on the return.
After it took Julie and Tahia some time to get ready, the weather went from somewhat calm to drizzling rain. It was bad enough that I had to don a rain poncho while Julie and Tahia were wearing heavier waterproof jackets.
Indeed, we didn't start hiking until 11:25am and I wondered if this delay would cost us.
The hike was just as I had remembered it before. There were definitely chains to help with the trickier and more slippery parts of the climb (going down was definitely going to be tricky) and there were a couple of spots with steps.
There was also a mobile spot where we could pay for 40 NOK for the parking at the trailhead without putting in cash or coins (since there was no reception at the car park).
The climb continued as Julie and Tahia carefully made their way up. There were lots more people going down (including a very large group of younger individuals probably in their 20s).
When we made it up to the Manafossen overlook, we managed to make it just in time before clouds started to descend on the falls. There were already clouds threatening to block the view when we showed up.
So we quickly took photos and videos for as long as the falls remained visible. There were also tiny bugs that seemed to be biting though they didn't look like mosquitos and I didn't see any welts coming from their bites.
Indeed, barely a couple of minutes into our visit, the clouds really descended even deeper into the gorge with Manafossen so it not only concealed an upper waterfall in the distance, but it also concealed the main waterfall itself.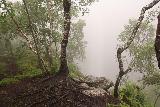 There in lies the problem with rain when you have big waterfalls like this. The low clouds tend to kill the view.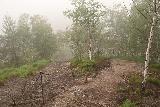 To rub more salt in the wound, the weather started to produce more rain and drizzle as we waited for the weather to cooperate a little more.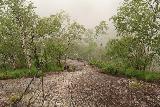 Eventually by 12:30pm, we gave up on the wait and headed back down the 400m trail.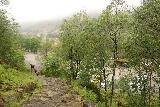 Since the descent was trickier and more slippery, I used the chains as hand-holds while keeping my back towards the open and facing the slope.
That way, the weight distribution was right and I wouldn't be facing the descent with the weight the wrong way.
By about 12:50pm, I was back at the car park when it was raining again. Inside the car, I was feeling a bit chilly since I was getting hit with the rain while I was out there.
As we left the Manafossen car park, we then made a brief stop for Eikeskogfossen. However, I actually had to park at a pullout a little more downhill than the nearest one (which was now an apparent driveway occupied by two local vehicles).
After having my fill of this waterfall, we then continued driving back down the mountain and back onto the Rv45 as we made our way to the E39, which would ultimately go to Stavanger.
This was another lesson learned from the last time where we had aspirations of doing things like Preikestolen and Manafossen as well as Kjerag, but we didn't stay in Stavanger.
This time around, however, we were spending three nights here. So that should at least give us some weather flexibility while also affording at least me the ability to do the long hikes.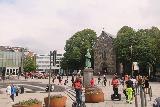 Since we weren't allowed to check in until after 3pm, we drove towards a car park near the harbor at the city center. We wound up arriving at St Olavs Plass car park at 2:15pm.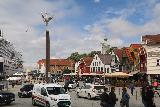 We figured we can walk to the harborfront and look for a lunch to kill some time before checking into the apartment.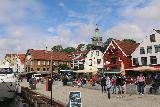 The lunch was at this place called Fisketorget. Julie was lured to this place because she knew seafood stood a good chance of being gluten free and fresh.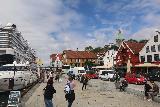 So after placing an order for a traditional Norwegian fish stew that was tomato based as well as the catch of the day and a shrimp sandwich for Tahia on gluten free bread, I then took advantage of the food preparation time to do a little exploring of the harbor.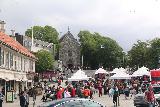 I picked up a map from the info center at the far left side of the harborfront, where the walkways were full of cruise passengers who have disembarked.
There were many more that also waited for Lysefjord cruises.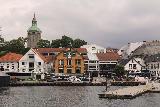 Anyways, with the weather forecast calling for only partly cloudy skies in the afternoon, I figured that today would be my opportunity to finally hike the Preikestolen.
I knew I would be getting a late start, given that we still had to check in and drop off luggage after this late lunch. And this would be kind of a deja vu moment since Julie and I also attempted to do the same thing 14 years ago with a late afternoon hike.
However, this time, I knew that the hike was going to take 4 hours (and not just 2 hours as I had previously thought before), and that we were staying closer by in Stavanger as opposed to way further up north in Sand.
Indeed, I was not going to be denied this time around. Waiting 14 years was too rare of an opportunity to mess this up.
By the time I had returned to the Fisketorget, the food was ready.
It turned out to be a pretty good as Julie's catch of the day was very good.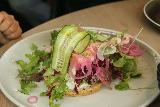 Also the tomato-based traditional fish stew that was recommended by the waitress was also very good (something that Julie was willing to take the lectin from the tomatoes for).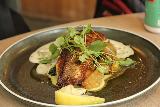 Tahia's shrimp sandwich on gluten-free toast was also pretty good (reminding me of the shrimp salad that we had in Narvik 14 years ago while almost witnessing the midnight sun).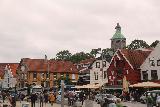 We ultimately left the restaurant satisfied with our meal at 3:25pm. However, the waitress brought to my attention that our bill ended up being 666 NOK, which drew chuckles from everyone.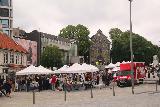 Hey, at least we knew that we were going to Hell (near Trondheim) just like 14 years ago, and we literally went to Hell and back. So I guess this was nothing new to us.
Eventually at 3:55pm, we managed to park at the front of the apartment that was on our itinerary on Solbakkveien 12.
However, upon studying the text messages that Julie got from the proprietor, it turned out that we had gone to the incorrect address.
Instead, we were supposed to be staying closer to the center of the city near the harborfront.
So we ultimately drove back into town where there happened to be street parking when we got to the apartment at 4:05pm.
However, we had to pay for 2 hours since the street parking fees didn't end until 6pm through 8am the next morning. In the end, those two hours costed us around 40 NOK, which in the grand scheme of things actually wasn't that bad (it was more like $4-$5 USD).
After dropping off the luggages, I left Julie and Tahia in the apartment while I went out to pursue Preikestolen, finally.
I left at 4:25pm and now I was on my own to make this hike a reality. The drive was fairly uneventful though there was a bit of heavy traffic on the E39 as I was heading south.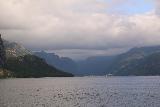 Eventually, I left the E39 near Sandnes and then drove northeast on the Rv13. This road took me to the ferry at Lauvvik, where I then paid the 84 NOK to get on board and be taken to Oanes. I got there at 5:05pm.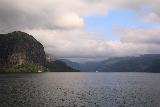 Once at Oanes, I then followed the long caravan of cars continuing to make their way further north into the Ryfylke area while I got off at the well-signed Preikestolvegen.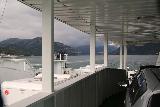 I then ultimately made it to the Preikestolen car park at 5:45pm. There were still lots of cars parked here, and I saw that they instituted a system where the parking was a hefty 250 NOK flat rate.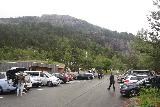 I was surprised that even though I was getting a late start that there was still this many people here though I figured that most of them were already finishing their hike.
So I wasted no time lacing up the hiking boots, getting the backpack on with 2x 1.5L bottled waters as well as a cherry bag in my pocket and some cassava chips that we brought from home that Tahia had already opened up and started to eat.
I figured that ought to hold me over for this long uphill hike.
I then hiked as quick as I could as I was ascending the familiar rocky path that I knew relentlessly climbed for almost the entire 4km route leading up to Preikestolen.
Just about everyone I had encountered on the trail were going back down at this time.
There was one lady who I had actually passed on the way up around the half-way point of the trail.
The relentless hike up the rocky path was already a bit killer on the knees and I was breathing heavily sweating bullets despite the cold weather and overcast skies.
At the top of a steep climb after going about 2.5km from the trailhead, I looked back towards the islands in the distance back in the direction of Sandnes or Stavanger.
And like 14 years ago, I distinctly recalled seeing this scene with an orange glow in the distance as the sun was already in its perpetual twilight state.
So that suggested that Julie and I had actually made it up to here on our first time before we decided to head back as we were running out of time.
Anyways, I pressed forward as the trail went through a combination of rocky flats before undulating and dodging around alpine tarns.
In one flat area, I saw some people chilling out on a false path where a sign generously told would-be detractors that this was not the correct trail.
So upon correcting my mistake there, I then continued along the moorish flats. Along the way, I passed an Indian family so that was the only other time I was aware of that I had passed people in my haste to do this late hike.
When the trail shifted from hugging rock walls with railings and a wooden surface to open granite again, this was where a different valley to the left revealed itself as well as a long cascade that seemed to drain a lake above it.
The scenery continued to become more dramatic the further I went as I started to finally see the Lysefjord while also approaching the final ledge leading to Preikestolen.
By 7:25pm, I had finally arrived at Preikestolen where there were probably about a dozen people or so chilling out up here.
I had seen pictures showing that this plateau was completely full of people before. But this late in the day, it was not the case.
I took my time taking photos of the vertical profile of one side of the Preikestolen, but there was something more that was lacking about working so hard to get up here only to settle for limited views and limited experiences.
So I had it in my mind that I would pursue a way to get a more top down view of the Preikestolen after I had a chance to experience this common spot as much as I could.
There was one lady who was up here asked me to take a picture for her while she was at the top of the Preikestolen edge. We briefly chatted where she told me that the lady I had passed well before the half-way point was her colleague who was struggling with this hike.
She also told me that the ferry actually had a closing time at 11pm.
So that kind of upped my sense of urgency to do what I had to do before hauling ass to get back to the car park.
I mentally gave myself a 10pm time limit to be back at the trailhead at this time to ensure that I'd be at the ferry well before it was time for them to stop service for the day (thereby stranding me away from Stavanger).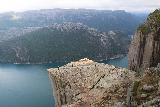 However, I still had to figure out how to get the upper overlooks of the Preikestolen. And when I was about to start walking back, I noticed some interestingly-placed red Ts on the rocks situated higher up above the path.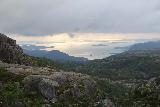 No one else seemed to be taking that path. But I wasn't going to be denied so I went climbing up on the rocks and following those red Ts.
I wasn't sure how long this detour was going to take, but I figured that I gotta try while I'm here.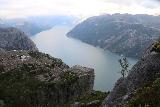 Anyways, after the initial climb, I then followed an elevated plateau that was unseen from the main trail below.
I then did a little more climbing before getting onto another plateau at 7:40pm. This allowed me to look down at Preikestolen on the left side, which was interesting, but it wasn't quite what I was after.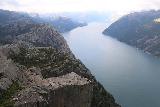 I then continued further away from the Preikestolen where the path ultimately led me to a different climb with a view towards the islands near Sandnes and Stavanger in the distance.
I found some rock cairns but no more red Ts so whatever I was doing at this point was pretty much trails of use.
It took some time to figure out where I was supposed to go, but eventually at 7:55pm, I found a very high view looking down at the Preikestolen backed by Lysefjorden.
Still, I found myself a bit too high to really make out the detail and awe factor in my photos. However, I saw a lower lookout down below with a rock cairn on it.
So I went down there, and that was where I got the view that I was after all this time.
Indeed, I was low enough to see the vertical detail of Preikestolen, but I was also able to see the nearly square top.
From this vantage point, it's easy to see why it's called the Priest's Chair (or Pulpit Rock when translated to English languages).
It was interesting to see how the handful of people that were still at the plateau of Preikestolen did not even notice where I was. I could clearly see them, but apparently they didn't bother to notice their surroundings.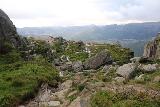 By 8:05pm, I finally left my vantage point. However, I still had to get back to the main trail, which meant that I had to return to Preikestolen.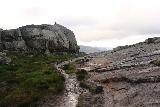 On the way down, I tried to figure out what was the best way to go. But I ultimately decided to go down, which included a short dropoff that was clearly a moment where there was no going back.
After making that leap of faith, I was then looking for the trail going up to where it needed to go to regain the path back down that I took earlier.
Indeed, I did find it, and by 8:20pm, I returned to the Preikestolen.
There seemed to be consistently about a half-dozen to a dozen people as some were still actually showing up! I guess they were probably camping so they took advantage of the long daylight hours like I was without consequence.
However, I still had to catch the ferry so I had to get moving quickly. I wasn't sure if the 11pm cutoff was for real or if it could be cut off earlier than that! So I couldn't take my chances with the 11pm assumption.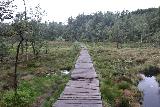 During the descent, I passed by the same Indian family when I returned to the spot where I almost took the wrong trail. Actually, the couple of guys who appeared to be camping or eating a dinner there had now grown into a full blown group of at least a half-dozen or more people.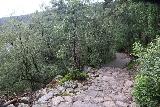 Next, I made the very steep descent where towards the bottom, I encountered the lady I helped to take a picture of as well as her colleague.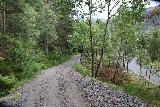 By this time, my knees were aching and I'm pretty sure that I was not going to enjoy how they feel tomorrow morning.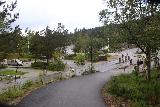 An even more amazing observation on this hike was that there had to have been at least a half-dozen or more parties that were actually going the other way! I suspected that they too were camping so they could get away with the late start.
Ultimately by 9:30pm, I made it back to the Preikestolen car park. Not surprisingly, most of the cars have left by now.
There were some people at the trailhead though I couldn't tell if they were about to get started or not.
I quickly started the car, paid my hefty 250 NOK by swiping my credit card to allow the boom to go up, and then I quickly drove back to Oanes to catch the return ferry.
At 9:55pm, I boarded the ferry. They ticket kiosk was already closed, but a sign said to pay aboard the ferry.
After getting through the ferry ride, I then drove back to the familiar Stavanger sentrum, where I ultimately returned to the apartment at 10:50pm.
That was when I finally ate Julie's dinner, which I had to re-heat. And then I had to shower and brush.
It turned out that I wouldn't be going to sleep until almost 2am, but at least it seemed like it was dark outside with a glimpse of daylight in the distance. Still, any amount of darkness was actually welcome since it meant that it would be a little easier to fall asleep…