Day 10 (June 22, 2019 – Stavanger, Norway): "Pleasure Pain"
I woke up at 5:30am. For some reason, my right eye was crusted shut, but it wasn't red.
The first thought was that I somehow had pink-eye, which was why I was checking for redness.
When Julie got up, I had her check since she has had pink-eye before. However, she looked at it and thought I didn't have it since it would have been red and pussy persistently. In my case, it seemed to not have that persistence.
Anyways, upon checking the Lysebotn forecast, it said that the weather was supposed to improve over yesterday's forecast so I decided that I would leave Stavanger a bit earlier than I anticipated.
I had originally planned on leaving Stavanger right when the free parking ended at 8am but considering that it predicted that rain would be gone by around 8am, I thought why not just go for it so I could get back to Stavanger earlier.
So after a hasty brekkie of kefir and fruits, I got into the car at 6:35am.
And then I drove off as the roads were very quiet at this time of day.
I thought I might go for some cheap gas since it seemed like the gas stations here were on the cheap side, but for some reason, all the gas stations I saw weren't less than 15 NOK per liter as I swore I had seen earlier.
I couldn't understand why. Did they increase the prices over the last few days?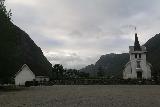 Anyways, I decided to punt on the gas fill-ups until later even though I was already at half-tank and perhaps I was taking a risk of running out.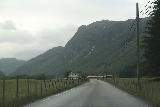 Before long, I was back on the scenic Hunnedalsvegen, which passed right through the familiar scenic valleys that we had passed through earlier when we drove from Rysstad to Stavanger (albeit in worse weather than now).
Since the roads were quiet, I managed to take a few road shots as well as stop for a couple of random waterfalls that might be legit but I knew not their names nor if they even had them.
Clearly, there was no signage for them though in one case at 7:25am, there was an emergency pullout right by the Giljajuvet Tunnel, where there were a couple of trails (one going past a bridge) with some fairly sizable waterfall outside the tunnel.
Continuing on with the drive, the weather definitely seemed like it was improving but I saw that with still some 40km or so to go, my tank was down to 3/8 and I was worried about not being able to make it back.
So I managed to fill about 160 NOK worth at Sirdal though it was at a 16 NOK per liter rate (close to $2 USD per liter or nearly $7 USD per gallon!).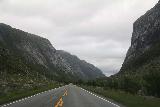 The gas station there was weird in that they reserved some 1000 NOK though some signage there said they won't charge the full reserve amount if it's not all used.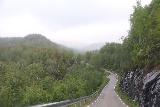 Anyways, continuing on with the drive, I saw that the weather appeared to deteriorate up ahead in the direction of Lysebotn.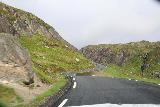 When I got off the Fv987 and onto the Fv986, the road narrowed quite a bit in single lane in most spots as it passed through barren moors and granite tundra dotted with alpine tarns.
Ultimately at 9:10am, I arrived at the Kjerag car park, but it was pouring rain!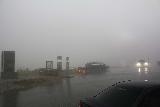 This wasn't what the forecast had called for so I decided to wait out the squall. In the mean time, I was putting on waterproof pants and hiking boots inside the car (not a lot of room mind you).
I then pulled out the rain poncho so I could at least pay the parking, which was a whopping 300 NOK (that was like paying $35 USD or something).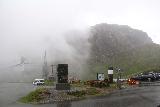 One Norwegian guy was making sure everyone that pulled into the car park was paying to park as well as having proper rain gear, even in the heavy rain.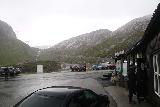 Once I did the deed and put the ticket on the dash for display at 9:30am, I was then waiting out the rain after using the toilet.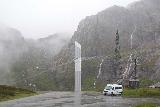 As I was doing so, the same guy that was reminding everyone about the parking situation and gear preparation went over and talked to me.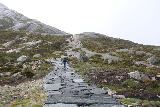 He started off by asking me sarcastically, "So how's the weather, eh?"
After exchanging chuckles, we chatted about the hike. The general gist of the conversation when we compared this to Preikestolen and Trolltunga was that he liked Kjerag compared to the others because this one was "technical".
He said Trolltunga was actually easier than this one even though it was longer.
And he didn't like Preikestolen because it was too popular, too easy, and he said the plateau wasn't all that unique.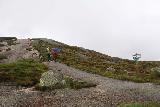 He also told me that for today, it was the last day of some kind of base jumping event. The weather had been so bad all week long that of the over 300 planned jumps, only 70 were done the entire week!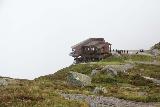 That's probably a damning statement of how bad the weather conditions were all week long!
Anyways, he went on to tell me that there was a nice viewpoint at the Nesatindane, where the entire Lysefjord could be seen. He even claimed that I would be able to see all the way to Preikestolen from there on a clear day.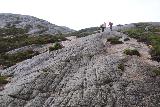 It didn't seem like it would be likely with the current weather, but his phone confirmed the forecast that I was going on in that the weather was supposed to be clearing up in another 15 minutes.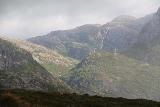 So after saying "Takk for hjelpen" to him (and getting a "Vaer sa god" response), I then proceeded to go onto the hike.
It was still sprinkling, but it was the wet granite that made for particularly treacherous footing.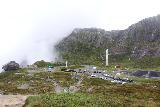 While going up seemed to be easier (especially with the aid of the chains), I knew that going back down on the return would be difficult – especially on the knees.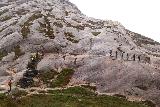 There were already lots of people on the trail, and it seemed like they were in a race to get to Kjerag before the crowds.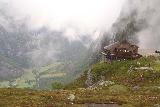 I wondered whether the weather would still be optimal that early. So I still kept taking my time taking pictures where I could.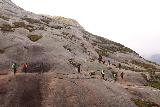 It was a little awkward trying to do this hike with a rain poncho as there were moments where I would step on the bottom of the ponchos while trying to go up so I kept feeling its pull.
Some of the sections of the granite were very sketchy (i.e. wet granite and needing to traverse or directly ascent slippery inclined smooth slopes).
Under these conditions, they would never have allowed people on the trail back in the States. I figured that we were so crazy about law suits that we can't do anything at home. Whereas here, the onus is in the individual to assess the situation and adjust accordingly.
The Norwegian government seemed to be more hands off about these kinds of things.
Anyways, after the initial climb (which was quite brutal; the guy at the car park said it was the hardest part of the hike), the weather did indeed seem like it was clearing up.
However, I did a stupid thing in carrying my cherries during the initial climb so I could eat them as I went, but one of the chains snagged he bag and tore it apart. And so I lost all those cherries!
Anyways, I could see behind me the car park looking small though there were thick clouds still concealing Lysebotn.
When I finished the initial climb at 10:20am, I saw that there was a descent leading down to a a meadow of some sort (likely to belong to Litle Stordalen according to signed maps I saw at the trailhead).
The trail then proceeded to go onto the next round of climbing which included more rock steps and chains on slippery inclined granite.
The weather at this point couldn't make up its mind about whether it wanted to continue to sprinkle or produce rain, or to produce sun and pockets of blue skies.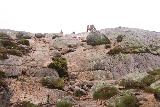 There was definitely some instability in the clear-up of this weather.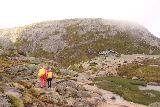 The next ascent was also not easy even though the first ascent was already hard to begin with. So I was definitely started to get hot.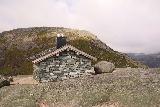 Finally at around 11am, I managed to make it up to the top of this second ascent where there was an emergency mountain shelter that was proving to be quite the popular photo subject for other hikers.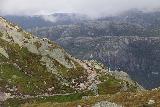 I kept hearing lots of German and Spanish so I'd imagine that most of the people I had seen on this day were from tour groups representing those Nationalities.
By this point, I took off my rain poncho and waterproof pants as I took a gamble that it wouldn't be raining again. Besides, now I wasn't feeling so hot since the Goretex stuff tended to not be breathable.
Next, I continued with the hike as the path now descended a rather steep and treacherous slope towards the next stream, which the trail crossed on a rock-bridge over a stream crossing draining an attractive alpine tarn.
Just beyond this crossing, there was yet another ascent. This time, it seemed to be long and steep, and I could see the entire ascent from the mountain shelter and beyond.
It wouldn't be until around 11:40am when I finally made it past the chains. Then I found myself ascending some more on what appeared to be a granite plateau.
This part kind of gradually became flatter the further I went so it was hard to tell when this final ascent ended.
Regardless, the barren granite scape here was tricky to navigate, but DNT has spray-painted red Ts on some of the rocks as well as placed huge rock cairns to help with the navigation.
This stretch seemed to go on for a while, but it wasn't a walk in the park so to speak because even though the net elevation gain was minimal on the plateau, there were plenty of little hills and gullies each causing slippery slopes on the granite.
Eventually at about 12:10pm, I saw the first sign that I had seen in a while (the first one on the plateau that I encountered). I wasn't sure if this pertained to the Nesatindene that the guy at the car park pointed out.
Still, I had another kilometer to go. So I pressed forward.
Ultimately, the trail descended to what appeared to be a narrow. At this point, the hike became a semi boulder scramble before the trail went onto a large patch of snow.
That was a slippery patch considering that lots of people had been walking on it and packing it to a somewhat icy and slushy texture.
This was where the famous view of the Kjeragbolten was. And indeed, there were lots of people gathered here at 12:25pm.
At Julie's suggestion, I already decided that I wasn't going to queue up to go onto that rock. Besides, I had no helper to help me take the picture as I would be waiting to go on.
Beyond the Kjerag view, there was an area where most people were chilling out. It was almost a festival like atmosphere (similar to like what you might see at the summit of Half Dome).
However, there were lots of cheering and wooing for the base jumpers who were making dives off the nearby waterfall plunging over the vertical cliffs in the distance.
There were also other waterfalls (albeit smaller) around this chill out spot as there was one draining the melting snow right beneath Kjeragbolten as well as another on the opposite side of the resting spot.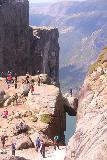 The weather at this point was a combination of sun then another dose of sprinkles. There was an interesting phenomenon that was happening here where the waterfall beneath Kjerag somehow refroze and was blown back up to this resting area as snowflakes or something.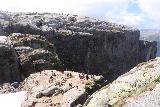 One random Norwegian person was talking to someone else in English saying that this was actually a really cool and rare thing.
Anyways, I decided that I wasn't going to chill out here for lunch given how many people were here.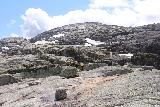 And instead, I went back through the narrows, past the triple waterfall spilling into the narrow, and then scrambling along the top to improve the view of what I believe to be the Kjeragfossen.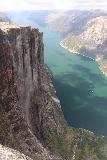 Eventually, I got to the very end where I managed to get a commanding view of the entirety of Lysefjorden as well as a more improved view of Kjeragfossen.
I got here at 1:15pm and I was essentially by myself for the time being as I had passed by a few couples chilling out at other parts of this plateau.
After spending about 15 minutes documenting this experience (and taking advantage of the mobile coverage here to text Julie), I then took my lunch break.
This was when I checked out base jumpers looking tiny yet falling like missiles plummeting to the ground.
As I was doing this, more people were showing up around this viewpoint so it wasn't as secluded anymore. But at least it wasn't the zoo that was down by Kjerag.
Eventually by 2pm, I was done with lunch. Sure enough, this was no longer the secluded spot that it was when I first showed up.
So that was my cue to get going.
At this point, I followed some cairns across the plateau until I reached some signage suggesting this was the path to the Nesatind. It was different that the path for Kjeragbolten, but I wasn't complaining.
I would eventually return to the main trail by about 2:20pm. At that point, there seemed to be just as many people going towards Kjerag as there were people leaving.
Given the soreness in my knees from all the brutal hiking (especially on slippery granite surfaces), going back down wasn't easy.
Indeed, it seemed like when I was descending any sort of steps, my right knees would give me some pain. When I landed on it, I was fine for the most part.
However, when that knee was bent with all my weight put on it, then that was the problem.
Still, I pushed forward and eventually by 2:55pm, I was back at the cables and well within the long descent that was the steep climb earlier on in the excursion.
But this time, going down was definitely the challenge since I had recalled needing to go up very steep and slippery granite surfaces.
There were some real sketchy spots, and in one part of the descent, I had slipped and fell on my back.
Luckily, my backpack provided all the cushioning from that fall and I managed to pop right back up to keep moving.
The only thing bad about that fall was that it mentally messed with my mind about pushing the traction limits on these new pair of boots that we had bought from REI over a month ago.
So I struggled a bit the rest of the way, especially regarding my knee discomfort.
t ultimately wasn't until about 4:30pm when I finally returned to the car park.
I couldn't believe that there were people just getting started at this time, and Kjerag was a longer hike than Preikestolen (which took me around 90 minutes for the 4 miles to get here). I guess they were just taking advantage of the long days with the perpetual twilight that happens around midnight.
With still some time left to go before, I decided to take advantage of the nice weather and go back to Manafossen.
Given the bad weather we had when visiting this falls, I just had to redo it since it was on the way back anyways.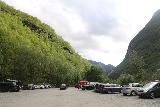 So eventually by about 6:10pm, I finally returned to the familiar car park for Manafossen. And this time, it seemed to be very busy as the parking lot was pretty much full.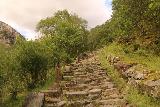 With limited time, I decided against taking more trail photos and just went straight up the steep trail leading to the pair of overlooks.
When I got to the first overlook at 6:30pm, I saw that a pair of Norwegian ladies had set up a hammock and were watching the falls from it.
It was right by the edge so clearly they had no fear of heights.
So I couldn't watch from the same spot as before and I went to a higher spot right next to them to document the falls, which now revealed all of itself, including a smaller companion waterfall further upstream.
Since it was later in the day, I didn't get to see any bold rainbows like last time, but it was still beautiful nonetheless.
After having my fill of this spot, I also checked out the other overlook. Again, I had to be careful since my right knee was really hurting.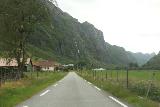 Finally, by about 6:45pm, I had my fill of the falls and headed back down. Just like with the Kjerag hike, I had to go back down steep slopes aided by chains. And with one inflamed knee, I had to take my time going down.
The same pair of Norwegian girls surpassed me on the way down after breaking up their hammock setup.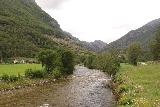 By 7pm, I was back at the car park, which was still busy. I'm guessing that most of the people's cars had to do with going further than Manafossen all the way to the Man Farm or something.
That's because the number of people I saw at the overlooks were far less than the number of cars parked here.
The drive back home was on the uneventful side. By 8:20pm, I was back at the apartment.
With such a long day, I looked forward to having dinner with Julie and Tahia, which consisted of reindeer that was made her own way so we didn't have to worry about introducing gluten and extra sugars let alone soy or other things we didn't trust.
By the way, this was something that was becoming quite a bit of a struggle when we were eating out. So that coupled with how expensive it was to eat out in general kind of made it a no brainer for us to do these self-catered things as we were continuing our epic redo of Norway…