Day 11 (June 23, 2019 – Odda, Norway): "The Other Side"
It was about 4:45am when I awoke. I was groggy considering that I didn't really sleep until around midnight.
These early wake-ups with less sleep were probably catching up to me, and it was kind of reminiscent of our first trip here in 2005, when I was even more sleep deprived than this time around!
Regardless, it took time for us to get all packed and ready to go.
So instead of leaving at around 6am as I had hoped, we ultimately got into the car at 7:15am.
I knew that today was forecasted to be pretty good weather, and that the weather was forecasted to deteriorate starting late afternoon tomorrow. It was definitely not going to be good weather the day after that.
In any case, we took the E39 north under a couple of tunnels that went under the water between islands (the tunnels were Byfjordtunnelen and Mastrafjordtunnelen).
Then, we had to catch a fairly lengthy ferry across Boknafjorden from Mortavika, which we got to at 7:50am. That ferry costed about 200 NOK.
After boarding the ferry at 7:55am, I tried to get some brief shut-eye but Tahia kept kicking my seat and being a nuissance.
We got to the other side some time after 8:20am, then we embarked on a fairly lengthy (and road fatigue-inducing) drive further along the E39 then onto the E134.
This particular route was never done by us before on our first trip. In fact, the whole experience in Stavanger and driving the E39 was not done either in our past.
The drive along the E134 alongside the southern shores of Akrafjorden involved numerous tunnels. But in the end, we ultimately arrived at the familiar stop for Langfossen at 10:10am.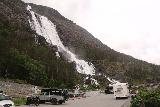 Like before, this waterfall had very satisfying flow. Now, it seemed like there were more signs for tourists at this stop, which had at least a half-dozen cars or so.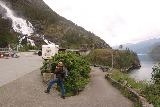 It felt a bit busier and more developed for tourism, but one thing I noticed that wasn't there was a sign talking about plans to regulate the stream responsible for this waterfall.
Whatever the case was regarding its regulation, it seemed to no longer be an issue since this falls was still here in all its glory.
Instead of just treating this as a roadside view, we took some time to go down a ramp towards some picnic tables with a different perspective of the falls we didn't have before.
There were also lots of interesting rocks by the picnic tables, which exposed the interesting geology of the area.
There were steps leading further down from the picnic tables towards the shores of the Akrafjord. Apparently, that would have been the launching point for cruises of the Akfrafjord, which a sign here said occurred daily.
I'm sure that would have yielded very satisfying views of Langfossen.
Anyways, I knew that the view of the falls from here left a lot to be desired. But from our visit last time, we also knew that there was a more panoramic view of the falls from the bus stops near the next tunnel further to the northeast.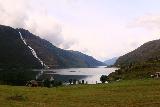 So we got back to the car at 10:45am, then we made a quick stop for the familiar roadside shots of Langfossen framing the contours of Akrafjorden.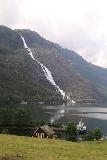 Unlike 14 years ago, the clouds weren't threatening to obscure the upper parts of the falls. Instead, even some sun was trying to break through the persistent thinning clouds.
Once we got our fill of this view, we then made a spontaneous stop for a camping area pointed to by the Rullestadsjuvet signs.
There was a familiar segmented waterfall spilling on the opposite side of a lake, and this time, we decided to go over to the camping site to check it out.
Indeed, there was a cafe here as well as a nice area to walk around on the shores of the lake, which I took advantage of to document this falls and some of the surrounding area in this hamlet of Rullestad.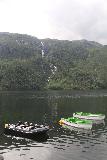 Before, we thought of this waterfall as just some other miscellaneous waterfall in Norway, but now with this infrastructure and persistent waterfall, I'm thinking it ought to get a write-up of its own (I would learn later that this waterfall was called Sagfossen).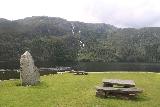 After having our fill of this cute hamlet at 11:10am, we then drove towards Skarre before heading north on the familiar Rv13 into Oddadalen.
I knew that there would be a lot of cars on this road, but it seemed like it was busier on this day than how we remembered it 14 years ago.
I guess you could say that in general though, because the world is more populated, and Norway wasn't the boutique destination it once was in the past.
Now, it seemed to be on the World's mainstream like the rest of Europe, especially with these bucket-list Instagramable attractions like Preikestolen, Kjerag, and Trolltunga (the last of which I was going to do tomorrow).
By about 11:25am, we stopped at an informal (and steep underside-scraping) pullout so we could check out Espelandsfossen again. This one seemed to get little fanfare compared to the next one we knew that will – Latefossen.
Like before, this waterfall threw up a lot of mist and it was difficult to capture without the lens getting wet.
After doing this falls, we then managed to score one of the parking spots right by the kiosk for Latefossen at 11:30am.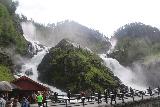 There seemed to be a constant stream of tour bus traffic so there were always loads of tourists by the parking lot, by the kiosk, and on the narrow bridge fronting the misty dual waterfall.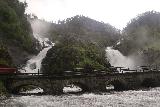 This time, I noticed a sign or a plaque commemorating Kaiser Wilhelm II, who apparently loved to go to Norway in his heyday leading up to World War I. The sign was in German, and most people seemed oblivious or uninterested in the signs let alone this memorial.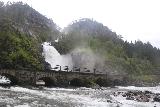 After getting our fill of the falls from the parking area, Tahia and I then went down to the rocks on the shores for a bit of a lower and more frontal perspective of Latefossen (which we didn't do before).
It was also quite a bit less crowded since the short descent was a steep one, and if you didn't have the right footgear, you better know where to make your steps or else take a nasty slip and fall.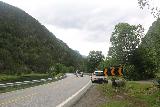 Once we had our fill of Latefossen, we then got back in the car at 11:45am and continued north deeper into Oddadalen.
Next, we saw Vidfossen, but unlike before, there were no more pullouts or spaces to park the car and get a closer look.
Instead, we had to drive all the way towards the bridge beyond Vidfossen and stop the car at an informal little pullout right by that bridge next to a concrete barricade for a different road (probably a bike path) leading somewhere else.
I then got out of the car at 11:50am, and walked along the Rv13 back towards the Vidfossen waterfall though I wasn't able to get as frontal of a view as before (mostly because I didn't bother walking that far).
The experience was a little less satisfying given the restrictions or lack of infrastructure to even enjoy this nice waterfall. And it started to make me wonder how many other roadside waterfalls would be similarly affected.
At 12pm, I was back at the car, and then we headed further north to get to the last two remaining major waterfalls in Oddadalen.
Ten minutes later, we ultimately made a stop at the familiar clearing by a closed off unpaved road leading up towards Tjornadalsfossen.
That followed a brief roadside stop to capture somewhat awkwardly the Strondsfossen. However, the more frontal view of that waterfall was no longer available as it was last time (where Julie and I were able to get down to the Sandvevatnet lake shores).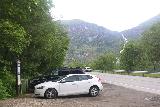 Indeed, it looked like they had erected walls alongside Rv13 so it wasn't even possible to find a shoulder to pullout and check out the waterfall over the lake.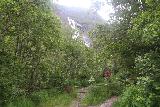 Regardless, I laced up my hiking boots and got going while Julie and Tahia chose to remain in the car.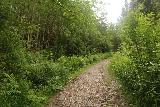 I had expected this to be a very short excursion like before (14 years ago), but I also noticed a sign talking about some kind of Hillfort here.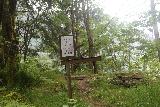 I thought that would have been an interesting thing to pursue so it was in the back of my mind as I was attempting to at least get to the familiar bottoms up view of Tjornadalsfossen.
Well, it didn't take long before I got to the first switchback of the pedestrianized unpaved road, and I saw that there was actually a sign saying Bygdeborg was merely 1.1km away.
I never recalled this being an option before, but then again, maybe because it was all in Norwegian and they didn't really have the tourism infrastructure for foreign tourists back then.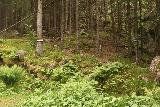 But I knew right away from looking at the condition of the trail that it wouldn't be easy as it looked to disappear right into a rather thick forest with red Ts spraypainted on some of the tree trunks.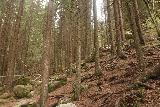 Anyways, I ultimately decided to pursue this fort just to see how else to experience this waterfall as well as see what kind of historical relic I might be able to spot.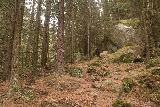 That said, I also knew that it was going to extend this excursion longer than the 15 minutes that Julie and Tahia were expecting back at the car.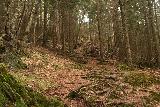 Regardless, I promptly climbed seemingly vertically on this trail as it was already taking a bit out of me. It induced beads of sweat, lots of heavy breathing, and that feeling of anxiety knowing that Julie and Tahia were waiting for me though I'd be taking longer than expected.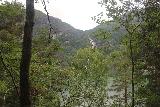 Eventually, I got to the top of the initial nearly-vertical climb, then the trail flattened out somewhat though it got to a point where I got lost and I couldn't find any red Ts anymore.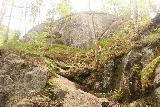 Just as I was about to head back down and give up, I saw a Norwegian mother and daughter doing this hike and getting past the part that stumped me.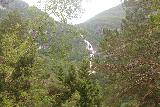 The trick was that there was a rock that had to be climbed. They clearly knew where they were going.
If there was a spot where DNT should be spray-painting a red T, it would be that rock!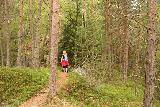 Anyways, after seeing where they went, I then went ahead and went up that rock, too.
Once up there, I saw a few informal paths leading to better views of Tjornadalsfossen from a more elevated perspective.
The first two spots I got these elevated views of the falls were unsanctioned. But there were enough trails of use to get me there.
That said, I wondered if over time, those trails will become more defined later on or if someone will start to put barricades on them or revegetation signs or something like that to discourage such views.
I'd ultimately arrive at the location of the Hillfort at 1:20pm, which was nothing more than just Nature with another view back at the Tjornadalsfossen.
There was what appeared to be a box with some kind of bird food or something inside it (was it a geocache?).
There was also another sign further down the hill that let me know that this was for sure the Hillfort location. You really had to play imagination to get understand how this was such a location.
At least that made me appreciate the trail I took to get up here because it was not easy, and I'd imagine any fortress being build by an army or Viking warriors or what had to do this.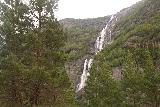 Anyways, I briefly chatted with the Norwegian mother and daughter who were chilling out at this spot.
They told me that they live nearby (that would explain why they knew where they were going). They also suggested that I should do the full 3.7km loop since hiking down the road would be far easier than going straight back down the trail we went up.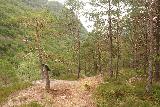 I then took this opportunity to ask them about the walls that were erected alongside the Rv13.
When I explained to them that I was here 14 years ago, they told me that tourists would use the peoples' yards as a toilet.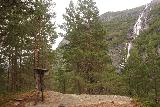 They found that to be very disrepectful, and that they took matters into their own hands by making these things less accessible and less convenient.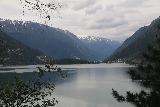 I could totally understand their point.
I guess this was one of those things where the Norwegian government could help out matters by putting more vista pullouts and sanctioned WCs to prevent visitors from treating property like a toilet.
That even explained why I saw more signage on this trail urging people to not use the trials as toilets. So much for Nature calling in Norway.
After parting ways, I decided that I didn't have the time to do the full loop so I had to go back down the way I came up. There was a sign saying "Saga" pointing back the way I was going.
By about 1:45pm, I managed to find a nice elevated view over Sandvevatnet towards Odda. Then, about five minutes later, I finally made it back down to the pedestrianized road.
I then went up some more seeing that there were a couple of false paths for Tjornadalsfossen. And the scramble to take happened to be just at the top of the steep road where there was a red and orange trash bag hanging on a tree.
At this point, I finally saw the familiar view of the Tjornadalsfossen that we had from before.
Then, after having my fill of the falls, I returned to the car at 2:15pm. Not surprisingly, both Julie and Tahia weren't happy with me as they waited in the car for nearly two hours instead of the expected 15 minutes.
They probably should have at least checked out Tjornadalsfossen to make the time pass a little more quickly.
Anyways, we then drove into the town of Odda and parked at the public area at 2:20pm. It looked like the parking was free here.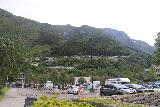 Then, we proceeded to have a late lunch considering that we weren't supposed to check in until after 4pm.
We wound up eating at this place called Smeltehuset, which served up some stuff that Julie should be able to handle as long as the sauces were removed.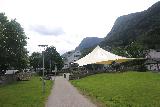 We ultimately ordered a reindeer steak (which was really nothing more than roast beef-like cuts of reindeer) as well as a local fish.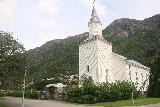 It definitely wasn't compliant food, but we knew that with small towns like this one, the choices were limited.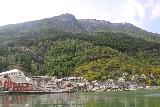 As we were waiting for the food to arrive, I took some time to check out the scenery around the Sorfjorden, which Odda sat at the very southern tip of.
The place was very beautiful, but I could also see why Odda could be considered ugly because of all the smoke stacks and industry that was definitely on display here.
It was a shame because this place had all the potential of being a world class fjord town.
Instead, it was more of a low-key spot that acted as a base for us so I could at least do the Trolltunga tomorrow.
So when we were done eating our food at 3:35pm, we then took some of the groceries that were still in the car (because nothing was open on Sundays so we bought frozen stuff last night) and then took that into the apartment where we promptly used the refrigerator.
Then, by 4:10pm, we were all settled as we had brought stuff from the car up to the unit.
At this point, Julie and Tahia were going to stay in the apartment while I was going to do a late solo hike into Husedalen. At least that was the plan.
So I left at 4:15pm and then I drove up the narrow Rv13, which definitely tested how well I knew the width of the rental car as this road seemed to be a major throughfare yet it was so tight in many spots.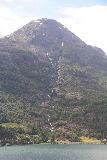 Indeed, it seemed like of all the changes we had seen in Norway, this road still kind of stayed the same. So it was narrow and it supported buses, lorries, cars, bikers, you name it! I remembered how much this road really initiated me into getting used to driving narrow roads in Norway.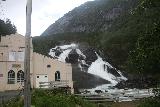 Eventually at 5:15pm, I ultimately made it back to the familiar Husedalen, but I saw that sanctioned parking was actually quite a ways back down the hill from the Kinso Kraftverk power station.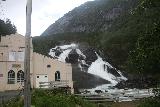 From looking at the GPS, it seemed to extend the hike by another 1.5km in each direction! So that would make an already long hike even longer (possibly an all-day affair). And that really sucked.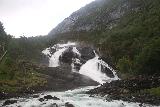 But on the flip side, I could understand why they did things this way because the narrow single-lane unpaved road was difficult to resolve if someone was coming the other way.
Plus, it was starting to rain in this valley so all these things conspired to make me not want to take on this hike at this time.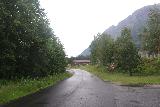 Besides, I saw a sign here now saying that getting to the third waterfall now required three hours! That was definitely time I didn't have despite the weather for today supposedly being better than in two more days when I'd have time to do this hike.
By about 5:35pm, after doing some scouting, I decided to head back down and instead head over to the mouth of Hjolmodalen.
I wasn't sure if I was going to do the Valursfossen hike, but I knew it was going to be late by the time all was said and done even if I didn't do the hike.
So by 6:30pm, I eventually got to the mouth of Hjolmodalen. There was a five-minute light as well a quite a bit of road construction going on in Eidfjord.
There was even an underground roundabout as well as a bridge over Eidfjorden (instead of a ferry that I remembered us taking the last time).
Plus, the town of Eidfjord looked way busier now than it did in the past. It was no longer the scenically located sleepy town by the fjord.
Anyways, I could see at the Hjolmodalen, there was actually signage describing the nature of the single-lane road that I knew was "scary" the last time we did it.
At this point, I decided to head back towards Odda noting what it would take to do this excursion now, and it would definitely not be a bad-weather excursion.
On the way back down the Rv13, I then managed to see the familiar Skrikjofossen, which was visible from the Rv13 only heading south. It was hard to see heading north on this road, which was why I missed it on the way up.
As I was pursuing a way to get back up to Elvedalen like before, I noticed that the road we took 14 years ago was now a pedestrianized road only for people and bikes.
After a rather fruitless loop detour past someone's farm, I then returned back to Lofthus via the Rv13 and stopped at a public car park by the Sorfjorden with a distant view back up to the back of the valley with Skrikjofossen falling visibly.
Then, I continued driving south when I saw a sign pointing the way uphill to the Hardanger Hostel B & B (or Hardanger Folkehogskule – possibly a school turned into holiday accommodation ala the Iceland model).
I wasn't sure where it would lead, but it seemed like it might be the way to Elvedalen.
Indeed, after a bit of hesitant driving up the steep and narrow roads, I ultimately returned to the familiar spot at 8:20pm.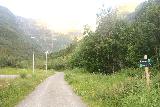 I saw there were signs for trails leading both to Elvedalen as well as another one that might actually go up to the Hardanger plateau with a possible look down at the Bjornabysket (Bear's Leap), which was a hard-to-see waterfall since it faced away from the rest of Lofthus.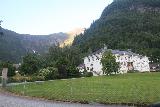 I wasn't going to do that hike at this time though this part always piqued my curiosity. I just wasn't sure how much of a time and energy commitment this was.
Anyways, I then continued the drive south back towards Odda, but along the way at 8:50pm, I stopped right by a tunnel so I could check out the AEdnafossen seeing that the old pullouts were no longer available.
This stop with a pedestrianized road that went around the tunnel seemed to be the only sanctioned way now to experience the many waterfalls across Sorfjorden with AEdnafossen being the main one.
With the fading light of the day, the orangish hues of the skies accentuating the silhouette of the Sorfjorden was a sight to behold.
Of course with my camera batteries running out, I had to make sure that I documented this experience properly before returning back to the apartment.
Eventually at 9:20pm, I finally made it back to the apartment, where we had a late dinner and finally called it a day.
But sleep would be short because tomorrow, I had to do the long Trolltunga hike, and I intended to get a very early start so I could at least score one of the thirty spots at the P3 at Magelitopp.
Indeed, lots on my mind on this night, but that was the last of the major hikes of this trip to do…