Day 1: WATERFALLING ONE AFTER ANOTHER
I woke up very groggy at about 4am. To my amazement, it looked like there was already some daylight starting to penetrate through the darkness. I guess the nights here were very short.
Anyways, Julie was way asleep and I figured I mind as well do some early morning waterfalling while she was in the Ryfylke Hotel resting. So by about 4:25am, I was out the door and proceeded to drive off solo on this somewhat misty morning.
It wasn't but a few minutes when I started to notice signs for Sandfossen. It was basically some kind of rapids that I guess was a place for salmon to try to make their way upstream over some salmon ladders. It didn't seem to be much of a waterfall, and the lighting was still a bit low for any meaningful photos. So I kept driving on.
I'd eventually make my way out east for some 11km on the Rv13 until I turned right onto some obscure narrow road that climbed steeply out of the valley and into the moors above. It was still misty and foggy on this morning so there was a little bit of trepidation as I was doing this.
Once the climb flattened out, I was in the moors, and I was still following along the narrow paved road until I came to a roadside waterfall that looked like it was tall and wispy. The lighting was still a bit low so I kept moving on.
I figured I mind as well go into some obscure valley called Ulladalen in search of more waterfalls that Olaf pointed out on his website worldwidewaterfalls.com.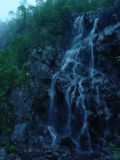 However, as I was aimlessly driving south on the Route 600, I then backtracked and went east on another obscure road that narrowed considerably the further east I went. It seemed to go on for quite a ways, and after about 6.5km on this road, I turned back with nothing really to show for my efforts.
There was a tiny waterfall I noticed along the way at around 5:15am. But I wasn't sure if it was legit or if it was one of those ephemeral ones that happened to come alive at a very narrow time of the year that no one (except some locals) would know about.
So defeated as I was, I headed back towards Sand. However, on the way out, I noticed there was a pretty tall and wispy waterfall in the distance. I wasn't sure if this was the waterfall that Olaf called Storefossen, which I gathered learned about from my pre-trip research. It was now around 6:05am at this time and the daylight was definitely brighter than before so I at least had a better idea of where I was going.
In any case, I took photos of this waterfall, believing it was indeed the Storefossen, and then I headed back to Sand with at least something to hang onto to show for my efforts of this pre-dawn exploring.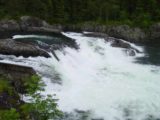 At 6:35am, I finally returned to the Ryfylke Hotel in Sand, though I did make a brief stop back at Sandfossen with the increased daylight to take better photos and to at least see a little more of where this waterfall was situated and what was so special about it.
After getting packed and loading up the car, I joined Julie for another koltbord breakfast of cured herring, eggs, vegetables, and other basics. After this being the third day in a row of this kind of breakfast, Julie and I were starting to become accustomed to the idea that this basic breakfast was the way Norwegians do breakfast and it was up to us to adjust to their way of life accordingly.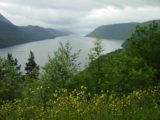 Finally at 7:50am, we left the town of Sand and proceeded to drive towards the ferry. We had to wait for a bit for the ferry to come and let us on so we could cross the Saudafjorden, which the town of Sand was bordering on.
And once we were across the fjord, we then headed north on the Rv520 under a mix of rain and overcast skies. The views over the fjord into the water were quite scenic, and definitely unlike anything Julie and I had seen before. We could have easily lingered around just doing the autotour of this route, but it was overcast and we still had some waterfalling to do.
Sure enough, by about 9:20am, we saw a towering wispy waterfall near a tunnel called Hongavikfossen. Apparently, it could also be called Brudesloret (Bridal Veil) or Hangandvikfossen. We managed to take photos of it prior to the tunnel at some makeshift spots along the road as well as from the car with Julie as the photographer while I was busy concentrating on the road.
After passing through a long road tunnel (Hongaviksfosstunnelen), we then pulled over at a pullout just beyond the tunnel. From there, Julie and I went for a walk on what looked to be the old road before the tunnel was built. It was now a walking and bike path beneath some small power lines. But in any case, we went out to a dead-end where we got a somewhat unusual view of Hongavikfossen overlooking the fjord. It was a pretty neat sight, plus we were also able to look across the fjord towards another distant but seemingly massive waterfall through the haze of the drizzle.
Indeed, at this point, it seemed like waterfalls were starting to become a dime-a-dozen as Julie would say.
At 9:45am, we were back in the car, and it started raining again. Just a few minutes later, we saw a roadside waterfall tumbling besides a bridge that we were about to cross over. We saw there was a pullout just beyond the bridge, and that was when we parked the car at 9:50am.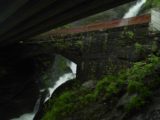 We then walked beneath the bridge to go underneath the road and then emerge on the other end right in front of the loud waterfall. It was hard to photograph the falls from this awkward viewing area, and we had to go onto the narrow road on the bridge to take limited photos of what turned out to be Svandalsfossen.
The falls barely fit in the frame of my Sony Cybershot but at least this falls had some pretty high volume.
After having our fill of this waterfall, we then drove towards the town of Sauda. While we were on the outskirts of town, we also saw there was another impressive waterfall across the fjord. It didn't photograph well as we were covered in some fairly heavy rain.
This town seemed to be some kind of industrial town, but it did seem to be very scenically located despite the industry.
So Julie and I drove off and headed further northeast past the town of Sauda along the Rv520. At this point, we were now driving in the moors again, but it was definitely foggy and rainy throughout. During the drive, we noticed quite a few attractive waterfalls. At 10:25am, we saw one deep in a gorge that was between bridges. It wasn't tall, but it did have decent volume.
Some signs here mentioned that there were some zinc mines around this area (at least based on the Norwegian I was able to make out).
At about 10:50am, we were now higher up in the moors when we saw another attractive waterfall across a lake. Unfortunately, it was now raining even harder and the skies were fogged up with plenty of rain and mist. Thus, the attractive falls was relegated to nothing more than a white sliver against a distant cliff with the rest of the scenery being almost grayed out from the rain.
As the Rv520 eventually junctioned with the E134, it seemed like the weather calmed down considerably. The road was still steep as we were passing alongside some stringy waterfalls tumbling down the mountainsides flanking the E134. We'd eventually pass through more tunnels, then drive out through a valley before the road junctioned with the Route 13.
We continued going west on the E134 knowing that we'd eventually drive north on the Route 13 to get into Odda Valley, but the immediate goal at this point was to see Langfoss, which was one of the waterfalls we anticipated seeing prior to the trip because it was one of the giant waterfalls we were expected to visit on this trip.
We'd eventually arrive at the Langfoss which we started to see from a distance at around 12:25pm. This mammoth cascade was tumbling down almost the entire mountainside before entering the Akrafjorden, and we were able to capture this scene while stopping at a bus stop so we'd be out of the way of traffic for the time being.
We then drove closer to the falls, but there was a toll station just before the falls. Little did we realize that we would have to pay this toll again on the way back out even though we wouldn't be spending that much time on the other side of this toll. Ouch!
In any case, we could see the spray of the water covering the E134. But we could also appreciate the overall thickness of the falls from the car park that was here.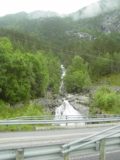 We didn't linger around to do any walks (if they were available) as we were merely content to admire the huge waterfall before getting back in the car and getting hit once again by the toll station on the way out. I definitely wasn't getting any sympathy from the toll station operator.
So we drove back east on the E134, then headed north on the Rv13 towards Oddadalen. It didn't take long as we meandered about on this narrow road before we saw the first impressive waterfall, which was called Espelandsfossen. There was a very limited pullout where we got out of the car to take photos. We figured we mind as well do it to examine this falls because further up ahead was somewhat of a traffic jam by the bridge up ahead. It looked like there was anothe waterfall over there, and it was called Latefossen.
So after walking about and getting our views of Espelandsfossen (and getting a little bit of drifting spray in the process), we then got back in the car and proceeded towards the bridge as we slowly awaited for a spot in one of the car park spaces on the left. Luckily for us, someone pulled out just as it was our turn to get here, and we wasted no time in securing the parking spot at 2pm.
As Julie and I walked out of the car and looked at the impressive dual cascades of Latefossen, we quickly learned that it wasn't easy taking photos of this falls because there was a lot of spray coming across the bridge and in our direction.
Plus, it was hard to capture the entire waterfall in one shot given its width and height. So I attached a video wide angle lens knowing I could get the whole thing with some serious vignetting. Oh well, you do what you have to do.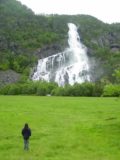 When we had our fill of this falls, we then continued driving north on the Road 13.
At about 2:20pm, we then saw an impressive waterfall within a grassy section of the valley, which I suspected was Vidfoss. This waterfall had a bit of an unusual shape, and Julie and I found a makeshift pullout off the side of the road so we could at least get a better look at this waterfall.
Indeed, with this being the third large waterfall in the valley, it was easy to become jaded and perhaps become somewhat blase about them. But these falls were easily bigger than most of the waterfalls we had seen in our travels so far, but that wasn't saying much.
After having our fill of Vidfoss, we slowly continued making our way further north on the Road 13. Eventually, the grassy valley flanked by mountains with granite or something to that effect started to give way to a lake as the road skirted around it.
Across the lake, we saw what our pre-trip research called Strondsfossen. There were some wildflowers blooming besides the shores of the lake as we tried to capture this waterfall. And again, it was impressive just like the other three waterfalls we had seen in this valley to this point.
As I was about to enter the car, I looked up and noticed there was yet another impressive waterfall tumbling high above us. I wondered if there was a better view of this falls so I eventually figured out that I could walk up a closed gravel road that ultimately got me up to some kind of flattened out area where trees separated me and the falls.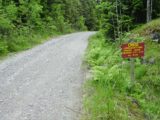 I noticed there was an opening in the trees, and it turned out to be an unmarked trail of use that ultimately got me past the trees and face-to-face with the utterly tall Tjornadalsfossen. There was no way I could capture this waterfall on my camera in one frame as it was simply way too tall.
So I took what photos I could knowing that at some point, I would have to stitch them.
I returned to the car at around 3pm, and we continued to drive off further north as we were getting close to the town of Odda.
We didn't stop in the town of Odda as we next had to drive west towards another out-and-back excursion to the Furubergsfossen west of town. We first had to follow a road that swung along the southwestern shores of the Sorfjorden (of which Odda was at its far southern extreme), then we junctioned with the Rv551, which immediately went into a tunnel.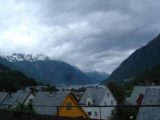 As we entered, and drove on and on, it turned out that this tunnel (called the Folgefonntunnelen) was very long. And when we emerged on the other side, our eyes had to get re-adjusted to the sudden brightness of overcast skies in the early afternoon.
We'd ultimately drive about 10km towards a bridge right at the base of Furubergsfossen. Along the way, we spotted a pair of more miscellaneous waterfalls. Though these miscellaneous ones weren't very noteworthy. Meanwhile, across the Maurangsfjorden, there were more impressive waterfalls way off in the distance.
While we were checking out Furubergsfossen at 4pm, we were having trouble photographing it because we were getting sprayed by the falls. The best we could do was to take slightly angled (and less full views) of the falls so we wouldn't be getting as much spray. But I somehow figured that the best views of this waterfall would be from the fjord itself if somehow we would've been able to take a boat tour or something, which we obviously weren't going to be doing on this day.
And so we returned towards the town of Odda to check out the picturesque waterfalls tumbling into town. We wouldn't linger around this town for long, but I somehow wondered if in hindsight, we would've been better off spending at least one night here given how scenic it was plus how many waterfalls we were seeing all within the vicinity of this town.
But alas, we'd leave the picturesque Odda at around 5pm, and as we were slowing making our way further north along the Road 13, we then looked across the fjord to see a gorgeous bulbous waterfall that was informally called the AEdnafossen. It turned out that we caught our best views of it from between tunnels at around 5:25pm.
We would continue driving further north along the Road 13 and we'd even pass by a seemingly isolated valley near the town of Lofthus. We saw there were a pair of waterfalls framing this valley, but we figured we mind as well continue north to Kinsarvik then check in as it was getting late in the day.
Not helping our cause was that we kept stopping along the road as we would continue to notice more waterfalls across the Sorfjorden, that seemed to be very tall and thunderous amidst all the melting snow that still clung to the mountains across the fjord.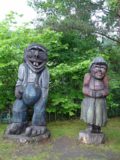 At 7pm, we finally arrived in Kinsarvik. We checked in, then had ourselves a dinner at the Kinsarvik Hotel since we didn't really have much of a meal since our breakfast earlier in the day. So it wasn't until about 8:40pm did we finally leave Kinsarvik and backtrack to Lofthus.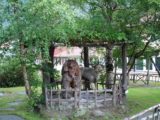 Finally at around 9pm, we were around the town of Lofthus, and then we had to figure out a way to get closer to the waterfalls at the head of the small valley here. There were a bunch of local roads that were narrow and they weren't very well signed.
Eventually, we had to ask some locals walking around before we were finally pointed in the right direction to at least reach a section called Elvedalen. From the trail that started from a soccer field, we were able to get somewhat closer views of the taller Skrikjofossen, but it seemed like the closer we got to the falls, the more angled and shorter it looked given the forced perspective.
We ultimately walked towards a bridge spanning the Opo River, which was not the watercourse responsible for Skrikjofossen. However, as we looked further upstream from the bridge, we did see there was the lowest tier of what I suspected was Opofossen. However, it didn't seem like we would ever get a decent view of the rest of this waterfall from the short trails we were intending to do, especially with it getting quite late in the day.
Somehow this hasty visit to Opofossen wasn't very fulfilling, but at least we got some decent views of Skrikjofossen. I had read from the pre-trip research that there was supposed to be some Monk Trail leading up to the "Nose", which probably would've taken us higher up the cliffs of this valley to see both Opofossen and Skrikjofossen. Maybe one of these days, we should come back here and see this place the way it should be seen.
At 10pm, we returned to the car. It was now time to return to Kinsarvik and finally call it a day. It wouldn't be until 10:30pm when I returned to the Kinsarvik Hotel.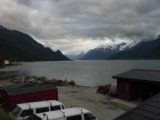 We were so waterfall saturated at this point. However, I knew that tomorrow morning, I would have to get another early-morning start in order to visit the Husedalen Waterfalls while we still had more waterfalling to do later on in the day.
Indeed, there would be no rest for the weary…
Visitor Comments:
Got something you'd like to share or say to keep the conversation going? Feel free to leave a comment below...
No users have replied to the content on this page