Day 2: SPEED OF SOUND
It was 3am when I awoke in the Kinsarvik Fjord Hotel. I didn't get much sleep since yesterday, I did a self-tour in Lofthus to get a better look at Skrikjofossen at 8:40pm and didn't get back until 10:30pm. But I had a feeling that Julie didn't want to do the 4- to 6-hour hike up Husedalen – a fabulous hike along the Kinso River leading past four major waterfalls. And so I let her sleep in (as was customary by now) and hoped I'd be back at the Kinsarvik Hotel in time for breakfast and checkout.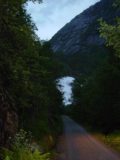 It was still dark as I left the hotel and went up the road near the hotel towards the trailhead for Husedalen. At 3:45am, I arrived at the power station at the base of Husedalen's first waterfall – Tveitafossen. The power station was a rather ugly presence before the falls, but at least it shielded me from the mist blowing away from the churning water at its base.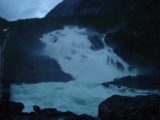 Since there wasn't enough lighting and I knew I would have trouble keeping the lens dry from the mist before shooting the falls, I deferred that activity till later when I would finish the hike. So with a pair of ice cold Nalgene bottles, hiking boots, emergency rain gear, my camera, and a pair of hiking sticks, I was off.
But, which way to go? Apparently, there was a faint trail adjacent to the power station that followed some diversion pipes along the river. I had also recalled there was a gated dirt road just before the car park. After briefly going up the primitive trail by the power station, which quickly degenerated into a scramble over slippery boulders (moistened by the mist of the waterfall), I decided to turn back and take the easier route up the gated road.
The skies gradually turned brighter as I made my way up the wide, switchbacking road. It wasn't long before I had hit a trail junction. Apparently, this was where that primitive trail by the power station would've joined up with the road. I guess it didn't really matter after all which way I went from the power station.
Shortly after this junction, there was another junction. I didn't think much of that other trail thinking it just led to some other power station-related item. So, I kept moving forward on the wide, dirt road…
Behind the sign, I could see and hear loudly the second of the Husedalen waterfalls – Nyastølsfossen. This waterfall was huge! I could see how wide it was, but I couldn't quite get a better sense of how tall it was because the trees below blocked its lower tiers.
In my pre-trip research, I noticed a fellow Dutch waterfall hunter friend of mine, Olaf Helwig, take a photo of this waterfall from a spot much closer to the river than where I was. But clearly I could see no way to go down the hill and closer to the river from the road that I had taken.
"How did he take this shot?" I thought to myself.
Anyways, I grudgingly continued along the road a bit disappointed about not getting a better shot of this waterfall. About another 15 minutes later, I had hit the end of the road. There were lots of tire tracks that just circled around and went nowhere. I didn't see anything in sight telling me where I should go next.
"Man, did I take the wrong trail?" I thought.
Anyhow, I did notice a folded plastic item next to a faint trail. I wasn't sure if it was really a trail, but I wasn't about to let this turn of events stop me from seeing the other two waterfalls I knew was up the valley.
So I searched and searched. Then, I saw something red spray painted onto a tree…
…it was a red T!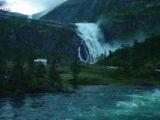 Cool! I had finally regained the trail! Now, I was back in business!
These red Ts, by the way, were marked by a Norwegian tourist organization called DNT, or Den Norske Turistforeningen. They were the ones who maintained many of the trails and mountain huts (hyttas) in Norway's backcountry. I couldn't have been happier to see one of their marks at this juncture.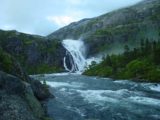 So with the red Ts, I saw the primitive trail again. It continued to follow the Kinso River. There were several spurs leading to the river from the trail I was following and I took one of them. It turned out to yield my first views of the third waterfall – Nykkjesøyfossen!
With greater haste, I continued along the trail. Humming to myself Cold Play's "Speed of Sound," which was getting plenty of airplay on Norwegian radio, and somehow seemed strangely appropriate for this hike, I proceeded in a good mood.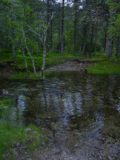 But as quickly as my enthusiasm spiked from seeing the falls from a distance, it quickly waned when a large standing pool of water flooded the trail. Still, I was determined to get by (soggy feet or not), but before I made a hasty decision, I noticed a muddy detour that scrambled around the obstacle. Whew!
Eventually, I got in between a pair of houses in view of the waterfall. I often wondered how unusual it was to see houses out in the middle of nowhere and who would live in them. It seemed that Norwegians tended to put houses and farms hanging on cliffs, sitting in unforgiving snowy mountaintops, marshy moors, and roadless places such as this. Well I wasn't about to knock on any doors so I continued to go about my business…
Onwards I went, closer to the waterfall while continuing to follow the red Ts. The trail seemed to follow quite close to the river, and in one case, it was almost overwhelmed by it. By the time I had arrived at the headwall responsible for the waterfall, the trail turned to the left and began a primitive ascent.
As I continued the ascent, the trail continued to deteriorate into a scramble. It seemed that the further I went, the trail got progressively muddier, overgrown, and less defined. The red Ts that I relied upon to act as cairns were also getting sparse. I thought this hike was supposed to be easy, but clearly this is not the case. I kept thinking that I must be doing something wrong, but I swear I couldn't find another way to go…
Should I turn back now?
Still, I was determined to get to that last waterfall I knew was still up ahead. I knew where the river was so at least I was oriented. With this knowledge, I pressed forward; chasing faint trails both real and false. I even had to go through a few areas where I bushwhacked and did some bouldering maneuvers involving the use of all four of my limbs. Experience had told me that usually conditions such as this meant I went the wrong way. But before I was discouraged beyond hope, I saw a red T spray-painted on a boulder up above me!
Yes!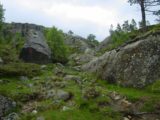 So I continued the climb and finally made it up above the headwall causing the elevation loss of Nykkjesøyfossen. Now, I was definitely in the moors. Up here, the trail continued to be muddy, which was helpful on my way back as I could track my own footprints. There was a strange mixture of twisty, low-lying bush as well as a few trees. All of this was interlaced with large tracts of granite. The valley walls had moved in closer as well. If I had wanted to go up into the Hardanger Plateau, I knew I would have to climb these walls somehow, but I didn't worry about that because the last waterfall was all I needed to do.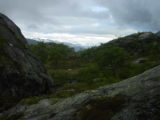 By now, it was past 6am. I finally started to see parts of that last waterfall in the distance – Søtefossen (which I think means "the sweet waterfall" in Norwegian). I could see cairns strewn about the granite areas, but they directed me away from the falls and towards the river.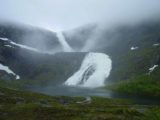 This was a bit perplexing. Why would the cairns take me away from my destination? When I followed the cairns, it seemed like it would get me off the trail and lost.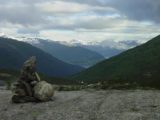 Finally at 6:30am, I got my satisfying views of Søtefossen. And how sweet it was! It was a pair of waterfalls forcefully tumbling at angles to each other at the very head of the Husedal Valley. But as I was taking photos, clouds started to swirl around the waterfalls and conspire to block my view. I figured, after all, I was high up and close to the top of the plateau and so I must be close to the sky. At least it felt that way…
Anyways, when the clouds finally shrouded that sweet waterfall, it was my cue to head back down. So off I went, on the hunt for red Ts while also trying to retrace my footprints in the muddy areas.
Now that I was facing the fjord, I could see the wide contour of Husedalen as well as the pretty Sørfjorden down below. It was quite a sight!
Even light from the sun started to break through the clouds and paint parts of the mountains a sliver of gold.
After some anxious moments scrambling down that headwall responsible for Nykkjesøyfossen, I found those reassuring red Ts again and ultimately made it back to those two houses by that waterfall. With the new lighting from the suddenly brightened and encouraging skies, I took more photos of the waterfall before continuing down the trail.
It wasn't long before I made it back to the dirt road's dead end again. I was able to do some trail running down that dirt road, knowing there were only little pebbles and a few ruts conspiring to twist my ankle instead of the odd tree root or boulder. Fortunately, they didn't.
By about 7:45am, I was back at Nyastølsfossen. Now, I could take photos of this massive waterfall with the improved light. However, it still bothered me that I couldn't get a closer view of the falls, which I knew existed – but not from the dirt road I was on.
It wasn't until after I finished the Norway trip did I realize that small trail I had dismissed as another power station-related spur actually continued to follow the river and was probably the way I should've gone to get closer to Nyastølsfossen! Oh well, next time…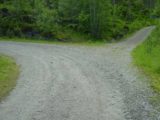 By 8:15am, I was finally back at the power station. Now was my chance to take a few photos of the misty Tveitafossen before heading back to the Kinsarvik Hotel in time for breakfast.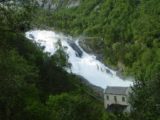 It wasn't easy taking photos of the waterfall because the mist kept spraying onto the camera lens causing waterspots. So I would focus the camera while letting water get on the lens but try to hold its setting by keeping the photo trigger down half way. Then, I'd turn around, wipe the lens with the free hand while still keeping the finger on the trigger, cover the lens with my free hand and turn around towards the falls again. When I sensed the falls relented on providing downstream mist, I'd move the hand and quickly take the photograph.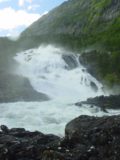 It was cumbersome, to say the least, to get the photos, but I did eventually get a few of them.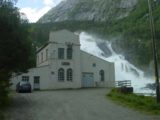 I finally left the power station and headed back to the hotel by 8:30am and arrived at the hotel at 8:45am. Julie was waiting for me as I walked into the hotel, worried that something happened to me. She also told me that breakfast ended at 9am so both of us quickly got to the dining area and had ourselves a very satisfying koldtbord breakfast with hot foods along with the usual mix of cold herring and hard-boiled eggs. All the while I was telling her my adventure on Husedalen and the hunt for red Ts.
We checked out of the Kinsarvik Fjord Hotel and loaded up the car by 10am. We decided to walk to the visitor center next door to buy some maps before we headed out to Eidfjord.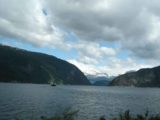 Once we got in the visitor center, I bought lots of topo maps of Eidfjord, knowing we might need them for the planned Valursfossen hike later in the day.
I also took the liberty to talk to the clerk about the hike on Husedalen. When I told him I had a difficult time on the hike, he gave me this dumbfounded look like "what are you smoking?"
He told me it was easy, but then again he did mention the trail might not have had bridges over the river since it was running high. Ah, now that explained why there were those cairns that seemed to go nowhere.
Anyways, we spent a good deal of time talking to the clerk about the maps we bought and about how beautiful Norway was. But when other customers wanted to talk to him, it was our cue to leave.
I told him (in my attempt to use some of Norwegian I tried to learn before the trip), "Tusen takk for hjelpen."
He gave me another shocked expression before we waved at each other and said to each other, "Ha det!" (which was short for "Ha det bra" or "have it good" which was the Norwegian way of saying good bye)
So off Julie and I went to Eidfjord, site of our next accommodation.
We arrived at the Quality Hotel in Eidfjord at 11am. The weather was quite fine and sunny. It was still too early to drop our bags in our room and check in so we continued down into the Sima Valley. After going up a narrow dirt road deep into the valley, we saw a tall waterfall up on the cliff dropping with good volume…
…it was Skykkjedalsfossen!
I knew this waterfall was regulated, but it still flowed quite impressively. Anyways, we managed to take photos while avoiding the intrusive power lines before us. Then, we headed back to the Quality Hotel in Eidfjord, but it was still a little early so we stopped by the visitor center across the street for a few minutes.
Inside the visitor center, they had heaps of topo maps and a useful road atlas by Statens Kartverk. We spent lots of money buying up their literature as this place by far had the most literature useful for our purposes. I even got to practice some Norwegian though I couldn't get much further than telling the lady behind the desk, "Jeg prøver å lærne norsk" and "Ha det!" when it came time to leave. Finally after checking in, we took a brief break before heading back out at 1:30pm.
We were headed to Vøringsfossen. I knew this was one of those waterfalls you could experience in a variety of ways. We first went to the Fossli Hotel at the top of the falls. We had to pay to park there but then we were able to walk around the perimeter of the falls. It was quite a sight to look down at the falls and into the rugged Måbø Valley. Fortunately, I had my kludgy wide-angle lens to get most of the scenery in a shot.
After taking photos up here, I had realized that I forgot to bring my hiking socks! Knowing we were going to do the Valursfossen hike after seeing this attraction, I couldn't hike in the Chacos I was in. So I hastily went into the Fossli Hotel to buy a pair of dark Norwegian socks with its flag stitched into it. Sure, it wasn't the socks I should've worn for this, but we weren't about to make a nearly one-hour detour just for a pair of socks!
Julie and I proceeded to go to the lower viewpoints of Vøringsfossen before heading into Hjølmodalen to get to Valursfossen. We had to pay to park there again before we walked around for more cliff-hanging views of Vøringsfossen. We particularly enjoyed the direct view of the falls along the road with rainbows and the hotel dwarfed by the waterfall. It was an exercise in patience as we awaited the tour bus crowd to disperse.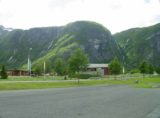 It was 4pm when we took off to the Upper Eidfjord township and followed the narrow road into the Hjølmo Valley. The road became unpaved and quickly narrowed into a width suitable for a hiking trail as it hugged the steep cliffs of the valley.
At first there were numerous stringy miscellaneous waterfalls near the mouth of the valley. We initially stopped for these, but then we realized that these were a dime a dozen.
The road was steep and we also shared it with sheep. Clearly, this was not a road for those not confident in mountain driving with a stick shift!
Anyhow, at 4:15pm, we managed to get a view of Vedalsfossen across the valley. The sheep seemed to ignore us as we merrily stopped the car and took photos of this towering waterfall.
Onwards we slowly drove towards another towering cascade before us. I had assumed it was Berastøldafossen, but my topo maps indicated otherwise. Regardless, it was a pretty cascade and the road started to go up steep switchbacks beside it.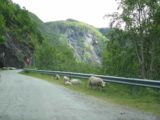 We eventually made it to the end of the road passing by two previous car parks. One had a death-defying wire bridge that we dared not cross! The other looked more developed, but we couldn't tell if it was for Valursfossen or not.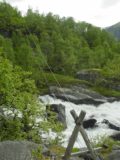 The end of the road was back up on the moors of the Hardanger Plateau. There were plenty of other cars here so it was reassuring to see other people thought this area was worthwhile to visit as well.
So with our gear packed into our day packs and slung on our backs and hiking sticks in hand, we left the car at around 5:45pm. My feet felt strange hiking in the dark Norwegian dress socks in hiking boots, but I figured it was better than hiking barefoot in the boot.
As we followed the trail southwards, we couldn't see any signs diverting us to the Valursfossen trail. Julie insisted we kept going straight and so that we did. But eventually, the trail started to climb steeply and I had a sense this wasn't right. The topo map I had in hand also disagreed with our route. So we headed back the way we came.
Before reaching the car park, we noticed a spur trail (funny we didn't see this earlier) to our left. We took it and followed its rocky trail to a network of trail junctions near some remote houses (there's those Norwegian houses in the middle of nowhere again). It was now 7pm, but the most encouraging sign of all was a sign with an arrow saying, "Valursfossen."
So we followed the sign and continued along a faint trail that was plagued with muddy sections. We sloshed our way through the trail which undulated between flat muddy spots and steep rocky scrambles. All along, we saw sparsely placed red Ts to spur us along and reassure us we went the right way.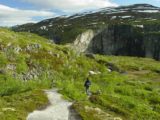 Along the way, I saw a spur and manged to take it briefly to an outcrop overlooking the steep-walled valley we had driven through to get here. It was a beautiful view, to say the least, and I happily took panoramic photos from here.
Continuing along the Valursfossen trail, it seemed like it went on forever. We couldn't hear any thundering water along the trail. Yet we continued our hunt for red Ts while basking in the warm orange glow of the late evening sun.
Finally at 8pm, we started to hear the distant roar of falling water. As Julie moved in front and continued forward, we could see a hint of rising mist in the ravine up ahead. Could this finally be it?
When I heard Julie exlaim, "Oooo!" I knew we had found what we were looking for!
And there it was – Valursfossen. It plunged forcefully before slanting at an angle into the shadowy depths below. Both of us were careful not to get any closer to the steeply sloping dropoff. And so both of us took lots of photos in the warm light before we headed back to the car park.
Once again, Cold Play's "Speed of Sound" was in my head and once again its dreamy, almost traveling feel through space seemed quite appropriate for the moment as we stood perched in the remote Hardangervidda high on the mountains of Norway.
With that, Julie and I retraced our steps and headed back to the car at the end of the road. We returned to the car at 9:30pm. There was still a bit of light in the day still but the shadows had dominated the valley.
On the way back down the steep, winding, and narrow road, we decided to make a brief stop at the next car park. It became clear then that we overlooked a sign that said "Valursfossen." I guess this should've been where we should've parked the car. But we got to see the goal of the hike anyways so who cares if we didn't take the shortest approach?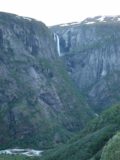 We finally returned to Eidfjord at 10:30pm, but not before getting a few last looks at Vedalsfossen on the way down the switchbacks. Since everything was closed except for this little fast food joint in town, we had to settle for hot dogs (pølser) and fries.
Finally, we got to relax, clean up, and bask in the late evening twilight. It was quite an adventurous day, and one I would always remember for our hunt for red Ts while moving at the Speed of Sound.
Visitor Comments:
Got something you'd like to share or say to keep the conversation going? Feel free to leave a comment below...
No users have replied to the content on this page