Day 3: WHERE IS VOSSESTOLEN?
For once both Julie and I woke up together. I had no early hikes planned and so we got up at 7am. After a brief and surprisingly ordinary koldtbord breakfast (which contrasted with the beautiful waterfront setting of the Quality Hotel Eidfjord), we checked out and were on our way to the ferry across Eidfjorden at 9:45am – a rather late start.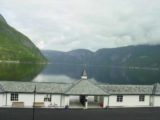 We expected to stay in Voss so we thought we might be able to check in by the time we'd get there at around lunch time. Then, we'd have all afternoon to do some light waterfall touring. Julie insisted that we make a stop in Bergen, which I didn't plan for considering we were on a mission to hunt for waterfalls.
After a fairly lengthy wait for the ferry to arrive, we shuttled across the fjord and headed for Osa when we landed. We started by following the Osafjorden along the Rv572 towards the town of Ulvik. Ulvik seemed like quite a busy little town and looked like it would've been an attractive place to stay (but it wouldn't happen on this trip).
Then, we continued east on a narrower rural road that returned to the shores of the Osafjorden until it ultimately headed northeast to the small village of Osa.
It wasn't until after 11am when we got to the small town. My research had indicated there were attractive waterfalls in the area, but we mostly ran into tall waterfalls that we couldn't identify.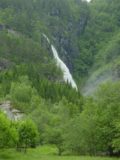 After having our fill of Osa, we drove back to the town of Ulvik, then we proceeded to head north towards the Road 572. While driving through the Espeland Valley, we tried to find Espelandsfossen in our haste to get to Voss. Apparently, we didn't do a very good job (further proof that haste makes waste) as we settled for a rather unsatisfactory distant view of the waterfall.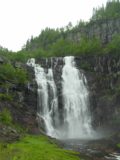 Onwards we continued. Soon, we approached a bridge that went right in between the upper and lower tiers of Skjervsfossen. There was a pullout just past the bridge that allowed us to get a direct look at the upper part of the waterfall.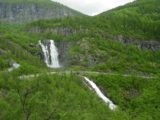 As we drove further up the road, I couldn't help but notice I could see the entire waterfall in my rear view mirror. So I eagerly looked for a place to stop the car, but couldn't find any. Finally, I saw a makeshift pullout on the far side of the first switchback and went directly into it. The problem with this pullout was that it meant I had to back out into the highway and onto the far lane in order to resume going uphill towards Voss. Well after taking our nice shots of Skjervsfossen, we managed to get back on the road without incident and continue on our way.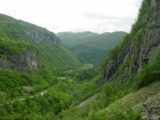 We finally made it to Voss at 1pm. The problem was we couldn't find Vossestolen – the place we were supposed to spend the night. We eventually made it down to a pay phone in front of the visitor center (which was closed until 2:30pm). After struggling with our MCI Calling Card, which we bought from Costco before the trip, Julie finally just dumped in some Norwegian kroner coins into the machine to call up Vossestolen.
When we made contact with the proprietor, he told us we still had to go 24km north of Voss. What?!?
It took a while for Julie and I to digest this bit of information. Obviously, we couldn't just check in and tour west of Voss without doing an unnecessary 50km detour!
"Jerry messed up!" Julie said to me about the Nordic Company president and acting travel agent who made our bookings.
Anyways, we weren't about to wait another hour for the visitor center to open so we just continued west on the E16 towards Bergen. I knew this would force us to check in to Vossestolen late because I had also planned to see Steinsdalsfossen as well as Kvernhusfossen up in Mo, but since we're here, we mind as well see what we could.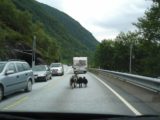 Some mountain goats on the road also didn't help matters in our haste to try to fit things into this day. Plus, there always seemed to be RVs and trucks we had to follow as well.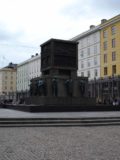 We finally arrived in Bergen at 3pm. It was quite a busy city and it was quite a challenge to navigate the city streets while looking for parking. We didn't really have a clue where we wanted to hang out, but the wharf looked like there were lots of commotion so we mind as well look for parking there.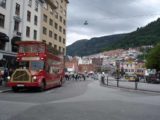 After finding parking, we walked around town starting from the wharf. It really reminded me of the Fisherman's Wharf in San Fransisco. However, we quickly realized that just about every shop was closed since it was Sunday. What a bummer!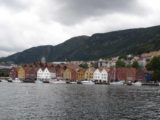 So we settled for some takeaway food on the wharf, where we got ourselves some fresh but oily fish and chips. We also paid the visitor center a visit, which was busy and open, but they didn't offer the maps and literature we were looking for (at least not the bonanza we saw at Eidfjord).
It was nearly 5pm when we left Bergen. It felt rushed and for sure I would have to include a night or two stay in town on a future visit. Even in the short time we were there on a Sunday, I could see how charming the city could be.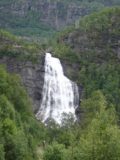 So off we went heading east on Road 7. Right before we entered Fossenbråttetunnelen, we pulled over at a long pullout with plenty of space because I saw the top part of the Fossen Bråtte waterfall.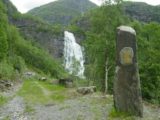 While Julie waited in the car, I took the tripod and went closer to the waterfall down a decline. There was a monument here commemorating brave soldiers who fought the Nazis in World War II. Anyways, I took my long exposure photos of the waterfall before I headed back up the hill to the car.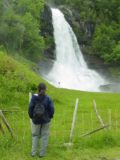 We continued to go east on Rv7 (Rv = riksveien or Road) past a few tunnels and unnamed waterfalls before finally arriving at the busy Steinsdalsfossen at 6:15pm.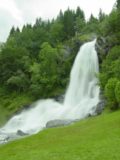 Julie and I spent lots of time here browsing the souvenir shops and weaving between the heavy tour-bus traffic of people as they made their way behind the waterfall along a paved and gentle ramp. I also took this opportunity to take my tripod and make some long exposure photos of the small but pretty waterfall.
We spent quite a bit of time behind the waterfall looking down at the constant activity of busloads of tourists coming out of the vehicle then checking out the falls, then coming back into the bus after having done some souvenir shopping.
At least we knew that this waterfall wasn't one of those obscure ones. Actually, I had read somewhere that Kaiser Wilhelm would visit this waterfall frequently and so it was also called Kaiser Wilhelm's Waterfall. Anyways, we left Steinsdalsfossen at around 7:20pm.
As we were low on petrol, Julie and I headed towards the nearest gas station. They also served up some Norwegian pølse (hot dogs) so that served as our dinner, knowing we probably wouldn't have a sit down one on this night. The weather started to get worse as we left the petrol station. I was worried that this might impact our viewing experience for the remaining waterfalls on this day. I was beginning to wish we went to these waterfalls first and skipped Bergen, but hindsight's always 20/20.
Anyways, we made a few brief stops along Rv7 as we were heading back towards the E16. We noticed a couple of waterfalls earlier on as we were bagging Fossen Bratte and then Steinsdalsfossen, and now we decided to bag these remaining waterfalls even though we weren't sure if they were just run-of-the-mill waterfalls or if they were legitimate.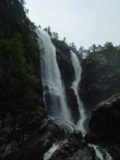 As we headed back in the direction of Voss, we took a narrow road up Rv569 to get to Mo. This narrow road was quite scary as it seemed like it was almost single lane the whole way. When a car was going the other way, we literally had to squeeze by each other. In some cases, some of the local drivers seemed awfully confident in their abilities to get by me and didn't bother to slow down! Both of our hearts would race with adrenalin under those circumstances.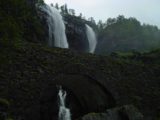 It was almost 9pm when we passed right before Hesjedalsfossen. Good thing we noticed it before heading into the tunnel! We pulled over in the now-pouring rain and took a few photos of this attractive waterfall.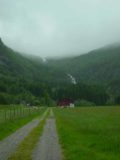 A few minutes thereafter, we saw a sleepy residential community called Myster. In the pouring rain, we also noticed a waterfall in the back of the valley. So we tried to get closer, but we couldn't tell if we would be going on private road or not so we settled for a view over someone's residence towards the falls. The waterfall, by the way, was Stigfossen. There was supposed to be another waterfall above it called Fjellfossen, but the rain clouds covered it up.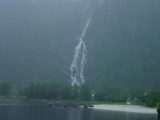 Julie and I continued to head towards Mo. The rain continued to come down relentlessly. Finally, we went through a long, dark tunnel without lights. On the other end of the tunnel, we turned left and headed towards the town of Mo. The rain continued to fall, but we at least were able to take photos of Kvernhusfossen and Geitaskardet in the waning light of the gray day.
It was about 10pm when we began the drive back to Voss. Although the drive down Rv569 was scary due to its narrowness, we didn't see too many cars going the opposite way.
We finally made it back to Voss by midnight, but we knew we had to go north on E16 to find Vossestolen.
As many of the lights of the buildings were turned off, we grew concerned that we might not be able to identify Vossestolen.
As time drew nearer to 1am and we had hit a road junction between Rv13 and E16, we were beginning to panic as we weren't sure which road to take. Now both Julie and I were really unhappy with the fact that we expected to stay in Voss and this Vossestolen place was nowhere near Voss! With this snafu, it made me wonder what else was fouled up in our itinerary.
On a lark, we turned right to stay on the E16 and ended up in the town of Oppheim. It was then that we finally found Vossestolen at last! We hurriedly parked the car and went inside to see the proprietor, who patiently waited for us and stayed up all this time.
So with that we checked in to our tiny motel room and took our showers in a bathroom area without shower doors nor floor partitions to keep the water away from the rest of the room. Anyways, at least we could shower and we were soon about to sleep. But with this foul-up by the travel agent, I just had to know if something else was wrong in the itinerary.
So Julie pulled out our itinerary and I examined it. Sure enough, I found that he booked us to stay at the Villa Utsikten in Geiranger instead of Dombås on July 1. And so we slept uneasily, knowing we had to somehow rectify this situation before that day.
We were asleep a little after 1:30am…
Visitor Comments:
Got something you'd like to share or say to keep the conversation going? Feel free to leave a comment below...
No users have replied to the content on this page