Day 1: THE TROLL LADDER
At 7am, Julie and I awoke. We didn't unpack too much of our stuff the night before considering we arrived quite late. So packing up and loading the car was a breeze. Then, we had another koldtbord breakfast.
We eventually checked out from the Trolltune Hotel at 9am, but not before the proprietor was asking us for money for last night's stay. Julie and I thought that was strange so we told him that we have vouchers for this particular date (even though it was the wrong one due to a mix-up by our travel agent) and that the Nordic Company should already have the money sent to him. We gave him the phone numbers to contact them so he could get his money. And with that, we left.
We headed up the E136 through the Romsdal Valley (or Romsdalen in Norwegian) and ultimately to the town of Åndalsnes. I knew Romsdalen had lots of waterfalls and had drawn comparisons to Yosemite Valley, at least according to Erik Welle-Strand in his book "Adventure Roads in Norway."
With clouds threatening rain but never delivering, we saw countless waterfalls. Among them were Døntefossen, Gravdefossen, and Vermafossen. I was disappointed that we didn't see Mongefossen, which would've been one of the tallest in the world. Apparently, in place of this towering waterfall were power lines and bare cliffs where the falls was supposed to be. What a bummer!
The first one we stopped for was actually some obscure one near the Rauma boundary at 10:05am. I believe it was called Kleivafossen according to Norgesglasset, but I wasn't totally sure. In any case, it was a gushing waterfall where there were actually two waterfalls converging in one. It could definitely be heard when we got out of the car.
At around 10:40am, we stopped at the well-signed picnic area for Slettafossen. Unfortunately, there really wasn't much to this waterfall even though it was quite loud.
The reason was that we were close to some very turbulent rapids, but we couldn't really tell where the actual drop of the waterfall was other than the foaming whitewater beneath a bridge.
At 11:05am, we stopped at a vista of an upside-down pitchfork-shaped Vermafossen. This one was really impressive.
At about 11:15am, we stopped by a pair of waterfalls that were across the road from each other. According to Norgesglasset, the one on the west side of the road was Dontefossen while the one on the east side of the road by the railroad tracks was Gravdefossen.
Indeed, there were so many waterfalls seen along the road that there were times when we would even stop for some of the unnamed waterfalls, thinking they were significant. After all, it was hard to tell which ones we should ignore and which ones we should brake for.
In one particular instance, I heard screeching brakes then a collision. When I turned around, I saw a car hit a guard rail. At the same time, Julie was behind the car taking photos of a waterfall by a bridge. Fortunately, that car was nowhere near Julie, but it was a little scary to say the least. That was proof right there that rubbernecking and speeding could be hazardous to your health…
An especially memorable stretch of the valley was when we passed beneath some towering vertical cliffs. I believe amongst these cliffs was what was called Trollveggen, which was supposed to be one of the tallest overhanging cliffs in Europe and quite a rock climbing challenge.
We finally arrived at the Rauma Hotel in Åndalsnes at 2pm. As we went up the stairs and left our luggage in our room, the hotel clerk told us we had to pay.
Once again, we had to tell her that we had these vouchers and that Nordic Company had the money if they didn't pay her already. We thought it was strange that this request was made, but this eventually passed without incident, and we were ultimately on our way to Trollstigen.
While in Andalsnes, we went to a visitor center there to pick up some more maps (some for purchase) as well as some free literature about the immediate area we were about to tour. I recalled there was one tourist who came in smelling really bad, and it made us wonder if we were having the same effect on other people since our $300 laundry job back in Loen didn't exactly fully dry when we left.
Anyways at 3pm, Julie and I left Andalsnes, drove south back towards Romsdalen, and then turned right to go across a bridge crossing the Raumda River before entering the Isterdalen Valley.
We made our way to the famous Trollstigen (aka the Troll Ladder), which was a serpentine road at the headwall of the Ister Valley. Kind of like Stalheimskleiva in Hordaland, this road featured several hairpin turns, single lanes, and an over 10% grade.
Two waterfalls (Stigfossen and Tverrdalsfossen (or "Trollfossen")) would tumble besides the road, making it one of the must-do attractions of Norway (as the tourist literature would suggest).
The road was quite fun to drive though they were re-routing some of the road that was prone to landslides. Eventually, we'd make it to the top and spent some time checking out the mindblowing views. Soon thereafter, Julie was looking for cheap souvenirs to bring home and give away to friends and family.
By 3:40pm, we left the busy Trollstigen and continued along the snowy moors before getting towards Tafjorden. We made one brief stop for a waterfall blending in the snow ten minutes later amongst this snowy plateau.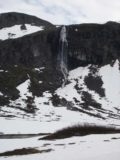 Anyhow, the goal of this next excursion in Tafjorden was to do the Muldalsfossen hike.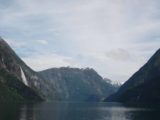 Now the Ta Fjord was the site of another tsunami-like disaster induced by tons of rock tumbling down the vertical cliffs in a landslide displacing the same amount of volume of water in the fjord. Similar to the disasters at Lovatnet, it was a reminder that even beautiful places have their moments when Mother Nature can be unforgiving.
As we drove along the Ta Fjord, we could see a huge waterfall up ahead in the gorgeous panorama. However, we eventually realized that waterfall was not Muldalsfossen. In fact, the road tunnel would go underneath it (unbeknownst to us until after the trip when we could process what we saw).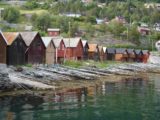 Eventually, we exited the long tunnel and parked the car in a dirt car park. Having just heard "In the Shadows" by the Rasmus on Norwegian radio, I was psyched and ready to do the strenuous climb to see the falls. Julie was tired and decided to stay in the car to nap.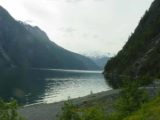 It was 4:55pm when I started hiking. I noticed signs around the car park saying in Norwegian that a sudden rush of water could come without warning. I got the impression that Muldalsfossen was regulated based on this sign, which probably curbed my enthusiasm about it.
Nonetheless, I followed the road and saw the signed trail leading away from it. The trail steeply made an unrelenting climb up some 11 switchbacks towards the top of the waterfall.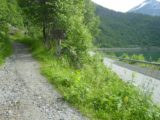 The climb was tiring, but there were moments of shade to cool off and good views of a nice waterfall across the fjord when the shade gave way to a clearing.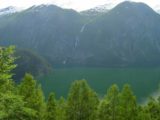 But the whole time my mind was on getting a good view of Muldalsfossen. I even had a brochure that had a great direct view of the falls and that picture was always on my mind when I thought of doing this hike. Anyways, I didn't get a glimpse of the falls until about the 9th or 10th switchback (I started losing count because I was tiring and there were too many of them).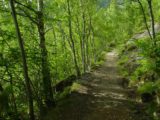 It was a rather unsatisfying view of the falls, to say the least, because foliage was blocking my view. So as I was taking the best photos that I could of Muldalsfossen (foliage in the way and all), I made sure not to get too close to the edge. It certainly wasn't worth risking my life for a better shot – and there wasn't even a guarantee that there was a better view. Just then, I realized that something kept touching my behind – and it was breathing…
…when I turned around and looked down, I saw a pair of eyes and I immediately jumped and swatted my hiking stick at it. Then, I heard a yelp and I saw that it was nothing more than a little black dog running away.
I was obviously startled, but now I was embarrassed. I love dogs, but I was probably too worried about falling off the cliff and wasn't really in the mood for surprises.
Shortly thereafter, a Norwegian hiker (obviously the owner of the dog) waved at me and said hi. I waved back, but couldn't say anything in my startled state.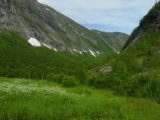 And so I went back to taking more unsatisfactory photos before I continued to hike up the trail. Eventually, I'd make it to the top in a couple more switchbacks, and there was another one of those houses in the middle of nowhere perched atop the waterfall.
I crossed over the bridge above the falls and looked across the fjord, but I couldn't see Muldalsfossen.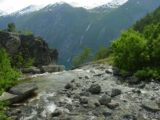 I was a bit disappointed and gave up trying to risk my life for a better shot. Though in hindsight, I could've done a little more exploring safely for other angles of the waterfall.
But the prevailing thought was somehow along the hike up the switchbacks, there was a better view and so I made my way back down.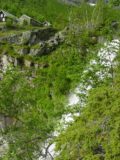 And as I descended each switchback, I couldn't find a faint trail nor any clue of where that view from the brochure was. Eventually, I'd get so far down the trail that I abandoned all hope of getting a better look at the falls. It was definitely an unfulfilled hike in my book and I'm thinking of redoing this hike if I get a chance to come back.
Near the bottom, I caught up to the hikers with the dog that startled me. I engaged in some conversation with them. He first spoke to me in Norwegian, but then he realized that I didn't understand what he was saying.
But in our small talk, I threw in some Norwegian words I knew just to see if I understood and said those words correctly.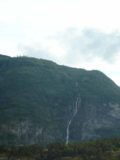 Anyhow, I got the sense that Norwegians aren't used to seeing Americans from Los Angeles.
"That's a long ways away from here," he would say.
In any case, I commented to him about how beautiful it was in this country. But the Norwegian folks seemed to express a desire to come to the States. I guess the grass is always greener on the other side, as they say.
And after exchanging "Ha det!"'s I continued down the trail.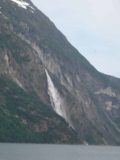 It wasn't long before I met a Norwegian family trio – a father, mother, and son. The father broke the ice by smiling and saying, "Hei! Hei!"
Then he said something in Norsk, which I didn't understand. So I got to use an expression I learned in my CDs…
"Um… Jeg forstår ikke," said I.
A quizzical look then overtook the father and the family because I told them "I don't understand." So I followed up with, "Jeg er Amerikansk."
And with that, we engaged in small talk in english with a few opportunities to throw in a Norwegian word or two. It was fun to test my knowledge of the language (which wasn't much and quite humbling I must say), but I also told them about how beautiful Norway was. Even despite my recently disappointing hike.
Eventually, the conversation ended and we said "Ha det!" to each other as we left.
I made it back down to the car at 6:30pm. Julie asked me how the hike was, and I told her that I got crappy views of the falls. I also told her that I didn't know how that brochure got that nice shot of the waterfall. Obviously she could tell how I thought this hike was unfulfilled. I would have to do it again on the next trip to Norway.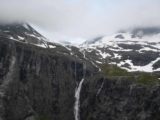 So we headed back to Åndalsnes after driving back down Trollstigen in the dwindling daylight (though it was still reasonably bright).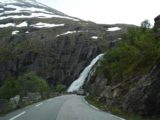 Even though we were now going down through the familiar troll ladder, we were still getting a kick out of the mind-blowing precipitous views as we were descending switchback after switchback. I made sure to keep the car in 1st or 2nd gear and now wear out the breaks given how steep the road was.
We got back to town at 8pm and walked from the Rauma Hotel to have some pizza as the sit-down places were closed (seemed like a common theme throughout our trip to Norway – that everywhere closes quite early!).
And so ended another scenic day in Norway. We wondered what surprises tomorrow had in store for us…
Visitor Comments:
Got something you'd like to share or say to keep the conversation going? Feel free to leave a comment below...
No users have replied to the content on this page