Day 2: ANOTHER BIG WATERFALL BONANZA DAY
It was about 6:30am when Julie and I awoke. To help with the short sleep from a couple days ago, last night was restful (i.e. we at least got 7 hours of sleep).
After having a 7am breakfast (another basic koltbord breakfast), we eventually checked out of the Rauma Hotel at 8:30am and left Andalsnes.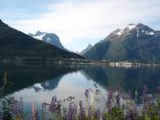 So we drove along the northern shores of Isfjorden before heading north then following the southern shores of Langfjorden.
Eventually, the road 660 veered south on some mountain roads before descending into Eikesdal Valley just at the very head of Eresfjorden. We saw a waterfall in the distance called Sandalsfossen at 9:45am, but we figured we could come back for it after we were done with the main goal of coming here, which was Mardalsfossen.
At that point, we headed south on the road 191, which we had read wasn't even available until about a decade ago when the prior access across the main lake here, Eikesdalsvatnet, was only possible by boat. Now, we at least had the option of driving the narrow 1.5-lane road around the eastern banks of the lake.
We drove all the way south to the end of the lake, where we then swung across its feeding river towards the last 2.5km of unsealed road for the Mardalsfossen trailhead.
As we were driving the narrow road along the eastern shores of the lake, we could see Mardalsfossen towering high above the lake. It was too bad we couldn't find a suitable place to stop the car and just take more relaxed photos from this contextual vantage point. Instead, we had to basically block the traffic (fortunately, we were the only ones on the road at the time) and take the photos from the car.
Anyhow, we would eventually walk the well-established trail to Mardalsfossen and get there at 11:30am. The falls looked a bit different from this close up (not as tall as we had seen it from across the lake), but at the same time, we got to crank our necks up at the impressive top part of the falls (partially seen) as well as the big lower drop which had a little bit of a Y-shape.
We didn't make it all the way to the misty base as the trail got rougher and less defined after the trail's official end. That was where we were content to turn around.
At 12:15pm, we were back at the car. Given the gentle uphill nature of the hike, it was mostly downhill and fairly straightforward.
Next, we continued driving further up the Eikesdal Valley where we continued to see more impressive waterfalls on both sides of the valley. At 12:40pm, we made a stop at a pair of waterfalls falling side-by-side at what was informally called Tverrgrovafossen and Hovlafossen
At about 12:45pm, we saw a couple of more large waterfalls to our left on the opposite side of the valley.
At 12:50pm, we saw yet another pair of big waterfalls on the right.
We weren't sure where we were supposed to stop and turn around as we got deeper into the valley, but then a sign caught my eye at a junction. It said something to the effect of Aursjovegen, and I never came across this in my pre-trip research, but for some reason, I decided to just go for it.
So we went up the very narrow unsealed and mountainous road up a few tunnels while also yielding some pretty mind-blowing views of the U-shaped Eikesdalen Valley.
The U-shaped profile of the valley was absolute evidence that a glacier once scoured through this area. Indeed, it was quite Yosemite-like.
As the road flattened out, we continued driving into the moors above Eikesdalen. However, as we were looking into the head of the valley, we could see more giant waterfalls draping both sides of the valley!
It was quite a breathtaking sight, and we weren't even sure if these waterfalls had names. We really felt they ought to!
Julie and I made a brief stop at this magnificent sight at 1:20pm. Then, when we had our fill, we continued driving along the Aursjovegen until we decided that the scenery wasn't improving past the climax we had just witnessed. And so we turned around at 1:30pm, headed back down the Aursjovegen, and got to relive the experiences we had just been treated to on the way up.
At 2:25pm, we were back inside the Eikesdalen where the pair of waterfalls tumbling side-by-side (Tverrgrovafossen and Hovlafossen) could be seen.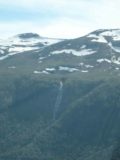 Julie and I then continued driving towards the town of Sunndalsora where we briefly had a late lunch at 4:10pm. At this point, we figured out that there were places where we could buy lunch cafeteria-style that were fresh, weren't fast food, and were quite the bargain compared to any true sit-down place with service.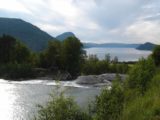 After leaving town, we then arrived at the Rykkjem ferry across the Todalsfjorden at 4:40pm as we were trying to head towards a waterfall called Naustafossen in the Trollheimen region. I knew this would be a bit of an out-and-back detour since it didn't seem like there was a whole lot of literature devoted to this area during our pre-trip research.
We did see some signage and literature proclaiming that area to have some of the cleanest air and water in Norway. I guess that suggested that we were going into some pretty remote place.
Anyhow, after landing at the other end of the ferry, we then drove east along the north side of the Todalsfjorden and into Todal Valley. We drove this pretty narrow rural road for quite a ways (missing a turn along the way and having to backtrack at one point) before we finally started to get to the end of the road near someone's farm (in the hamlet of Karvatn) with Naustafossen in the distance at 5:45pm.
Julie was getting a little waterfall-fatigued at this point (despite this waterfall looking very impressive) so she stayed in the car. I went out and did some trail running to get all the way to a bridge where I could see there was a natural waterwheel throwing up mist before the taller plunge of the falls.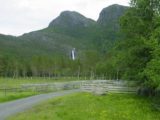 It looked like there was more I could have done in terms of walking as the trail seemed to keep going beyond the bridge, but I couldn't keep Julie waiting.
So after having my fill of the falls, I ran back the 700m or so to return to the car. And with that, we headed out at 6:15pm.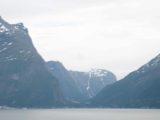 At least now that we knew where we were going, it was a little more straightforward to return to the Rykkjem ferry across Todalsfjorden. And then, we were back in Sunndalsora before we then headed east into the valley of Sunndalen on Road 70.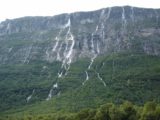 As we were driving this road, Julie and I were all of the sudden bombarded with waterfall sightings left and right. Some of these had some makeshift pullouts or road shoulders that we could stop the car and have a look outside of the car. Others kind of crept up on us and we had to U-turn in order to see them better before continuing east.
We started to stop for some of these waterfalls at around 7:55pm. And at 8:05pm, there were even more that we saw in Sunndalen though by this point in time, if we didn't stop at a pullout (because they weren't there or we somehow missed them), then we kept going east. We could've been in this valley forever to hunt waterfalls, it seemed.
We would eventually reach a turnoff near Gjora where there was yet another waterfall in the distance. Man, large waterfalls seemed to really be a dime-a-dozen in Sunndalen. I remembered before making the turnoff to leave Road 70, we did pullover for a young local guy who was tailing me. However, as I pulled over, we must've hit a pothole or something which really freaked Julie out.
I guess we were going to have to be a little less liberal about finding shoulders or pullouts to let locals pass given this near tire-popping incident (fortunately, the car was still in good shape as well as the all-important tires).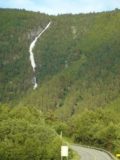 Anyways, we would eventually get past a turnoff on the left that went across a bridge towards the Jenstad farm. We instead decided to continue straight and go up some narrow switchbacks until we were at the top of what appeared to be Svoufossen at 8:40pm. However, the view from up here wasn't that great so we got our shots from here, then headed back down the switchbacks towards the turnoff we missed to head to the Jenstad farm in Amotan.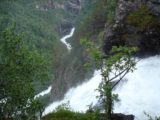 Eventually at 9pm, we would arrive at some signposted car parks with a view of what appeared to be Reppdalsfossen ahead of us. Once again, Julie was waterfall-fatigued so she stayed in the car, while I went waterfall-hunting solo.
There were signs that pointed me where I should be walking to get to the Svoufossen, which was the real reason why I went on this hike even though I could see the impressive Reppdalsfossen already. Eventually, I'd get around someone's farm and then walk downhill into a forest until I started to get a decent view of the plunging and twisting Svoufossen.
I wouldn't walk all the way down to the base (as the terrain also got a little steeper) though I probably could have if I wasn't keeping Julie waiting and it wasn't so late in the day. Still, the photos I did get of Svoufossen were nice, and I eventually trail ran my way back up to Julie at the car by 9:20pm.
At this point, we then drove to a separate car park as I had recalled we passed by one earlier on the way to the one we ended up stopping at. That other car park turned out to be the trailhead for Linddalsfossen. Each car park was charging 20kr for parking.
The sign here said it was going to be a long two-hour round trip hike! With it being pretty late and Julie suffering from waterfall-fatigue at this point, she let me go ahead and do this hike solo knowing that I could probably do this trail very fast and not having to keep her waiting for long.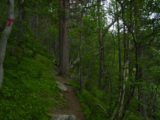 And so I followed the trail and the trail markings as I quickly made my way uphill along the narrow trail. The trail itself looked like it hugged some slopes as it would weave in and out of some forested terrain while also having a few minor stream crossings and the odd rocky landslip area. The trail was a little overgrown in some sections as well.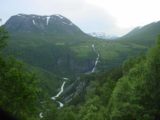 By the time I finally saw Linndalsfossen, I was quite surprised at how quickly I was able to get there when I had been anticipating a much longer hike. Still, I wasn't complaining, and the view of the falls was awesome!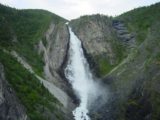 Before me was a giant waterfall that was fanning out as it was gushing into a deep gorge below me. I was content to get my views from the outcrop I was standing at even though it looked like the trail could keep going (possibly towards its top).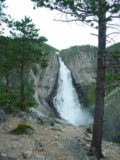 But with Julie waiting in the car, I decided that I was going to get my photos, momentarily bask in the glorious scene before me, and then quickly trail run my way back to the car park.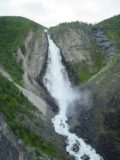 As I was headed back, I started to notice more waterfalls in the distance in the Jenstad farm vicinity. Indeed, it really seemed like the Amotan hamlet was where multiple waterfalls were converging, and it was quite unusual as far as I was concerned. It was too bad that it was getting late in the day because we very easily could have spent an entire half-day here in just this one spot alone!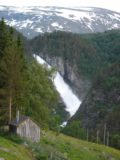 At about 10:25pm, I rejoined Julie at the car park. Surprising even her, this hike took half the time that the signs led us to believe. Either I was trail running very effectively or that sign was a bit on the conservative side in terms of time commitment. Well, whatever the case, we drove off.
By about 10:40pm, we were back at the Road 70 junction at Amotan and then we continued east towards the town of Oppdal, where we were staying next. At least the waterfall bonanza within the Sunndal Valley wasn't nearly as pronounced as further west between Sunndalsora and Gjora.
So we were able to zoom through the eastern end of Sunndalen and finally arrive at the Oppdal Quality Hotel at 11:15pm. And so we were finally able to call it a day as it seemed like it was only starting to become twilight at this time…
Visitor Comments:
Got something you'd like to share or say to keep the conversation going? Feel free to leave a comment below...
No users have replied to the content on this page