Day 3: CHILLIN' IN TRONDHEIM
Once again, Julie and I awoke at 6:30am. We had yet another basic koltbord breakfast at 7am, and then we checked out and left Oppdal at 8:30am.
As we were driving north from Oppdal towards Trondheim, I recalled that there was a little bit of a police blockade. It turned out that they were giving breathalyzer tests to motorists and so I had to blow into one when it came my turn.
This passed without incident, but I wondered how much of a problem drunk driving was in Norway for them to do this. As we got closer to the city of Trondheim, we had to pay about 25kr for this stretch of road.
Eventually at about 10:30am, we arrived in Trondheim, which was the first true city (at least by Norwegian standards) that we had been to since Bergen. But unlike Bergen, we would at least be seeing this city on a day other than Sunday so we were really looking forward to mixing up the experience on this day.
Fortunately, they let us check into the Hotel Britannia at this time. That was cool! So now, we were able to just drop off our stuff in the room, and then walk around the city center of Trondheim for the rest of the morning.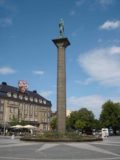 It was a sunny day and Julie and I were basically just randomly walking about the city. Along the way, we picked up some takeaway lunch while also enjoyed ourselves some softis (soft serve ice cream) in delicious waffle cones. The day was actually a bit warm so it was a great way to cool off for a bit.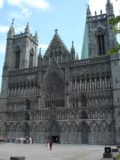 Meanwhile, Julie and I checked out a very impressive medieval cathedral called the Nidaros Cathedral. It was a grand structure that was easily bigger than anything I had seen so far. Of course, Julie (having been to Paris before) told me that if I thought this was something, I should go check out the rest of the European cathedrals. If indeed that was the case, they must be very impressive given how big the Nidaros Cathedral already was.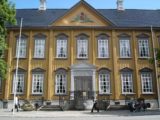 It was very cool inside the cathedral which really helped to offset the somewhat warm weather we were getting. There was even a hint of humidity in the weather, which I thought was rather odd considering how far north in lattitude we were. I guess the Gulf Stream was really keeping Northern Europe temperate and quite comfortable instead of as unforgiving as say Siberia or Alaska or something.
By about 2:30pm, Julie and I were having our fill of Trondheim, which was a compact enough city that we felt we saw most of its structural highlights in the few hours we were there. And so we returned to the hotel, got into the car (which had limited parking beneath the hotel), and then we headed out towards Henfallet.
That would be the lone waterfall of the day. However, we'd have to earn it with a bit of a drive from Trondheim to the falls. I even entertained the thought of making a larger loop to encompass the UNESCO World Heritage mining town of Roros, but we'd have to play it by ear on that one.
And so we drove off that started with a lot of toll roads. I believe we paid about 25kr to leave Trondheim plus another 10kr to get to the Road 705. The 705 road was the inland route that would ultimately take us to the town of As. Near the junction of the E6 and 705 was the town of Hell, which got a kick out of us, but I knew that Hell had a completely different meaning than the religious one.
It wouldn't be until about 4:20pm when we got to a waterfall seen from a bridge on a logging road that would ultimately lead us to Henfallet. I believe this waterfall was called Kvernfossen. We took photos of it, then continued on the logging road, which was actually a little non-trivial for the 2wd passenger vehicle we were in given that there was some grass in the middle of the road that was brushing up against the underside of the car.
After a fair bit of extensive driving on this unpaved logging road, we finally arrived at the signposted pullout for Henfallet at 4:45pm. There was a sign in Norwegian claiming that at 90m tall, it was the highest waterfall in the South Trondelag county.
And indeed, after a short jaunt across a small grove of forest, we were looking right into the ravine that contained the gushingly wide waterfall. Julie and I were content to take photos right from where we were standing, but it looked like there were some more informal trails leading further down into the ravine.
We were pretty content with our views of Henfallet and we opted not to extend this visit any longer knowing that we still had to drive back to Trondheim. So we were back at the car at around 5:05pm knowing that we still had a 113km drive to Trondheim. It turned out that it was 95km just to even get to Roros, and that wouldn't even include the drive to get from there to Roros. And so we opted not to do Roros on this day. Maybe on a return visit, we might go for it.
At 7:10pm, we finally arrived back at the town of Trondheim. So after quickly parking the car beneath the Hotel Britannia, we then quickly walked around town looking for a place to eat. I believe we ultimately went to a place called Egon.
It was a pretty satisfying dinner (though I didn't recall what exactly we had), and for a change, we had a relatively laid back day compared to all the hectic waterfalling we had been doing throughout the trip day after day. And so Julie and I had a nice night and we looked forward to getting cleaned up and well-rested on this night…
Visitor Comments:
Got something you'd like to share or say to keep the conversation going? Feel free to leave a comment below...
No users have replied to the content on this page