Day 4: E6-ING INTO NORDLAND
It was 6am when Julie and I awoke. For once we were very well-rested. And as much as I wanted to get an early start today knowing that we had to go far north, we were first going to have our included breakfast.
We had gotten used to the basic koltbord breakfasts every morning throughout this trip, but when we got into the breakfast area for the Hotel Britannia, Julie and I were floored when we saw the variety of both hot foods as well as the standard Norwegian koltbord choices as well.
Needless to say, we took advantage of this really good breakfast (and we probably stuffed ourselves silly in doing so), and so we wouldn't check out and leave Trondheim until about 8:20am.
And so we continued north on the E6 as we were leaving Sor-Trondelag county and heading into Nord-Trondelag county. I was fighting a little bit of road fatigue, which was strange considering we were pretty well-rested from last night. But perhaps it was the cumulative effects of not having enough sleep throughout this trip. So I needed help from Julie to keep me propped up.
Thankfully, we arrived at the signposted car park for Formofossen at 11:35am. It wasn't far from the E6 and it had enough signage for us to find it without trouble (after crossing a bridge, then turning right after the bridge).
As we left the car, we first briefly meandered through a small picnic area before reaching the brink of the falls where there was an overlook. We looked down at the short but gushing river-type waterfall that was apparently important for salmon fishing. However, a sign here mentioned that there was a mysterious parasite that was wiping out the salmon population.
As we continued walking further downstream, we'd reach what appeared to be some steps leading into a rocky outcrop what looked quite dangerously close to the rushing water. Even getting onto the rock itself seemed a bit dicey so we decided to just get our downstream views of the falls from the relative safety of the stairs. And so we had to be content to get our side views of the falls before we returned to the parked car.
Next, we drove back onto the E6 and continued into the Nord-Trondelag county where we then saw signs for Grongstadfossen. We took a side road 775 that connected us to the small hamlet of Hoylandet, but there were a lot of sheep on this road, and we really had to be careful not to get into an accident with them.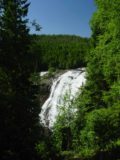 So after a half-hour spur of this driving, then turning left onto the Rv17 before turning right at a sign leading us into an unpaved rural road, we would eventually arrive at a car park around Grongstadfossen at 12:55pm.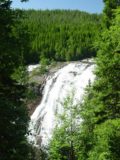 It was a short walk down a dirt road that was a bit overgrown with grass to a picnic table where I stood on it in order to get a somewhat clean view over the foliage towards the impressive waterfall. However, there seemed to be a bit of a cloud of wasps in the area, and that kept Julie in the car. Perhaps I wasn't totally cognizant of the danger of this swarm, but it did make me uncomfortable enough to not want to linger outside the car for much longer.
Perhaps in hindsight, I should have continued down the trail towards the river and get a totally different perspective of Grongstadfossen from below, but given the circumstances, we did what we did, and it was time to keep moving at around 1:15pm.
So we backtracked onto the E6, and then continued the very long drive north as we were leaving Nord-Trondelag county and entering Nordland county. Again, I was fighting road fatigue as the drive was very long and seemingly too familiar in scenery to shift my attention.
Eventually at 3:45pm, we arrived at a large car park and visitor center for the Laksforsen waterfall. Apparently, they called waterfals "forsen" instead of "fossen" in these parts because there was a bit of Swedish heritage here.
After a brief lunch inside the visitor center where we could look out at the wide waterfall from inside, we then scrambled down a steep friction pitch towards the banks of the river where we could feel some of the mist of Laksforsen. We had to be careful not to get too close to the river because the rocks we were standing on were quite smooth and slippery.
The direct views of the falls weren't that great (or at least it made the falls look smaller than from above), but we had our fill of the impressive falls while others seemed to be trying their luck at fishing here. I guess that was fitting since "laks" was the Norwegian word for salmon.
When we returned to the car some time after 4pm, I couldn't help but notice a sign about the E6 saying something to the effect that it was one of the most dangerous roads in all of Norway due to the hazards of road fatigue. They didn't have to tell me twice about that one!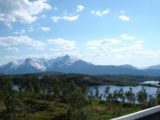 And so we continued driving north on the E6 even further north. It was crazy to think how much driving we had done to this point, and we still had a ways to go before even reaching our accommodation in the town of Mo I Rana.
Eventually at 6:15pm, we made it to the turistkontor (visitor center) in the town of Mo i Rana, and to our surprise, they were open and we managed to pick up some maps. And in the literature, we saw there was something about the Gronligrotta cave, which was something a bit different from what we had been doing so far on this trip.
So after getting the info we needed, we decided that perhaps we should do some more touring before checking into the accommodation in town. Julie wasn't keen on punting the check-in until later so that would be a point of contention for the rest of the afternoon.
When we left Mo i Rana, we quickly continued driving on the E6 further north. We'd eventually get to a signposted turnoff leading to both the Gronligrotta as well as the Svartisen Glacier (Black Ice Glacier). We didn't have any intentions of doing the glacier, but we figured we mind as well go right to the Gronligrotta cave.
We'd arrive there at around 6:55pm, and we happened to show up just in time for a cave tour with another family of Norwegians. There was a young, blonde lady (probably in her 20s) dressed in spelunking gear and a headlamp while wielding a flashlight who was leading the tour. It seemed like a family operation. I recalled she spoke mostly Norwegian, and it seemed like they didn't get many Americans in these parts.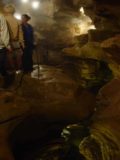 Nonetheless, Julie and I did the tour, which was quite wet and damp inside the cave. The low light made it harder for us to take photos without flash (which would ruin the photo), but we were relishing the fact that there were underground streams and mini-cascades that really made the cave pretty loud.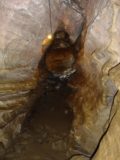 It was a thoroughly enjoyable tour even though the cave was modestly sized. But the more important thing was that it was yet another way to add variety to a trip that was dominated by waterfalling. I knew Julie was getting sick of waterfalls at this point.
We were eventually done with the cave tour at around 8pm and then continued driving north on the E6 as I was determined to go look for Bredekfossen before returning to our accommodation in Mo i Rana.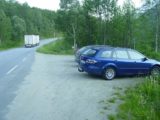 Ultimately, after a little bit of driving around the Stormdalsaga area, we found one car park that seemed to be a bit farther from an earlier car park we chanced upon earlier near a swinging bridge.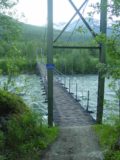 We eventually decided that we should start the hike from the swinging bridge and so we got back in the car and eventually got to the limited parking space by the trailhead by the swinging bridge for Bredekfossen at 9:20pm.
Once again, Julie decided to stay in the car listening to some Norwegian radio while also getting some rest. I recalled we were listening to Briskeby's "Miss You Like Crazy" right about the time I was getting started on the hike.
Anyways, after crossing over the swinging bridge traversing the wide Ranaelva River, I then passed through what seemed to be private lands where signs urged hikers to respect the private property and quickly get through the area to continue onto the trail.
Then, the trail went uphill through some forested bushlands before I found a short scramble leading to the edge of a cliff with a partial top down look at the Bredekfossen. I wasn't sure how I was supposed to get down there for a closer look, and perhaps my hiking wasn't finished. It was about 10:15pm.
But with it getting late in the day and the sun had already disappeared behind the mountainous horizon, I couldn't extend the hike anymore to get a closer look at Bredekfossen. And so I was content with what partial views I was able to get before I returned to the car park where Julie waited for me.
By the time I got back, it was about 10:50pm. We drove back south on the E6 into the town of Mo i Rana, and we'd eventually return to the accommodation some time around 11:30pm.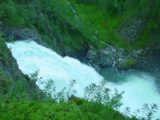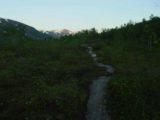 We were lucky to have the late check-in. But without any real dinner, Julie was pretty grumpy. In any case, we got cleaned up and went to bed knowing that there wouldn't be much of sightseeing in this town as we'd be continuing our drive further north tomorrow morning…
Visitor Comments:
Got something you'd like to share or say to keep the conversation going? Feel free to leave a comment below...
No users have replied to the content on this page