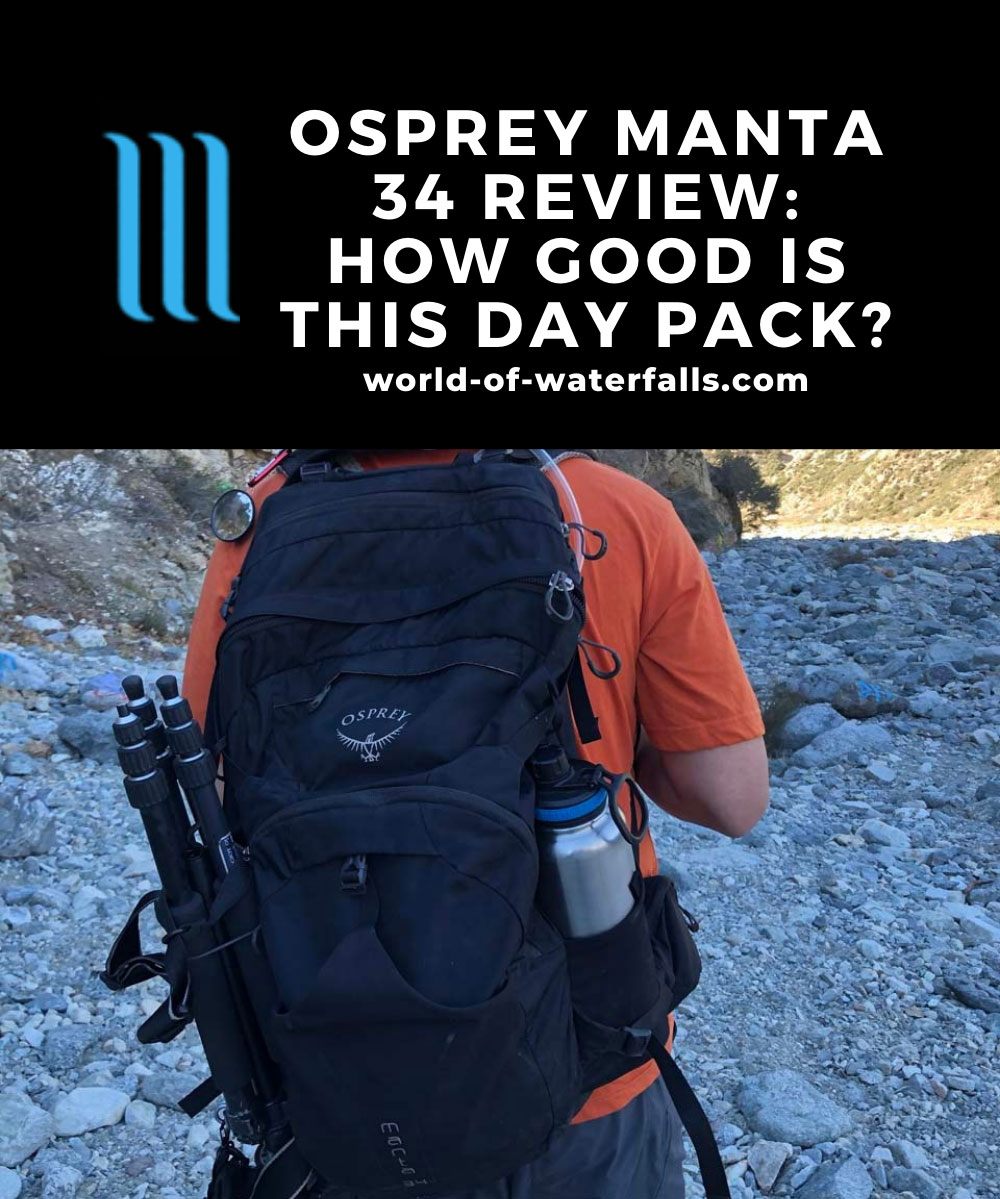 This Osprey Manta 34 review takes an in-depth look at this high-end backpack that is designed with the sole intention of being the best backpack for day hikes or hiking in general. Of course, since we chase waterfalls around the world, we demand a lot out of the packs that we use.
Not only must this backpack excel both on as well as off the trail, but we also want to take it with us to waterfalls that require us to fly to our destinations.
We've been using this pack ever since we had to find a replacement for our prior backpack in early 2019.
So how well does the Osprey Manta 34 backpack perform given our divergent demands of travel hiking? Let's find out!
What Is The Osprey Manta 34?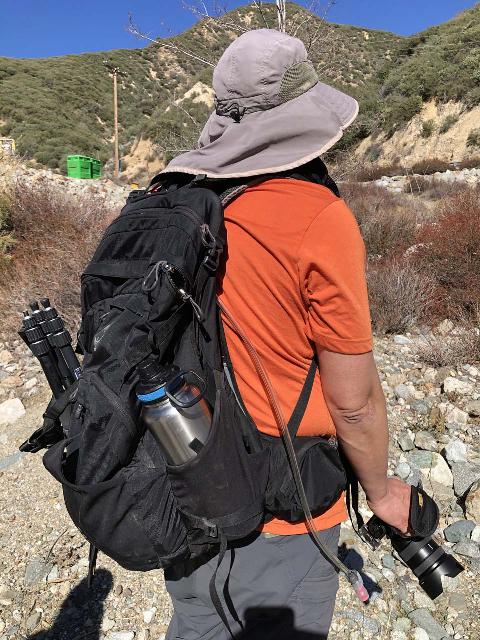 The Osprey Manta 34 is a high-end day hiking pack with built-in features for on-the-go hydration.
Its dimensions are 22″ x 14.2″ x 13.8″ (56 cm x 36 cm x 35 cm), and it weighs 3.09 pounds (3 pounds 1 ounce, or 1.4 kg) if you exclude the 2.5L hydration pack (or "bladder").
It can hold 2075 cubic inches (34L) of stuff weighing 10-30 pounds
Since this pack is designed for hiking and not for travel, all its features cater to the needs of hiking activities, which you'll see later in this review.
Who Is The Osprey Manta 34 For & When Should You Use It?
The Manta 34 is primarily meant for day hikers though its ability to hold up to 30 pounds and 34L opens up the possibility of very light and minimal overnight Summer backpacking.
There is also a female version of this backpack called the Osprey Mira 32, which is designed to better fit the body shape of women as opposed to men.
That said, my wife has worn my Manta 34 from time to time without issue.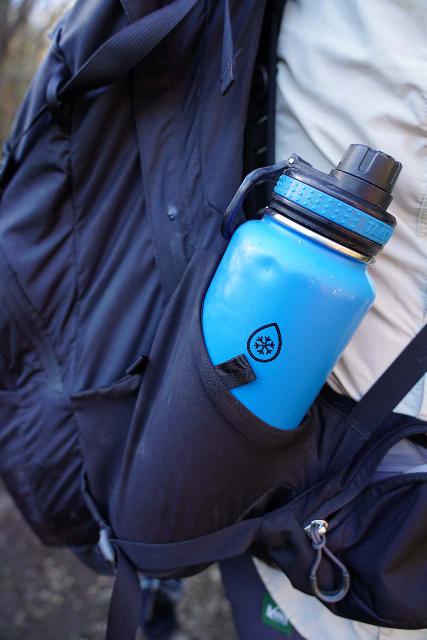 As far as when to use this pack, I've found it very useful on almost all of our hikes to waterfalls, even if such hikes take the whole day.
Moreover, if the hike is short and easy (and maybe overkill at first glance), I would still use this pack on those hikes just to ensure that I'm well-prepared for whatever trail conditions or surprises that may come up.
While this pack is not built with travel in mind, it's still small enough to pass as a carry-on luggage even though it technically doesn't meet the 45″ linear guideline of most airlines.
Indeed, I find it worth the trouble of bringing this backpack on our trips because sometimes we have to go on long rugged hikes internationally.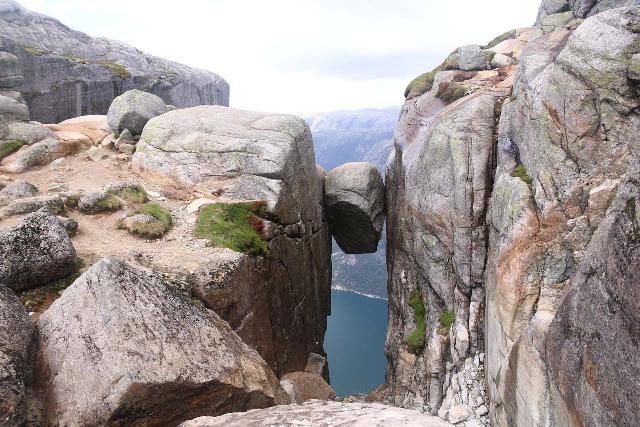 And it's the long and rugged hikes where I think this pack really performs well.
Pros
The benefits of the Osprey Manta 34 backpack are realized by its various features, which we'll detail in this section.
Comfort
A distinguishing feature of this day pack is that it features a so-called "LightWire Alloy" frame.
This is different because internal frames aren't normally included with day hiking packs that I've generally come across.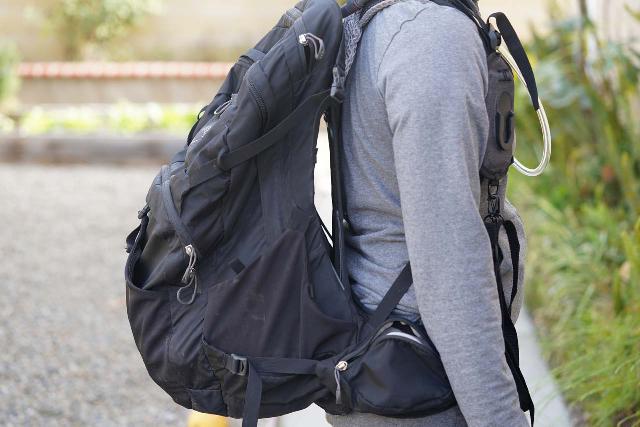 As a result, I can definitely feel the difference which manifests itself in terms of hiking comfort.
Indeed, the frame combined with the padded hip belt aids in stabilizing and redistributing the pack's weight towards my hips and legs instead of my shoulders and back.
Moreover, the curvature of the internal frame allows there to be a gap between my back and pack itself for much better breathability and reduced backsweat.
The Osprey Manta 34 also has padded shoulder straps even though the pack weight technically shouldn't be pressing down on my shoulders.
Organization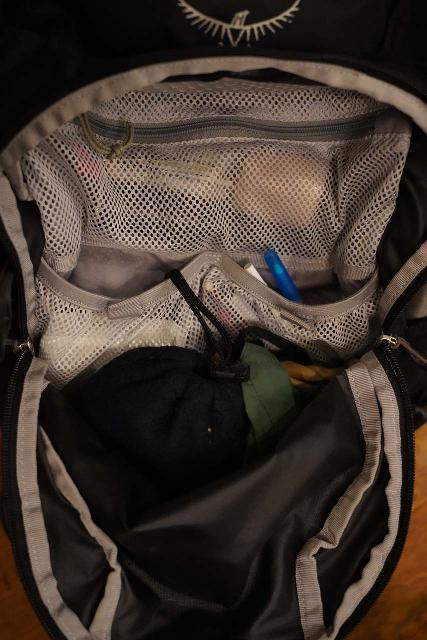 In addition to hiking comfort, the Osprey Manta 34 features a lot of pockets and compartments for better organization.
First, the front zippered compartment has an internal zippered mesh compartment for my wallet and keys.
Just outside that zippered mesh compartment are two outer mesh pockets that I use to store my compass and a small first-aid kit along with some additional pens.
The remainder of the front compartment can hold my head lamps, climbing gloves, sunscreen, bug spray, backup flashlight, Swiss army knife, and other compact survival items.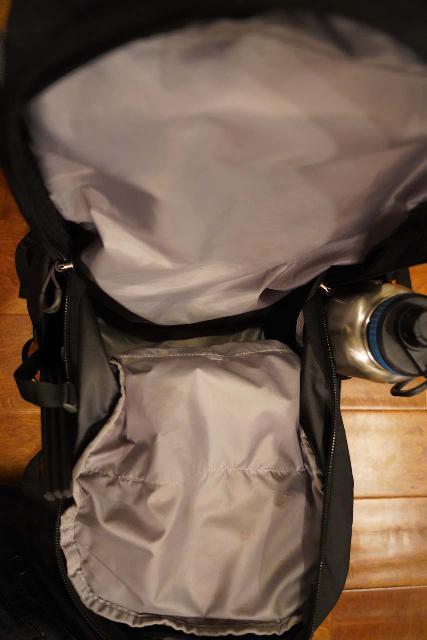 The main zippered compartment holds the bulk of the 34L of storage space, and this is where I would put my bulky jackets, rain ponchos, etc.
I can even stuff a single-person tent and sleeping bag along with my cookset into this pack for very light overnight backpacking.
While the front and main compartments of the Osprey Manta 34 day pack are pretty standard for day hiking packs, it's the other organizational features that I've found to be most useful.
For example, there's an outer open-air front pocket that allows me to temporarily store wet gear (e.g. rain ponchos or a GoPro that has been in the water) and let it dry while I'm on the move.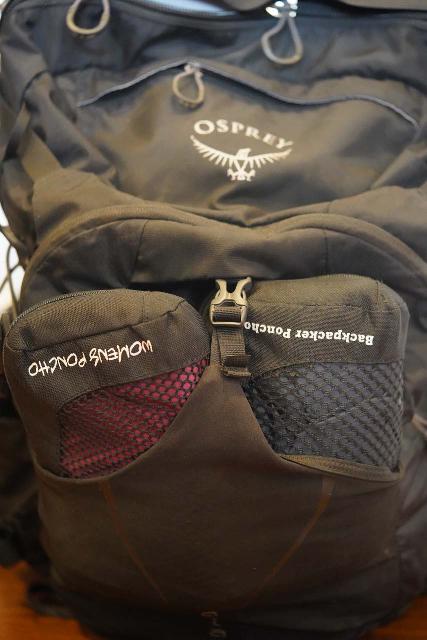 By isolating the wet stuff to that pocket, there's less of a chance of the wet gear ruining other stuff that it would otherwise have to share storage space with while also reducing the chance of building up mold from not letting the moisture escape.
There are also two side pockets that allow me to put my water bottles so I can access those bottles and hydrate on-the-go without needing to remove the pack to get at them.
Since I use 32oz bottles, which can be tall and more difficult to reach as well as to put back blindly, there's an additional angled pocket hole for better accessibility and placement of those bottles in those same side pockets.
Each hip belt also has a zippered pocket so I can immediately access smaller items like my phone or pen and pad, but I've also put spare batteries in there during those times I used to put my handheld GPS in there (before Gaia GPS took over).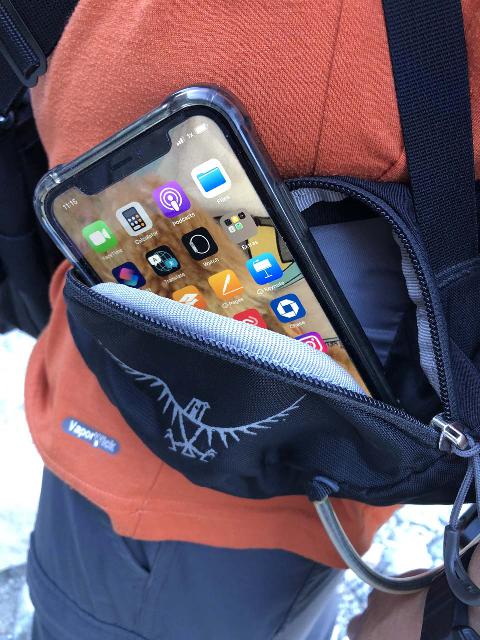 Finally, the Manta 34 has external "Ice Axe" loops that let me attach longer items like trekking poles and tripods outside the pack without sacrificing internal space.
Another feature that I didn't appreciate until after several uses was a pair of plastic-covered loops (one on the shoulder strap and one beneath the left side pocket) that allowed me to stow and access either a tripod or trekking pole without removing the pack.
Versatility
As I have gotten familiar with the Osprey Manta 34, I have also come to realize that many of its features could be repurposed for many of the other activities that I engage in when I hike to waterfalls.
So I've found the pack's versatility as a surprising benefit regardless of whether such repurposing was intended in its design or not.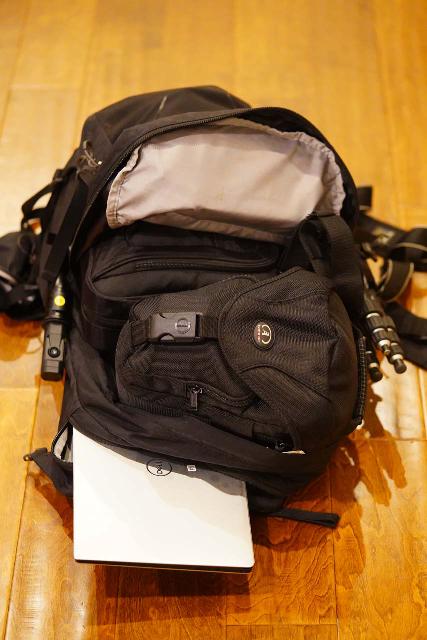 For example, the roomy main compartment allows me to fit my DSLR camera and laptop case for those times I want to bring this pack's benefits to my travels around the world.
However, since I don't want to leave such fragile items to chance by checking them in when flying, by keeping those items with me in this pack as a carry-on, I've managed to fulfill my travel (and even photography) needs.
Another example of an unintended benefit of the Manta 34's existing features is the side pockets being robust enough to allow me to store other items like my Chaco sandals, SwitchPod, or other things when a water bottle isn't being used.
I especially found having the Chaco with me in this manner to be handy because it enables me to always be ready to wade in water when faced with a water obstacle (whether expected or not).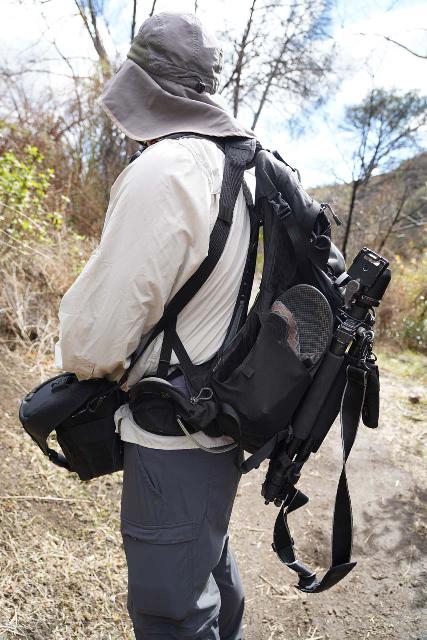 And when I'm done using those sandals, I can still use the same side pockets to air dry them out.
There are even four elastic shoulder strap loops (primarily to control the routing of the hydration pack's tube) that let me attach miscellaneous items like my sunglasses, a legitimate whistle, a mirror, and other things (typically attached with a carabiner).
Of course, there are also intended features of the Osprey Manta 34 that enhance its versatility, especially when the weather changes.
For example, this is where I really appreciate the included rain cover that sits out-of-the-way at the bottom of the pack.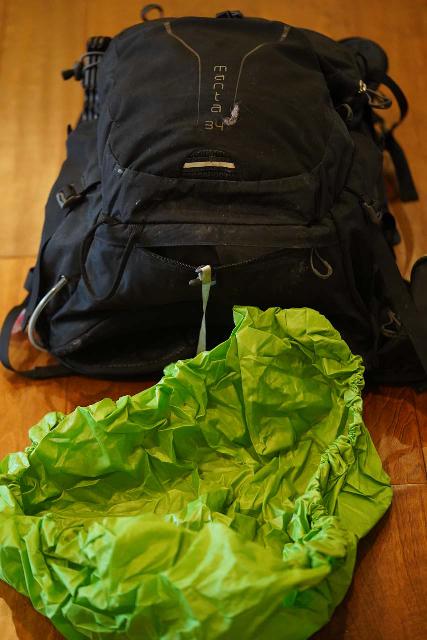 I'm sure there are other features that I haven't appreciated or fully exercised, but I'm quite impressed with what I'm able to do so far with it.
Cons
As much as I'm very impressed with the thoughtful features included with Osprey Manta 34, there are some things that I'd like to make it the perfect pack for all my waterfalling needs.
Small Hip Belt Clip and Webbing
I found the webbing and hip belt clip between the hip belt themselves to be rather thin and fragile.
The webbing was only 3/4″ wide, and the clip was a kind of plastic material that can easily break over several uses.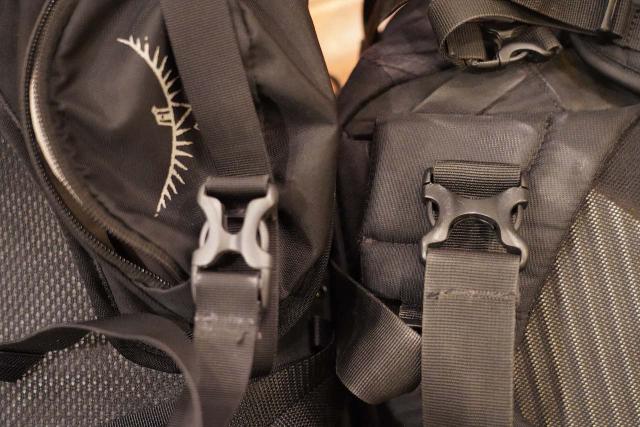 Fortunately, Osprey does stand behind their packs as manifested in their lifetime warranty where we managed to receive replacement hip belt clips when they failed on one of our older packs.
Nevertheless, this is something you don't want to fail when you're out in the field where the weight transfer mechanism suddenly stops working and now the pack weight returns to the shoulders, neck, and back.
It's Technically Not Carry-On Compliant
Most airlines impose a 45-inch linear restriction for carry-on luggages or packs meaning the sum of the length, width, and height must not exceed 45 inches.
Unfortunately, the official dimensions of the Osprey Manta 34 is at 22″ x 14.2″ x 13.8″, which means it has 50 inches of linear length thereby violating this travel restriction.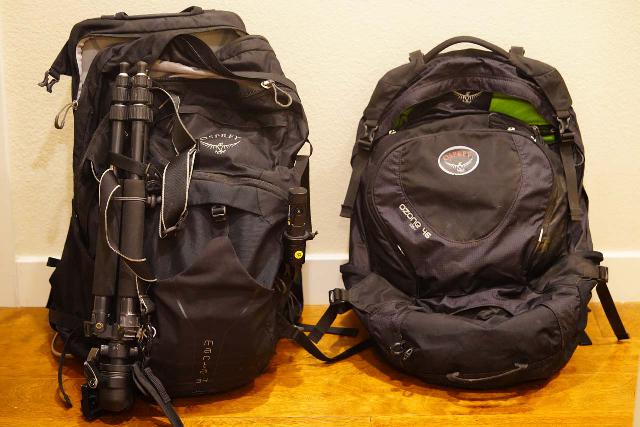 In addition, the internal frame of the pack itself is exactly 22 inches so it's much harder to coerce the pack to fit into tight spaces or even into a demonstration cage to show an airline employee that it passes as a carry-on.
While I've managed to bring this pack to Norway without issues, this can be a problem for other airlines that maybe sticklers for their carry-on restrictions.
Some of the dimension issues with the Manta 34 has to do with the curvature of the internal frame, which is great for what it does in terms of back ventilation and weight transferring.
However, it adds non-packable dimensions to the pack that wind up defeating its ability to be brought with me as a carry-on while losing packable space at the same time.
Some Nitpicky Non-Deal-Breaker Issues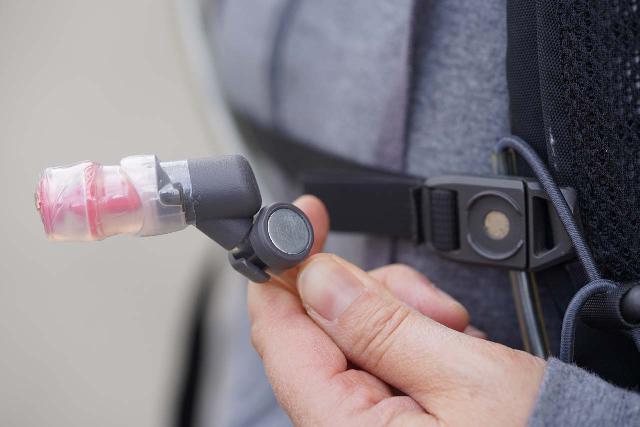 As with all packs I've owned, there are little nuances that I might find annoying from time to time, but they pale in comparison to the benefits I get from using the Osprey Manta 34.
First, the hydration pack magnet tends to come loose very frequently, but since I tend to prefer stainless steel bottles over the hydration pack, it's not a big deal.
Second, I wish that the side pockets have the ability to let the compression straps squeeze the backpack without squeezing the side pocket's contents.
Third, I wish there was a bit more symmetry when it comes to the placement of external loops.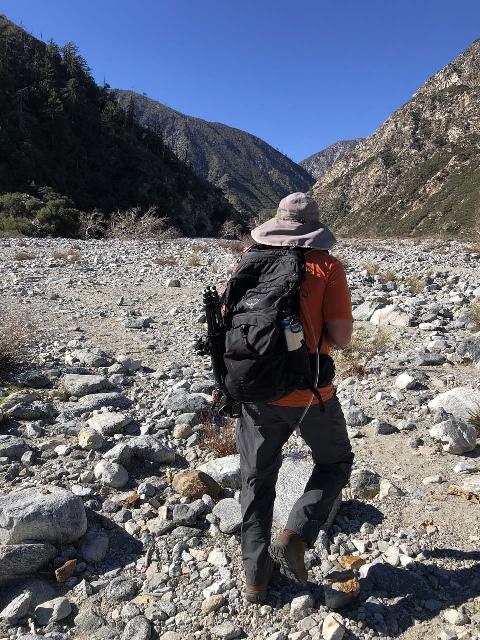 Currently, there's only one set of front loops and one set of on-the-go loops for stowing long items like tripods and trekking poles (one being stowed in each set of loops).
Unfortunately, both of these loop sets are only on the left side of the pack (as I wear it) so their weight tends to bog down the left side, and the water bottle alone wouldn't offset them on the right side.
By having the same sets of loops on both sides, then I could better distribute the weight while I'm also sure hikers that may be left-handed as opposed to right-handed may better appreciate this feature.
Finally, I wish that the Osprey Manta 34 pack has more external loops for carabiner attachments.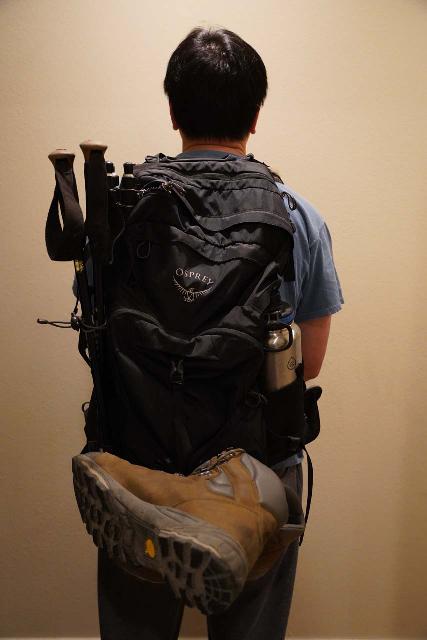 One in particular that I'd like to see is a loop near the slash pocket or at least above the front pocket so I can attach my boots when I temporarily have to cross a stream without worrying about the boots hanging too low and getting wet.
Final Thoughts / Conclusion
In my 20+ years of chasing waterfalls and traveling the world, I'd have to say that so far the Osprey Manta 34 has been the best day pack that I've used.
It's comfortable, roomy, organized, and versatile (whether intentionally designed or not).
And I say this based on my experiences of using various packs and luggages from brands like Camelbak, Eagle Creek, Osprey, Gregory, and more (spanning hydration packs, school backpacks turned outdoor pack, business travel bags, duffle bags, etc.).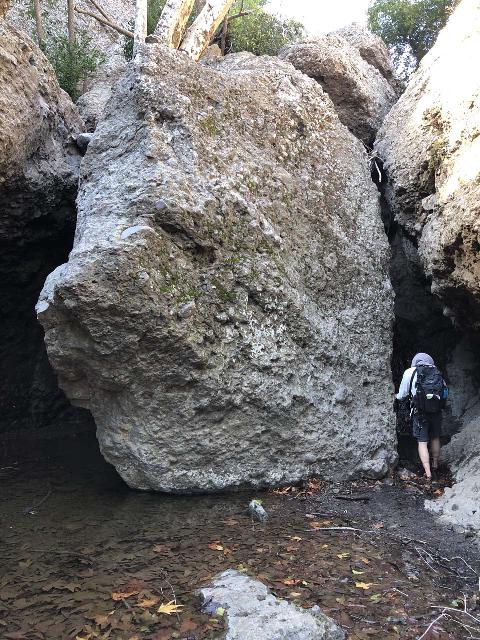 While it may be stretching it to try to use this pack as a personal item in my travels, it does seem to pass as carry-on luggage so I at least can use it to pack my pro camera and laptop as well as other electronics that I'd rather not check in.
As a result, the Osprey Manta 34 is my current go-to backpack for all my travel, photography, and hiking needs.
While it's not my perfect one, it has certainly come the closest, and thus it has earned my trust to go with me wherever in the world that I would chase waterfalls next.
Please note that this is not a sponsored post. However, there are affiliate links that help pay for this site. You can read more about these in our affiliate disclosure in the footer at the bottom of this post. If you have questions or comments, please use the comment box below.
Osprey Manta 34 Backpack
$180
Pros
Comfortable - hip belt, frame, and back mesh
Organization - many pockets & external loops
Versatile - can use on long hikes and for travel
Roomy - fits both DSLR and laptop case
Excellent warranty
Cons
Plastic hip clip and chest clip (impacts durability)
Technically doesn't meet carry-on travel restrictions on most airlines
Asymmetric external loop arrangement for poles and tripods
Visitor Comments:
Got something you'd like to share or say to keep the conversation going? Feel free to leave a comment below...
No users have replied to the content on this page