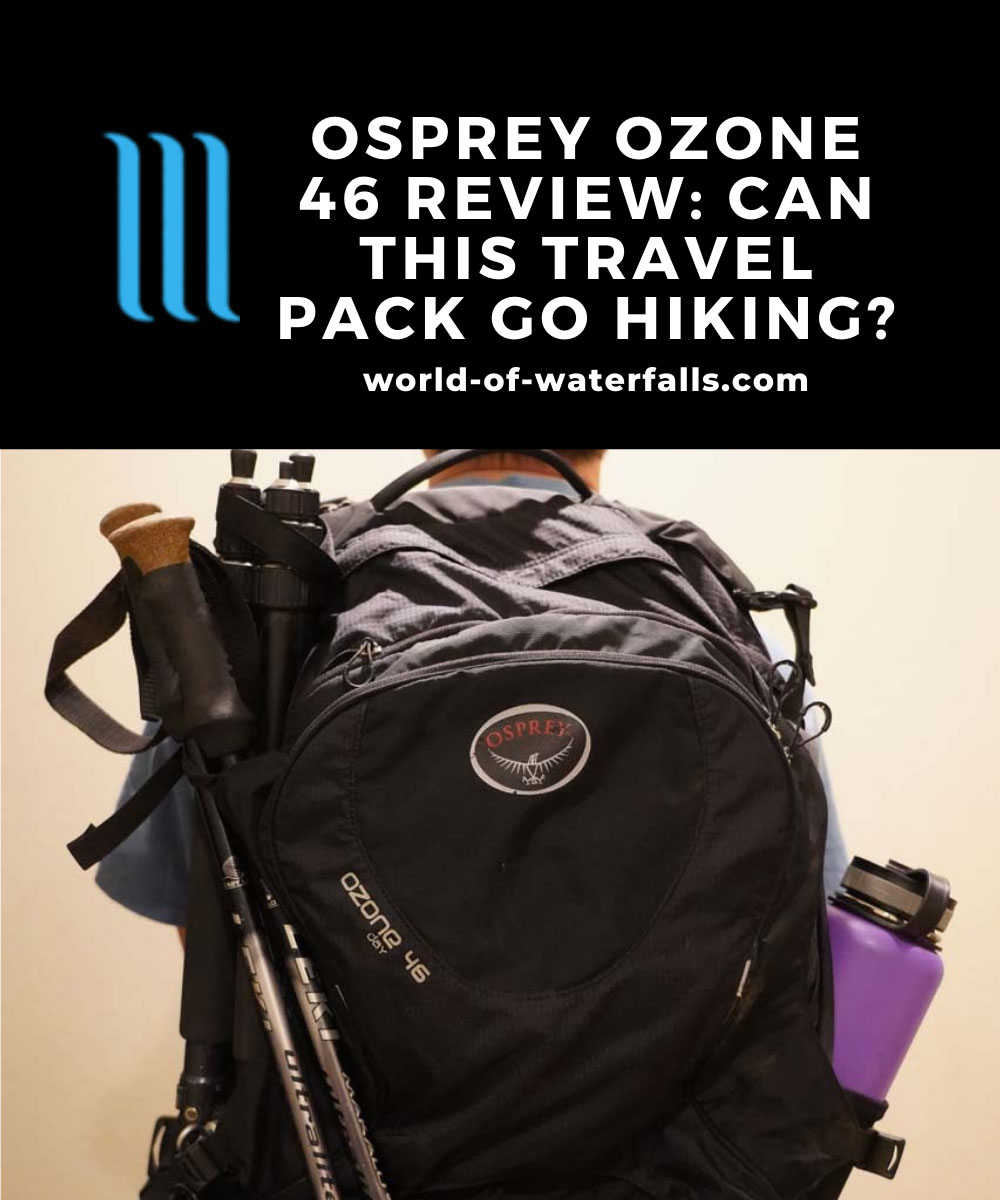 This Osprey Ozone 46 review takes an in-depth look at this travel-minded backpack that also has day hiking features. These dual-purposed designs were exactly what we had in mind when we needed a pack that could both travel with us as well as accompany us on some of the rugged hikes that we do as we chase waterfalls around the world.
That said, there's the old saying that when you try to become a jack of all trades you become a master of none.
So as we evaluate the performance of this backpack, we wanted to consider how well it did as a travel pack, but we also wanted to look at how well it did as a day hiking backpack.
What had to be given up in terms of functionality of hiking in the name of travel convenience? And vice versa?
What Is The Osprey Ozone 46?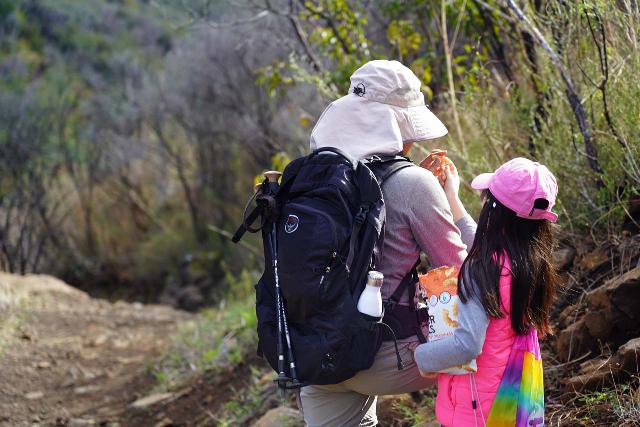 The Osprey Ozone 46 is a backpack designed specifically with on-the-go travel in mind.
It could very well be the predecessor to the wildly popular Osprey Farpoint series (especially the Farpoint 40), the Osprey Porter 46, or even the wheeled versions of the Osprey Ozone series as well as the Osprey Sojourn series.
The Ozone 46 has dimensions of 20″ x 13″ x 12″ (51 cm x 33 cm x 30 cm), and it weighs 2.35 pounds (1.07 kg).
The pack can hold about 2800 cubic inches (46L) of stuff weighing on the order of 10-30 pounds.
Who Is The Osprey Ozone 46 For?
I view the Osprey Ozone 46 travel backpack as primarily for travelers who are on the go or for commuters who have to travel often for business.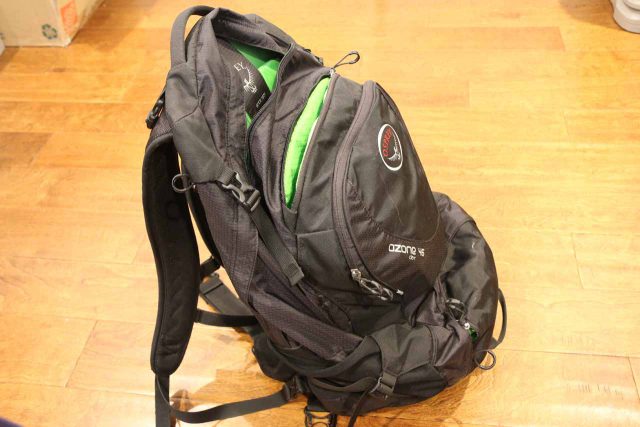 That said, I've personally found this pack as very capable of doing day hiking so I'd also consider it useful for hikers.
In fact, I've found that this pack has been very functional for those people who combine travel and hiking (i.e. adventure travelers) like myself.
I've taken this pack on a trip to Japan and Taiwan as well as to Germany and Austria, but I've also taken it to long distance hikes in Yellowstone (including a hike to Union Falls, which gives you an idea of how serious it is for hiking.
As far as sizes are concerned, there's only one size for this backpack, but I was able to use it as a 5'10" guy and my wife could also use it as a 5'2″ woman.
Pros
The benefits of the Osprey Ozone 46 backpack primarily revolve around its travel-friendly features, but there are also hiking features worth mentioning.
I'll detail all of these things in this section.
It Travels Well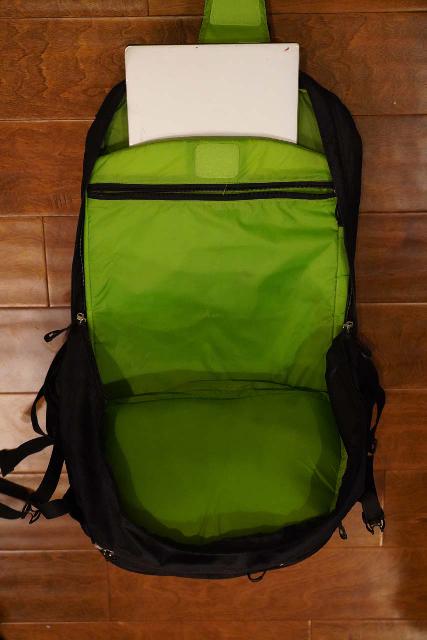 First and foremost, the Ozone 46 pack does carry-on travel very well given its carry-on compliant dimensions.
That said, its frameless design also means that it's easier for me to fit this pack underneath the airplane seat in front of me should I desire to make it a personal carry-on item as opposed to a carry-on luggage that goes in the overhead bin.
I've been successful bringing this pack as a personal item at the same time as bringing my carry-on luggage so I didn't have to check in any of my baggage at all.
Nevertheless, for those more stringent airlines, I can make this pack appear even smaller by hiding the shoulder straps and the hip belt into a rather hidden compartment between my back and the main compartment.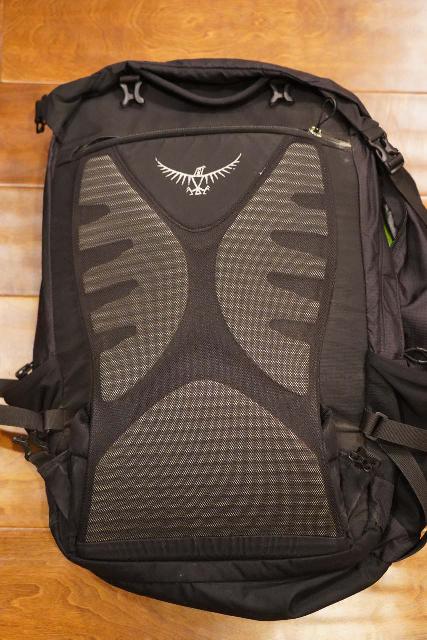 This makes the backpack look even more compact and pass even more as a personal travel item let alone carry-on luggage.
For those times when I need to be careful of pickpockets, the main compartment's zipper is lockable by padlock (though the other zippers aren't and this won't deter thieves with knives who don't mind slashing the pack open).
Comfort
I was actually surprised by how comfortable the Osprey Ozone 46 was when I realized that it lacked an internal frame for back ventilation and for weight stabilization and transfer.
They managed to get away with this by providing some back padding with ventilation so it doesn't get too sweaty back there.
Moreover, they included a padded hip belt to help with the weight transfer to the hips and legs.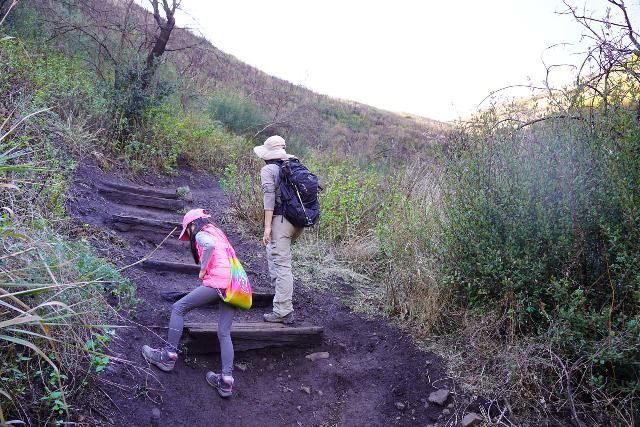 When my wife used this pack on a recent rugged hike, she actually said it was pretty comfortable so it wasn't just me and my four years of experiences with it.
Organization
Another strong point of the Osprey Ozone 46 is its organization despite all the roominess of its 46L of pack space.
Inside the main compartment, I appreciated the padded laptop compartment for a little better protection and a little less risk of that laptop warping when the pack would be fully packed.
Over the course of 4 years of use, I've taken it traveling while fitting my DSLR holster bag and laptop case together quite handily.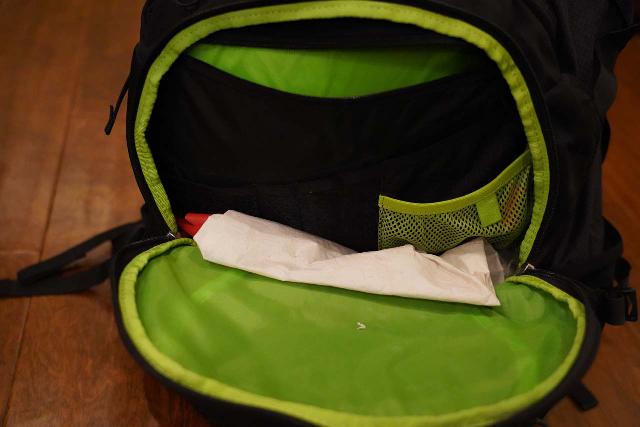 I was even successful in bringing this pack as my personal carry-on item (as opposed to a carry-on luggage) for check-in free flying as a result of its ability to hold both my camera and laptop bags inside this backpack.
The front pocket was has an internal zippered compartment that can hold my wallet and keys, but just outside that compartment were mesh pockets to hold pens, my compact backup flashlight, and one bulkier item (e.g. my first aid kit or compass).
The rest of that front pocket was roomy enough to hold things like my climbing gloves, my headlamps, sunscreen, and bug spray among other small but useful items.
Beneath the front compartment was a so-called "dirty-shoe" compartment, which can hold a dirty pair of street shoes or sandals there, but I generally use it for holding rain gear as well as a rain cover (not included with the pack).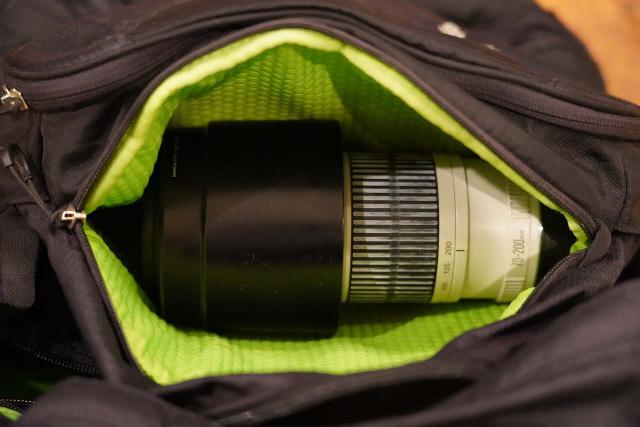 Between the front and main compartments is the so-called "slash" compartment, whose interior is treated with material that prevents scratches for things like sunglasses, a smart phone, or even a tablet.
In fact, that slash compartment was so surprisingly roomy that I was able to fit my Canon EF-S 70-200mm telephoto lens with the lens hood attached in there, and it still had room for my sunglasses.
In addition to the Ozone 46's zippered compartments, there was also side pockets for carrying water bottles for on-the-go hydration.
Such a feature enabled this pack to also be useful as a day hiking backpack in addition to traveling.
Finally, there's even a lower "Ice Axe" loop in the front center bottom of the pack which can hold trekking poles and tripods with the help of side compression straps.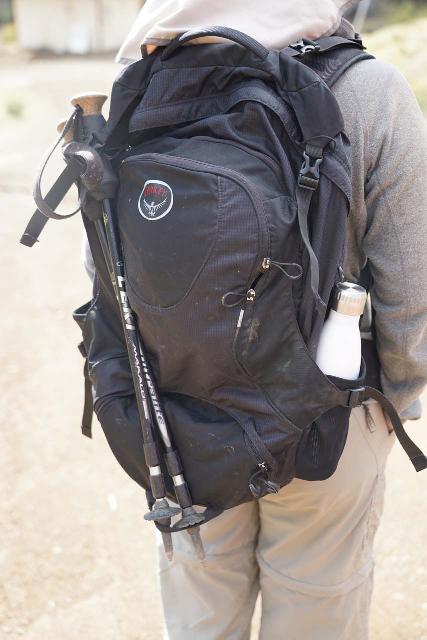 This allows such long items from not having to occupy valuable space inside the pack while still being able to take such things with me without tying up my hands.
This further helps in its functionality as a capable hiking backpack even though it was designed with travel in mind.
Versatility
In addition to its inherent capabilities as both a travel backpack as well as a day hiking backpack, I've also managed to figure out some hacks and workarounds to enhance its versatility.
First, that hidden compartment for hiding shoulder straps and the hip belt can also be used for a hydration pack (even though it wasn't designed for this purpose) if I absolutely needed that hands-free hydration on-the-go capability.
I'd have to use some kind of clip or carabiner to ensure the pack stays suspended inside that compartment while keeping an eye on the mouthpiece and tube, but it further enhances this backpack's ability to do travel hiking.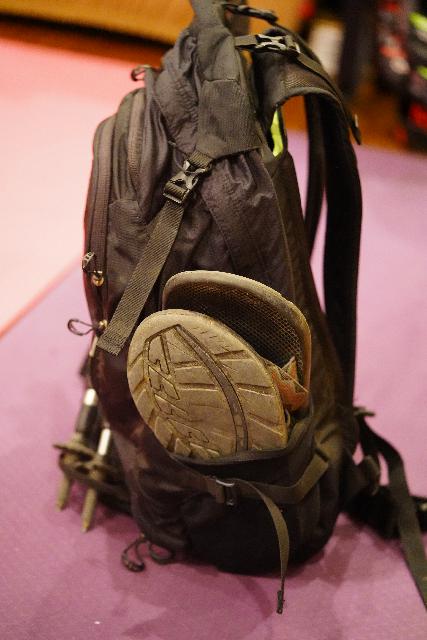 Moreover, I've also been successfully able to carry a change of shoes (namely my Chaco sandals) in the side water bottle pockets.
This helps during those times when I need to change shoes while crossing a stream, and I'd have no excuse not to carry my sandals with me given this hack (which also helps to dry out the sandals after getting wet).
As a fallback, I can still use the "dirty-shoe" compartment down below if I needed both water bottle pockets on a longer hike.
Cons
While the Osprey Ozone 46 did a great job for both travel and a pretty good job as far as hiking features are concerned, there are some things that were lacking that I'd like to have seen in this pack.
Hip Belt Too Fragile
The reason why I actually looked for a different pack after 4 years of using the Osprey Ozone 46 was due to the hip belt clip breaking.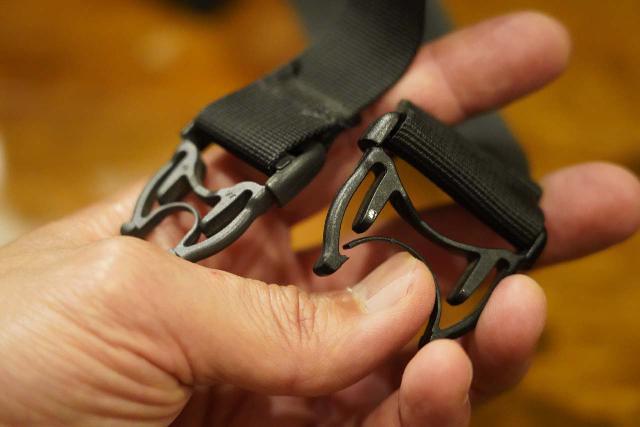 That said, Osprey does stand behind their backpacks and we successfully testing their lifetime guarantee by getting the broken clip and buckle replaced (which came in the mail about a week after we put in the request through their system).
Nevertheless, the hip belt is a component that you don't want to have failing on you when in use since that would ultimately put the weight back on the shoulders and back instead of the strongest parts of the body.
Shallow Side Pockets
The Ozone 46 pack's side pockets were too shallow for my taller 32oz bottles, and I've had plenty of occasions where they've fallen out of the pockets on my hikes.
I've even had one bottle fall down a small cliff, which luckily I was able to eventually retrieve (though I might not have been so lucky if the cliff was bigger).
In fact, my wife had an even smaller and narrower bottle, and it fell out of her pack on her first use.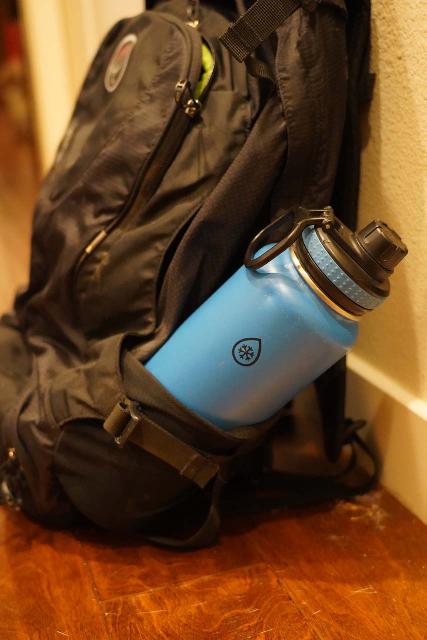 I think the pockets could be taller, and there could be a secondary pocket hole for easier access to the water bottle (like what the Osprey Manta 34 has).
Lack Of External Loops
The Osprey Ozone 46 lacks external loops (especially side ones and on-the-go ones) for carrying long items like tripods and trekking poles.
Instead, I had to use the bottom-centered loop with the aid of compression straps on either side to make this work, but then that could impact my ability to access the main and front zippered pockets.
In addition, there are no bungy-tied loops to secure items with thicker diameters like a tripod (in a way that it's not interfering with its other functions and compartment accesses).
Missing An Open-Air Ventilated Front Pocket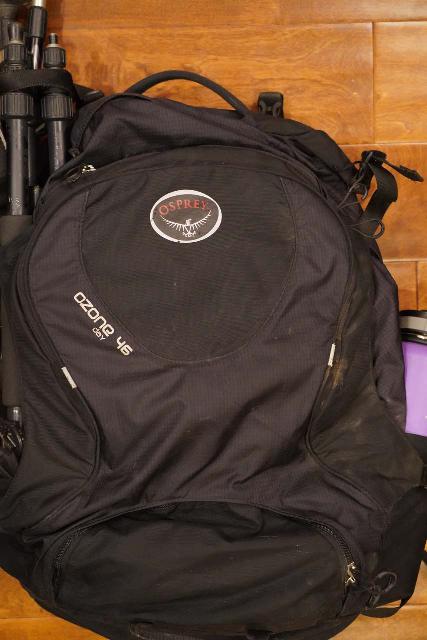 Without an open-air ventilated front pocket, I can't keep wet items like a rain poncho or GoPro separate from other items stowed inside the pack itself that I wouldn't want to get wet.
Personally, I would trade that "dirty-shoe" compartment for a front pocket like what the Osprey Manta 34 or other outdoor day packs would have.
Lack Of Zippered Hip Belt Pockets
Finally, the Osprey Ozone 46 lacks zippered hip belt pockets for stowing quick-access items like a smart phone, a pen and notepad, or other things like backup batteries.
It used to be real annoying when I had to carry a handheld GPS but I didn't have a place to clip it nor a place like the hip belt pocket to put it.
So I ultimately wound up buying a hip belt holster bag for that purpose though even that had limitations.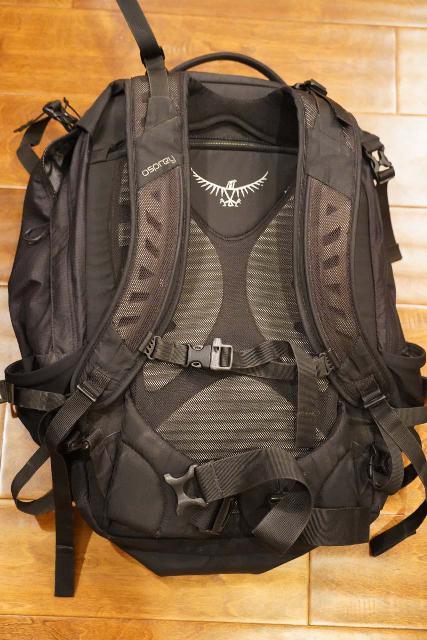 If I had to use my smart phone to act as a handheld GPS (with the Gaia GPS app), then I'd have no choice but to rely on my pant pockets or my shirt pocket.
It's Discontinued
As much as I really like my Osprey Ozone 46 travel backpack, Osprey no longer makes this version.
Instead, the Ozone line has gravitated towards more commuter-type applications by attaching a wheel and handle and moving away from the day hiking functionality aspect of it.
Meanwhile, the non-wheeled more adventure traveler or hosteler-type travel packs behave more like suitcases or luggages with shoulder straps and hip belts.
However, they lack a lot of the on-the-go functionality that I've learned to appreciate from all the years of hiking that we've done.
Whether this is a fad or a permanent trend remains to be seen, but it seemed like the move to make the packs specialize more and multitask less seems to be where the market forces push them to go.
And this is terrible for adventurer travelers like myself who still don't want to compromise on hiking capabilities as well as camera-carrying (photography) capabilities.
Final Thoughts / Conclusion
The Osprey Ozone 46 is probably the closest thing to the best travel-oriented backpack with day hiking functionality that I've ever used.
We've gone through repurposing Camelbaks, business travel bags, duffle bags, etc. to try to pull off this dual purpose, but none have done it quite like the oldie-but-goodie version of the Ozone 46.
In fact, this pack opened my eyes to what's possible in a travel hiking backpack that I pretty much use this as the standard by which other packs compare to when evaluating whether a new one on the market is worth purchasing or not.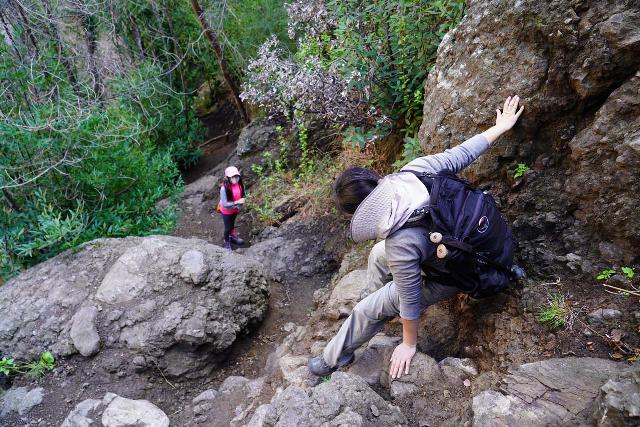 It's too bad that this particular version of the Ozone pack is discontinued because I actually like it better than the current ones on the market like the Farpoint series.
As a result, we still stubbornly try to keep using the Osprey Ozone 46 backpack as a backup to the Osprey Manta 34 backpack or as a possible travel backpack when we're not confident that the Manta 34 could pass as a carry-on luggage for specific airlines.
Indeed, the Osprey Ozone 46 really propelled my search of that perfect backpack that can serve my travel hiking and camera needs, but this has been a search that has been ongoing ever since we took our waterfalling global.
Please note that this is not a sponsored post. However, there are affiliate links that help pay for this site. You can read more about these in our affiliate disclosure in the footer at the bottom of this post. If you have questions or comments, please use the comment box below.
Osprey Ozone 46 Backpack
Pros
Easily Carry-on Compliant (maybe can pass as personal item)
Good organization due to many internal pockets
Versatile - can use for both travel and some day hikes
Roomy 46L of space (good for DSLR + laptop case)
Excellent warranty
Cons
Weak Hip Belt Clip
Side Pockets Are Too Shallow
Limited Back Ventilation & Weight Redistribution
No Zippered Hip Belt Pocket
No Open-Air Ventilation Front Pocket
Visitor Comments:
Got something you'd like to share or say to keep the conversation going? Feel free to leave a comment below...
No users have replied to the content on this page