This Pacific Northwest Itinerary covered eleven days in areas where there was enough of the Spring thaw in the Pacific Northwest to visit waterfalls and beaches (and avoid the drought in the Southwestern USA).
As is becoming the tradition these past few years, the occasion was that our daughter had a Spring Break so we used it as an opportunity to let her experience some places that she hadn't visited before in the Snake River Valley, the Scablands of Southeastern WA, and even Sacramento.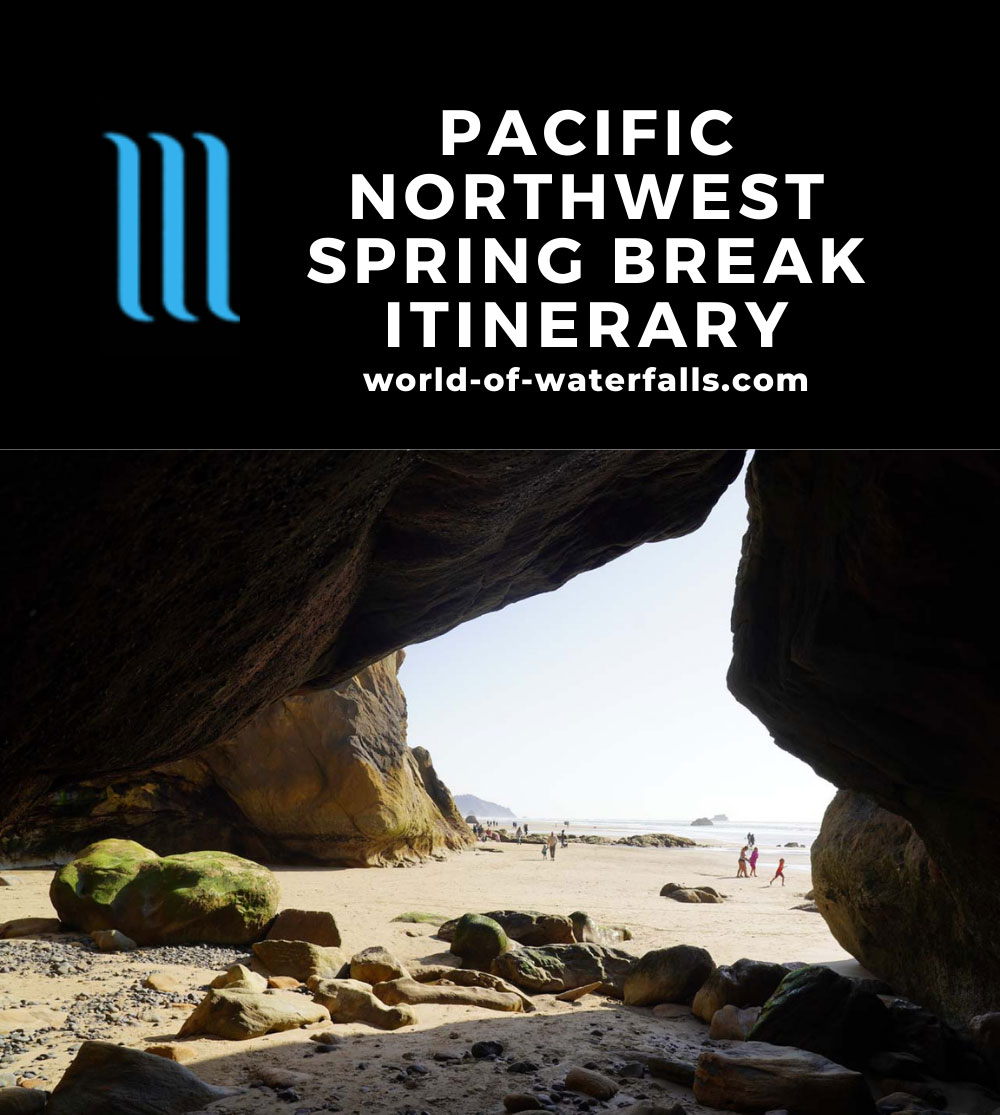 And while we were yearning to do an international trip, the pandemic has still prevented that from becoming an option for the family.
Thus, this was yet another road trip motivated by chasing waterfalls since we had to go somewhere, and we at least knew how to be careful on such trips.
Here's a brief summary of what we managed to do on this trip…
Trip Map
This map and its markings were produced by this app.
Trip Highlights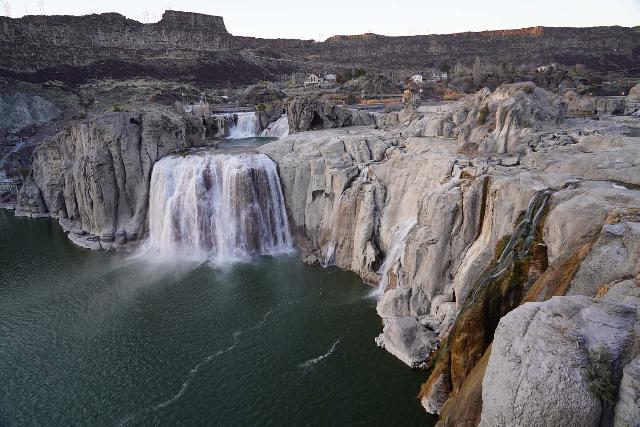 Shoshone Falls – even though this waterfall didn't flow as well as it did when we first saw it 8 years ago, it was an opportunity to see how our daughter would react while also seeing what else has changed in the time since that first visit.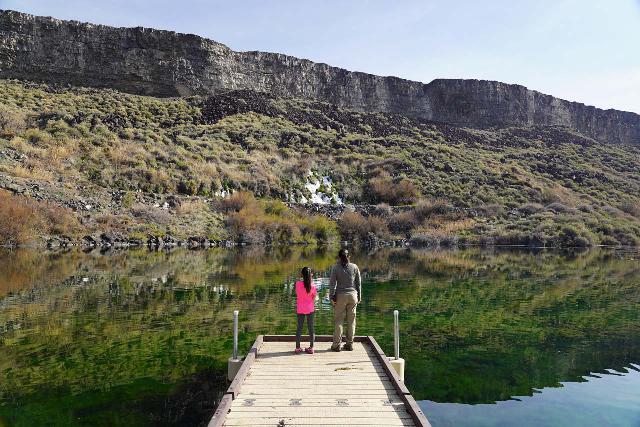 Niagara Springs and Crystal Springs – this was our first taste of the Thousand Springs State Park, and it pleasantly surprised us with its plethora of aquifer-fed waterfalls feeding the Snake River.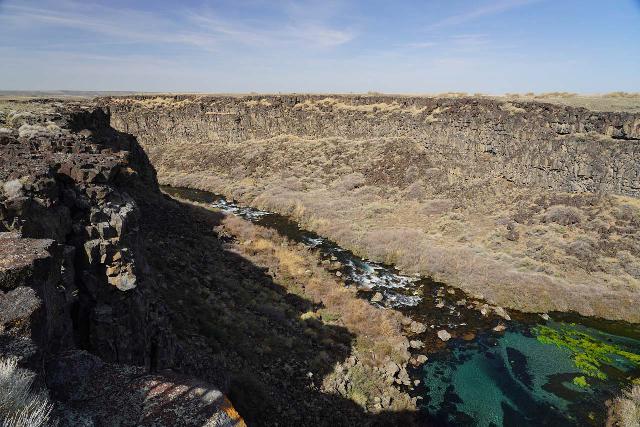 Box Canyon Springs – the Thousand Springs covered a large area, and for this excursion, we did a hike to intimately experience this aspect of Nature in the Snake River Valley.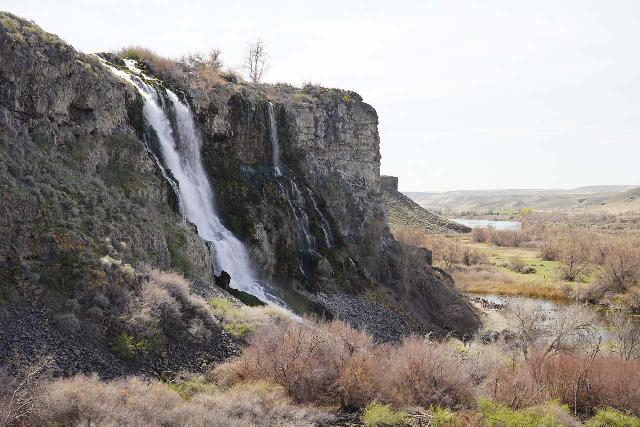 Ritter Island – yet another pretty part of the Thousand Springs State Park, we actually contented ourselves with visiting the main waterfall though we'll probably have to come back to really experience this naturesque spot.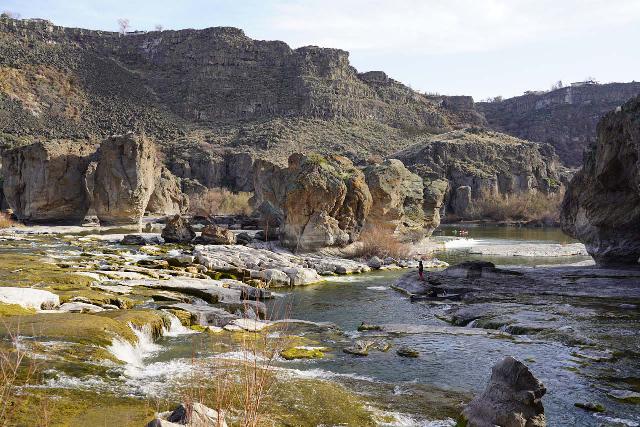 Pillar Falls – this hike wasn't really known for its shorter rapids-like waterfalls, but I appreciated the choose-your-own-adventure aspect of checking out the eccentric pillar formations, alcoves, and small caves. The trail also gave me unusual views of the Perrine Coulee Bridge and intermediate cascades along the way. No wonder why this was such a popular hike!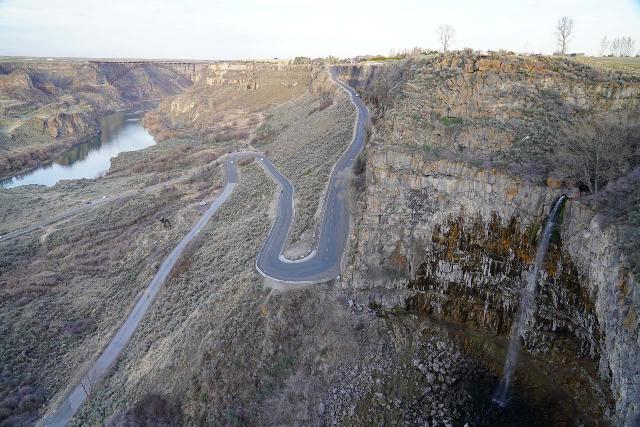 Perrine Coulee Falls – like with the first time we visited this waterfall 8 years ago, we appreciated it from its top as well as from its backside at its base. While it had less flow than that first visit, we still enjoyed being around it, especially since there was still some remnant snow indicating that the thaw was just starting!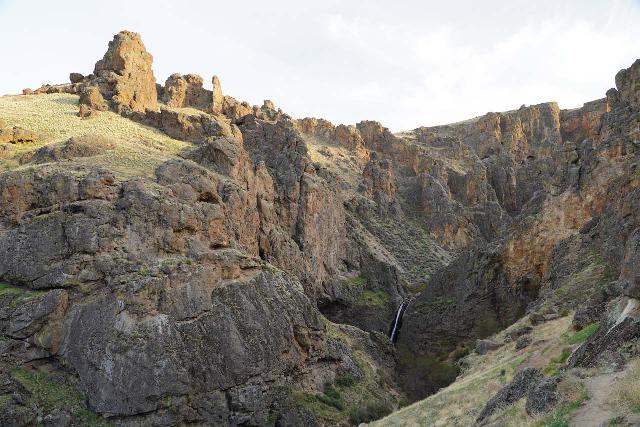 Jump Creek Falls – it seemed like this place really blew up in recent years as it was quite busy when we showed up 8 years after our first time in 2013. But it was really an excuse to hang out with our friends residing in Boise as this was the fun activity after hanging out at the Julia Davis Park in the city.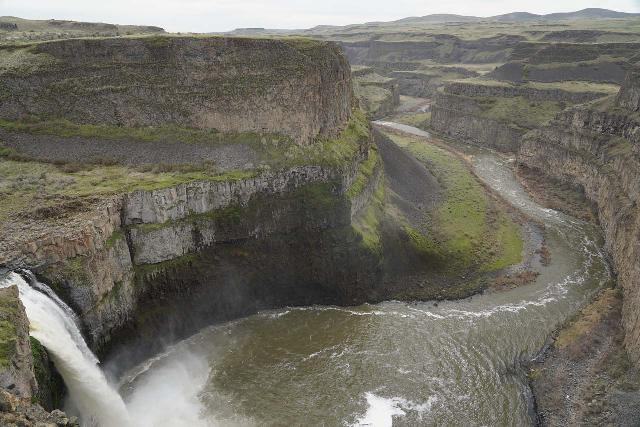 Palouse Falls – this was our daughter's first experience with this powerful waterfall way out in the scablands of southeastern Washington. While we made a shorter visit this time around (as opposed to our first visit in 2013), it was still pleasant though there were far more people now than there were back then!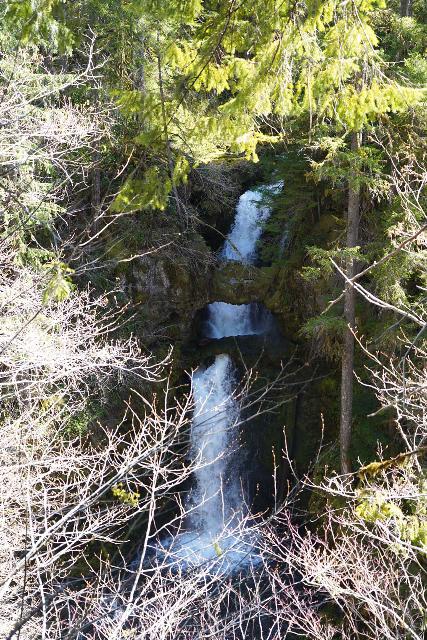 Curly Creek Falls – it's hard to believe, but this was the first time in three tries that we finally got to see this waterfall properly (i.e. flowing and in decent enough lighting to see it), and we had it all to ourselves!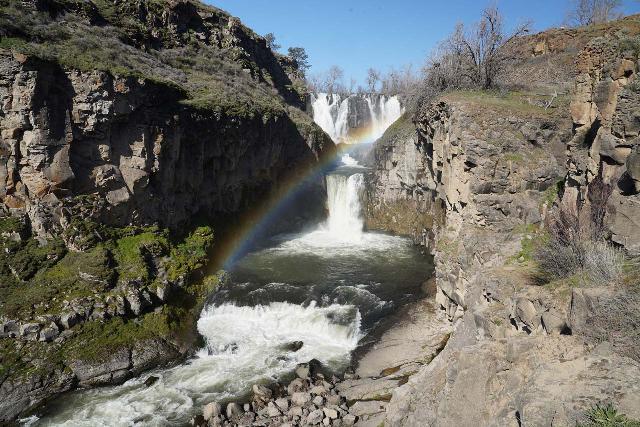 White River Falls – this was another waterfall we hadn't seen in 8 years, and like that first time, we got a bold morning rainbow, views of Mt Hood in the nice weather, and we also had this place pretty much to ourselves.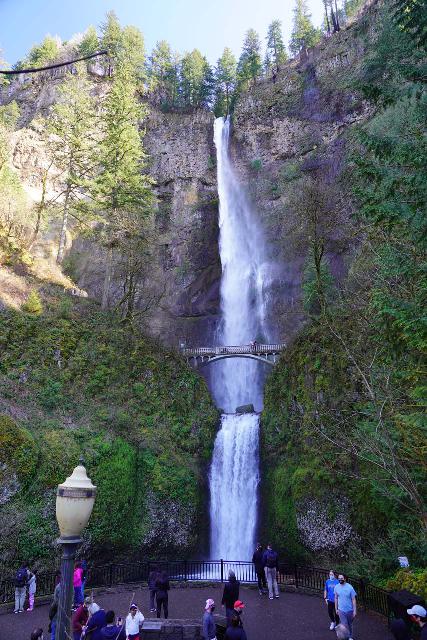 Multnomah Falls – every time we visit Portland, we always make it a point to stop at this waterfall, and even the Historic Columbia River Highway closure along with the COVID-19 pandemic didn't stop us from appreciating this Oregonian icon!
Willamette Falls – unlike the first time we visited this waterfall 4 years ago, this time we had a clue and managed to experience it from a rest area, its official scenic viewpoint, and from the McLoughlin Promenade. So it really was the whole shebang, and now all that's left to visit is the long-awaited River Walk, but who knows when that will be complete?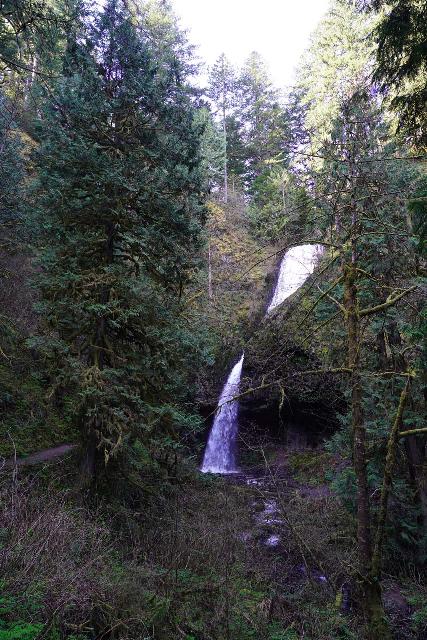 Upper Latourell Falls – contrasting the experience with its larger and more famous neighbor at Latourell Falls, the hike to the upper waterfall was an exercise in tranquility and solitude, especially during the pandemic!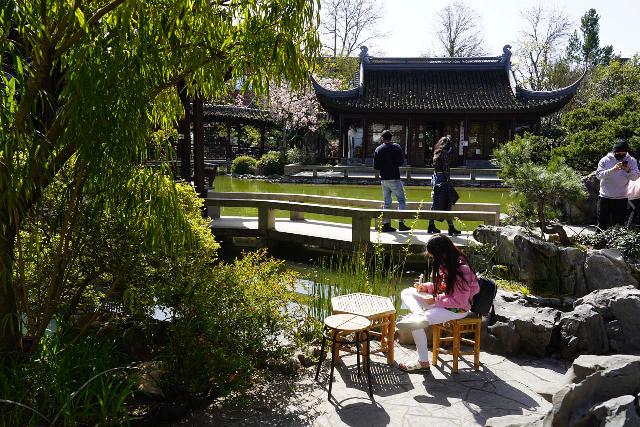 Portland – even though the combination of COVID-19 and BLM riots really affected Rip City, there were still pockets of charm like our return visit to the Lan Su Garden. In fact, our daughter was so inspired by what she saw that she was making drawings while we were having a snack and tea at their tea house.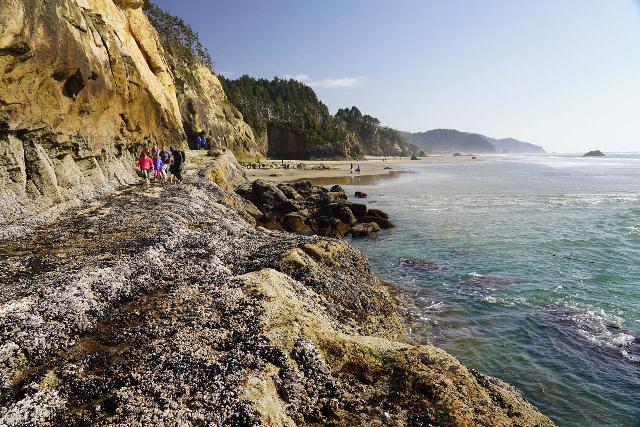 Hug Point – it was such a beautiful day during our visit while at low tide that we really got to experience the beaches, the caves, and the eccentric mussel-filled shelf that once harbored stagecoach traffic! Indeed, it was a magical experience that we really had a hard time leaving!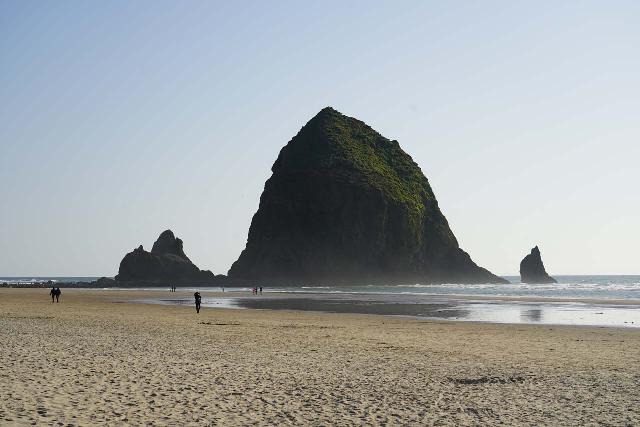 Cannon Beach – over the years, this increasingly popular part of the Oregon Coast has grown on us and become a family favorite, and we even seek to extend our time spent here like we did on this trip – both in good weather and in not-so-good weather.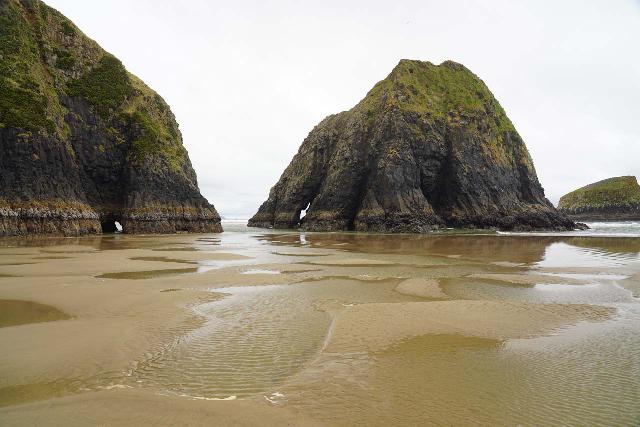 Crescent Beach – even though the weather wasn't the greatest during our adventurous hike to this pristine beach, that drove the crowds away and we pretty much had this place to ourselves! Not only was there a waterfall that was taller than we thought, but we also saw sea arches as well as some unexpected sea life (or shells that they left behind)…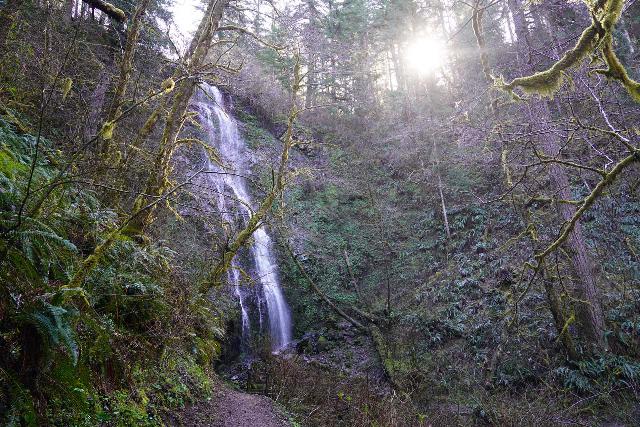 Niagara Falls Trail – even though this was technically near the Oregon Coast, this hike felt like it was in a different world with two big waterfalls to boot! Moreover, I had this place to myself so it was every bit the detour from the state's famed coast.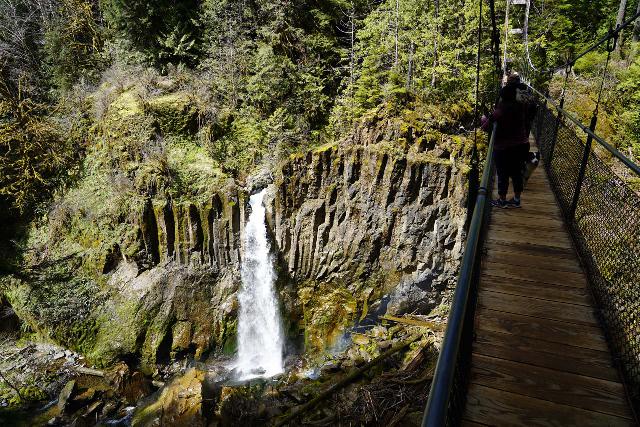 Drift Creek Falls – this very popular hike featured a long suspension bridge from which we could witness a gushing waterfall, which was another detour as we started the long drive back south towards Los Angeles…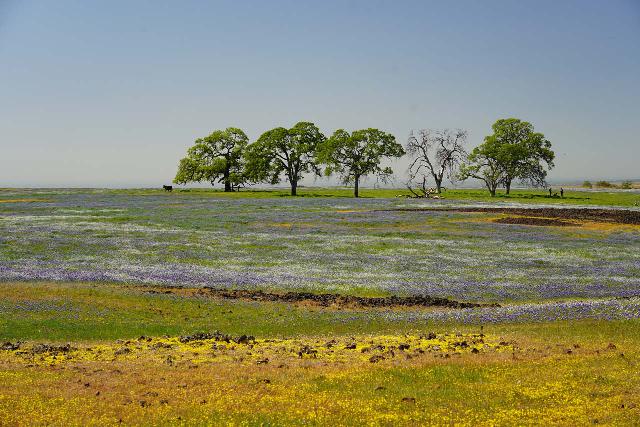 Phantom Falls – with this seasonal waterfall, I thought it was the Spring blooms that really stole the show! Throughout the entire hike, I was treated to a plethora of hues as it was at or near the peak of this year's bloom (which was a drought year mind you). And oh yeah, the 164ft waterfall flanked by basalt columns was also impressive though its flow was probably a month past its peak.
Sacramento – the state's capitol actually exceeded our expectations with its Old Sacramento area as well as the state capitol building as seen from the Capitol Mall. It was too bad that the museums were closed due to the pandemic. Otherwise, it really would have been a magical visit though it was pretty impressive without those visits already.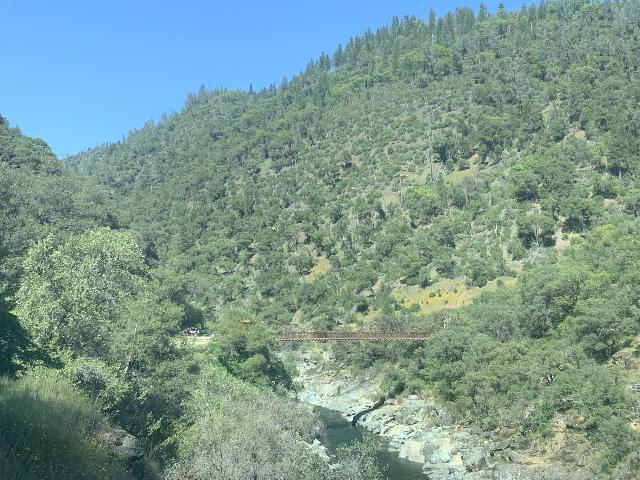 Yankee Jim's Road – this drive between Colfax and Foresthill featured a lot of Gold Rush history as well as a dicey looking bridge over the North Fork American River as well as a roadside waterfall in Devil's Falls.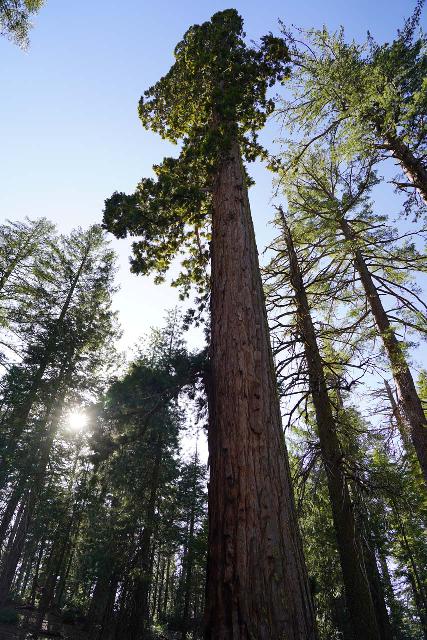 Placer County Big Trees Trail – it was a bit of a detour on the Mosquito Ridge Road leaving from Foresthill, but this grove of giant Sequoia trees was the northernmost such grove in the world, and it presented a far quieter experience than what's found in the national parks!
Trip Advice
Although we managed to get the most out of our Pacific Northwest Spring Break Itinerary, we had to roll with the punches concerning the effects that COVID-19 had on peoples' behavior and on travel as a whole. Thus, we have some lessons learned from this trip that you could share with you…
Stay COVID-19 Safe Although we saw firsthand the political divide when it came to taking the pandemic seriously, this was further reinforced when we visited the rural regions, especially in Idaho outside of Boise, rural Oregon, and Northern California outside of Sacramento. While you can't control other peoples' behavior and attitudes towards public safety there are things we can do to minimize our risks by mask wearing, maintaining social distance, and perhaps trying our best to avoid crowded spots in limited real-estate (especially in indoor establishments).
Spring Thaw Timing I was quite surprised that the big waterfalls in the Twin Falls, Idaho area did not flow as well as they did on our 2013 trip. After our friends in Boise told us that our visit just coincided with the start of the thaw, it could be that the peak of the thaw is in mid- to late April if we really wanted to see Shoshone Falls and Perrine Coulee Falls (to a lesser extent) at their maximum flows for the year.
Some Foods Take Out Better Than Others Even though you can't beat dining in for freshness and quality, the risk of COVID-19 spread was too great for us to take that chance. That said, some foods do better for takeout than others, and that's where we learned that pizza and ramen are not great if you can't eat it right away. Also, upscale dining doesn't fare well as take-out either. However, we had a better time eating Moroccan food as well as a Swedish lunch as takeaway food. But such experiences were few and far between.
Historic Columbia River Highway Closed It turned out that the Eagle Creek Fire in the late Summer of 2017 still caused landslide issues so the majority of waterfalls in the Columbia River Gorge could not be visited. Indeed, the Historical Columbia River Highway was closed between exits 28-35 and thus only places like Latourell Falls, Bridal Veil, and Shepperd's Dell among others could be visited. That said, Multnomah Falls remained open but open through the freeway access in between the I-84 lanes.
Travel Itinerary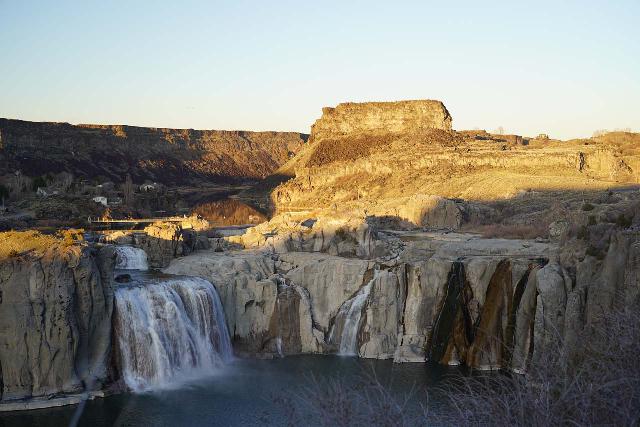 Day 1: Drive from Los Angeles to Twin Falls
We got an early morning start knowing that we had a very long driving day ahead of us. We basically followed the Great Basin Highway between Las Vegas and Twin Falls with a short lunch stop in Ely.
Finally, at the end of the day, we managed to visit Shoshone Falls right before the sun had set.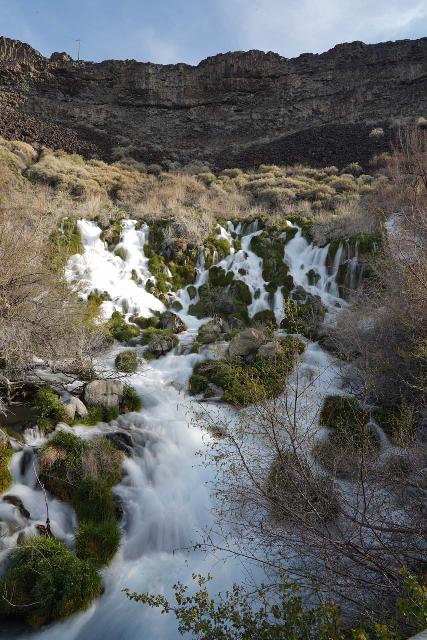 Day 2: Thousand Springs State Park and Twin Falls
We spent the majority of the morning visiting three different spots in Thousand Springs State Park. This included Niagara and Crystal Springs, Box Canyon Springs, and Ritter Island.
In the afternoon, we divided and conquered by letting Julie and Tahia spend time at the accommodation's pool while I pursued Pillar Falls.
Finally, when we reunited for dinner, I took some time to explore the Canyon Crest Walkway to Perrine Coulee Falls while waiting for our takeout dinner.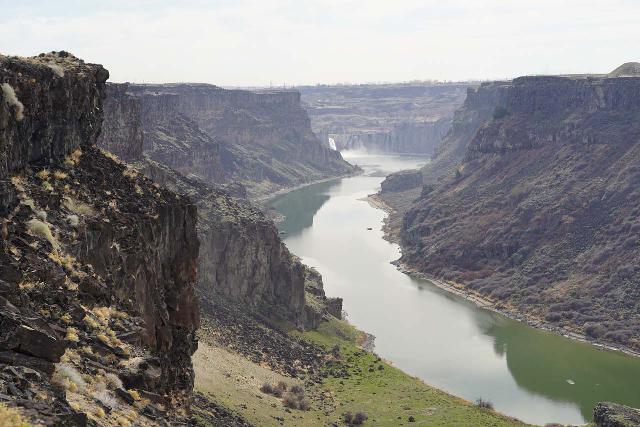 Day 3: Drive from Twin Falls to Boise
We started off this day by going to the base of Perrine Coulee Falls before checking out Pillar Falls from the north rim of the Snake River Canyon.
Then, we drove to downtown Boise to hang out at the Julia Davis Park with friends who live in the city, where we picnicked, did some catching up, and let the kids make a shelter out of the fallen branches.
We ended the day with a late afternoon hike to Jump Creek Falls.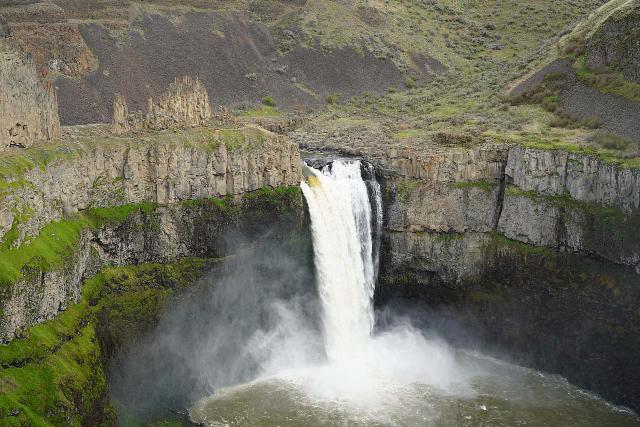 Day 4: Drive from Boise to Kennewick
Overnight: Kennewick Suites (Kennewick, Washington, USA)
This was a long driving day where we made a detour to Palouse Falls before crashing for the night at Kennewick (though the accommodation was definitely not what we had expected).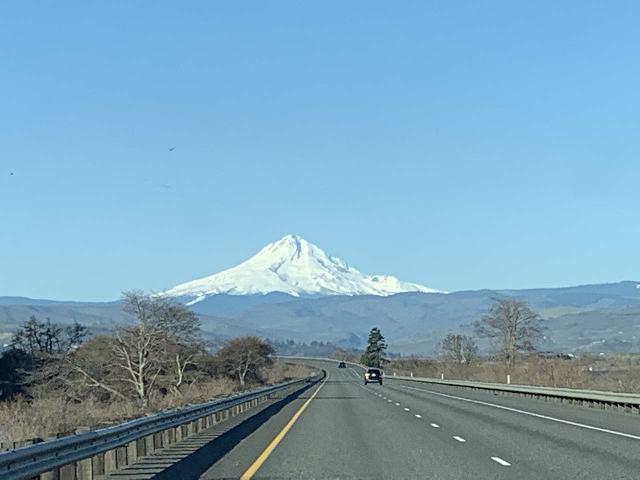 Day 5: Drive from Kennewick to Portland
Overnight: Hyatt House (Portland, Oregon, USA)
This was another long driving day that began with a detour to White River Falls before stopping over at Hood River for lunch. Then, we detoured to Curly Creek Falls before making a stop at Multnomah Falls.
Then, we finally settled into downtown Portland.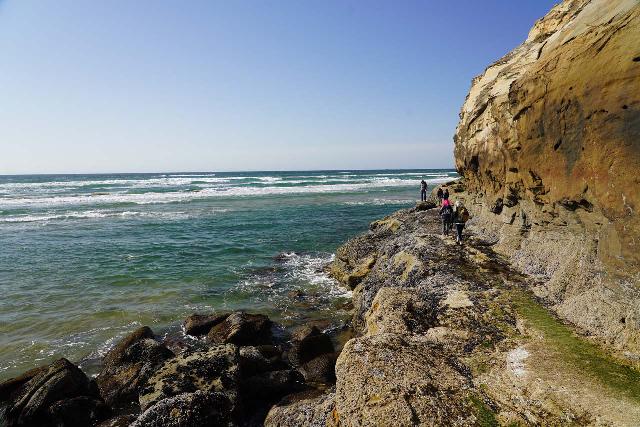 Day 6: Downtown Portland and the Oregon Coast
Overnight: Hyatt House (Portland, Oregon, USA)
It turned out to be a very beautiful day so we tried to take advantage of the weather as best we could.
While Tahia and Julie were still sleeping, I did a solo run to visit Willamette Falls, Latourell Falls, and Upper Latourell Falls.
Then, we did our touring as a family by visiting the Lan Su Garden and the Willamette River Promenade nearby in downtown Portland before driving out to the Oregon Coast to visit Hug Point and Cannon Beach.
Finally, we backtracked to Portland to overnight even though we were supposed to overnight in Cannon Beach the next day.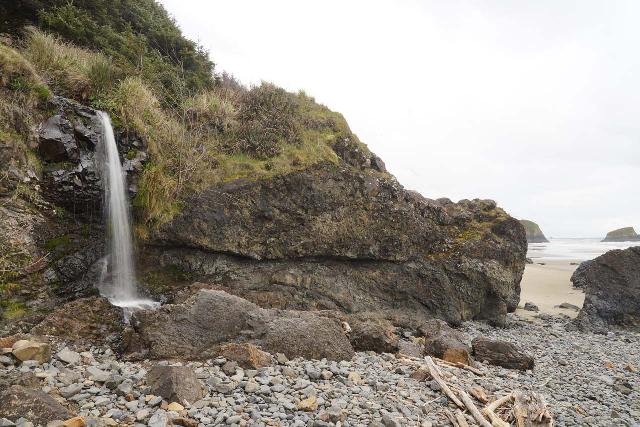 Day 7: Drive from Portland to Cannon Beach
Overnight: The Waves (Cannon Beach, Oregon, USA)
I started this day with another solo run to Willamette Falls to check it out from the McLoughlin Promenade as well as the Oregon City Municipal Elevator.
Then, we spent the rest of the morning on a junk food run in downtown Portland before making the drive out to Cannon Beach.
From there, we did an afternoon hike to Crescent Beach in Ecola State Park, which turned out to be a magical visit thanks to the on-and-off rain that drove away the crowds.
Finally, we enjoyed the views while dining in our beach-view room at Cannon Beach.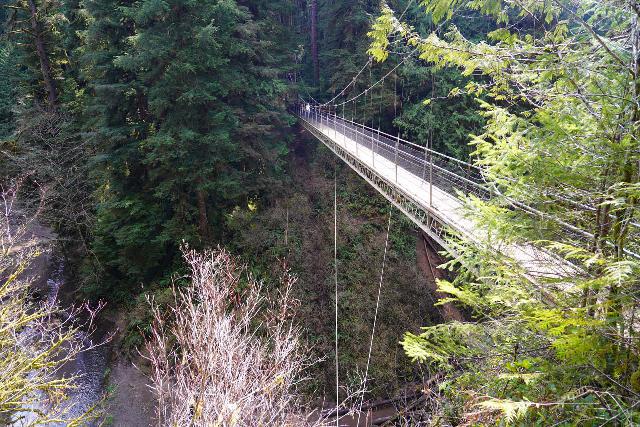 Day 8: Drive from Cannon Beach to Eugene
Overnight: Residence Inn (Eugene, Oregon, USA)
This was a travel day as we left the Oregon Coast towards Eugene, but we made waterfall hikes for both the Niagara Falls Trail and the Drift Creek Falls Trail.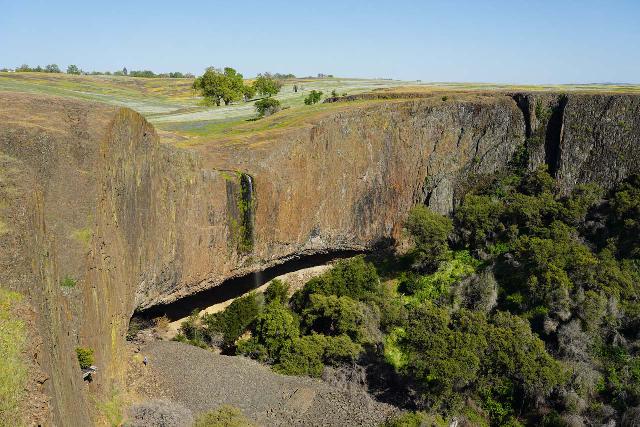 Day 9: Drive from Eugene to Sacramento
This was a very long driving day that spent the majority of the time driving on the I-5 south before stopping to do the Phantom Falls hike. During that hike, besides enjoying the wildflowers, I also did detours to visit Lower Ravine Falls and Hollow Falls.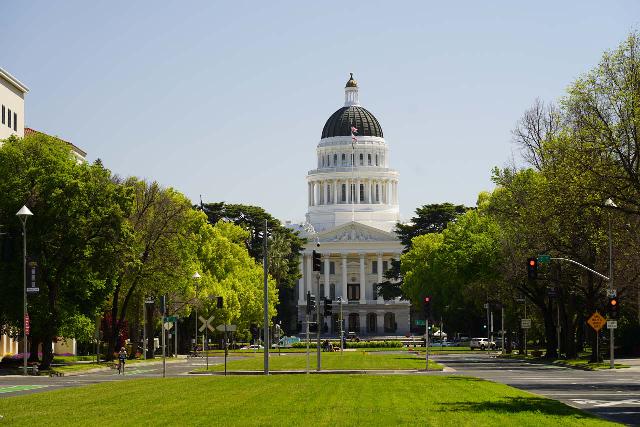 Day 10: Old Sacramento and Auburn State Recreation Area
On this day, we spent most of the morning visiting Old Sacramento and the exterior of the Capitol Building.
Then, in the afternoon, we divided-and-conquered where Julie and Tahia stayed in the downtown area (mostly so our daughter can swim in the pool) while I did a solo run to visit Yankee Jim's Road and then the Mosquito Ridge Road to the Placer County Big Trees Trail.
Day 11: Return to Los Angeles
This was an uneventful driving day though we did stop over for Armenian food in Glendale on the way home.
Best Places We've Stayed At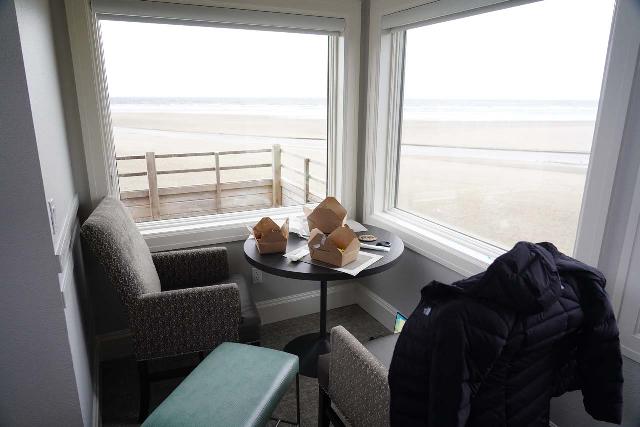 The Waves, Cannon Beach – Most of this trip involved stays at chains like Residence Inn and Hyatt House, but one place stood out to us and it was this beachfront accommodation on Cannon Beach on the famed Oregon Coast. We paid the premium for their flagship suites, which actually included a small kitchen, but it was the views of the beach (even if it was in rainy weather) that really stood out to us among the places we've stayed at on this trip.
Trip Reports
Waterfalls included in this itinerary
Visitor Comments:
Got something you'd like to share or say to keep the conversation going? Feel free to leave a comment below...
No users have replied to the content on this page