Day 1: BLOWN AWAY
It was about 11:45am when we finally left Waterton for good. The drive further south was mostly uneventful except for a couple of stops to try to see the skyline of the Crown of the Continent (i.e. the Rockies) acting as a backdrop to prairies and ranches.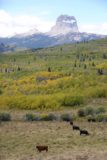 We eventually reached the Chief Mountain Customs stop at around 12:45pm where we were asked the usual questions about where we'd been and where we were going as well as what we had bought in Canada that we were bringing back into the States. It seemed like the worker here knew that most people passing through this station came for sightseeing both the Waterton-Glacier National Parks (the only jointly-run park between two different countries apparently in a sort of "international peace park").
When Julie mentioned that she had bought a pair of gloves and a beanie to keep warm while complaining about the cold weather, the customs guy said that we hadn't even seen what cold was. Well, we'll just take his word for it because from a pair of Southern Californians, our experiences in the Canadian Rockies on this trip definitely exposed us to cold weather in September (which we were still in disbelief about the weather considering it was still the borderline between Summer and Autumn).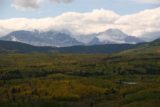 In any case, we were allowed through where we then proceeded to do more driving and sightseeing as the winds were howling and the clouds looked like they threatened to overtake the sunny skies to the east. In the mean time, we were also dodging cows which were freely roaming the pastures here as well as the roads.
Another thing that I noticed was how the speed limit signs went from metric to English. Thus, the car I was driving (which had metric units) required me to do some rough calculation in my head since it didn't have English units (at least I had to do that when the GPS
wasn't helping to remind me what the speed limits were in the metric equivalent).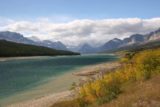 Ultimately, we turned right at Babb onto the Many Glacier Road. The road was a bit rough compared to most of the roads we had driven through in Canada but it was still paved and it seemed like there were workers there actively filling in potholes with tar.
As we drove further into this road, we noticed there was a dam that was holding up a lake (which I think was called Sherburne Lake). I wasn't sure why this was done, but it was definitely an eyesore. Not much further, we saw one of the entrance stations for Glacier National Park.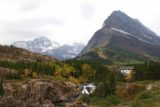 It was here that we paid the $7 for our weeklong pass to the park. Of course, Julie and I were struck at the price disparity between American National Parks and Canadian National Parks (our $136 annual pass for a family in Canada was way more than the $80 per vehicle price for America's annual pass).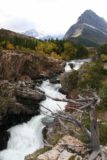 I figured the price difference had to do with the larger population and wider disparity between living standards within the country. Perhaps it was necessary to keep the National Parks prices low in order to not price out a large chunk of the population who would be relied upon to support these parks. But at the same time, I wonder whether the lowered prices would also yield greater costs on maintenance and resource depletion. I guess Canada's lower population made this less of a problem, but they too have issues with environmental degradation (though not nearly to the extent that we're experiencing, I'm imagine).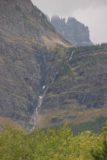 Anyways, the lady at the kiosk gave us our receipt and reminded us to try not to get blown away (from the pretty crazy winds).
I was hoping to do the Grinnell Glacier hike on this day, but the windy weather and the presence of bears made Julie very uneasy about this plan. In any case, we made a few roadside stops to spot some waterfalls that we noticed on both sides of the valley as well as one cascade draining the lake near Many Glacier Hotel (which happened to be closed).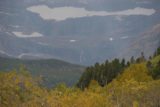 I believe we also noticed Grinnell Falls on the way into this section of the park (though a serious telephoto lens was needed to bring that falls closer to view) as well as Ptarmigan Falls near the Swiftcurrent Motor Inn car park.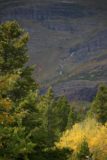 When we arrived at the trailhead for Grinnell Glacier at 1:45pm, both Julie and I noticed that it was 5.5 miles each way to the viewpoint of the rapidly disappearing glacier. There was no way we were going to do 11 miles of hiking with grizzly bears marauding the area looking for berries that were in season at the moment.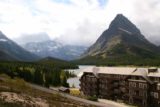 So we conceded on this excursion and did some more sightseeing near the Many Glacier Hotel. Pretty soon, we started to get the feeling that this park was going to be nothing more than a series of roadside stops without any hikes to really get a feeling for the place. But that was until I realized from one of the map signs near the Grinnell Glacier that perhaps we should do Apikuni Falls, which was said to only be a mile each way.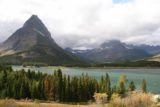 Some time during this interlude of miscellaneous sightseeing, Julie noticed that the car door on her side wasn't closing properly. We weren't sure what caused this, but we suspected that perhaps the wind might've had something to do with it. So now we were stuck with a situation where there was a draft on the passenger side of the door. Hopefully, we wouldn't run into a situation where the door would just stop closing altogether!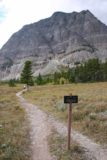 So at 2:15pm, we arrived at the Poia Lake trailhead which was also shared with the Apikuni Falls hike. Julie didn't feel like doing the hike so she reluctantly let me do this one solo.
I tried to take all the precautions that I could by carrying my backpack where one of the side pockets served as my holster for the bear cannister that I had just bought. I guess the CAD$42 I paid for it was at least giving me some piece of mind just in case things took a turn for the worst and I happened to get attacked by one.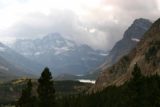 Anyways, the hike was pretty much all uphill the entire way. It started off in open area before ascending amongst the trees rustling in the wind. It was this part that I was particularly fearful of bears since I didn't think they'd hear me singing or talking to myself just to make noise (thanks to the gusty winds).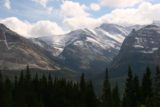 About half way up the hike, I saw a pair of guys heading back down. They said told me the falls were wonderful and that gave me hope that maybe this falls was worth doing. After all, there was no indication there was even a waterfall up this way since we couldn't see any water coming down from the cliffs on this side of the valley near the car park.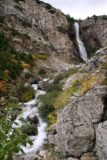 Eventually, after making it up to the top of this seemingly endless incline, I finally got a glimpse of the falls, and I could see right away that this one was impressive. It was certainly a pleasant surprise especially considering I didn't even plan on seeing this falls on this trip.
In any case, this hastened my steps as I continued to get right up to the cascades just downstream of the tall two-tiered waterfall. At this point, I had to do a little more steep scrambling in order to get a better view, but it was definitely manageable. Ultimately, I was fairly close to the base of the falls where I spent quite a bit of time taking photos and movies of the falls.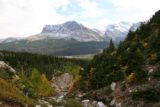 Looking downstream, there were some gorgeous views across the valley of some snow-topped mountains with hints of glacial valleys in between. Even though there were clouds threatening to drop some rain amidst the winds (in conditions reminiscent of our Laguna de Los Tres hike near El Chalten in Patagonia), there was definitely a certain moodiness to the scenery here.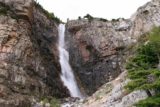 Anyways, once I had my fill of the falls, I swiftly made my way back down the trail to the car park. Since it was all downhill, it didn't take much time to make the return. However, I had to be very cognizant of turning my ankle due to the presence of lots of rocks on the trail and that going downhill meant I had to put more weight on each step I took.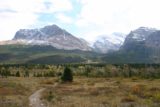 Eventually by 3:20pm, I was back at the car. The 2-mile trail pretty much took me a little over an hour, which was a little longer than I wanted to keep Julie waiting. However, it was the type of hike that I was looking for to ensure that my visit to Many Glacier was more than just autotouring.
So now that it was getting a little late in the afternoon, we committed ourselves to driving towards St Mary and the visitor center at St Mary so we could get a little more information about closures and the weather.
During the drive, Julie was scoping out restaurants since there didn't seem to be a whole lot of places to eat here. We saw the Two Sisters Cafe, which she had read about on TripAdvisor prior to the trip. However, the Park Cafe was closed as was one of the two gas stations in St Marys. Indeed, Glacier National Park definitely had that dead feel to it as things were either closing or had already closed for the season.
We even learned after the fact that the Going-to-the-Sun Road was closed between Avalanche Creek and Logan Pass thanks to road construction. Usually the road was supposed to be open until October 18 weather permitting, but they started a five-year construction project which meant that these abridged opening and closing times as well as the associated delays would persist in the near future (5 years worth at least).
Once we got to the St Mary Visitor Center at 3:55pm, I learned that there wasn't even the possibility of walking the closed part of the road. So I guess that meant we'll have to return to the park at some point to at least see the waterfalls we wouldn't get to see in Haystack Creek Falls, Oberlin Falls, and Bird Woman Falls. Whether we come back in time before the glaciers would be all gone would still be something up in the air…
At 4:25pm, we left the St Mary Visitor Center with a fairly good idea of how to spend tomorrow (since it was predicted to be rainy). For sure it was going to be a waterfalling day. And thanks to the help of one of the park rangers working there, we had a pretty good idea of which waterfalls to do.
At 4:45pm, we checked into the Glacier Trailhead Cabins. This was where we'd be spending our last two nights on this trip. But unlike all the other places we stayed at, this one was more rustic (i.e. no wireless internet). Still, that was fine since we just needed an affordable place to rest. Plus, it was roomier and less dingier than the place we stayed at yesterday in Waterton.
So we spent the rest of the evening getting settled and having dinner at the Two Sisters Cafe. It turned out to be more of a truck-stop-like cafe (almost more like a fast food joint) than the hippie decorations out front would suggest. So they served heart-stopping food, but at least it was pretty tasty.
And even during that dinner, we learned that we came just in time before they'd close that cafe for the season on Sunday. Again, closures everywhere. No wonder why we just got the feeling that things in the park just seemed dead…