Day 2: THE GLACIER GRIND
It was 7:05am when we awoke. Normally, I'd get up much earlier than this, but I guess we were comfortable enough in bed that we slept in a little longer. I guess the sound of rain from last night didn't exactly instill any rush for us to get out there and go waterfalling. After all, we knew the forecast would be crummy on this day so that was what we were setting out to do.
But having had our share of bad weather throughout this trip, the energy of today was kind of sucked out of us. We were ready to go home, but that wasn't until tomorrow. So we had to grind it out today by seeing as many of the park's most reasonably accessible and worthwhile waterfalls that we could find despite all the road construction, the closure of the main section of the Going-to-the-Sun Road, and the threat of grizzly bears on any of the hikes we had planned on doing.
Since we were still staying one more night at the Glacier Trailhead Cabins, it didn't take us long before we were in the car and ready to go at 8:15am.
Sure enough, the clouds looking to the west looked menacing and even the winds remained as fierce as they were yesterday.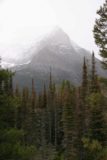 As we drove west of St Mary and up the Going-to-the-Sun Road, it didn't take long before we went right into the weather where we were getting sporadic heavy rains with a mix of calm sprinkles and moderate showers in between. It was as if Mother Nature couldn't decide how miserable she wanted to make our day.
It wasn't until about 8:35am when we arrived at the car park for the Sunrift Gorge. We couldn't tell at first if this was the right stop for Baring Falls. But from the markings on the paper map we had in our possession thanks to a ranger at the visitor center yesterday, it seemed like we were at the right place.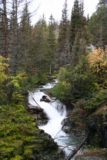 However, it was raining and we were the only ones here. So that didn't instill very much confidence in Julie that we wouldn't have problems with grizzly bears looking for berries on the same trail that we'd be on.
Fortunately, it was supposed to be a short hike, and after going down the stairs next to the road bridge, a sign indicated as such saying it was only 0.5km each way to the falls (or 0.3 miles). But as Julie and I walked the trail, Julie was constantly complaining to me about how uncomfortable she was even doing this short of a trail.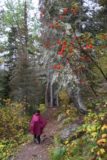 So the hike seemed longer than it should've been, and I swore the trail was longer than the 0.3 miles stated on the sign. We even saw lots of red berries flanking the trail, and I figured it would only be a matter of time before a grizzly saw this berry bonanza.
Anyways, we eventually got to the Baring Falls, which looked pretty forceful but not particularly tall (I'm guessing maybe 20 or 30ft or so). Then again, we didn't scope out all the ways we could've seen this waterfall since Julie couldn't wait to get back to the car park. So we hastily took what photos we could before we went back uphill towards the car.
We eventually got back there at 9:15am. By this time, the weather calmed down somewhat so we didn't really need our rain ponchos anymore. And so we drove for about 5 minutes further west towards the next stop which was for St Mary Falls. And once again, we were the first ones at this car park, which heightened Julie's phobia of grizzly bears.
In any case, I had my backpack on expecting to do the full hike out to Virginia Falls and back (with St Marys Falls en route). In one of the side pockets was the bear spray as a precaution as well as both our rain ponchos in the mesh pocket in front of the pack.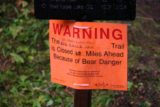 As we descended down from the car park, we were struck by the beauty of the mountains rising up over the trees surrounding the trail. Even with the threatening clouds and gusty winds, the mountains seemed majestic and pointy. We even saw some waterfall between the trees in the distance, and we thought it was Virginia Falls.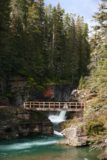 Towards the bottom of the descent, there was a trail junction as well as a neon orange sign indicating that the trail to Virginia Falls was closed about 1 mile west of this point (and Virginia Falls was 1.2 miles west of the point). That was due to grizzly bear activity.
So I thought that was a bit of a letdown and so we had to adjust our excursion to only go as far as St Marys Falls. Of course, Julie was relieved that we didn't have to go all the way out to Virginia Falls.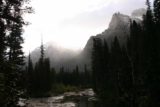 Anyways, the hike went on pretty uneventfully though we were constantly on the lookout for bear signs like claw marks on the ground, scratches on the tree bark by the trail, and the presence of berries.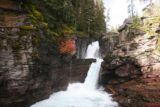 Ultimately, we made it to the bridge where we could see the two tiers comprising St Marys Falls. The falls itself didn't seem terribly spectacular except there was colorful foliage flanking it which made it more photogenic.
Since we gave up on the idea of continuing on to Virginia Falls, we headed back. And it was during this hike back out that we noticed many more people making their way down. I guess this was a pretty popular trail after all.
As we got near the car park, we took one last look between the trees in the foreground towards the direction of Virginia Falls. There, we saw a tall waterfall in the distance, but we couldn't be sure if it was the upper tiers of Virginia Falls or just some other tall mountain cascade that wasn't Virginia Falls. I guess that'll have to be reconciled with a Topo! map while comparing our GPS
waypoints and tracks.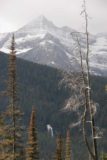 At 10:30am, we were back at the car where the weather now became sunny albeit still windy. So at that point, we started to drive out east where we made a spontaneous stop at a large car park (under construction though) for Sun Point.
After a quick restroom break, we made a quick nature walk to a signpost numbered "3" which we thought was for Sun Point. The view of St Mary Lake was quite beautiful as the greenish-blue lake full of rippling white caps were backed by tall mountains rising ominously against the dark clouds draped over them. The winds remained fierce and my hands were getting numb handling the camera while taking photographs from the wind chill.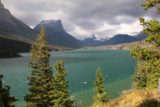 I could've sworn that I also noticed some tall waterfalls in the distance where one of them appeared to be St Marys Falls though I couldn't be sure. Even though we had already seen the base of the falls, I wondered if the falls was actually part of a larger taller cascade. Then again, I could be totally off base and it could've been another waterfall altogether.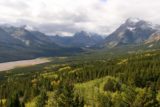 Once we were done with Sun Point, we made a very long drive back towards the 89 and then south towards the Hwy 2. At 12:30pm, we made a quick lunch stop at Brownie's Bakery in East Glacier, but little did we know that it was also a Youth Hostel. We couldn't tell from the signage at all, but once we used the restroom upstairs, then it became apparent.
Continuing on with the drive, we'd eventually get to West Glacier where there was yet more road construction. At least that didn't cause any unnecessary delays. However, we ran into more road construction as we got closer to the viewpoints for McDonald Falls and Sacred Dancing Cascade.
The delays at this construction zone were a bit annoying and long since there didn't seem to be any real rhyme or dictating when they'd let one direction get moving. Besides, we also noticed that the stops for McDonald Falls and Sacred Dancing Cascade were within the construction zone so we weren't totally sure how they'd manage the traffic in that situation.
Eventually, we made it up to a dead-end (due to road construction) at Avalanche Creek. However, we didn't bother doing any day hikes in this area. I guess we were a bit underwhelmed by Lake McDonald as well as the mountain scenery up to this point though it did appear that the scenery was about to improve. But it was too bad that they closed the best part of the Going-to-the-Sun Road thanks to road construction.
Ordinarily, it was supposed to be open until October 18 or until the first accumulation of snow. But since they were one year into a five-year project to do the road construction, the schedule was abridged to only September 20 for the foreseeable future. And since it was already September 24, there was no way we could do it.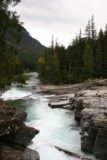 I suppose we could've forced the issue by visiting Glacier when we first showed up to Calgary back on September 15 so we could've at least tried to drive the entirety of the Going-to-the-Sun Road. However, Glacier National Park was seeing Winter Weather Advisories at the time so I wasn't regretting that we did the Canadian Rockies part first when I knew there were predictions of at least one fine day of weather before the weather turned for the worse.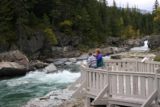 In any case, we turned around at Avalanche Creek despite the numerous cars that were already parked there. Then, we headed back downhill towards the West Glacier Entrance with the intention of stopping for Sacred Dancing Cascade and McDonald Falls en route.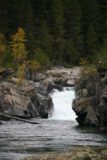 However, sure enough we were once again stopped by the road construction going the other way at the other end of the same zone. This time, we waited even longer (probably closer to 15-20 minutes or so) before we were finally allowed to proceed. And it was only when we were able to proceed did we find the pullouts for the Sacred Dancing Cascade which was right in the heart of the construction zone. We weren't sure how this worked if we had to get moving with traffic going the other way, but I guess we'd just play it by ear.
Anyways, there were actually a pair of pullouts for what we thought was this cascade. One was right above the uppermost of the falls that we saw. The other was closer to the series of cascades and rapids with a more frontal view of that cascade that we saw from its top.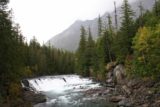 We then left the cascade at about 2:35pm and proceeded for a few minutes further west, we then found another pullout where our GPS
indicated was next to Sacred Dancing Cascade. And after pulling out and doing a short walk to a bridge over the river draining towards McDonald Lake, we got a look at the attractively wide albeit short waterfall that I was sure was the Sacred Dancing Cascade.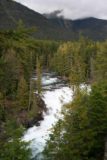 It was starting to rain as we were taking photos so we hastily documented what we could before going back up to the car to continue driving west. Ultimately, we reached the pullout for McDonald Falls. Actually, none of these pullouts were signposted which did make it a little difficult to know whether we were at the right place or not.
But I was sure this was it because the GPS
indicated as such. Plus, there was a short little path to a viewing area for McDonald Falls, but it was too bad that the trees in the foreground were blocking the line-of-sight towards the otherwise fairly attractive waterfall.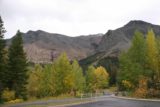 By 2:50pm, we were back in the car and headed west before going back in the other direction towards East Glacier and then Two Medicine Valley. As we left the park, I couldn't help but wonder if we had just wasted our time making the long two-hour drive each way to get here from St Marys. For this side totally lacked the drama and intrigue that the eastern side of the park had on offer.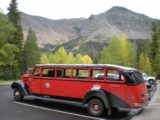 Finally at about 4:20pm, we reached a well-signed and established car park for Running Eagle Falls. There was a red tour bus in the old-school vehicles that were probably around during Franklin D. Roosevelt's time (at least that was what the body of the car would suggest), but it was on its way out.
So Julie and I found ourselves once again alone on this trail to the falls, but at least we knew it was a short 0.3-mile hike each way.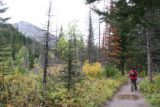 It was nice to get out of the car and do a little walking. And within a few minutes of flat walking, we saw the waterfall which seemed to have a rather strange characteristic about it.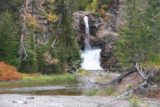 You see, most of the falls was gushing out of a cave-like tunnel but there was a much taller but thinner piece of the falls spilling over the outflow opening of that tunnel. Upon further inspection, we came to realize that this must be one of those rare natural bridge waterfalls. And the more I thought about it, the more I realized that this could very well be only the second natural bridge waterfall in which we saw the water flowing through its span (the other being Natural Bridge in Queensland).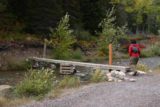 Anyways, it looked like there was a trail that continued beyond the viewing deck. But once I took a closer look, I realized that there was good reason to close that section of the track. That was because there was a landslide just in front of the viewing deck and then there was a major rockfall or cliff collapse further ahead.
So eventually, we got back to the car at 5pm and then continued driving out to the end of the road in Two Medicine Valley (getting there 10 minutes later). And that was when we got gorgeous views of the lake backed by tall peaks. Of course, the weather made this spot really cold and windy, and every so often, I'd feel sprinkles from rain over the mountains in the distance being blown in our direction by the fierce winds.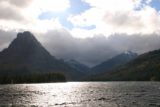 Julie and I were reminded of Milford Sound in New Zealand with a pointy peak framing the body of water to the left and other mountains flanking the lake to the right.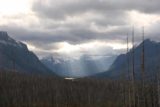 Eventually, we left a few minutes later and we were on our way back to the St Mary area. Along the way there, we couldn't help but notice god beams breaking through the clouds. I guess phenomena like this were one advantage of having clearing bad weather.
We arrived there at around 6:10pm where Julie and I had ourselves one last dinner before going home tomorrow.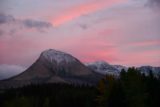 The food wasn't exactly overwhelmingly good, and I managed to get an "Indian taco," which was like the Navajo taco (i.e. fry bread topped with lots of chili). I figured it was best to get something local and that was what I could think of despite its health detriments.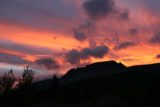 When we finished eating, it was just in time for sunset. I noticed the fiery red skies lit up by the long fading light of the sun. That created a few photo ops before the fleeting moment was engulfed by the darkness of the night.
And while the homesickness had already kicked in at the start of the day or maybe even at the start of the Glacier National Park leg of the trip (exacerbated by the fact that everything seemed to be either closed or dead as well as the heavy grizzly presence [even though we didn't spot any] which were unnerving for our hiking excursions), I wasn't exactly hurrying to get back in the rat race.
But tomorrow, we were determined to finally make it up to Logan Pass rain, fog, or shine. We'll have to see what happens next…