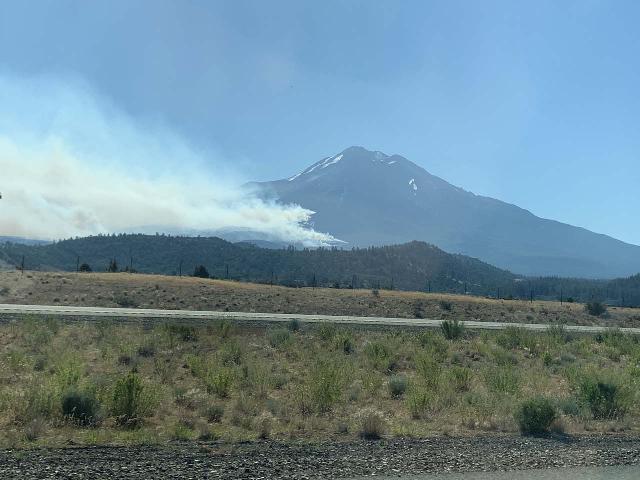 20-June 2021 to 30-June 2021:
But just when I heard one of my sticks fall, I couldn't find the other one!
It took some moments to really look around the overgrown area I was standing in before I finally saw downstream a handle that was just above the water as the pole was luckily stuck and not floating any further downstream!
With that, I proceeded to do the crossing, which was just as hard and as confusing as on the way in.
And in one moment, I made a misstep and actually fell on my butt in the logjam, which was also partially submerged in water so my butt was wet…
Day 8 (June 20, 2021 – Seattle, Washington): "Greater Diversity"
It was 5am when I awoke as daylight was already seemingly happening at this time.
The first order of business was to go down the hall and grab a dolly knowing that we had to facilitate the packing.
After taking care of my own stuff, I then took some time to get caught up on the blogging from yesterday as well as other unfinished business given the long day that we had as a result of the long drive, the late afternoon excursions, and the later-than-usual Mexican dinner.
So as I took the time to get all caught up with stuff, Julie finally awoke at 7:05am.
As usual, it took some time for the ladies to get going with getting packed, and I was getting nervous about the parking situation at Franklin Falls, which was the main waterfalling target for today.
It was a very windy day when I started to bring the loaded dolly out and to start loading the car, and it was at that point that I realized that my other water bottle was missing its cap.
I had no idea where it was, and I was getting worried that I might only have one water bottle available for hikes, where I did anticipate a couple of divide-and-conquer days where I'd be out solo on long hikes or on long days with multiple excursions.
Anyways, once I loaded up the car, I joined Julie and Tahia for breakfast except they took their included breakfast buffet stuff outside and towards the table by the swimming pool entrance.
They saw that it was crowded in the breakfast buffet area and nobody had masks on (including staff).
Moreover, we had doubts that all of the people in there were vaccinated (who could tell if they were or not?), and we were the only masked people in this facility anyways.
Regardless, we quickly chowed down our breakfast, and then we proceeded to drop off the keys, and then leave Ephrata at 8:15am.
Next, the drive south towards the I-90 went uneventfully as we texted my parents and my brother for a happy Father's Day.
We ultimately reached the scenic Snoqualmie Pass area, where there still seemed to be snow on the local mountains.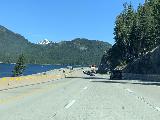 At first, my Garmin DriveSmart 50 GPS routed us towards the exit 46, which then got me through a scenic alpine village and ultimately towards the road that would lead to Franklin Falls.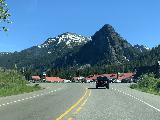 However, I then saw that we were led to a one-way road and we were on the wrong side of it.
The sign said that to access Franklin Falls, we had to return to the I-90 and then get off at exit 47 (Denny Creek).
And so we turned around, and the proceeded to do as the signage said, which then got us onto a narrrow but well-forested paved road that was also pretty well-signed.
We'd eventually get towards the entrance to the parking lot for Franklin Falls, but there were already lots of cars parallel parked along the now one-way Franklin Falls Road, and we ultimately parallel parked near the actual parking lot for the falls at 10:10am.
Indeed, the parking situation already looked pretty intense, and I knew that it was unlikely for us to even snag one of the marked parking spaces (though it looked like there was no shade there).
It took us some time to get ready, and Julie had to use the facilities where it seemed like there was no toilets in the immediate area, so she had to use the bucket.
And so by 10:40am, that was when we finally started on the hike, and it seemed like we had to backtrack towards the actual trailhead, which actually wasn't by the main parking lot and signage.
That said, the signage actually said we needed a Northwest Forest Pass, but we had an Interagency Pass (formerly called the National Parks Pass), so we just left it on the dash of our car.
Regardless, this was a very usy trail as we briefly walked a forested stretch past a few well-shaded cabins, and then ultimately to the handicapped parking spaces opposte the trailhead and just past a crowded area where people were waiting to use the toilet.
Good thing Julie opted to use the bucket because she'd have been here forever.
The hike along the Franklin Falls Trail was mostly along the scenic and gushing South Fork Snoqualmie River.
There were plenty of hidden and hard-to-see intermediate cascades in the creek while the creek itself was initially flanked by more cabins.
The trail itself was mostly uphill, but there were lots of people going in either direction.
So at first I initially resisted putting on my mask, but given the volume of people, I didn't want to take any more chances and gave in.
Julie and Tahia were already wearing their masks from the get go.
Nevertheless, we noticed that there were lots of people of different ethnicities (especially Chinese, Japanese, Indian, and Russian), which suggested that we were quite close to Seattle.
While I had read somewhere that this hike was 1.5 miles, it turned out that it was a one-way distance.
Both my Gaia GPS app and Garmin Fenix 6X Pro map had indicated as such.
In any case, it was a well-shaded hike, and it was thus quite cool despite the sunny day.
In fact, up to this point, we had been dealing with desert and very dry climates in the mountains of Nevada and Idaho, and we also noticed more people wearing masks here than earlier on in the trip where it seemed like COVID didn't exist.
When my Alpine FLZ trekking poles didn't stay in my on-the-go straps of my Osprey Manta 34 pack, I was busy adjusting them when Tahia asked if she could walk with my trekking poles.
She was a smart cookie because she already knew how to lengthen and fasten the pole, which took me a while to figure out when I first had the Distance FLZ trekking poles.
Anyways, after passing the junction with the Wagon Trail (which we made a mental note to come back to do on the way back down), we finally arrived at the quite busy Franklin Falls at 11:40am.
Indeed, the main spot to view the falls was pretty busy and a bit slippery.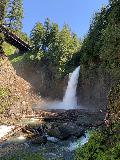 There was also a narrow and slippery ledge where people continued onwards to, but I knew it would be misty down there.
So we took our time taking pictures using my SwitchPod so we could try to take better selfies with Julie's iPhone.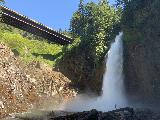 Then, I briefly went all the way down to the end of the trail, where I had to squeeze past more people in that slippery narrow ledge section before finally getting to the end, where it was still narrow but now quite misty.
That made taking pictures and videos with the Sony Alpha A73 a bit challenging, but then I remembered that I also had my phone, which does a bit better in such misty environments.
It also did better equalizing the lighting where the falls were in shadow but the highway just above it was not.
Regardless, after having our fill of this waterfall, we left at 11:55am.
And that was when we opted to take the Wagon Trail back instead of the super busy Franklin Falls Trail, as I had recalled the signage at the trailhead recommending doing a loop as such.
Sure enough, we had ourselves a pretty wonderful time on this trail as we were pretty much all alone so we didn't need to wear masks the whole time.
Clearly not many people read the signs because they did recommend doing the trail in a loop in this manner, but I'd imagine that most people seemed to want to follow AllTrails or do the lemmings effect.
Even though this trail was further away from South Fork Snoqualmie River, this change of scenery and tranquility was the appeal of doing this forested and generally gently downhill track, which seemed to parallel and cross the one-way road in a couple of spots.
By about 12:30pm, we finally made it back to the car, which was fortunately still in the shade.
But we could clearly see that the parking situation had definitely gotten quite a bit worse as we realized that the road crossings that we had done which featured even more parked cars were actually still quite a ways further north from the lot as well as our parked car!
Anyways, barely a few minutes later, we started driving off, and eventually the one-way road put us back to that spot where we were turned back earlier on.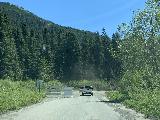 Next, we drove the I-90 west into downtown Seattle without much incident though as we were driving through the city towards the Hyatt House by the Space Needle (where we were staying), I noticed lots of tent cities in many of the downtown areas.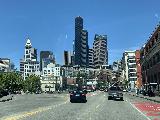 There were also more boarded up businesses in the downtown area in much the same way it was in Portland, but at least there did seem to be quite a bit more foot traffic around as well.
Finally at 1:55pm, after briefly stopping in an alley way so Julie could check in and retrieve the keys, we finally got a parking spot inside the garage of the Hyatt House.
And by 2:35pm, we finally sanitized our unit and got settled with the aid of a dolly where we took up pretty much almost everything that we needed.
By about 2:55pm, we then went downstairs back to the car and drove out towards the Tamarind Tree for a lunner.
At 3:15pm, we got to the restaurant, which was actually a familiar Vietnamese spot that Julie's cousin Linda took us to in the past.
Anyways, we ordered a lot of food here as we had gotten Goi Cuon for Tahia (it was kind of Brodard style with the eggroll shell inside the spring rolls), a Bun Beo (rice cake topped with dry shrimp and crispy onions), Bun Xeo (Vietnamese Crepe), Bun Khot (some kind of coconut mini-cup stuffed with shrimp), and Mango Salad with chicken satay.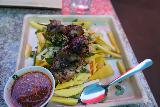 Julie even got a Bun Bo Hue, which was a spicy soup.
By about 4:30pm, we were done with the late lunch, and we indeed decided that we didn't need another meal after this.
We then pursued more stainless steel bottles at Costco because of my little predicament with the missing cap on my larger 40 oz water bottle.
And after running that errand (and picking up swimming trunks for myself since I had forgotten to pack it again!), we then went to Whole Foods where we picked up some primarily fresh fruits and a kefir as well as pasta sauce in case Julie was going to cook something tomorrow night.
Finally at 6:15pm, we dropped off the foodstuff and the bottles in the room, and then at 6:35pm, we went back out to pursue Kerry Park.
Julie's GPS actually routed us to the bottom of Kerry Park (Kinnear Play Area or something like that), and after parking the car at 6:55pm, we had to walk up steps to get up to the busy Kerry Park Viewpoint.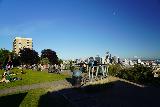 And then we tried to use the tripod to take family shots of the familiar skyline of downtown Seattle backed by Mt Rainier.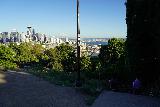 It was still quite bright at this time of the day so the mountain didn't quite jump out at us, but I knew that if we waited another couple of more hours, then the sun would start to relent and start to make Mt Rainier maybe turn reddish and pink.
Neither Julie nor Tahia wanted to wait around for that long so we ultimately returned to the car at 7:30pm after having some success taking family shots, and then we returned to the Hyatt House at 7:45pm, where we called it a day and settled in.
Tomorrow was going to be a rather long divide-and-conquer day, which made me a little nervous because it involved going to Walupt Creek Falls, which I knew wasn't a formal hike, but I'll have to see how that turns out…
Day 9 (June 21, 2021 – Seattle, Washington): "Balancing Act"
It was 4am when I awoke to the alarm, but I took some time to get caught up with yesterday's blogging while also preparing my own kefir breakfast without waking Julie and Tahia up.
By about 5:40am, that was when I finally went downstairs into the garage to get going.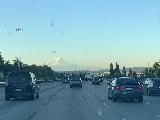 The drive out on the I-5 south was pretty uneventful for the most part except for glimpses of the imposing Mt Rainier in the distance.
I also had to do a fill-up of gas since I didn't get to do it yesterday though I was a bit surprised at the California like prices here.
Nevertheless, the GPS routed me towards some surface streets after leaving the I-5 and the WA-512 shortly thereafter onto Steele Street.
From there, I followed some interesting rural roads (on the Spanaway Loop according to BaseCamp) instead of the main throughfare (on the WA-7) that I recalled having to do to get to Mt Rainier.
Still, this little detour was surprisingly smooth because it was devoid of traffic signals, and I might consider doing that again the next time I come back to Mt Rainier.
But today, the goal was to get to Walupt Falls, and maybe that had something to do with the Garmin Nuvi's algorithm this time around.
Regardless, I was fighting a little road fatigue (probably the lack of sleep throughout this trip was catching up to me) as I was driving against the morning sun on the WA-7.
Then, I'd ultimately reach the town of Randle along the US-12 where the DriveSmart 50 GPS insisted that I should go south on the WA-113.
I knew from my pre-trip research that I was better off heading towards Packwood as I didn't recall needing to go south from Randle to get to where I needed to as far as the Walupt Falls start was concerned.
Eventually at 8:25am, I'd reach the NF-21 Road, which my pre-trip research suggested I should be going, and I did that as I already saw signs pointing the way to Walupt Lake.
The NF-21 road was a fairly washboarded unpaved road full of fairly deep potholes so I really had to temper my speed and the angle at which I would try to avoid them (or runover them if unavoidable).
When I went deep along this road, I saw glimpses of another big volcano in the distance, which I suspect was Mt St Helens, which kind of planted in the back of my mind of how far south I had gone from Seattle (as it felt like I was closer to Portland at this point).
Then, the road intersected with the NF-2160 Road, which was surprisingly paved, and that seemed out-of-place considering it took a lot of unpaved driving just to even get there.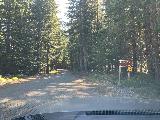 And pretty much, this paved road persisted all the way to the Walupt Horse Camp, where shortly after the turnoff for its entrance, I reached what I suspected was the Walupt Falls "Trailhead" where I saw a couple of parked cars here already at 9:30am.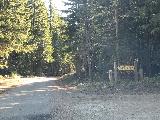 It took me about 10 minutes to gear up and get started, where I had to ensure I put on lots of sunscreen thanks to Julie taking my hat.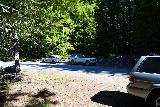 I also had to put on a lot of bug spray because there were quite a few mosquitoes buzzing around me looking to take a free shot.
Just as I was about to get started, there were about three cars that showed up, which gave me the sense that this place wasn't as isolated and remote as I had thought (though I wondered if they were all from the same party).
And so I proceeded ahead on the trail, where it didn't take long before I started to see some orange ribbons tied to twigs or trees.
From there at about 10am, the route-finding scramble had already begun as now I had to find a way to get across Walupt Creek, which was flowing quite high.
Good thing I brought my trekking poles, but I could see straight away that I had to change out of my boots (making me wish I hadn't brought them) and change into Keens.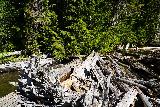 Knowing that there was a high risk of dunking electronics in water, I made sure to clip the Sony A73 onto my Cotton Carrier while I put the phone in my shirt's velcro pocket.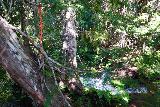 I also put my wallet and keys in one of the upper compartments of my Osprey Manta 34 daypack, and thus there was nothing in my pants just in case I might find myself thigh-deep or deeper in water.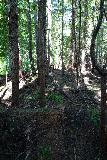 Then, I carefully tried to balance on lots of fallen logs on my way across Walupt Creek.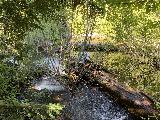 There were still some orange or pink ribbons kind of suggesting what was the next log crossing to do, but truthfully, some of those logs were too slippery to stay balanced on so I had to find an alternative.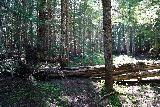 After a bit of back-and-forth and even wading knee-deep in some spots where I used the Alpine FLZ trekking poles to probe the depth of the water and the stability of my next step, I finally made it to the other side.
Following a few more pink ribbons, I'd eventually see what appeared to be some kind of use-trail though it was by no means obvious.
But at least since I had done quite a few hikes that involved scrambles, I could kind of tell where people had gone before.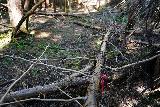 Besides, as I continued downhill on this "trail" along the north side of Walupt Creek, I could see that the ribbons were pretty much gone except for one (making me wonder if there was an alternate crossing that was less dicier than the one I had just taken).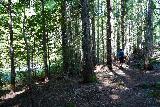 Anyways, I continued on the faint trail which was becoming more obvious to follow though there were a few moments of head-scratching due to false trails or fallen trees.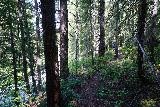 Yet even as I was going it alone at the time, there was one person who managed to catch up to me.
I told him, "You seem to know where you're going."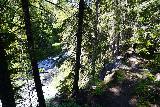 And he replied, "Yeah, I just follow the creek." Then, he followed up, "This place seems to be popular. I saw a lot of cars at the start."
To that I replied, "I'm betting we have AllTrails to blame for that," which drew a chuckle from him before he sped forward.
I initially tried to keep up with him, but in between wanting to take pictures to document the experience and some of the intermediate cascades along the way, he was long gone.
At about 10:45am, the trail started to descend noticeably more steeply while the scenery was opening up, revealing the impressive Walupt Falls as well as some conical peak in the distance that still had snow on it.
I took a moment to check out the falls from here, where I saw the guy that passed me was already down by the banks of Walupt Creek well downstream of the falls.
So I knew that that was where I needed to go eventually, and thus I continued down the path until I reached some kind of unsigned fork at 10:55am.
At first, I wasn't sure which way to go, but since I knew the waterfall was on the left, I started down that way, but in the back of my mind, I wondered where that other trail went.
Now, the trail descended even more steeply, but I noticed an offshoot trail going left across some temporary stream before reaching a precarious bluff with an in-your-face view of the main drop of Walupt Falls.
The lighting was already harsh at this time of the day and there were also trees in the way of the view, but I did take shots of what I could despite the obstacles.
Finally at about 11:05am, I reached the end of the "trail" where I was surprised to find quite a few people here in addition to the guy that made it here first.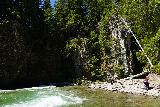 They must have been the group that showed up shortly after me right when I got started.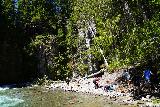 One of the ladies asked me in kind of an accusatory tone, "Where were you? We were here about a half-hour and never saw you. We thought you had gotten lost."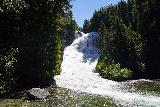 I basically told her that I was checking out some alternate views of the falls on the way down.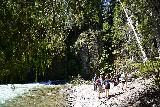 But I did ask about the trail split on the way down, and they thought I had gone that way earlier on, but one of the other ladies said that it was the wrong trail.
Even though it seemed like they concluded that I had gotten lost somehow, I basically told them that I was taking my time and left it at that, but at least they satisfied my curiosity about that other trail so I felt there was no need to pursue where that went.
Anyways, now I could finally look upstream somewhat against the harsh midday sun and check out Walupt Falls.
After getting my fill of taking my initial photos of the falls, I then got into my day pack and ate a few cherries that I had brought with me.
For a moment, I thought I was completely left alone at the falls when that group left around 11:30am, but it turned out that the guy that had showed up first here was still there using his tripod to take his shots.
Remembering that I had my SwitchPod with me, I mounted my iPhone on it and took some shots of myself at this waterfall to prove that I was here (as if that was a thing since I'm not on Social Media anymore).
I wondered if this place was better off being visited in the afternoon given the harsh lighting conditions at this time, which left about half of the main drop of the waterfall in shadow.
But I'm not sure I'd do this hike again if Walupt Creek were running as high as it is now, especially given that dicey logjam crossing that I wasn't looking forward to on the way back.
So by about 11:55am, I finally started to leave Walupt Falls and leave the lone guy left here to take his photos in peace.
As I was making the steep climb back up, I noticed that there was a rope here that I hadn't noticed before.
Regardless, by about 12:05pm, I made it back up to the trail split, and then I resumed my return hike, which made me pretty hot and sweaty at this point given the elevation gain and increasing heat of the day.
By about 12:30pm, I then made it back to the ribbons again, which meant that the log crossings were near, and sure enough, when I got to it, I stowed my camera and iPhone.
But just when I heard one of my sticks fall, I couldn't find the other one!
It took some moments to really look around the overgrown area I was standing in before I finally saw downstream a handle that was just above the water as the pole was luckily stuck and not floating any further downstream!
With that, I proceeded to do the crossing, which was just as hard and as confusing as on the way in.
And in one moment, I made a misstep and actually fell on my butt in the logjam, which was also partially submerged in water so my butt was wet.
Fortunately, I had stowed all my stuff higher up the pack and in my shirt pockets so the only things that got wet were my underwear, my socks that were left in the open part of the day pack's outer pouch and the toes of my boots.
Finally, when I got through the rest of the overgrowth and logs (with a few more tense moments as the trees pushed me into the water which was luckily thigh-deep and no more at one point), I finally made it to the other side.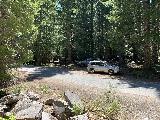 And after following the rest of the orange ribbons back to the trail, I then made it back at 12:55pm, where I took another 10 minutes to change out of the stinky Keens, braved the swarming mosquitoes, and finally started driving at 1:05pm.
The DriveSmart 50 GPS still insisted on taking me back to Randle, but I knew better, and proceeded north on the NF-21 to Packwood.
Then, once I was on the US12 (there was a sheriff waiting at this junction) as I was following some car that I had caught up to and was kicking up dust in my direction, I then continued east towards Clear Creek Falls, which was my next target.
The drive definitely had more cars as I continued past the Ohanapecosh turnoff towards Mt Rainier National Park, and then I headed up towards White Pass on the US12.
There was one moment of single-lane traffic, but the wait wasn't too long.
There was also a scenic view that I had driven past that had a nice view of Mt Rainier, and I made a mental note to come back here as soon as I'm done with Clear Creek Falls.
By about 2:20pm, I had finally made it up to the Clear Creek Falls Overlook, which only had two other cars, but as I was getting my camera and stuff, the lot filled up pretty quickly.
I first went in the upstream direction as I noticed a bench and sign up there, and it turned out that this was an overlook for the upper drop of Clear Creek Falls, which could only be seen partially.
Then, once I had my fill of that, I followed the fencing downhill past the lot and restrooms towards a picnic table and overlook, which provided a partial view of the lower main drop of Clear Creek Falls.
I learned that this spot was really more of a morning location given its east-facing position, but at least the open scenery down the canyon was attractive.
I finally made it down towards the dead-end where there was another sign as well as some shrine that someone had left here with the Hispanic name of someone that had passed away here.
Over there, I saw a really attractive lake way down the canyon, and slightly further up the canyon was perhaps the best view I was able to get of the lower drop of the Clear Creek Falls.
Eventually at 2:55pm, I had my fill of the Clear Creek Falls and returned to the car, which was actually quite hot given that it was around 95F according to the car's thermometer!
So I drove back west along the US12 and then I stopped at the scenic viewpoint of Mt Rainier, where there were a handful of folks from North Carolina occupying the views before taking off.
Five minutes later, I continued the drive after getting my obligatory shots, which was surprisingly tricky given how bright the snow was compared to the rest of the scenery.
As I followed some slower cars down the US12, I then went towards the Ohanapecosh Entrance to Mt Rainier, where I showed my Interagency Pass and Drivers License and got the map and news publication for this park.
Then by 3:40pm, I unexpectedly encountered a waterfall on Falls Creek so I briefly stopped here to take some long exposure shots from the bridge.
Lots of other cars were content to just take their shots from their car before continuing on.
Then, I continued on some more as there was a brief stoppage on the Stevens Canyon Road, and eventually by 4:15pm, I arried at the unsigned trail access for the Wonderland Trail closest to Martha Falls.
Once I was all geared up (concerned about the creaking of the car's parking brakes since this pullout was sloped), I then proceeded to go down the shaded Wonderland Trail.
There was still snow on the ground in some spots as well as mosquitoes as it was getting late in the afternoon.
But it was pretty uneventful when I descended the last of the switchbacks and then approached the one-sided log bridge fronting Martha Falls at 4:45pm.
Although I knew that this waterfall was way taller when seen from across Stevens Canyon, this trailside view only revealed its last drop, which wasn't very tall, but it threw up lots of mist.
Martha Creek was actually running so high that it was running OVER the far side of the one-sided log bridge.
I had no intention of crossing this bridge anyways but I did manage to get to the middle of the precarious crossing to document this experience.
After having my fill of Martha Falls, I then sweated my way back up the Wonderland Trail to regain the car at 5:15pm.
Even though the trail was mostly in shade, it was still a hot a sweaty hike back up given that there was no breeze along the way.
I then took about 15 minutes to eat an apple before getting back on the Stevens Canyon Road en route to Seattle.
As much as I was tempted to make stops for Myrtle Falls, Narada Falls, and Christine Falls, I also didn't stop for Carter Falls (which I wondered if I might regret that decision).
There were also lots of cars for Carter Falls, but again, it was getting late and my ETA to return to Seattle was 8pm.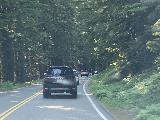 So I pretty much didn't stop except for one gas stop that was way more reasonably priced than closer to Seattle (I think I paid $4.29 for 92 octane instead of $4.89 that I paid earlier on this morning).
And ultimately by 8:05pm, I returned to the Hyatt House Garage, and ten minutes later, I was back in the room to rejoin Julie and Tahia.
I basically finished Julie's spaghetti, and I also tried out some treats that Julie bought from a couple of different patisseries in downtown Seattle.
But the rest of the evening was a blur as I was dead tired. So I got cleaned up and pretty much just crashed for the night knowing that tomorrow was going to be another long day of driving towards the Olympic Peninsula…
Day 10 (June 22, 2021 – Forks, Washington): "Return To The Twilight Zone"
It was about 4am when I awoke to my alarm, which afforded me some time to get caught up on yesterday's blogging due to what a long day it was for me.
I also took advantage of the early morning wake-up to grab one of the dollies in the lobby so we could pack up and haul our stuff to the car in one trip.
So it took me a little over 90 minutes to get that done as well as getting caught up on organizing and naming photos as well.
And it was only around that time that Julie finally woke up, which began the rush of us doing what needed to be done to get out of here.
In addition to packing up, Julie and Tahia going went downstairs to bring up some of the included breakfast, and at the same time, I ate my kefir breakfast as well as Tahia's burger and prime rib leftovers from Elevation 486 in Twin Falls a couple days back.
It wasn't until about 7:25am when we finally loaded up the car, which was later than the 6 or 7am ferry that I was hoping to catch to maximize the amount of daylight to do excursions today.
Anyways, not much longer, we checked out and started to drive towards the Bainbridge Island Ferry, which was surprisingly tricky because there was a stalled train on the railroad tracks that kept us from going to the street along the waterfront per the Garmin DriveSmart 50's directions.
So instead, I made a left onto one of the inner streets paralleling the original route, which passed by the familiar park near Pike's that we had a picnic at with cousin Linda and Chris and their family back in 2017.
Eventually, we detoured through lots of construction at the waterfront before reaching the Bainbridge Island Ferry after paying some $34 for our cruise with the car and waiting to board.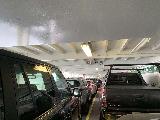 When the ferry started taking off, I didn't bother getting out of the car to go upstairs to take photos like the last time we did this ferry crossing 10 years ago since it was an overcast morning, and I already knew what looking back at the Seattle Skyline was like up there from 10 years ago.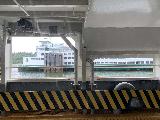 Once we were done with the half-hour ferry crossing (approaching at around 8:30am), we then followed a long line of traffic that was gradually thinning out as we went from one town to another until we eventually got to somewhere near Port Angeles to do a quick pit stop.
It wasn't lost on Tahia since we were indeed approaching one of the mentioned towns in the Twilight Saga books though this town had more of that big box feel.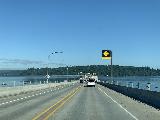 We'd eventually rejoin the US101 as we swung further west of Port Angeles and towards the more remote corner of Washington's Olympic Peninsula en route to Sol Duc Falls.
I had fancied visiting both Madison Falls, Marymere Falls, or even Rocky Brook Falls en route to Kaloloch Lodge.
However, after being honest about how long these excursions would take in addition to the long drive times, we ultimately settled on only visiting Sol Duc Falls, Ruby Beach, and then settling in at Kaloloch Lodge with the possibility of visiting Kaloloch Beach.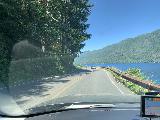 And so after we went past Port Angeles (one day I'm going to go up to the Hurricane Ridge to see what's up there), we then continued west on the highway as we passed alongside Lake Crescent (looking scenic under the sunny skies as the marine layer burned off) en route to Sol Duc Falls.
After getting past the western edge of Lake Crescent, that was when we saw the turnoff for the Sol Duc Hot Springs, and we ultimately took that road into the Olympic National Park boundaries, where I had to show my Interagency Pass along with photo ID at the entrance kiosk.
It wouldn't be until about 11:30am when we finally got up to the trailhead for Sol Duc Falls, which had plenty of parking.
Still, it took Julie and Tahia quite some time to get ready so we didn't start hiking until around 11:50am.
During that prep time, we actually took out my stinky Keens to air out by leaving them on top of our parked car assuming no one would take them.
It also certainly felt way hotter than the forecasted high temperatures of 67F (the car said it was more like 75F).
And yet, it felt even warmer than that because there was noticeable humidity in the air.
Anyways, we proceeded on the busy yet mostly shaded rainforest hike to Sol Doc Falls, which definitely had a different ambience than our first time here 10 years ago when it was raining while we did this hike.
Even though this hike was pretty easy and well-shaded, I kind of liked it better when it was overcast and rainy because it really brought out the vibrant greens in the lush foliage and tall trees towering over us.
The hike was only 0.8-mile in each direction, but it seemed like it took a bit longer to reach Sol Duc Falls mostly because there were lots of people on the trail in either direction so we would often stop with masks worns to let people pass by.
That way we wouldn't be constantly breathing other peoples' globules while walking behind them or going past in opposite directions. After all, even though CDC made confusing guidance about people not needing to wear masks if vaccinated, this is based on the honor system.
And we know how dishonest people have been…
Speaking of masks, it seemed like once again we were in the minority in terms of masking up, and there might have been a handful more of people that also donned masks, but the vast majority of people didn't bother.
We ultimately made it to the familiar bridge fronting Sol Duc Falls, which was actually made muddy thanks to the mist being thrown up by the triple-segmented waterfall.
That shot that Julie showed me the other day, which featured a bridge fronting one of the segments of Sol Duc Falls, was misleading and I suspected it was taken from a drone.
There was no way I'd want to hop the fence and try to edge out closer to the unstable gorge edge with the rushing Sol Duc River below.
After having our fill of the Sol Duc Falls, we then returned back downhill towards our parked car as we got there at 1:25pm.
My stinky Keens were still on top of the car, and they still reeked even though they were bathed in the sun during most of the hike.
Anyways, we got back in the car and proceeded to head towards Forks en route to the Kaloloch Lodge.
However, as we were starting to get momentum, we noticed some kind of Salmon Cascade Exhibit, and I figured that since it had the potential to be another waterfall stop, we mind as well stop for it and check it out quickly.
So by 1:45pm, we were at the Salmon Cascade Exhibit's parking spaces where there was a family picnicking here.
Julie and Tahia stayed in the car while I solo'ed the short jaunt to the overlook that yielded a more sideways view of the cascade where I'd imagine salmon would be jumping their way to try to go further upstream.
I also took a short scramble a little further downstream for a more frontal view of the cascade with no salmon to show for our viewing opportunities.
Nevertheless, it didn't take long to have my fill of this spot and to document the experience before rejoining Julie and Tahia in the car, and then taking the road back down towards the US101.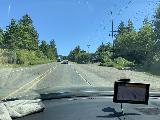 We then went west on the US101 in the direction of Forks, but we had to have endured at least two or three lengthy road work delays.
Eventually, the car lines started thinning out again, and we ultimately wound up at the very busy parking lot for Ruby Beach at 3:25pm.
Even though it had been sunny and warm throughout the day from the time we arrived on Bainbridge Island to the time we passed through the busy Forks, it seemed like Ruby Beach was right at the edge of the sun where the fog was about to take over.
Indeed, the sunny day that we had experienced earlier gave way to fog rolling in just like it did when we were here 10 years ago.
So it made the Ruby Beach experience a bit more gray that we were hoping, but it was still a neat little beach with sea stacks (two of which had natural arches), and a nice fern-walled trail connecting the parking lot with the pebble-sand beach.
We probably took nearly an hour taking pictures (especially family shots using Julie's Huawei monopod stick with three little feet for standing stability.
Once we were done checking out this attractive beach, we returned to the car at about 4:20pm.
As we continued heading south from Forks, we ultimately reached the Kaloloch Lodge at around 4:35pm, where Julie checked in.
We learned that the Kaloloch Restaurant was open, but only for takeout.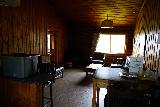 Well, they at least assigned us to a cabin close enough to the lobby and restaurant to walk there, which Julie and Tahia promptly did.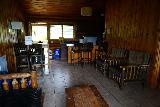 As much as it would have been nice to have rooms with views towards Kaloloch Beach, I think they charged a premium for those, and we were merely content with our more basic arrangement.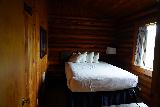 Anyways, we were done sanitizing the room and loading foodstuffs and the rest of our luggage to finally settle in at 5:25pm.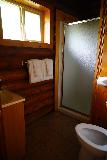 Since we hadn't really eaten anything substantial since breakfast, Julie went to the restaurant and lobby with Tahia (the latter was hoping to get internet in the lobby while they waited for the takeout food to arrive) to get dinner.
She ultimately ordered an elk burger along with king salmon dish, and a clam chowder with bacon bits in it (in addition to clams).
And so we devoured our food, fought the post-meal food coma, and then set up the fireplace that actually burned dry wood for a bit of ambience.
The skies remained foggy and drizzly outside so there would be no sunset here, and I guess that makes it 2 for 2 in cloudy days at the Kaloloch Lodge in our history of coming here 10 years apart.
The more I thought about it, this was the first time throughout this start-of-Summer trip that the weather had changed and it wasn't constantly sunny.
I wondered if this was the start of a longer trend since we're now pretty much along the Pacific Northwest coast region for the next couple of days.
Anyways, Julie didn't have any interest in pursuing the Kaloloch Beach under this weather as it was getting cold really fast, so she pretty much crashed in the accommodation after dinner.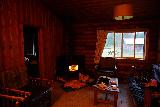 Meanwhile, as tired as I was (seems like my lack of sleep on this trip was finally catching up with me), I did share some father-daughter bonding time sitting in front of the fireplace and feeling the warmth coming from the "oven" or whatever you call these things (a hearth?).
Tahia had taken out the picnic blanket and wanted to play Uno with me, but I was too tired to do that so we just had a chat and stared at the fire side-by-side together.
Tahia wound up playing Uno with her dolls (Buddy and Rollie), while my fatigue finally caused me to go to sleep (she said I went to sleep at 9:30pm, which was the earliest I went to bed).
I recalled Julie and Tahia having some kind of conversation in the middle of the night with the living room lights and fire still going so maybe there was a mother-daughter moment while I was out.
It's amazing what you can accomplish without internet, though I'm sure our daughter didn't see it that way.
Anyways, tomorrow, we head into Oregon's Cannon Beach, but we'll stop at Mt St Helens' Johnston Ridge Observatory en route, and it would be another light day from a waterfalling standpoint…
Day 11 (June 23, 2021 – Cannon Beach, Oregon): "Blast Core"
It was about 6:05am when I awoke without an alarm.
I don't think that I had ever slept that much (apparently I had slept by 9:30pm according to Tahia) for the entire trip thus far, and it seemed like I needed this (or at least my body was telling me this).
Anyways, we took our time having a quick breakfast of fruits and eggs.
During this time, I was starting to feel some work guilt, which I happen to feel from time to time when I'm on these trips.
But I keep reminding myself that I'd much rather not regret having these life experiences spending Q-time with the family than wishing I worked more.
It has definitely helped my mental health adopting this strategy, especially since most of this time is spent in Nature instead of in stress-filled work environments or in the rat race in the city.
So it wasn't until about 8am when we left the Kaloloch Lodge under drizzly skies.
Indeed, this was the kind of weather we tend to associate with the Pacific Northwest, which we've largely avoided throughout this trip up to this point.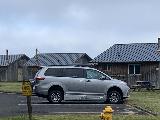 Just as we left, I pointed out to Tahia some vehicle parked nearby that looked out of place – it seemed to have been elevated but it had regular sized tires so it wasn't exactly off-road ready.
Anyways, we continued driving south on the 101, which was largely uneventful with lots of lush forest as well as plenty of zones with denuded forests.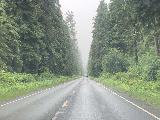 I got the sense that logging is a very big deal in this part of the state, and it seemed like the Olympic National Park regions kept most of their trees while the parts outside the park boundaries had vast denuded areas.
It just goes to show you the perverse economic incentives that we abide by, which pretty much tells you that Global Warming doesn't exist, and I'd bet that these parts are more Republican than Democrat since doing the responsible thing would impact the means of earning a living in these parts.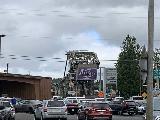 When we finally got to the city of Aberdeen at 9:25am, we made a quick gas stop, but we can totally see how this city and its port (as well as that of Port Angeles) probably doesn't exist without logging.
From our observations in Yellowstone where the effects of the 1988 fires were finally seemingly fully recovered by about 2017 or 2020 (when we were last there), that goes to show you that it takes at least 30 years before the trees come back fully grown.
Yet if we cut trees down at a faster rate than that, then our rate of consumption is unsustainable, and that's where we're at, especially as we've become aware of the lumber demand when dealing with house projects.
Beyond Aberdeen, we ultimately took more highways that eventually led us to the I-5, which we then cruised along briefly before taking the exit leading us to through the town of Toledo (i.e. the Gateway to Mt St Helens).
Beyond Toledo, the road eventually joined up with the WA-504, which ultimately continued further to the east towards Mt St Helens.
Perhaps what was concerning about this drive was the road signage suggesting that the Johnston Ridge Observatory was closed!
I worried that perhaps we couldn't even make it up to the end of the road due to a possible road closure or something, but then again, I swore I had read something out of the official website that maybe the visitor center was closed but the viewing area was not.
So what's going on here? Whatever the case, I was going to push forward until the closure point if we happened to encounter it, and then deal with what happens next.
The weather remained overcast, but it looked like it was lightening up the further east we went, and then suddenly as the road started climbing above 1000ft, the clouds then seemed to have disappeared.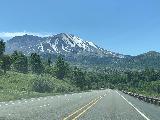 As the temperatures rose, so did the elevation of our drive as we eventually got up to around 3000ft.
Although there were scenic pullouts and viewpoints along the way, we ultimately decided to keep going past them thinking that if the views at the end weren't good enough, then we might come back to stop at these for more distant photos of the blown volcano.
Eventually by 11:40am, we made it to the Loowit Viewpoint, which already revealed the gaping maw of the caldera of Mt St Helens, where the eruption and subsequent landslide happened 41 years ago.
It was already quite hot and sunny out here, which produced high contrast between the partially-snow-covered volcano and the sky itself.
There were also some wildflowers blooming around the overlook area, but it was quite clear how extensive the damage caused by the eruption was as we could see bare lands and fallen trees all around us with only a few trees left standing.
Anyways, after having our fill of the Loowit Viewpoint, we then retreated to the car, and then we continued the final stretch of the drive to the Johnston Ridge Observatory.
We got to the rather busy parking lot at 12:10pm, so apparently quite a few people weren't deterred by the closure signs that I had noticed.
And so we first walked to the main lookout where the lookout directly in front of the visitor center was pretty busy.
Then, after having our fill of this lookout, I decided to go up to the upper lookouts, which ascended some ramps.
Meanwhile, Julie and Tahia went into the store, which was apparently open.
Up at the upper lookouts, there were more interpretive signs as well as more views towards the Boundary Trail that possibly led to Loowit Falls.
It was a good thing I didn't pursue this longer trail to get to the waterfall becaues it was totally exposed to the sun, and it was a longer hike than the one I was planning for from the Windy Ridge Trail.
After having my fill of this upper overlook area, I then descended back to the visitor center area, where Julie told me that the restrooms were working inside (despite what the misleading signage said; what's up with all this misleading signage anyways?).
We then had a quick lunch together courtesy of the food truck in the parking lot, where we got chili and a cheeseburger, and we split those two things just to hold us over to dinner.
I actually combined my portion of the chili with my portion of the cheeseburger to make sort of a Tommy's chili burger.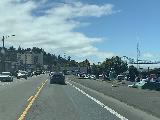 And by 1pm, we were back in the car and resumed our long drive towards Cannon Beach as we were about to leave Washington State momentarily (since I anticipated coming back for some hiking in the Gifford Pinchot National Forest).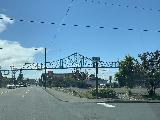 The drive pretty much went uneventfully under the sun as we took the 504 back to the I-5, and then we continued west on the US30 towards Astoria.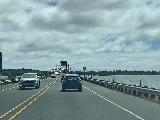 When we had crossed over the bridge on Oregon Way over the Columbia River to get to the US30, we were shocked by the massive lumber yards that were clearly being exported on these huge container ships at the mouth of the river.
Indeed, if logging wasn't a major part of the economy in both Washington and Oregon, I don't know what is!
We'd eventually pass through the town of Astoria, which was on Oregon's northwest tip near the mouth of the Columbia River.
We noticed that there was a huge bridge spanning the mouth of the Columbia River, and it kind of reminded me of the bridge we crossed between the Upper and Lower Peninsulas of Michigan over the "Big Mac".
It also was kind of like a smaller version of some of the Atlantic Coast drive that we had experienced in Norway.
That bridge was like the direct coastal link between the two states of Washington and Oregon.
Anyways, after turning the corner and heading south on the US101, we then passed through the rather large town of Seaside, which was just north of the smaller and more intimate Cannon Beach.
Finally at 4pm, we arrived at the Waves Motel, where we checked in, but we could clearly see that parking was a bit more difficult.
We got lucky with scoring one of our old parking spots temporarily, but we also learned that our room was 407 instead of 404, which happened to be on the first floor (so we'd hear our neighbors' footsteps from above), and the room was a little smaller than the one we had back in April.
It didn't take long before we finished sanitizing the room while also dropping off our luggage, foodstuffs, and cooking supplies in the room.
Since Tahia was keen on checking out tide pools, I knew that it would be possible to have that experience at Hug Point and not Cannon Beach.
Besides, just like with Kaloloch, we seemed to have re-entered the marine layer zone so it was all overcast again.
So Julie opted to stay behind in our room while I quickly got back in the car with Tahia at 4:30pm to pursue Hug Point.
We ultimately got back to the familiar parking lot at 4:45pm, and there were plenty of parking spots this time around.
Tahia and I quickly got out of the car and proceeded to walk down onto the nice beach area though I saw immediately that the tides were a little higher than they were when we were last here two months ago (even though it was "low tide").
We quickly made a beeline for the waterfall, which was still flowing though it appeared to have split into two thin segments.
I don't know how much longer this waterfall has to keep flowing, but it seemed to delight many people checking out this beach, especially above the waterfall itself.
Then, after having our quick fill of the falls, we then continued over to the shelf of Hug Point, where we had to time our approach since some of the waves and surges were actually inundating the walkway before receding.
Once we got onto the shelf, I was a little nervous about getting stranded on here, but I kept recalling in my mind that we were in low tide until 5:56pm.
As we walked higher up the shelf before it dropped down to its lowest point, that was when we encountered the tide pools along with the barnacles and mussels all over the place.
Inside the pools, Tahia identified the anemones and went nuts touching them to watch them close.
The whole time Tahia was enjoying herself, I had one eye looking towards the ocean at all times in case any rogue wave was approaching (not that we could do anything about it though).
Once she had her fill of this precarious spot, we then retreated to higher ground where we saw a few more pools (including one with a crab inside it) while she was touching more anemones and barnacles as well as mussels.
Then, we retreated back to the beach where we checked out the waterfall one last time while Tahia was playing in the sand building volcanoes (clearly inspired by her witnessing Mt Rainier and Mt St Helens on this trip).
Finally, we returned to the car at 5:30pm, where we then returned to Cannon Beach.
Unfortunately, Julie called us and told us that she couldn't book anything for dinner from Castaways, which we enjoyed the last time we were here two months ago.
That was a bummer because we knew that other places would be difficult to book this last minute.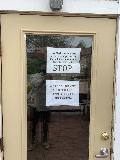 And when we got to the Castaways Restaurant to see what was up, we could see that the place was unoccupied with signage on the door saying that dinner was sold out this evening.
So when we got back to the Waves Motel at 5:50pm, Julie joined us and we decided to walk into town in search a place to eat.
We ultimately settled on this place called Ecola Seafood at 6pm, which was a more informal fish and chips kind of place.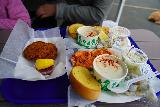 Sure enough, it was one of those spots where we just got food to go and sat at one of their outdoor tables.
And so we did that by ordering grilled halibut, grilled salmon, and a pair of fried crab cakes.
It wasn't as satisfying as the Castaways experience back in April, but at least we got decent seafood and now we could retreat to the room after the dinner was finished.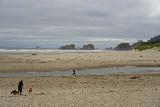 So by 6:40pm, we returned to the Waves Motel, and we wound up spending the remainder of the evening taking care of business as I was busy organizing and naming photos while also blogging about today.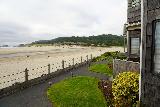 I also made a booking for the Lewis River Waterfalls for tomorrow since I didn't think they'd let us check into the Hyatt House in Portland early anyways, and I was nervous about driving around the city with so much stuff in our car to go sightseeing with (just asking for a break-in).
Indeed, I was calling an audible here, but I also was nervous about the record heat forecasted for this weekend, and hopefully it wouldn't come on days when we'd go hiking…
In any case, Julie was busy booking for an upcoming Iceland trip and Tahia was busy playing games, and sometimes we'd have to stop and look out the window to check out the beach scene before us as the skies were slowly getting dark.
The skies finally pretty much got dark after 9:30pm, and so ended this eventful day, but now we needed an early start given the little audible that I just called…
Day 12 (June 24, 2021 – Portland, Oregon): "Calling Another Audible"
It was 5am when I awoke to an alarm, and not long thereafter, I managed to get Julie to grudgingly wake up.
We managed to coerce Tahia to wake up by bribing her with 2 hours of screen time if she helped with packing and finished her breakfast.
So it wouldn't be until about 6:35am when we finally headed out to an overcast morning.
Based on last night's last-minute booking for the Lower Lewis Falls (since we couldn't check into Portland until early afternoon anyways), the Garmin Nuvi had us drive back towards Astoria before heading east towards Longview along the Columbia River.
There were a surprising number of cars on this stretch of road before we filled up gas somewhere near Longview.
Then, we went south on the I-5, which also had a bit of heavy traffic.
Shortly thereafter, we got off the I-5 and headed east towards Cougar, which went by pretty uneventfully as I was able to get Portland sports talk stations (especially the one with Dan Patrick followed by Jim Rome).
There was one fairly lengthy delay due to some rock slide mitigation at 9:30am, but we ultimately made our way towards the manned roadblock where a ranger checked to see if reservations had been made to park in the Lewis Falls Recreation Area.
While they preferred having printouts of the permit or confirmation of the reservation, it just wasn't practical for us since we had no access to a printer last night at Cannon Beach.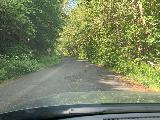 So the ranger let us through, as we drove past some other road work zone as well as some pretty nasty hidden dips where it seemed like the forest road had sections that were sinking.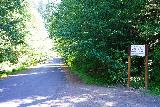 By about 10:15am, we made it up to the Quartz Creek Trailhead, which was apparently the nearest trailhead parking for the Upper Lewis River Falls.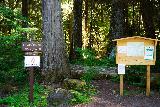 But upon realizing how far we had to drive to get from the Lower Lewis River Falls day use parking turnoff (our assigned parking area) and this trailhead, I abandoned the idea of having Julie drop me off here and meeting them at the Lower Lewis River Falls parking lot.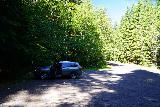 Maybe another time I might finish this kind of muti-waterfall hike more thoroughly starting from the Upper Falls and ending at the Lower Falls, but not this time.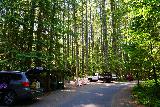 Besides, the original plan was to spend more time in Portland, but I had reservations about doing city touring with all our stuff in the car and with still the concern about the Skid Row-like situation in the downtown area where we might be a target for break-ins.
And so the best middle ground was to return to the Lower Lewis River Falls day use area, which we were permitted for, and just enjoy the waterfall there before heading south to Portland with maybe a stop at Panther Creek Falls along the way.
Thus, by 10:30am, we finally made it to the Lower Lewis River Falls, where we were checked once again for the permit as well as the Northwest Pass (though they also accepted our Interagency Pass and just requested that we show that pass on our dash).
There were a handful of cars already here, but it didn't at all feel crowded or overrun, and perhaps this permit system during the peak season between June 15 and September 15 was paying dividends as far as managing this area was concerned.
Knowing that the walk to the viewing areas for the waterfall was short (1/8-mile according to the signage), only Julie put on legitimate hiking shoes while Tahia and I had sandals on.
It didn't take long before we finally reached the lookouts for the Lower Lewis River Falls, and it was both wide and impressively voluminous.
Julie reacted by stating that this was the most impressive waterfall that she saw on this entire trip, which was saying something because it also included Shoshone Falls.
We managed to view this waterfall from a few different positions, including near its brink as well as from a more direct view further downstream with some bench and a memorial on it.
There was even a rainbow looking down from the brink in the spray from the most powerful part of the waterfall.
And we managed to take some people shots on the iPhone since I didn't bother bringing the legitimate Manfrotto BeFree tripod for this excursion.
While I did notice one family wade across the river towards a dry spot right in front of the Lower Lewis River Falls, I found the trail that they took to get down to the banks of the river.
However, the rope-assisted descent at the very bottom looked too dicey for my liking, and I didn't bother going down there to unnecessarily incur risk for that in-the-river shot of the waterfall.
And so by 11:15am, we were all back up at the car, and we started driving out, which made this visit rather short.
So now instead of retracing our route back through Cougar towards the I-5, we now went south on the Curly Creek Road and then eventually on the Wind River Road en route to Carson.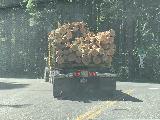 However, I decided that we should make the detour towards Panther Creek Falls, which involved going on the Old State Road, and then following the narrow Panther Creek Road for a ways.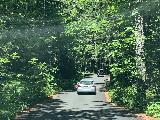 That road was narrow enough to pretty much be no wider than 1.5 cars in many spots, and we had to be careful about the blind corners.
But it was nothing I wasn't used to considering we had driven bi-directional single-lane roads in Europe (especially in Norway) but I'm sure most Americans (especially with our giant cars) aren't used to driving these roads.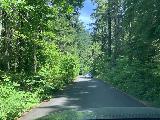 Sure enough, we caught up to a couple of cars in front of us when went real slow on this road with no opportunities to pass and with the lead car not bothering to use any of the pull-outs until there was finally a car going in the other direction.
Maybe that freaked out the lead car and encouraged her to wave her arms for us to pass them.
And eventually by 12:35pm, we finally arrived at the unsigned parking area closest to the Panther Creek Falls (at least I knew it was here according to my pre-trip research).
It was quite warm when I got out of the car, and I wasted no time to get my camera and hat and get moving while Julie and Tahia opted to stay behind.
And so I had to walk along the road back in the direction we had driven from before seeing the trail descend into the foliage cover.
There was one couple with a dog coming up from that trail, which helped me to know where to go (otherwise, I'd have to pay attention while looking at my Gaia GPS app, which had the surveyed trail).
Anyways, I descended this trail which then split shortly thereafter, and I took the right fork first to get to a viewpoint.
At that viewpoint, I saw that there was a partial view of the main tier while there was also a hard-to-see segment coming in from the right.
It appeared that there used to be ways to see more of these waterfalls from this vantage point, but the railings and signage tried to close off such accesses, and I was in no mood to rebel and try to get that shot that people have done in the past.
So it didn't take long before having my fill of this viewpoint, and then I went back up to the fork, where I then followed the sign indicating that the other fork went to the bottom of the falls.
Initially, this trail followed along a ledge in an uphill direction, and it went for a little ways, which made me question whether it was really going to the bottom or not.
But soon enough, the trail turned and then followed another narrow ledge in a downhill trajectory back down towards the Panther Creek Falls.
Eventually, I'd make it down to the end of this trail, where I had a more in-my-face view of the main drop of Panther Creek Falls, but I couldn't see much of the lower drop, and I couldn't see much (other than a trickling segment) of the segment of falls coming in from the right.
Again, there was signage and railings to try to deter people from scrambling to improve the views and see these other hidden tiers of the waterfall in the interest of safety and to prevent any further erosion to the landscape.
And so it didn't take long before I had my fill of this place just as another couple had arrived at this lookout as I was on my way back up.
After passing by another couple on their way down to the bottom of the falls, I finally rejoined Julie and Tahia at the trailhead parking area at 1:05pm, and then we finally resumed the drive towards Portland.
The return drive went by uneventfully though I did have to follow one of the many logging trucks reminding me of the paradox of deforestation along with Global Warming going against the economy telling us that we have to do destructive things to earn wealth.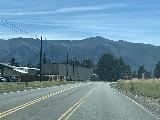 With the forecast for this weekend to be record breaking heat (up to 108F in Portland on Sunday), I was already thinking about having to readjust the tail end of our itinerary.
After all, we were expecting to be in Bend, Oregon over the weekend, and we were also expecting to be in Salem on Monday when we should be hiking Silver Falls State Park, except it wouldn't make sense to do the Trail of 10 Falls in over 100-degree heat.
And so I floated the idea to Julie about changing our Monday night's accommodation to Medford or Ashland and abandon doing Silver Falls State Park.
I also was mindful that I did have a long hike to Loowit Falls tomorrow and so I absolutely needed an early start before the onset of the heat wave when hopefully all the climbing would be over (since I knew Mt St Helens area had little to no shade).
So with all these things in our minds as yet another one of Nature's reminders that Global Warming is here and has been for years, we ultimately made it to the Hyatt House in Portland at 2:35pm.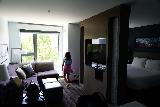 Having done the familiar drill of check-in and getting out the dolly, we pretty much emptied out the car as best as we could, and then brought everything up to our room in one go.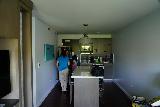 The room was one of the smaller units with the small-sized fridge, but we made do.
We also sanitized the room per our usual drill.
Once we were done with these errands, we returned the dolly and then regained the car at 3:20pm.
Now, we could do a little exploring and errand-running in downtown Portland, and that started with a drive towards the Pittock Mansion, which was something we hadn't done before.
After getting through some of the hilly streets of the city, we'd eventually reach the Pittock Mansion's parking area at 3:40pm, where we scored one of the shaded parking spots.
Then, we paid about $32 total for the three of us to do a tour of the interior of the Pittock Mansion, which I knew Julie would appreciate because she loved going into furnished mansions and/or palaces or castles.
While I had this cynical attitude of how the rich with concentrated wealth could come up with things like this, it did provide us with a window of what life was like in the early days of the city of Portland as it grew from its early days in the 19th century.
We went from room to room and saw the combination of old and new appliances and furnishings as well as a couple of oil paintings of waterfalls that happened to be about Yosemite (i.e. Lower Yosemite Falls and Bridalveil Fall) instead of local waterfalls in Oregon.
Anyways, after we were done with the brief walkthrough of the Pittock Mansion, then we walked around to the backside of the garden where we got a regal view over the city of Portland backed by Mt Hood.
This viewpoint was impressive, but Mt Hood looked quite small compared to the city, which didn't really have signature landmarks in the way that Kerry Park in Seattle had the Space Needle backed by Mt Rainier.
So after having our fill of this viewpoint, we returned to the car at 4:45pm, and then we drove back down to the downtown area to finally have a legitimate meal.
During the drive through downtown, we witnessed two instances of a Portlandia sketch where in one instance a driver was letting another driver get into the street, but that other driver was insisting on letting the other person go so there was a standstill.
It actually opened up the opportunity for me to make a left turn while this was going on.
In another instance, a pedestrian insisted on letting a driver go by while making a left turn, but the driver insisted on the pedestrian going across first.
Indeed, as far fetched as some of the scenes in Portlandia had gotten, there was still that underlying "being courteous to each other" mentality that the show poked fun at in those instances, and we all got a real good laugh at it.
By 5:05pm, we ultimately arrived at this Vietnamese place called Luc Lac (after the beef dish, which was kind of a Vietnamese take on cut up filet mignon with salads).
And we found some street parking near the restaurant, where we then used some Parking Kitty app, and then we ordered at one of the windows at Luc Lac before taking one of the outdoor tables and waited for the order to be complete so we could bring the food to that table.
This was our dinner, and it pretty much consisted of the signature luc lac, Julie's pho, Julie's rice-wrapped crispy roll, and Tahia's nem nuong (spring rolls).
We also got a dragon fruit kombucha as well as some kind of blue mango lushee, which Tahia really liked.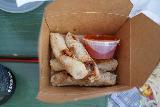 And this meal pretty much hit the spot though having pho in takeout like this wasn't ideal as the broth wasn't hot enough to keep cooking the meat pieces.
Both Julie and I felt that the luc lac here was probably the best we've ever had as the meat was so tender, and it was certainly a fresher take on this dish compared to all the other Vietnamese-influenced joints that we've eaten at back home in LA or even in Seattle.
By 6pm, we were done with the dinner, and then we made our way towards the Whole Foods, where we ultimately got to at 6:10pm after finally finding its parking garage across the street.
Our grocery run was done by 6:45pm, as this was the first time we managed to do such grocery shopping in at least 3 days (not since Seattle).
And so by 7pm, we were finally back in our room at the Hyatt House after parking at the familiar Douglas Garage, which definitely had more cars on this day than it did two months ago when we were last here.
The rest of the evening was spent taking care of the change in accommodation situation as we switched from Salem to Ashland after Bend to try to alleviate the problems with extreme heat that was coming this weekend.
Hopefully, the wildfires won't be starting at this time, but you never know with these things as such problems only continue to get worse as long as we have actors in government (and the voters who enable them) refusing to address the pink elephant in the room when it comes to the environment.
At the same time, we were also trying to finish making reservations for an upcoming Iceland trip, so there was definitely no shortage of things to do.
But in the end, I needed to get some sleep because I was expecting an early start to try to head off the incoming heat wave on my long hike to Loowit Falls and possibly Harmony Falls in the Mt St Helens area again…
Day 13 (June 25, 2021 – Portland, Oregon): "Sunken Roads"
It was 4am when I awoke to my alarm as I needed the early start to ensure that it wouldn't get too hot whilst I would still be hiking uphill on my anticipated Loowit Falls hike today.
So I wasted no time eating my kefir and fruit breakfast while still not trying to wake up Julie and Tahia, and then I headed out the door and to the car with my gear by 5:20am.
It was still dark outside but sunrise was coming as the daybreak was coming in the horizon.
After leaving the structure and paying the $24 for the overnight parking, I then followed the GPS directions towards the I-5 north as it took me towards Vancouver, WA, and then eventually towards the WA-503.
There were a surprising number of cars already out on the road, but traffic rolled pretty smoothly, and there were even a handful of patrol cars looking out for speeders already.
The Garmin Nuvi actually wanted me to go further up the I-5 towards the Johnston Ridge Observatory, but I knew that was a longer hike, and I knew the way to Cougar and beyond from yesterday's drive to the Lower Lewis River Falls.
Thus, by the time I got to the WA-503 exit, I then filled up on gas, and then I finally made the familiar twisty drive against the morning sun towards Cougar and beyond.
With the Dan Patrick show keeping me company throughout the drive, it was pretty smooth sailing, but then once I got past the NF-90 turnoff and kept on the NF-25, that was when things got interesting.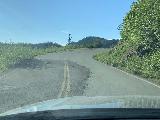 Indeed, much like how the road to the Lower Lewis River Falls was surprise dips, the NF-25 also had similar surprise dips that could really make the car bounce and even catch air if going fast.
I don't know what's up with the roads sinking like this in this part of the state of Washington, but I presumed that there wasn't the integrity in the engineering to keep the water running underneath the roads instead of eroding its base.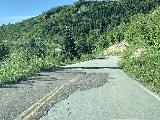 That's because I never encountered so many sunken roads in such a short stretch that were persistent like on the southern and eastern slopes of Mt St Helens.
Heck, when Julie and I did this drive back in August 2009, I never remembered having this much difficulty with the road conditions back then.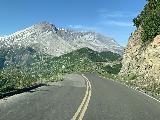 Anyways, that complication made the drive seemingly longer than I had hoped for, and it didn't help matters that the road was also quite twisty and frequently making me face the morning sun.
Good thing I had gotten the early start because there weren't many cars on the road at this time.
Eventually at 7:45am, I had made it to one of the lookouts on the Windy Ridge Road, where I took photos of the northwest face of Mt St Helens.
Somehow I had missed the famous photo spot where one guy actually took a series of photos of the actual Mt St Helens eruption in succession, like I remembered doing back on our 2009 trip.
But I guess in the interest of time, all roadside stops had to be brief.
Anyways, the Windy Ridge Road (NF-99) was also full of sunken roads as well, and in many cases it was worse than what I had been on to this point.
Some sections were completely unpaved on one side of the road while there were other long stretches where the road was noticeably sinking towards the cliffs or slopes that compelled me to drive on the wrong side of the road to avoid them.
Ultimately by 8:05am, I had finally arrived at the Windy Ridge Viewpoint and its spacious parking lot.
This place had a different look and feel than when we came here in August 2009, but then again, memories fade like looking through a foggy mirror (to quote an MGMT lyric).
I saw the gate marking the end of the public road access of the drive, and I now it was time to gear up and get going on the long hike to Loowit Falls.
Funny how I didn't remember seeing that gate before in the past, but I did recall seeing the steps leading up to the top of a ridge with likely a more elevated view of Mt St Helens as well as Spirit Lake, which was clearly visible now (whereas it wasn't as visible from the Johnston Ridge).
After gearing up and making sure I brought all my water, I then checked out some of the signage (one showed that David Johnston and Harry R Truman actually chose to stay during the eruption, which was why place names here were in their honor), and I finally started hiking at 8:20am.
There were a couple of young ladies who were in front of me and making fast progress as they increased their distance between me and them just as I was taking pictures of various features along the first 1.7-mile stretch.
This trail was clearly an unpaved road probably for service vehicles, but accordig to Gaia GPS, it was now called the Truman Trail after one of the people who opted to stay during the eruption, which ended his life.
Along the trail, it was atmospheric in that I saw Mt Adams against the morning sun to the east, I saw the top of the conical Mt Hood way in the distance to the south, and I was staring into the alluring yet destructive crater of Mt St Helens (including its growing lava dome).
All around me, I could see that there were downed trees and barren landscapes interspersed with a handful of trees and shrubs along with wildflowers that managed to live on after the blast 40 years ago.
Since I knew that trees tended to regrow every 30 years or so, their noticeable absence here told me that the landslides and pyroclastic flows must have somehow stripped the area of the kind of soil conducive to their growth in that time span.
And thus, this hike was pretty much exposed to the sun, and it was a good thing that I had gotten an early start because it was already starting to heat up.
By about 9:10am, I had made it to the end of the road part of the hike shortly after the trail had forked and I went right.
The ladies in front of me had gone left as it seemed like maybe they were going up to some viewpoint or ridge as part of the Around-the-Mountain Trail.
But I knew that I was targeting Loowit Falls and so I had to descend down to the end of the road, where there was still a USGS Forest Service pick-up truck parked there.
Beyond the truck, I then had to traverse one of the lahar zones, which were basically where mud flows from the melting glaciers or continuing presence of water would create new gullies and ravines in the wake of the landslide caused by the Mt St Helens eruption.
And that pretty much started the next 1.7-mile stretch of trail that would go in and out of the next handful of ravines and gullies that were pretty much lahar zones.
Early on during this stretch, I encountered a group of four backpackers who were resting.
They told me that they were doing the around-the-mountain hike, which would take 3 nights.
I told them that I was doing the waterfall hike, and that might have planted in their minds to spend the extra effort to check out that waterfall detour.
As we parted ways, I continued traversing one ravine or gully after another, where some sections had a bit of sketchy footing due to the steepness of the ever-changing landscape here thanks to the cutting action of the water from the melting Crater Glacier as well as snowmelt.
In at least two or three of the ravines, there were minor cascades and waterfalls that might be nice spots to cool off, but I stayed on the trail and kept going towards Loowit Falls.
At 9:40am, I reached another trail junction but I kept right since that trail on the left went towards Windy Pass.
By this point of the hike, I had to unzip the pant legs because it was getting way too hot, but that also meant I had to put on more sunscreen to protect them.
This was one of those instances where I was glad I was using my favorite pair of REI pants instead of the Outdoor Research Ferrosi pants or the Arc'teryx Gamma LT pants since those weren't zip offs.
I definitely appreciated the sudden gain in breathability while feeling some of the gentle breeze (they didn't call this area Windy Ridge for nothing, apparently).
Eventually at 10:15am, I finally arrived at the signposted trail junction where I now veered left to take the final spur (the sign said it was 1/4-mile more) to get up to the Loowit Falls.
By this time, I was definitely smelling that subtle odor of sulfur though the smell here was noticeable different than say the geothermal activity going on in Yellowstone.
Perhaps that different smell hinted at the difference in composition of the lava here, and why this spot was more explosive and viscous than say the freeflowing of lava in Kilauea in Hawaii.
Anyways, it was during this ascent that I finally started to see the Loowit Falls almost bathed perfectly in the morning sun, but I was only able to partially see it as it was backed by one of Mt St Helen's crater edges.
So that hasted my paces even more as I continued the ascent until finally I got to a giant rock cairn stack marking the end of the official trail.
Just as I got there at 10:40am, I noticed there was a mountain goat staring at me as it was making its way towards a ridge to my left.
I wanted to go a little higher to improve my view of the Loowit Falls, and that must have spooked that mountain goat, but I did manage to take a few shots of it in profile as it stood on the ridge against the morning sky.
It kept staring at me and then staring away from me because I realized that the group of backpackers that were behind me also took this detour to eventually join me at the falls, which got the mountain goat staring at them, too.
Anyways, once that mountain goat was out of sight, I took some shots of the impressive Loowit Falls, which was definitely worth the effort to reach even if it was pretty much an all-day affair given the drive and the long hike to get here.
Come to think of it, given that apparently I was standing pretty much in the mouth of the crater left behind by the Mt St Helens eruption, I bet that Loowit Falls didn't even exist before that eruption event!
Or if it did, then it must have taken on a totally different form because that major landslide from the volcano's eruption certainly created some geology conduc
Looking downslope from the waterfall, I saw the Johnston Ridge Observatory as well as full views of Spirit Lake with hints of Mt Rainier's peak behind the so-called Norway Peaks.
As the group of backpackers rejoined me, one of the ladies pointed out that there were more mountain goats alongside Loowit Creek down below; there must have been at least seven of them in total.
Indeed, it was such a surreal sight to see these guys in the presence of Loowit Falls within the volcano's mouth.
It reminded me that nature experiences like this still exist, even though we now have to go farther to attain than in the past thanks to information being so freely available on the internet making other places requiring less worth pretty much overrun.
Eventually, the backpacking group went back downhill to resume their round-the-mountain adventure, and that left me alone with the falls momentarily until a pair of guys showed up.
They also came, enjoyed the spot, and left, and I was once again alone to try to document Loowit Falls a bit more while also eating cherries and hydrating some more.
But by 11:30am, I had my fill of this place, and started the long hike back out.
The return hike was every bit as scenic as on the way in since I now got to stare at Spirit Lake more as part of my route, but I had to stay committed to the hike since I knew that I probably wasn't going to make it back to Portland until at least after 6pm.
By about 11:55am, I made it back to the main trail, and then I returned back the way I came as I went in and out of the same gullies that I had traversed earlier on.
In one of the gullies which had a lot of vegetation and an attractive cascade, I saw a trio of ladies chilling out there just as the sun was now high overhead.
Further on near the Loowit Trail junction, there was another pair of hikers wondering where that other trail went, to which I showed them my Gaia GPS surveyed trails which indicated that the other trail they considered actually rejoined the round-the-mountain trail beyond Windy Pass.
Beyond that, I ultimately returned to the road part of the Truman Trali at 12:50pm, where that pick-up was still there, but I also noticed people standing high up on the ridge above me as I heard their voices.
And then I had to make the rather long ascent along this road towards the Windy Ridge Viewpoint again, but along the way, I did notice that Mt Adams was starting to be surrounded by thunderclouds so its peak was blocked.
I also noticed some cascades in the distance across the ravine on my right thanks to the improved lighting, which revealed how extensive they were (kind of reminding me of the same kind of miscellaneous cascades that I had encountered on the Goat Falls hike earlier on in this trip).
As I turned around and looked back at the gaping maw of Mt St Helens, I also noticed that I could see Loowit Falls partially in the distance (funny how I didn't notice that before on the way in)!
By about 1:30pm, I had made it back to the Earth Scope Geostation site and bunker, and by 1:45pm, I made it back to the Windy Ridge Viewpoint, where there were a handful more cars than there were when I first got here.
Even though I was pretty much tired at this point, I kept my hiking boots on as I got back in the car and drove off towards the Harmony Viewpoint in pursuit of the Harmony Falls.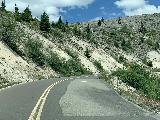 I knew that if I went straight back to Portland without making that Harmony Falls attempt, then I'd be back in the city some time at around 4:30pm, but I figured since I was here, I mind as well go for that waterfall.
But I could forget about doing the Iron Creek Falls, which I saw on the forest service maps that it was a possibility, but that was adding too much to this long day.
By 1:55pm, I ultimately got to the Harmony Viewpoint where all the legit parking spots were taken up so I parked in one of the long vehicle parallel spots.
Indeed, there were lots of people chilling out by their cars at the trailhead, and they seemed to have Southern accents.
Anyways, I was already geared up so it didn't take long for me to get out my gear, lock the car, and head down the Harmony Falls Trail.
Contrasting the Loowit Falls experience, this trail was a lot shadier and more lush so I was constantly brushing up against the overgrowth.
Since my pant legs were still zipped off from the Loowit Falls hike, I was concerned about poison oak exposure here, but I just couldn't be bothered with putting the pant legs back on at the moment.
So I continued with the quick trail run downslope towards the Harmony Falls (knowing that it was going to be a brutal uphill hike on the return) while avoid the handful of people making their way back up (there were at least 3 or 4 parties that I noticed).
Finally at about 2:25pm, I had made it to the Harmony Falls, which was a bit of a smaller waterfall.
I wanted to get that Gregory Plumb photo looking across the waterfall with Mt St Helens in the background, but unfortunately, there was too much overgrowth and I just wasn't into doing more bushwhacking just for that photo.
I already had enough cut up limbs from sharp branches slicing me this way and that.
So I basically took photos and videos looking down at the falls, and then I went across a logjam to get to a more fontal view of the falls across its inviting plunge pool.
When I had my fill of this waterfall, at 2:55pm, I briefly went downhill a bit more to check out the shores of Spirit Lake with closeup looks at the ghostly remains of the trees that once stood before the eruption and now lie dormant floating on the sapphire blue lake.
There was one other family that was down on some of the log jam down below, but for all intents and purposes, I had my fill and now it was time to go back up.
The hike back up was definitely brutally hot as anticipated, and I used my trekking poles to help with the stability and to propel me up with every step.
I also put the pant legs back on so I had one less worry about poison oak exposure on my legs.
After one refreshing stop where I let a spring splash on my hot head (and a little bit of my pack and camera), I finally made it up to the Harmony Viewpoint at 3:30pm, where there was now only about 3 cars left.
Now, I could finally get out of my hiking boots and hiking socks and let my feet breathe in my Chacos.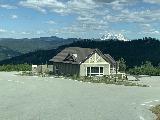 And from there, I did the long drive back out towards Portland but not before a few more jarring catching-air moments on the sunken forest service roads en route to Cougar and then back onto the I-5 south into the Rose City.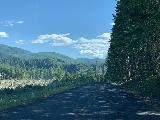 By 6:15pm, I had made it back to the Douglas Parking Garage, and eventually by 6:30pm, I had made it back to the Hyatt House, where I rejoined Julie and Tahia to unwind on the day.
They had crepe leftovers from their late lunch so that was going to be my dinner as they had no room left for a legit dinner.
And even though Julie did fancy going out once again for a smores joint, I think I had had enough of driving and walking around on this day.
Heck, as much as I wanted to check out the Alberta Arts District or other Portlandia spots, I think I had my fill of this day, especially since Portland was noticeably hotter (93F) than it was back at Mt St Helens (high 80s).
That said, tomorrow was going to be the start of the extreme heat wave, and thus any waterfalling left on this trip would have to be pretty much light roadside excursions…
Day 14 (June 26, 2021 – Bend, Oregon): "From Chill Wave To Heat Wave"
It was 4:25am when I awoke without my alarm, which was set for 5am.
That gave me some time to get caught up on yesterday's happenings since it had been a long day for me and I was dead tired.
So it took me until around 6am when I was finally done with what I had to get done, and then I had another kefir breakfast with fruits.
Julie intended to go downstairs to bring up the included brekkie, but she didn't realize that for the weekends, that breakfast room didn't open until 7am instead of 6 or 6:30.
Thus, she gave up on waiting for the grub, and she contented herself with eating the stuff that we brought.
By about 7:30am, we finally loaded up the car and left Portland just as it was already starting to warm up as the record high was now forecasted to be 105F with tomorrow forecasted to be 115F!
If these unprecedented temperatures in the Pacific Northwest weren't Global Warming, then I don't know what is.
The first order of business was to drive the I-84 east towards Outlet Falls.
There was a lot of traffic on the I-84 as it seemed like loads of people were driving in this direction, and it wasn't just for the Columbia River Gorge.
Perhaps annoyingly, as a result of this high traffic, a big chunk of the congestion was due to people occupying the fast lane because they keep the cruise control on but are barely moving faster than the people they're trying to pass.
It's something I noticed was more prevalent in both Oregon and Washington on the high-speed highways, and there were also some out-of-state drivers clogging the fast lane much like people in California pretty much do (which you can see a lot of on the I-15 between LA and Vegas).
I guess that's the drawback when you're not on long drives in less populated regions like earlier on in the trip when we were passing through Northern Nevada, Southern Idaho, and both Eastern Oregon and Eastern Washington.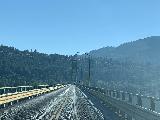 We'd eventually reach Hood River, where we then took the toll bridge across the Columbia River into Washington State again.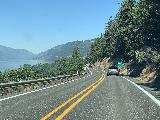 This time, we took the roads north towards this town called BZ Corner, and then we followed some rural highway towards Outlet Falls, which apparently sat within the Klickitat Reservation.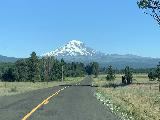 As the drive went from forest into open farmlands, that was when we had gotten views of Mt Adams looming in the background.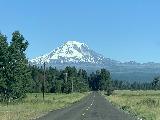 There were no formal places to pull over and get a view, especially since the roads didn't have shoulders so we had to be content with taking road shots.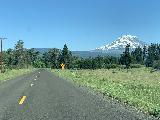 Ultimately by 9:30am, we got to the very easy-to-miss and unsigned parking area for the Outlet Falls, where you really had to know this place was here to even find it.
It even got Julie to doubt that we were in the right place.
The key to even knowing to pull over here was that there was a pole as well as a smaller reflector kind of surrounding the small rutted parking area between trees.
But upon getting out of the car, I could hear the sounds of falling water so I knew that we were in the right place.
However, it took some time to scramble around looking for the proper place to scramble to get a proper view of the waterfall.
Eventually, I'd hike in the downstream direction and see some rocks that I could carefully scramble onto, which led to a ledge that peered right down at the plunging Outlet Falls, which was half in shadow.
Julie saw how dicey some of the scrambling and dropoffs were here and didn't bother joining me.
In any case, I got my views of Outlet Falls, got my photos and videos, and then returned to the car at 9:55am.
Then, since we had passed by Hood River on the way here, we now backtracked towards Hood River so we could have an early lunch at the Broder Ost Restaurant.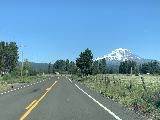 I had entertained the thought of continuing east towards the Kickitat Canyon Overlook, but in the interest of time, I ultimately decided that we were heading straight to Broder Ost to minimize any wait times for that early lunch.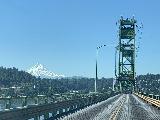 We'd ultimately get there by 10:45am, just as it was becoming 93F in the town.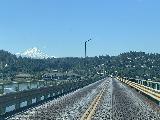 The inside of the restaurant was air-conditioned, but it was crowded, and since Tahia still wasn't vaccinated yet, we didn't feel safe bringing her in there.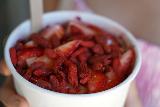 So we opted to sit at one of the three tables outside, which was definitely subjecting ourselves in the scorching heat in the name of her safety.
Anyways, we had ourselves some Danish pancakes, Swedish meatballs, Salmon fishcakes, and my Lindstrom Burger, all of which we had before when we were last here two months ago.
So the meal definitely hit the spot, but we did so while sweating it out despite having cold water and Tahia having her acai bowl from a neighboring establishment when we were waiting to get seated.
We were back in the car at 12:15pm, and at this point, we could finally make the drive towards Bend, which was the next place we were staying at.
The drive pretty much went uneventfully as we skirted by the eastern slopes of Mt Hood, and then we ultimately got to the drier parts in the rainshadow of the Cascades.
As we continued south on the US97, we could see more volcanic peaks still with snow on them like Mt Jefferson as well as the Three Sisters.
Eventually, we'd make it to the Riverhouse on the Deschutes, which was where we were spending tonight and tomorrow night, and we got there at 2:55pm.
That gave us plenty of time to sanitize the room, put the refrigerated stuff in the mini-fridge, and then let Julie get to her 4pm massage appointment at the neighboring spa.
It wasn't until about 4:25pm when I was finally done doing the chores in the room since Julie was at her massage appointment, and it was only thereafter that Tahia and I could finally go to the pool together.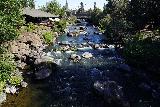 When we got to that pool, we could see that there was a very crowded outdoor pool as well as a far less utilized indoor pool, which felt like a greenhouse inside despite the doors being open.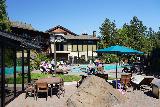 So we did the indoor pool, where we'd spend the next hour or so doing things like playing tag or subjecting Tahia to some rasslin' moves that involved flipping her into the water.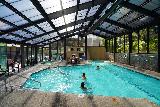 Eventually, Julie found us at the indoor pool, and by 5:45pm, we got back to our room to shower off the chlorine.
By around 6:15pm, we all went back in the car so we could head our for dinner as well as do a Target run.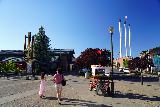 We ended going to the Old Mill District, which was basically a charming little outdoor mall that was once a sawmill area.
It featured a huge REI that had three towers rising from its building, and the Old Mill area also featured a walkway or bikeway along the attractive Deschutes River – the same river that split our accommodation.
We eventually got to this place called Flatbread Pizza, where we got to try some Napoli-style (i.e. Neapolitan) pizza with both gluten and gluten-free crusts of margherita and quattro stagioni, respectively.
The pizza really hit the spot though the margherita crust was burnt so the waitress accommodated us for another one that ultimately stuffed us.
Tahia then got her raspberry sorbet gelato, to help offset the heat though it was feeling pretty good thanks to an afternoon breeze as we were sitting in the shade as we had dinner.
Then, after the dinner, we briefly checked out the Deschutes River before exploring the fancy REI at the Old Mill District, where its interior had some remnants from this building's milling days.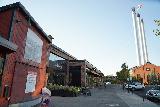 We didn't buy anything though we did try to find a replacement bottle cap for my 40 oz stainless steel bottle that was missing a cap.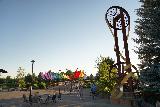 Anyways, the place closed at 8pm, and eventually after making a Target run, we ultimately got back to our accommodation by around 8:30pm, where we'd then finally wind down the day as we looked forward to finally seeing Tumalo Falls tomorrow.
But whether we'd have to walk in record temperatures or not would depend on how quickly we wake up and get there, especially given how busy Bend was with out-of-towners…
Day 15 (June 27, 2021 – Bend, Oregon): "AO River!"
It was 5am when I awoke to the alarm, but I knew that getting choice parking spots for Tumalo Falls was going to be difficult if we didn't get the early start so I embraced getting up even though I felt a bit groggy.
As the sun rose at 5:30am, Julie finally got up, and she immediately went about preparing some hot dogs in the pressure cooker so we could picnic with it as breakfast at Tumalo Falls.
So by 6:10am, we were in the car and headed out.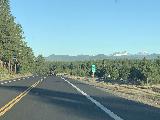 The Garmin Nuvi had me go on some weird routes, which ultimately took me to some kind of dead-end that we had to detour around due to road construction.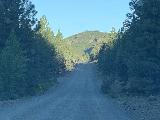 But we'd eventually be on the right road as we were following Skyliners Road west into the mountains en route to Tumalo Falls.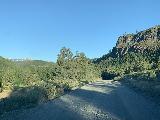 During the early morning drive, we saw numerous mountain and street bikers as well as joggers trying to get their exercise in before the record heat was forecasted to overtake much of the Pacific Northwest.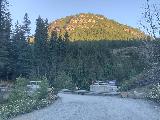 Even Bend was subject to 100F while Portland was forecasted to get over 110F today!
Regardless, our drive towards Tumalo Falls was pretty smooth until we got to the gate, where the remaining 2.5 miles was on unpaved road.
This was the part that kept us from visiting two months ago when this road would be closed while it would still have snow covering it.
So finally on this day, we sought out Tumalo Falls, which had long been on our bucket list (especially Julie's) for many years but we've never had the chance to experience it given its location.
Finally at 6:40am, we arrived at the end of the road and the Tumalo Falls parking area, which only had room for perhaps a dozen cars or so.
There were already a handful of cars here, but we managed to snag one of the closest spots opposite the restroom facility.
Just as Julie and I were getting started while Tahia was still asleep in the car, there were more cars that were pulling in, which attested to how busy this place was.
We first went to the nearest lookout, which had the classic view up Tumalo Creek towards the classic-looking waterfall (almost reminding us of Rainbow Falls near Mammoth), where we took a few shots.
Then, Julie retreated to the car so she could have her breakfast in the car.
At the same time, I was taking a few more pictures (and swatting away some pesky mosquitoes already out this morning) before I pursued the upper lookout.
Along the way, I noticed a well-used but unsigned spur trail leading to the right somewhere near half-way up the ascent.
In following this path (noticing that most people out and about this morning didn't pursue this path), I continued following the well-used trail, where I even saw some infrastructure suggesting to me that it's a legitimate trail despite the lack of trail signage.
The narrow trail continued to skirt towards Tumalo Creek before veering to the left and skirting some pretty steep cliffs holding up the overlooks directly above.
Eventually, I got to some nice close-up views of Tumalo Falls fronting some trees just as I was starting to feel the waterfall's spray.
Continuing further, the slippery trail ultimately descended past more roots towards the almost-back-side of Tumalo Falls, where most of the spray was happening.
Technically, I couldn't go totally behind the waterfall since it was too wet and slippery there, but I got the idea of this impressive waterfall from up so close.
Once I had my fill of this spot (and getting some mosquito bites along the way), I then backtracked towards the main trail where I saw two more parties of people making the climb.
Indeed, this place was popular.
I'd eventually make it up to the upper lookout, where most of the people crowded at the overlook protruding over the cliff.
I went ahead and proceeded towards the brink of Tumalo Falls, took my videos and pictures, and then backtracked to the lookout when the place was mostly vacant once again.
It was around 7:30am when I had gotten up here, and I could see further downstream that the parking area was pretty much full even though it wasn't even 7:30am yet!
Good thing we indeed got the early start.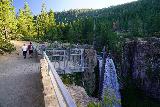 After having my fill of this spot, I then returned back down the trail to the parking lot, where I rejoined Julie and Tahia for some breakfast.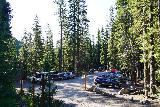 But before digging into the cooler, Julie, Tahia, and I went back to the nearest lookout for some selfie shots before retreating back to the car.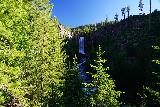 I helped get the jungle juice out so we could better protect ourselves against the mosquitoes, and do this while having the hot dog wrapped in lettuce breakkie.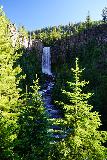 Finally at about 8am, we had our fill of Tumalo Falls, just as the sun was breaching the immediate cliffs around us, which caused light and dark zones.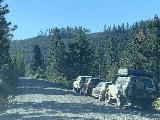 Someone was gonna get lucky getting our spot, but in any case, we still had another waterfall to pursue in the Newberry Crater National Monument, and try to explore that place before it would really get hot.
And so we took the local roads back to the US97, and then we followed the US97 south for quite a while.
During the drive on the US97 southbound, Julie and Tahia were dead asleep in the car.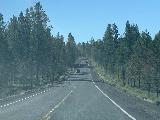 In the mean time, I was paying attention to the traffic (including one cop on the other side that I made a mental note to watch out for on the return drive) as well as some signage mentioning things like a Lava River Cave as well as other turnoffs for Newberry Crater.
Eventually, we reached the signed junction leading towards Paulina Lake, and we took this side road past a scenic overlook of the Three Sisters, and eventually to an entrance kiosk.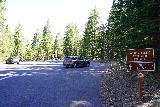 I showed my Interagency Pass and Photo ID, as once again, having this pass was paying us dividends even for places that we didn't expect there to be National Park entrance fees (though National Forests and National Monuments also seemed to honor my pass).
Ultimately at 9:10am, we arrived at the Paulina Falls parking lot, where we managed to snag one of the few shaded spots.
Julie and Tahia were still asleep so I went ahead and solo'ed this excursion, where I started with the 1/4-mile path leading down to the base of the falls.
There was a friendly guy whom I spoke with earlier that said he was beating the heat, especially in Portland, just as everyone else was apparently headed to the coast.
They were headed to the overlook on the right so when I went left and went to the bottom, I was all alone.
It was a good thing that I showed up to the bottom of the falls by 9:30am because it was just when the sun was about to breach the cliffs and trees and force me to look against the sun.
So I got what photos and videos that I could from this spot before it would become too unwieldy to take pictures.
And after having my fill of this impressive spot where I got to look up at the pair of segmented waterfalls, I then went back up towards the signed junction.
Then, I went left and went towards the main overlook, where there was a family taking a family shot there with the help of another guy.
I then had time to check out the lookout where the sun was more or less behind me so I could look across the pair of falls despite the shadows and high contrast.
Once I had my fill of this spot, I then continued along a 0.3-mile trail leading to a bridge over Paulina Creek at the mouth of Paulina Lake.
It was tempting to scramble across the stream and shave off a chunk of this hiking distance, but I thought better of it, and went the longer more sanctioned way.
After crossing the bridge and taking the trail back downstream, I'd finally make it to the overlook on the opposite side of Paulina Creek, which was pretty much against the sun and also concealed the larger segment.
I got here at 10:15am, and it didn't take long before I retraced my steps, then rejoined Julie and Tahia right at the overlook (apparently she had gotten my texts since there was some cell reception up here).
So we took a few minutes to take people shots before more people started showing up around this lookout.
Finally, at 10:40am, we were back at the parked car, where we then debated whether to check out the Newberry Crater (I wasn't sure if the photo on the newspaper was from a drone or from a legitimately high spot) or just head back to Bend.
We ultimately decided on going back to Bend since I doubted that the attractive photo of Newberry Crater would have been taken from terra firma.
We also decided not to pursue the Lava River Caves since we had seen numberous lava tubes in our lives.
Once we made up our minds, we then drove back down towards Bend while making one stop at a scenic view of the Three Sisters Wilderness.
The drive back towards Bend was mostly uneventful though I was quite surprised by the volume of traffic already out and about on the roads.
It got me thinking that maybe tomorrow morning, we should get an early start to have a smooth go towards Crater Lake on the way to Medford and Ashland.
By about 11:40am, we returned to Bend, where we stopped at a Natural Grocers right across the street from the Riverhouse on the Deschutes.
There, we picked up some stuff that we could Instantpot for lunch, and we picked up some refrigerables like kefir, fruits, and even a Strauss Cookies 'n Cream ice cream.
By 12:05pm, we were back at the Riverhouse on the Deschutes where we had our choice of parking at one of the few shaded spots.
And so for the next couple of hours, we were having ourselves a family lunch in the room while listening to the sounds of the Deschutes River.
After the lunch, I decided that I was going to pursue Benham Falls though Tahia and Julie could check out the outdoor pool this time around…
I know that I had greater ambitions for chasing waterfalls in the Three Sisters Wilderness when I planned out this trip, but the history-making heat-wave in the Pacific Northwest didn't make that idea practical.
And so I had to settle for the 0.5-mile hike to the rapids or smaller cascades on the Deschutes known as Benham Falls.
Regardless, food coma was already setting in, and with the tremendous heat of the day, I'd have to fight that temptation to sleep to really be in the moment enjoying this scenery before me.
I left the Riverhouse on the Deschutes at 1:50pm with the car still sitting in the shade, fortunately, because it was really scorching hot at this time.
The car's thermometer had the outside temperature at somewhere over 100F, and I went ahead on the US97 south as I followed my Garmin Nuvi's directions towards the Benham Falls Recreation Area.
Eventually, I'd get off an exit that also featured the Lava River Cave, but I just continued on the 4-mile unpaved route (with some deep potholes along the way) until I ultimately got to the Benham Falls East Trailhead at 2:15pm.
Without wasting any more time, I went ahead and geared up while deciding to hike in my Chacos (as I had been doing all day long).
Aside from watching some people floating on the calmer parts of this section of the Upper Deschutes River, I went ahead and followed the wide 1/2-mile trail back towards a footbridge further downstream.
From this footbridge, I could see that there were lots of people swimming in the river on the other side of the bridge to cool off.
As I continued past the bridge, I was then on a continuation of the wide trail (more like an unpaved road) that had plenty of moments of shade so I was vacillating between flipping my hat on and off (given the extreme heat).
The river remained calm for a stretch as the trail went alongside it, but I noticed on the opposite side of the river were large lava fields consisting of the more sturdy basalt rocks as opposed to the more pudding-like texture that I saw on the Big Island of Hawaii years ago.
Ultimately, I'd get towards the parts where the Deschutes River was going turbulent, which was just as the wide trail started to split with a narrower trail following along the banks of the river.
I initially followed the wider trail (not sure if the narrower trail was sanctioned or not), but when I got to the next merge of the trails, I then decided to follow the narrower riverside trail just as the Deschutes River was really getting good.
At one point, I got down to the banks of the river where it was making a bend jut between some really turbulent (maybe Class V) rapids.
As I continued along the trail, I noticed more offshoot trails leading to pretty dicey viewpoint spots on rocks perched high above what I presumed to be the Benham Falls.
From this vantage point, it was hard to get the whole rapids in one go with the camera, and it was hard to convey the butterflies-in-the-stomach as well as the immense scale through the lens.
In any case, the side trail rejoined the main trail again, but this time I saw that there was another fork that went to the Benham Falls West Trailhead.
That made me wonder if I could have saved time by driving to that other trailhead instead of the East Trailhead, which forced me to walk a half-mile in each direction.
Then again, at least I could see that the East Trailhead approach allowed more opportunities to cool off in the calmer parts of the river whereas the western side was pretty much all fast-moving rapids downstream of Benham Falls.
Eventually at 3pm, I followed a wooden-railing-lined pathway that ultimately led me to what appeared to be the official lookout for the Benham Falls.
There was a memorial sign here for someone who lost his life at a young age so I could see why it was a good idea to have this overlook so the off-trail scrambling towards dropoffs would be kept to a minimum.
After having my fill of this spot, there was a father and daughter who was making conversation with me, and I learned that they were from San Juan Capistrano, which was just a bit further south from where we live.
He mentioned that he met other Southern Californians on his trip, and it seemed like we were taking over the Pacific Northwest.
I told him that we drove out this way to try to beat the heat that will inevitably bake SoCal, but it seemed like the heat followed us up here (and a record one at that).
When I mentioned the unprecedented nature of the temperatures in these parts, I noticed his hesitation (which made me wonder if I might have touched upon the sensitive subject of Global Warming, which many people still deny).
He insisted that the heat up here was more of a dry heat, which is something we're used to, but I also warned him that if he was going further north towards the rainforests, then the heat becomes muggier (as we had experienced in the Olympic National Park a few days ago).
With that, we parted ways, and I explored a little further downstream just to make sure that I covered my bases as far as Benham Falls was concerned.
By 3:25pm, I made it back up to the Benham Falls West Trailhead, and then I made a beeline back to the East Trailhead, which I got to at 3:45pm.
I was a hot sweaty mess by this time, but I guess that's to be expected since the car's thermometer now said that it was about 105F!
With the discovery that I could maybe fit in one more waterfalling excursion on the Deschutes River before returning to our accommodation in Bend, I decided that I should pursue Dillon Falls, which was a little further downstream from Benham Falls.
I wasn't going to hike another 3.5 miles for it though, but I figured I could try to drive to it instead on the way back to the accommodation.
And so I would follow the road back to the US97 northbound, and then I'd take the exit that would ultimately lead me to the Cascade Lakes Highway.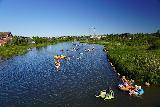 Along the part of the drive that passed through downtown Bend, there was one bridged crossing of the Deschutes River, where I saw hordes of river tubers floating downstream in a scene that totally reminded me of the AO River sketch in Portlandia.
It seemed like floating in the river was a thing in Oregon, but on a day like today, it made total sense that this was THE thing to do when the temperatures get hot (or historically hot like today).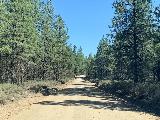 Eventually, when I got to the Cascade Lakes Welcome Center, I then took a left turn onto Conklin Road, where a sign indicated that I was entering the Upper Deschutes River Recreational Area.
After a few miles of driving (getting past other spots like the Great Eddy and the Lava Island Falls), I'd eventually reach a signed turnoff for Dillon Falls on the left with the Benham Falls Trailhead another 3/4-mile further.
Taking the Dillon Falls turnoff, I then got onto a rather dusty unpaved road leading down to some boat launch areas though the very end of the road ultimately led to the day use parking area.
I got there about 4:30pm, and then I proceeded to quickly walk downstream on the trail as it followed along the Deschutes River before reaching some series of forks near where the Deschutes River was getting turbulent again.
Keeping right at the junctions, I found a few spots to get some across-the-river looks at the Deschutes River (I couldn't tell if it was the official Dillon Falls) until I got to a rock outcropping further downstream with a more regal view of the falls and its surroundings.
Indeed, with this particular waterfall, it seemed like there were lots of hardened lava fields flanking the opposite side of the Dillon Falls and Deschutes River, which made this waterfall more unique than Benham Falls.
I'd eventually go far enough downstream to remove any doubt about whether I had finally seen Dillon Falls, which was tricky because there wasn't an obvious signed or railed lookout to let me know that I had arrived at the best viewing spot.
Like with Benham Falls, there were more precarious rocks to scramble onto in order to get somewhat satisfactory views of the rapids looking more like waterfalls from this vantage point.
Nevertheless, after having my fill of the Dillon Falls, I then backtracked the way I came and eventually got back to the parked car at 5:05pm.
With this final waterfall of the day being over with, I then drove back towards the Riverhouse on the Deschutes again.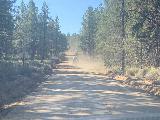 I was running late, but when I eventually got back to the roadside crossing of the Deschutes River, I just had to capture the AO River scene though it was a bit on the unsanctioned side because it involved walking onto a busy road bridge to get the desired shot.
Regardless, by about 5:40pm, I had finally returned to our accommodation, where Julie and Tahia went down to rejoin me in the car so we could go hit the desired dinner spot, which Julie had her sights set on this place called Spork.
Unfortunately, when we got there at 5:50pm, the restaurant had just closed for the next few days! Bummer!
I guess we should have eaten here yesterday when we wound up getting pizza instead.
Moreover, when Julie was exploring places to eat in Ashland or Medford for tomorrow, it turned out that both Sauce and any of the tapas joints were closed.
Indeed, it felt like Julie's fooding attempt were coming up empty.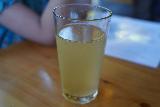 So we wound up eating at this charming little house called Kebaba where an outdoor seat was just made available when we showed up.
We were hungry, and Julie wasn't going to be denied an eat-out dinner after all the strikes earlier on this afternoon.
We ultimately got something like 4 refreshing glasses of pear kombucha from a draft along with a chicken kebab, a spicy lamb over hummus, a yellow curry dish, and a salmon kebab.
The meal ended with a dessert of the "mud puddle", which was basically a delicious lava cake brownie (with crispy texture) accompanied with three scoops of vanilla ice cream that really hit the spot.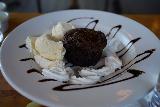 That dessert was much appreciated by Julie and Tahia because they were suffering in the heat of sitting outdoors in much the same way we were sweating bullets while having lunch in Hood River yesterday.
By about 7:15pm, we were finally back in the car after paying the bill of the rather reasonably-priced dinner though it seemed like we just beat the rush of more parties of people waiting to be seated.
Ultimately by 7:35pm, we made it back to the Riverhouse on the Deschutes, where we looked for a shady spot close to our unit so we could easily pack our stuff and go tomorrow.
But there was one guy who double-parked in a shady spot that prevented us from having that spot.
Another guy was over the line when he parked so it was tight.
So in the end, we got a rather sunny spot, but we knew that we weren't going to go back outside in the hot evening sun later on tonight so it didn't matter too much at this time.
When I got out of the car, I noticed that my wallet appeared to be protruding from the lone zippered pant pocket of my REI pants, which was worrisome because I had the car keys in that pocket during my hikes.
I could have easily lost the car keys over cliffs and not even know about it! So that was a close call!
Anyways, with the surprisingly long day that I've had, I was ready to get cleaned up and crash, especially since it took some time to clean up my feet since I had been hiking in Chacos all day long and I was getting Naked and Afraid dirty feet.
Tomorrow, the temperatures were forecasted to rise even more, but at least we were intending to auto tour in Crater Lake and see if there's a spot to have an early dinner in Medford or Ashland while perhaps letting Tahia play in a pool again.
Indeed, we were on our way home, and this trip was about to come to an end in the next couple of days…
Day 16 (June 28, 2021 – Ashland, Oregon): "Heat-Related Audible"
It was about 5:35am when I awoke to the sunrise as my 5am alarm didn't trigger for some reason.
The original plan for today was to drive towards Salem, Oregon and hike the Trail of 10 Falls in Silver Falls State Park for the first time in 12 years, but the historical heat wave that has definitely hit the Pacific Northwest made that idea impractical.
So we already called this audible a few days ago and opted to drive to Ashland, Oregon instead while letting Tahia see Crater Lake for the first time.
Indeed, this is the reason why we want to make cancellable bookings for our accommodations because sometimes things don't go as planned.
In any case, the late wake-up wasn't a bad thing because my body probably appreciated the extra sleep, and staying in Ashland tonight meant we were even closer to Sacramento where we're staying the afterwards.
And all that meant a little more of a relaxed pace to our trip as it winds down.
Speaking of calling audibles, the biggest audible of all was the purpose of this road trip in the first place.
The original plan was to attend a wedding that was taking place on July 3 so this trip was supposed to end on July 4.
But when we learned that Julie's immediate family wasn't attending, it didn't make sense to extend our road trip to force this to happen.
So indeed, the whole purpose of this road trip (which was to turn a wedding road trip weekend into a larger family affair) ended up not happening for us, but it was definitely something our family didn't regret.
Besides, with Tahia still not having been vaccinated, we didn't have to trouble ourselves with securing a negative PCR test and staying extra days in Silicon Valley.
Anyways, it wasn't until about 7am when we were done having breakfast and loading up the car to make the drive south towards Crater Lake.
We had never done the route going south on US97 towards Crater Lake via Chemult, but then again, we had never stayed in Bend until now.
Today was forecasted to be well over 110F in many parts of the Pacific Northwest, and I'm sure Medford and Ashland would be no different, and it was already starting to heat up as the morning wore on as it quickly got into the mid 70s when we left.
The drive was for the most part uneventful, but at some point, Julie woke up for her morning extension of her sleep, and that was when I mentioned some places in this part of Oregon that she might be interested in visiting as a detour.
So I rattled off some placenames like Salt Creek Falls, Natural Bridge (of the Rogue River), Mill Creek Falls and Barr Creek Falls, she didn't really have an interest for those spots.
After all, the last time I went there was with my parents about 5 years ago, and Julie had never gotten a chance to see this waterfall since it was closed when we first tried to visit 12 years ago.
And so by the time we got to the Hwy 138, we ultimately extended the drive a bit and went towards the Umpqua River past Diamond Lake Resort en route to the Toketee Falls knowing that we'd backtrack this route and approach Crater Lake National Park from the north.
Eventually by 8:55am, we'd ultimately make it to the familiar trailhead for Toketee Falls with its leaking water pipes (basically diversion pipes for the purposes of hydroelectricity).
And once we geared up, we then did the short hike that was a bit up-and-down towards the overlook for Toketee Falls.
Even though this hike was mostly in the shade, it did make us sweat, which attested to the rapidly increasing heat of the day (it was around the mid-80s by the time we were on the trail).
We'd eventually get to the overlook by around 9:30am where we saw that some people were actually scrambling down towards the plunge pool across from Toketee Falls.
From looking at the infrastructure, someone had pretty much bent and deformed the barricades while setting up a rope to facilitate the rapidly eroding steep path down towards the plunge pool.
As tempting as it was to partake in that scramble just for a different perspective, I decided against doing that since I didn't feel the need to do it, and the authorities didn't want to have more injuries on their hands apparently.
In any case, we let Julie indulge in her finally checking off this waterfall off the bucket list, and then we took some people shots with my SwitchPod before returning to the car.
On the way out, there were many families making their way in so perhaps we had just beat the rush.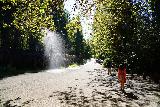 And by about 9:50am, we were back at the car just as it was getting quite hot (and the car's thermometer was already saying that the temps were in the high 80s and climbing).
We next did the drive back towards Crater Lake as planned, and aside from some road work that really backed up the traffic (attesting to how many road trippers were on the road since COVID-19's outbreak), we made a beeline for the Rim Village.
While there were overlooks providing views of Wizard Island against the sapphire blue Crater Lake, we just wanted to make a single stop that had the views and be content with that.
After all, I knew Tahia wanted to spend time in the pool at the Ashland accommodation (which was a Best Western Windsor), and the sooner we got there, the sooner I could indulge her in playing in the pool.
By about 10:50am, we parked at the busy Rim Village though looking at the parking situation (which looked scary at first) wasn't actually that big of a deal because there were many more parking spots towards the east end by the Crater Lake Lodge.
Regardless, we got out of the car (where it was in the mid 80s even though we were at elevation), and we finally got to witness the sapphire blue Crater Lake as a family.
We ultimately went down to the Sinnott's Overlook, which was the sheltered semi-outdoor viewing area though the exhibit area room was closed so Tahia and Julie wouldn't get to see the video re-creating the Mt Mazama eruption and its evolution to what we see today.
I particularly remembered that video because it showed how the lake maintained a constant depth throughout the year thanks to the lake having seepages near the rim of the volcano's crater.
One of those seepages gave rise to Vidae Falls, which was a curious waterfall in that it appeared near the rim of the caldera.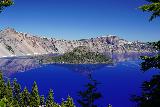 It's unusual that waterfalls appear so close to the mountaintop of any mountain, but that just goes to show you that this waterfall's source is the Crater Lake itself!
Once we had our fill of the overlooks and getting our family shots (essentially playing tourist like everyone else that was here), we then found a shaded spot where we had ourselves a picnic lunch of a turkey and cheese sandwich with lots of veggies and some cherries that we needed to finish.
Aside from Julie annoyingly making me go back and forth to retrieve supplies from the car, we had ourselves a pleasant little family picnic for the first time on this trip, especially since it was in the shade as it was getting hot out in the sun.
By about 12:10pm, we returned to the car and proceeded to drive to both Vidae Falls and Duwee Falls before heading towards Ashland.
The drive along the East Rim Drive towards Vidae Falls actually went pretty quickly as we got there at 12:30pm just before Julie and Tahia were about to doze off from the post-lunch food coma.
There was actually quite an extensive pullout area by the bridge fronting this waterfall so it was a pretty popular stop (definitely more popular than I remembered it).
After getting our fill quickly of this falls, we then drove towards the Mazama Village, and then we drove southwards in the direction of Klamath Falls along the Hwy 62.
By about 12:45pm, we'd arrive at the overlook featuring the Pyroclastic Flow from the Mazama eruption, but the main reason why I wanted to stop here was to check out Duwee Falls with the telephoto lens.
Now, the temperatures were in the mid 90s and Julie and Tahia were now pretty much asleep with the car running so they wouldn't roast in the heat.
In the mean time, I got out of the car to take my photos and videos while there always seemed to be quite a few people pulling out and briefly checking out the mindbending aftermath of the Mazama eruption here.
There also seemed to be a more extensive pullout area than I had remembered since the last time I was here with the parents 5 years ago, which might attest to the park's infrastructure to better accommodate more visitors.
After having my fill of the falls and returning by 1:05pm, we then made the long drive southwards along the Hwy 62 and then cutting across the so-called Dead Indian Memorial Highway, which was a real twisty road that cut across towards Ashland.
During the drive, I noticed that there was smoke in the distance, which was a tell-tale sign that fire season has definitely begun, and I was a little worried that the forest fires might alter our route.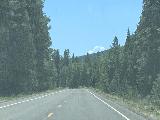 Fortunately, the smoke in the distance didn't look intense and there was still traffic going in both directions of the route that we were going, but just the mere presence of fires this early in the Summer was a big concern about how many more fires are gonna happen in the coming weeks.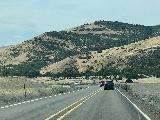 By the time we got near Ashland, there was a slow car that caused a line of about 4 cars (we were the fourth one).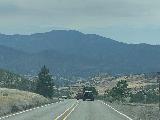 Unlike the greenery we were seeing throughout much of our trip in both Washington and Oregon, this part of the Beaver State was pretty much all brown.
We'd slowly make our way down to the basin where the temperatures suddenly rose to 113F!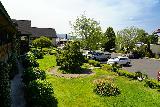 Indeed, when we finally checked into the Best Western Windsor Inn in Ashland at 2:40pm, we were definitely getting Vegas-like weather as the windows were hot, and we waited for Julie to check in while waiting in the canopy right in front of the office just as someone had done before us.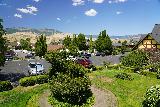 It was pretty brutal to have to haul our stuff upstairs to our room over multiple trips, but at least we got settled by about 3:10pm.
So now I could finally indulge Tahia in pool time after slapping on a lot of sunscreen knowing that the sun was likely going to bake us since it was an outdoor pool.
Anyways, this pool was more of an adult pool because more than half the pool was above 5 ft in depth and it got up to 7 ft.
But Tahia was becoming a better swimmer than me (or at least she was a more confident one) and so she didn't mind the pool's depths at all.
There were a handful of other teens in the pool each doing their own thing while Tahia and I were doing rasslin' moves or trying to shoot hoops with a mesh ball into one of the floating hoops or just swimming laps.
Indeed, the water felt pretty good in the pool though the surface around the pool was roasting hot on the foot and hands.
Finally by about 4:30pm, we got out of the pool, cleaned out the chlorine, and then started to head out for dinner at 5pm.
Even though Julie's primary foodie choices for Sauce (in Ashland), Elemental Tapas (in Medford), or other tapas bars in Medford were all closed (apparently no one opens on Mondays or Tuesdays), we ultimately settled on the Taj's Indian Restaurant in Ashland.
That way, we wouldn't have to drive far, and we'd get some ethnic food to boot.
When we finally got there at about 5:30pm, we had to sit inside the air-conditioned interior since the staff didn't want to serve anyone outside in the intense heat, especially as there were ashes starting to sprinkle into town for bad air quality.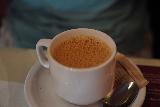 Fortunately, the restaurant itself didn't have that many people in it so we forgot about the COVID-19 risk for the moment and had dinner.
What was interesting about this place was that we were getting authentic Indian food with really good ingredients like organic hormone-free chicken and gluten-free garlic naan.
Moreover, the way they prepared the food was as authentic as we've had at an Indian restaurant outside of India, which we could tell because they didn't put food coloring into the Tandoori Chicken.
We probably over-ordered as we had gotten the aforementioned Tandoori Chicken, an Aloo Gobi (roasted cauliflower and potato cubes), a shrimp curry, and a Chicken Tikka Masala (which was Tahia's go-to dish whenever at an Indian joint).
We also got two mango lassis and Julie got herself a chai tea.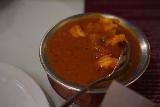 So the food definitely hit the spot, and we made ourselves finish the stuff that was hard to take away (i.e. the curries), but we did takeaway the unfinished Chicken Tandoori.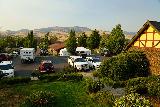 When we returned to the car and drove back to the Best Western at 6:35pm, there was definitely ash on the car and the air quality certainly smelled of smoke.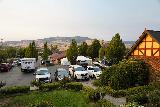 We weren't sure how close the fire that caused these things were from Ashland, but I did recall seeing some signs suggesting evacuation though I wasn't sure if it pertained to us down by the I-5.
And with that, we ended a rather eventful unplanned day where tomorrow we'd be back in Sacramento to hopefully see the Sutter's Fort finally.
I think there's another swimming pool down at the Residence Inn so I'm sure I'll have to be Tahia's playmate in the pool once more before this big Summer post-COVID road trip was coming to an end…
Day 17 (June 29, 2021 – Sacramento, California): "The New Switzerland"
It was about 5am when I awoke to the alarm though I must have slept some time at around 9pm last night so I was very well rested at this time.
It wasn't until 7am when Julie and Tahia finally awoke, and I guess since we only had a roughly 5-hour drive to get to Sacramento, I figured that whatever late start we were going to get wasn't going to hurt us too bad.
During that time, after I had gotten ready and packed with my own stuff, I was busy doing work on the blogging, especially on the first week of this trip with my parents and Tahia's cousins (or my niece and nephew).
After eating kefir while finishing the rest of the strawberries and leaving just enough blueberries, bananas, and blackberries for our last breakfast of the trip tomorrow, I also ate the leftover chicken tandoori cold (since the BW didn't have a nuke).
Julie and Tahia went to the office to get the included breakfast, which was actually COVID-safe as there was a server who got what was asked for and bagged it up for them (unlike the BW in Ephrata, WA where it seemed like COVID-19 didn't exist).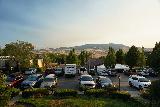 Finally by 8:15am, we were leaving Ashland under the warming day and hazy skies just as the air quality was started to get bad with the smell of smoke.
The drive south on the I-5 went pretty uneventfully, and it actually went by pretty smoothly as we went across the Oregon-California border and towards Mt Shasta.
However, as we approached Mt Shasta, we saw that there was what appeared to be the front of a big wildfire that was clearly visible from the road.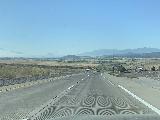 If there was already a fire like this going on this early in the Summer (it was only about 9 days since the Summer Solstice), we knew that this was a precursor to the rest of the Summer that we were about to experience.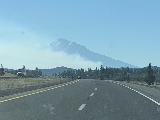 Heck, with the paltry precipitation that most of California got, I'm sure it has the potential to be just as bad of a wildfire season as 2020 was, especially with more record-breaking heat hitting the Pacific Northwest and Northern California.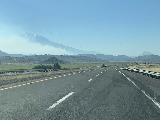 After getting past the drama of the Shasta wildfire (which caused some motorists to pull over at the freeway shoulders and take pictures against the morning sun), we ultimately made a gas and restroom stop in Red Bluff before resuming the long drive.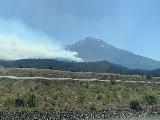 As we did our fill-up, we saw straight away that the gas prices quickly jumped nearly $1/gallon as filling up in highest octane was over $5 per gallon, so it was back to filling 87 octane gas now.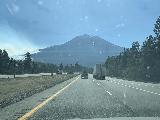 Anyways, the drive continued somewhat uneventfully though there were numerous drivers clogging the passing lane again (truly a California frustration since it appears people act like they own the roads with the lack of enforcement of the passing lane utilization).
At least I got to listen to The Herd to help pass the time, where I surprising learned that the Clippers extended to a game 6 against Phoenix.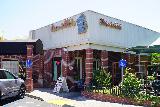 Finally by about 12:55pm, we arrived at this creperie called Danielle's, which was said to be the best place for crepes in the Sacramento area.
It was already in the mid 90s by the time we got here, but fortunately, they had patio dining to at least keep the intense heat off of us though they still caused lots of uncomfortable heat even beneath the umbrellas.
We wound up ordering some escargot (which was rich in garlic though the baguette bread was not toasted), a picadillo crepe, a Karma crepe (basically a curry crepe not unlike the Au Bon Curry served up at La Creperie in Belmont Shore), and Tahia got an avocado crepe.
The only crepe that was using the gluten-free buckwheat was the picadillo crepe, and I would up eating most of Julie's Karma crepe as a result.
By the end of the meal, we got a nutella crepe with vanilla ice cream scoops, and that also hit the spot though we were quite stuffed by the end of the reasonably-priced lunch and even had to take all of our crepes as leftovers.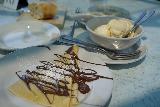 It was a good thing we got the nutella crepe so we all could eat it, but if Tahia had gotten her way, she would have gotten the peach crepe, and then say she either doesn't want it or not want to finish it, and then make us eat it even though we didn't want her chosen flavor.
Finally by about 2:20pm, we were done with the lunch, and then we drove into downtown Sacramento, where we finally arrived at the familiar Residence Inn at 2:40pm.
As Julie checked in and got the dolly out, we loaded it up with just the foodstuffs, luggages, and Julie's supplements.
There was one homeless guy who was sitting on a bench next to us doing our chores and smoking weed, and I wondered if the Residence Inn staff regularly tries to keep the rif raf out of the property (which apparently didn't happen while we were there).
After finally parking the car in the tight parking structure, we finally sanitized our room and got settled at 3:10pm.
We still wanted to visit Sutter's Fort, which was the main reason why we chose to stay in Sacramento this time around (since we didn't get a chance to do it two months ago during Tahia's Spring Break), and we were told that it was 9 blocks walk to get there.
Well, with the intense heat of the afternoon, we debated whether to drive there or not, but we ultimately decided to walk there.
But after the third or fourth block, the heat was quite uncomfortable (though there were some parking garages we walked past that actually felt cool).
Finally at 3:55pm, we arrived at the rather impressive Sutter's Fort, but when we saw all the parking spaces around the property, I knew that we could have shaved off the 20 minutes of walking since Sactown seemed kind of dead compared to when we were last here.
After paying the admission, we then followed the exhibits in a clockwise manner.
There was some interesting history that took place here as it was apparently one of the earlier developments in what would ultimately become the state of California.
Apparently, this was all the doing of a swindler who managed to be friendly to different traders, different governments, and all in the name of trying to realize an agricultural empire.
He managed to coerce local Native Americans to work on his fort along with Hawaiian laborers, he traded with Russians in Alaska, he was actually working for the Mexican Government even though he was friendly with the American Government, and he built many other relationships.
I guess Sutter's "New Helvetia" (is it supposed to be "New Helvetica"?), which was supposed to be New Switzerland.
After all, he identified himself as Swiss even though he was born in Germany but apprenticed and learned his tradesman skills across the border in Switzerland.
Sutter's agricultural empire was I guess historically realized because California would become one of the nation's top agricultural producing states.
The rest of the self-guided tour was basically checking out each of the exhibit rooms while also trying to savor the shade and the indoor sections.
It wasn't the interactive experience that the outdoor folk museums were like in both Sweden and Norway, but with COVID-19, I could understand why you wouldn't want to do that if you were putting your staff at risk from unvaccinated visitors lying about their vaccination status.
We actually still wore our masks even though we were already vaccinated, but this was because our daughter still hasn't been vaccinated at this point.
Regardless, we took pictures of the signage so we could read them later on, but I think Tahia was more motivated by playing in the pool at the Residence Inn than spendiong more time than needed at the Sutter's Fort.
So by about 4:25pm, we were done with the Sutter's Fort, which was a surprisingly quiet experience as only a handful of people were touring the property when we were.
We then walked back the way we came back towards the Residence Inn, but by this time, Julie and Tahia had no interest in visiting either the interior of the Capitol Building or the Governor's Mansion.
So I guess we'll have to come back to Sacramento another time to experience those things in California's state capital.
Instead, we made a quick dessert stop at the Ginger Elizabeth shop, and then we ultimately made it back to the Residence Inn at 5:10pm as all of us were a hot and sweaty mess from the mid-90s heat we had exerted ourselves within.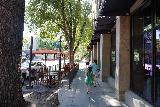 Tahia and I couldn't wait to get into the pool for one last go at it while Julie would remain in the room to take a siesta after getting drained by the early Summer sun.
So Tahia and I spent some time in the pool, where we had it all alone, but the pool was in the shade of the high rise building so the water was cold.
After getting used to the initial cold shock, we then exerted ourselves playing things like tag, more water rasslin', Marco Polo, and giving her a piggy-back ride in the shallow pool (where the depths were between 3′ and 5′).
At 6:15pm, we were back at the room to shower and get off all the chlorine while trying to clean up for the night in general.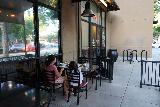 Then, by 6:45pm, we went for one last dinner, but this time we did it at the Ryujin Ramen House, which was the nice ramen joint that we ate take-out for the last time we were in Sactown 2 months ago.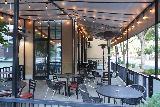 When we got there at about 6:55pm, we saw that everyone was seated inside, but we asked if we could sit outside since Tahia was still not vaccinated.
Fortunately, the lady helping us was accommodating and understood our predicament so we were the only people sitting outside.
Even though there was some rif raff due to loiterers apparently doing the rounds around the restaurant (this area didn't seem to be the best of neighborhoods in Sacramento's downtown), they generally left us alone.
In the mean time, we had gyoza, a Pork Chahan fried rice, some kind of black oil ramen, and a miso ramen (which was the lady's recommendation).
By the end of the meal, we were all stuffed, and we even had some rice to act as leftovers, but we didn't want to linger for much longer after paying the check because the rif raff kept doing the rounds and it was probably only a matter of time before we would become accosted.
At 7:50pm, we were back in our room, ready to wind down the last evening of this trip before making the final leg of our journey home…
Day 18 (June 30, 2021 – Los Angeles, California): "Escaping The Heat?"
It was about 5:15am I awoke without my alarm, and so I went about doing my usual business of freshening up and then going downstairs to get the dolly so we could load everything up in one shot by the time Julie and Tahia would finally be awake.
I then spent the next 90 minutes getting caught up on blogging and packing my own belongings before having the leftovers from yesterday (from both the Danielle's Creperie and the Ryujin Ramen House).
Finally at about 7:40am, we checked out and left the Residence Inn in Sacramento and then began the long drive home.
There was some confusion with the Garmin DriveSmart 50's directions versus the Apple Maps' directions as I wasn't sure whether to take the 99 or the I-5.
I ultimately erred on the side of taking the 99 south until we got towards Stockton before switching over to the I-5.
As we made the switch from the Hwy 4 interlude to the I-5, there was one incident where we were in the middle lane out of 3 and letting some speeder pass on the left.
For some unexplained reason, he decided to cut us off, slow down, and then tail a big rig on the far right lane.
It was a good thing that the Nissan Pathfinder that we got from the rental car company had a proximity assist braking system, which made the car brake even before I applied the brake.
Otherwise, I probably could have clipped the guy that was cutting us off.
Other than that, there was the usual cruising on the I-5 except for those congestion spots where drivers inconsiderately clog the passing (or fast) lane with no intention of vacating that lane.
I've noticed this behavior quite a bit in both Oregon and California on this trip, and even on the I-15 stretch up to Vegas.
I assume that this must be a California driver thing, where there are always drivers who don't understand that you're only supposed to use the passing lane to pass slower vehicles while always keeping to the right lane.
Unless CHP enforces this road rule (maybe with cameras like they do in Europe), I don't think this will ever be solved, and it will be a recipe for more road raging and forcing people to pass on the right.
In any case, we eventually got to Glendale at 1:20pm, which was actually making pretty good time.
We stopped over at the same parking structure where we would order Raffi's, but this time, we opted to order King Taco for something a bit more affordable and less hassle.
When we were finally done with our filling Mexican lunch, it was 2:15pm, but now we had to face serious rush hour traffic on the I-5, where we actually took the I-710 to the I-105 before we were home free again.
Overall, it wasn't until 3:40pm when we finally got home, and upon hearing that the upcoming holiday weekend is being heavily enforced by CHP, maybe it was a good thing that we got home when we did.
Indeed, by not sticking around the Bay Area through July 3 for Julie's cousin's wedding, we were pretty much able to now attend to other matters at home, where time is of the essence.
I typically don't look forward to getting back to life and reality, but I'd always rather have this feeling than not making memories of a lifetime by not going on these kinds of trips in the first place.
So I take the good with the bad, like all things in life; defeated purposes (i.e. the wedding) or not…
Visitor Comments:
Got something you'd like to share or say to keep the conversation going? Feel free to leave a comment below...
No users have replied to the content on this page