Day 16 (June 28, 2021 – Ashland, Oregon): "Heat-Related Audible"
It was about 5:35am when I awoke to the sunrise as my 5am alarm didn't trigger for some reason.
The original plan for today was to drive towards Salem, Oregon and hike the Trail of 10 Falls in Silver Falls State Park for the first time in 12 years, but the historical heat wave that has definitely hit the Pacific Northwest made that idea impractical.
So we already called this audible a few days ago and opted to drive to Ashland, Oregon instead while letting Tahia see Crater Lake for the first time.
Indeed, this is the reason why we want to make cancellable bookings for our accommodations because sometimes things don't go as planned.
In any case, the late wake-up wasn't a bad thing because my body probably appreciated the extra sleep, and staying in Ashland tonight meant we were even closer to Sacramento where we're staying the afterwards.
And all that meant a little more of a relaxed pace to our trip as it winds down.
Speaking of calling audibles, the biggest audible of all was the purpose of this road trip in the first place.
The original plan was to attend a wedding that was taking place on July 3 so this trip was supposed to end on July 4.
But when we learned that Julie's immediate family wasn't attending, it didn't make sense to extend our road trip to force this to happen.
So indeed, the whole purpose of this road trip (which was to turn a wedding road trip weekend into a larger family affair) ended up not happening for us, but it was definitely something our family didn't regret.
Besides, with Tahia still not having been vaccinated, we didn't have to trouble ourselves with securing a negative PCR test and staying extra days in Silicon Valley.
Anyways, it wasn't until about 7am when we were done having breakfast and loading up the car to make the drive south towards Crater Lake.
We had never done the route going south on US97 towards Crater Lake via Chemult, but then again, we had never stayed in Bend until now.
Today was forecasted to be well over 110F in many parts of the Pacific Northwest, and I'm sure Medford and Ashland would be no different, and it was already starting to heat up as the morning wore on as it quickly got into the mid 70s when we left.
The drive was for the most part uneventful, but at some point, Julie woke up for her morning extension of her sleep, and that was when I mentioned some places in this part of Oregon that she might be interested in visiting as a detour.
So I rattled off some placenames like Salt Creek Falls, Natural Bridge (of the Rogue River), Mill Creek Falls and Barr Creek Falls, she didn't really have an interest for those spots.
After all, the last time I went there was with my parents about 5 years ago, and Julie had never gotten a chance to see this waterfall since it was closed when we first tried to visit 12 years ago.
And so by the time we got to the Hwy 138, we ultimately extended the drive a bit and went towards the Umpqua River past Diamond Lake Resort en route to the Toketee Falls knowing that we'd backtrack this route and approach Crater Lake National Park from the north.
Eventually by 8:55am, we'd ultimately make it to the familiar trailhead for Toketee Falls with its leaking water pipes (basically diversion pipes for the purposes of hydroelectricity).
And once we geared up, we then did the short hike that was a bit up-and-down towards the overlook for Toketee Falls.
Even though this hike was mostly in the shade, it did make us sweat, which attested to the rapidly increasing heat of the day (it was around the mid-80s by the time we were on the trail).
We'd eventually get to the overlook by around 9:30am where we saw that some people were actually scrambling down towards the plunge pool across from Toketee Falls.
From looking at the infrastructure, someone had pretty much bent and deformed the barricades while setting up a rope to facilitate the rapidly eroding steep path down towards the plunge pool.
As tempting as it was to partake in that scramble just for a different perspective, I decided against doing that since I didn't feel the need to do it, and the authorities didn't want to have more injuries on their hands apparently.
In any case, we let Julie indulge in her finally checking off this waterfall off the bucket list, and then we took some people shots with my SwitchPod before returning to the car.
On the way out, there were many families making their way in so perhaps we had just beat the rush.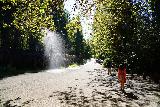 And by about 9:50am, we were back at the car just as it was getting quite hot (and the car's thermometer was already saying that the temps were in the high 80s and climbing).
We next did the drive back towards Crater Lake as planned, and aside from some road work that really backed up the traffic (attesting to how many road trippers were on the road since COVID-19's outbreak), we made a beeline for the Rim Village.
While there were overlooks providing views of Wizard Island against the sapphire blue Crater Lake, we just wanted to make a single stop that had the views and be content with that.
After all, I knew Tahia wanted to spend time in the pool at the Ashland accommodation (which was a Best Western Windsor), and the sooner we got there, the sooner I could indulge her in playing in the pool.
By about 10:50am, we parked at the busy Rim Village though looking at the parking situation (which looked scary at first) wasn't actually that big of a deal because there were many more parking spots towards the east end by the Crater Lake Lodge.
Regardless, we got out of the car (where it was in the mid 80s even though we were at elevation), and we finally got to witness the sapphire blue Crater Lake as a family.
We ultimately went down to the Sinnott's Overlook, which was the sheltered semi-outdoor viewing area though the exhibit area room was closed so Tahia and Julie wouldn't get to see the video re-creating the Mt Mazama eruption and its evolution to what we see today.
I particularly remembered that video because it showed how the lake maintained a constant depth throughout the year thanks to the lake having seepages near the rim of the volcano's crater.
One of those seepages gave rise to Vidae Falls, which was a curious waterfall in that it appeared near the rim of the caldera.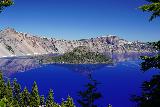 It's unusual that waterfalls appear so close to the mountaintop of any mountain, but that just goes to show you that this waterfall's source is the Crater Lake itself!
Once we had our fill of the overlooks and getting our family shots (essentially playing tourist like everyone else that was here), we then found a shaded spot where we had ourselves a picnic lunch of a turkey and cheese sandwich with lots of veggies and some cherries that we needed to finish.
Aside from Julie annoyingly making me go back and forth to retrieve supplies from the car, we had ourselves a pleasant little family picnic for the first time on this trip, especially since it was in the shade as it was getting hot out in the sun.
By about 12:10pm, we returned to the car and proceeded to drive to both Vidae Falls and Duwee Falls before heading towards Ashland.
The drive along the East Rim Drive towards Vidae Falls actually went pretty quickly as we got there at 12:30pm just before Julie and Tahia were about to doze off from the post-lunch food coma.
There was actually quite an extensive pullout area by the bridge fronting this waterfall so it was a pretty popular stop (definitely more popular than I remembered it).
After getting our fill quickly of this falls, we then drove towards the Mazama Village, and then we drove southwards in the direction of Klamath Falls along the Hwy 62.
By about 12:45pm, we'd arrive at the overlook featuring the Pyroclastic Flow from the Mazama eruption, but the main reason why I wanted to stop here was to check out Duwee Falls with the telephoto lens.
Now, the temperatures were in the mid 90s and Julie and Tahia were now pretty much asleep with the car running so they wouldn't roast in the heat.
In the mean time, I got out of the car to take my photos and videos while there always seemed to be quite a few people pulling out and briefly checking out the mindbending aftermath of the Mazama eruption here.
There also seemed to be a more extensive pullout area than I had remembered since the last time I was here with the parents 5 years ago, which might attest to the park's infrastructure to better accommodate more visitors.
After having my fill of the falls and returning by 1:05pm, we then made the long drive southwards along the Hwy 62 and then cutting across the so-called Dead Indian Memorial Highway, which was a real twisty road that cut across towards Ashland.
During the drive, I noticed that there was smoke in the distance, which was a tell-tale sign that fire season has definitely begun, and I was a little worried that the forest fires might alter our route.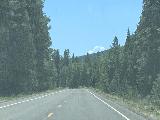 Fortunately, the smoke in the distance didn't look intense and there was still traffic going in both directions of the route that we were going, but just the mere presence of fires this early in the Summer was a big concern about how many more fires are gonna happen in the coming weeks.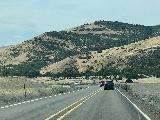 By the time we got near Ashland, there was a slow car that caused a line of about 4 cars (we were the fourth one).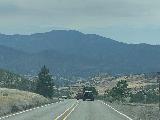 Unlike the greenery we were seeing throughout much of our trip in both Washington and Oregon, this part of the Beaver State was pretty much all brown.
We'd slowly make our way down to the basin where the temperatures suddenly rose to 113F!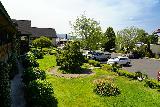 Indeed, when we finally checked into the Best Western Windsor Inn in Ashland at 2:40pm, we were definitely getting Vegas-like weather as the windows were hot, and we waited for Julie to check in while waiting in the canopy right in front of the office just as someone had done before us.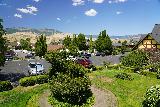 It was pretty brutal to have to haul our stuff upstairs to our room over multiple trips, but at least we got settled by about 3:10pm.
So now I could finally indulge Tahia in pool time after slapping on a lot of sunscreen knowing that the sun was likely going to bake us since it was an outdoor pool.
Anyways, this pool was more of an adult pool because more than half the pool was above 5 ft in depth and it got up to 7 ft.
But Tahia was becoming a better swimmer than me (or at least she was a more confident one) and so she didn't mind the pool's depths at all.
There were a handful of other teens in the pool each doing their own thing while Tahia and I were doing rasslin' moves or trying to shoot hoops with a mesh ball into one of the floating hoops or just swimming laps.
Indeed, the water felt pretty good in the pool though the surface around the pool was roasting hot on the foot and hands.
Finally by about 4:30pm, we got out of the pool, cleaned out the chlorine, and then started to head out for dinner at 5pm.
Even though Julie's primary foodie choices for Sauce (in Ashland), Elemental Tapas (in Medford), or other tapas bars in Medford were all closed (apparently no one opens on Mondays or Tuesdays), we ultimately settled on the Taj's Indian Restaurant in Ashland.
That way, we wouldn't have to drive far, and we'd get some ethnic food to boot.
When we finally got there at about 5:30pm, we had to sit inside the air-conditioned interior since the staff didn't want to serve anyone outside in the intense heat, especially as there were ashes starting to sprinkle into town for bad air quality.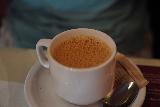 Fortunately, the restaurant itself didn't have that many people in it so we forgot about the COVID-19 risk for the moment and had dinner.
What was interesting about this place was that we were getting authentic Indian food with really good ingredients like organic hormone-free chicken and gluten-free garlic naan.
Moreover, the way they prepared the food was as authentic as we've had at an Indian restaurant outside of India, which we could tell because they didn't put food coloring into the Tandoori Chicken.
We probably over-ordered as we had gotten the aforementioned Tandoori Chicken, an Aloo Gobi (roasted cauliflower and potato cubes), a shrimp curry, and a Chicken Tikka Masala (which was Tahia's go-to dish whenever at an Indian joint).
We also got two mango lassis and Julie got herself a chai tea.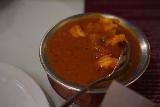 So the food definitely hit the spot, and we made ourselves finish the stuff that was hard to take away (i.e. the curries), but we did takeaway the unfinished Chicken Tandoori.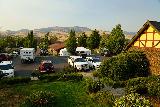 When we returned to the car and drove back to the Best Western at 6:35pm, there was definitely ash on the car and the air quality certainly smelled of smoke.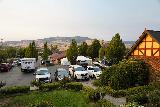 We weren't sure how close the fire that caused these things were from Ashland, but I did recall seeing some signs suggesting evacuation though I wasn't sure if it pertained to us down by the I-5.
And with that, we ended a rather eventful unplanned day where tomorrow we'd be back in Sacramento to hopefully see the Sutter's Fort finally.
I think there's another swimming pool down at the Residence Inn so I'm sure I'll have to be Tahia's playmate in the pool once more before this big Summer post-COVID road trip was coming to an end…