Day 17 (June 29, 2021 – Sacramento, California): "The New Switzerland"
It was about 5am when I awoke to the alarm though I must have slept some time at around 9pm last night so I was very well rested at this time.
It wasn't until 7am when Julie and Tahia finally awoke, and I guess since we only had a roughly 5-hour drive to get to Sacramento, I figured that whatever late start we were going to get wasn't going to hurt us too bad.
During that time, after I had gotten ready and packed with my own stuff, I was busy doing work on the blogging, especially on the first week of this trip with my parents and Tahia's cousins (or my niece and nephew).
After eating kefir while finishing the rest of the strawberries and leaving just enough blueberries, bananas, and blackberries for our last breakfast of the trip tomorrow, I also ate the leftover chicken tandoori cold (since the BW didn't have a nuke).
Julie and Tahia went to the office to get the included breakfast, which was actually COVID-safe as there was a server who got what was asked for and bagged it up for them (unlike the BW in Ephrata, WA where it seemed like COVID-19 didn't exist).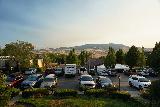 Finally by 8:15am, we were leaving Ashland under the warming day and hazy skies just as the air quality was started to get bad with the smell of smoke.
The drive south on the I-5 went pretty uneventfully, and it actually went by pretty smoothly as we went across the Oregon-California border and towards Mt Shasta.
However, as we approached Mt Shasta, we saw that there was what appeared to be the front of a big wildfire that was clearly visible from the road.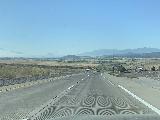 If there was already a fire like this going on this early in the Summer (it was only about 9 days since the Summer Solstice), we knew that this was a precursor to the rest of the Summer that we were about to experience.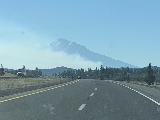 Heck, with the paltry precipitation that most of California got, I'm sure it has the potential to be just as bad of a wildfire season as 2020 was, especially with more record-breaking heat hitting the Pacific Northwest and Northern California.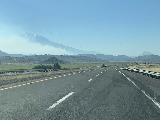 After getting past the drama of the Shasta wildfire (which caused some motorists to pull over at the freeway shoulders and take pictures against the morning sun), we ultimately made a gas and restroom stop in Red Bluff before resuming the long drive.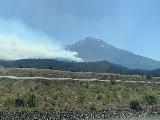 As we did our fill-up, we saw straight away that the gas prices quickly jumped nearly $1/gallon as filling up in highest octane was over $5 per gallon, so it was back to filling 87 octane gas now.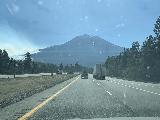 Anyways, the drive continued somewhat uneventfully though there were numerous drivers clogging the passing lane again (truly a California frustration since it appears people act like they own the roads with the lack of enforcement of the passing lane utilization).
At least I got to listen to The Herd to help pass the time, where I surprising learned that the Clippers extended to a game 6 against Phoenix.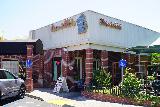 Finally by about 12:55pm, we arrived at this creperie called Danielle's, which was said to be the best place for crepes in the Sacramento area.
It was already in the mid 90s by the time we got here, but fortunately, they had patio dining to at least keep the intense heat off of us though they still caused lots of uncomfortable heat even beneath the umbrellas.
We wound up ordering some escargot (which was rich in garlic though the baguette bread was not toasted), a picadillo crepe, a Karma crepe (basically a curry crepe not unlike the Au Bon Curry served up at La Creperie in Belmont Shore), and Tahia got an avocado crepe.
The only crepe that was using the gluten-free buckwheat was the picadillo crepe, and I would up eating most of Julie's Karma crepe as a result.
By the end of the meal, we got a nutella crepe with vanilla ice cream scoops, and that also hit the spot though we were quite stuffed by the end of the reasonably-priced lunch and even had to take all of our crepes as leftovers.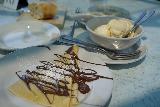 It was a good thing we got the nutella crepe so we all could eat it, but if Tahia had gotten her way, she would have gotten the peach crepe, and then say she either doesn't want it or not want to finish it, and then make us eat it even though we didn't want her chosen flavor.
Finally by about 2:20pm, we were done with the lunch, and then we drove into downtown Sacramento, where we finally arrived at the familiar Residence Inn at 2:40pm.
As Julie checked in and got the dolly out, we loaded it up with just the foodstuffs, luggages, and Julie's supplements.
There was one homeless guy who was sitting on a bench next to us doing our chores and smoking weed, and I wondered if the Residence Inn staff regularly tries to keep the rif raf out of the property (which apparently didn't happen while we were there).
After finally parking the car in the tight parking structure, we finally sanitized our room and got settled at 3:10pm.
We still wanted to visit Sutter's Fort, which was the main reason why we chose to stay in Sacramento this time around (since we didn't get a chance to do it two months ago during Tahia's Spring Break), and we were told that it was 9 blocks walk to get there.
Well, with the intense heat of the afternoon, we debated whether to drive there or not, but we ultimately decided to walk there.
But after the third or fourth block, the heat was quite uncomfortable (though there were some parking garages we walked past that actually felt cool).
Finally at 3:55pm, we arrived at the rather impressive Sutter's Fort, but when we saw all the parking spaces around the property, I knew that we could have shaved off the 20 minutes of walking since Sactown seemed kind of dead compared to when we were last here.
After paying the admission, we then followed the exhibits in a clockwise manner.
There was some interesting history that took place here as it was apparently one of the earlier developments in what would ultimately become the state of California.
Apparently, this was all the doing of a swindler who managed to be friendly to different traders, different governments, and all in the name of trying to realize an agricultural empire.
He managed to coerce local Native Americans to work on his fort along with Hawaiian laborers, he traded with Russians in Alaska, he was actually working for the Mexican Government even though he was friendly with the American Government, and he built many other relationships.
I guess Sutter's "New Helvetia" (is it supposed to be "New Helvetica"?), which was supposed to be New Switzerland.
After all, he identified himself as Swiss even though he was born in Germany but apprenticed and learned his tradesman skills across the border in Switzerland.
Sutter's agricultural empire was I guess historically realized because California would become one of the nation's top agricultural producing states.
The rest of the self-guided tour was basically checking out each of the exhibit rooms while also trying to savor the shade and the indoor sections.
It wasn't the interactive experience that the outdoor folk museums were like in both Sweden and Norway, but with COVID-19, I could understand why you wouldn't want to do that if you were putting your staff at risk from unvaccinated visitors lying about their vaccination status.
We actually still wore our masks even though we were already vaccinated, but this was because our daughter still hasn't been vaccinated at this point.
Regardless, we took pictures of the signage so we could read them later on, but I think Tahia was more motivated by playing in the pool at the Residence Inn than spendiong more time than needed at the Sutter's Fort.
So by about 4:25pm, we were done with the Sutter's Fort, which was a surprisingly quiet experience as only a handful of people were touring the property when we were.
We then walked back the way we came back towards the Residence Inn, but by this time, Julie and Tahia had no interest in visiting either the interior of the Capitol Building or the Governor's Mansion.
So I guess we'll have to come back to Sacramento another time to experience those things in California's state capital.
Instead, we made a quick dessert stop at the Ginger Elizabeth shop, and then we ultimately made it back to the Residence Inn at 5:10pm as all of us were a hot and sweaty mess from the mid-90s heat we had exerted ourselves within.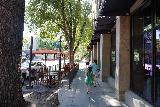 Tahia and I couldn't wait to get into the pool for one last go at it while Julie would remain in the room to take a siesta after getting drained by the early Summer sun.
So Tahia and I spent some time in the pool, where we had it all alone, but the pool was in the shade of the high rise building so the water was cold.
After getting used to the initial cold shock, we then exerted ourselves playing things like tag, more water rasslin', Marco Polo, and giving her a piggy-back ride in the shallow pool (where the depths were between 3′ and 5′).
At 6:15pm, we were back at the room to shower and get off all the chlorine while trying to clean up for the night in general.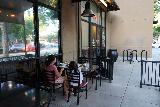 Then, by 6:45pm, we went for one last dinner, but this time we did it at the Ryujin Ramen House, which was the nice ramen joint that we ate take-out for the last time we were in Sactown 2 months ago.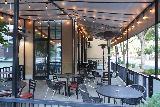 When we got there at about 6:55pm, we saw that everyone was seated inside, but we asked if we could sit outside since Tahia was still not vaccinated.
Fortunately, the lady helping us was accommodating and understood our predicament so we were the only people sitting outside.
Even though there was some rif raff due to loiterers apparently doing the rounds around the restaurant (this area didn't seem to be the best of neighborhoods in Sacramento's downtown), they generally left us alone.
In the mean time, we had gyoza, a Pork Chahan fried rice, some kind of black oil ramen, and a miso ramen (which was the lady's recommendation).
By the end of the meal, we were all stuffed, and we even had some rice to act as leftovers, but we didn't want to linger for much longer after paying the check because the rif raff kept doing the rounds and it was probably only a matter of time before we would become accosted.
At 7:50pm, we were back in our room, ready to wind down the last evening of this trip before making the final leg of our journey home…