Day 8 (June 20, 2021 – Seattle, Washington): "Greater Diversity"
It was 5am when I awoke as daylight was already seemingly happening at this time.
The first order of business was to go down the hall and grab a dolly knowing that we had to facilitate the packing.
After taking care of my own stuff, I then took some time to get caught up on the blogging from yesterday as well as other unfinished business given the long day that we had as a result of the long drive, the late afternoon excursions, and the later-than-usual Mexican dinner.
So as I took the time to get all caught up with stuff, Julie finally awoke at 7:05am.
As usual, it took some time for the ladies to get going with getting packed, and I was getting nervous about the parking situation at Franklin Falls, which was the main waterfalling target for today.
It was a very windy day when I started to bring the loaded dolly out and to start loading the car, and it was at that point that I realized that my other water bottle was missing its cap.
I had no idea where it was, and I was getting worried that I might only have one water bottle available for hikes, where I did anticipate a couple of divide-and-conquer days where I'd be out solo on long hikes or on long days with multiple excursions.
Anyways, once I loaded up the car, I joined Julie and Tahia for breakfast except they took their included breakfast buffet stuff outside and towards the table by the swimming pool entrance.
They saw that it was crowded in the breakfast buffet area and nobody had masks on (including staff).
Moreover, we had doubts that all of the people in there were vaccinated (who could tell if they were or not?), and we were the only masked people in this facility anyways.
Regardless, we quickly chowed down our breakfast, and then we proceeded to drop off the keys, and then leave Ephrata at 8:15am.
Next, the drive south towards the I-90 went uneventfully as we texted my parents and my brother for a happy Father's Day.
We ultimately reached the scenic Snoqualmie Pass area, where there still seemed to be snow on the local mountains.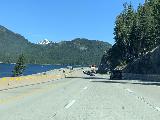 At first, my Garmin DriveSmart 50 GPS routed us towards the exit 46, which then got me through a scenic alpine village and ultimately towards the road that would lead to Franklin Falls.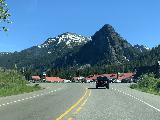 However, I then saw that we were led to a one-way road and we were on the wrong side of it.
The sign said that to access Franklin Falls, we had to return to the I-90 and then get off at exit 47 (Denny Creek).
And so we turned around, and the proceeded to do as the signage said, which then got us onto a narrrow but well-forested paved road that was also pretty well-signed.
We'd eventually get towards the entrance to the parking lot for Franklin Falls, but there were already lots of cars parallel parked along the now one-way Franklin Falls Road, and we ultimately parallel parked near the actual parking lot for the falls at 10:10am.
Indeed, the parking situation already looked pretty intense, and I knew that it was unlikely for us to even snag one of the marked parking spaces (though it looked like there was no shade there).
It took us some time to get ready, and Julie had to use the facilities where it seemed like there was no toilets in the immediate area, so she had to use the bucket.
And so by 10:40am, that was when we finally started on the hike, and it seemed like we had to backtrack towards the actual trailhead, which actually wasn't by the main parking lot and signage.
That said, the signage actually said we needed a Northwest Forest Pass, but we had an Interagency Pass (formerly called the National Parks Pass), so we just left it on the dash of our car.
Regardless, this was a very usy trail as we briefly walked a forested stretch past a few well-shaded cabins, and then ultimately to the handicapped parking spaces opposte the trailhead and just past a crowded area where people were waiting to use the toilet.
Good thing Julie opted to use the bucket because she'd have been here forever.
The hike along the Franklin Falls Trail was mostly along the scenic and gushing South Fork Snoqualmie River.
There were plenty of hidden and hard-to-see intermediate cascades in the creek while the creek itself was initially flanked by more cabins.
The trail itself was mostly uphill, but there were lots of people going in either direction.
So at first I initially resisted putting on my mask, but given the volume of people, I didn't want to take any more chances and gave in.
Julie and Tahia were already wearing their masks from the get go.
Nevertheless, we noticed that there were lots of people of different ethnicities (especially Chinese, Japanese, Indian, and Russian), which suggested that we were quite close to Seattle.
While I had read somewhere that this hike was 1.5 miles, it turned out that it was a one-way distance.
Both my Gaia GPS app and Garmin Fenix 6X Pro map had indicated as such.
In any case, it was a well-shaded hike, and it was thus quite cool despite the sunny day.
In fact, up to this point, we had been dealing with desert and very dry climates in the mountains of Nevada and Idaho, and we also noticed more people wearing masks here than earlier on in the trip where it seemed like COVID didn't exist.
When my Alpine FLZ trekking poles didn't stay in my on-the-go straps of my Osprey Manta 34 pack, I was busy adjusting them when Tahia asked if she could walk with my trekking poles.
She was a smart cookie because she already knew how to lengthen and fasten the pole, which took me a while to figure out when I first had the Distance FLZ trekking poles.
Anyways, after passing the junction with the Wagon Trail (which we made a mental note to come back to do on the way back down), we finally arrived at the quite busy Franklin Falls at 11:40am.
Indeed, the main spot to view the falls was pretty busy and a bit slippery.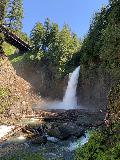 There was also a narrow and slippery ledge where people continued onwards to, but I knew it would be misty down there.
So we took our time taking pictures using my SwitchPod so we could try to take better selfies with Julie's iPhone.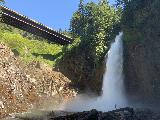 Then, I briefly went all the way down to the end of the trail, where I had to squeeze past more people in that slippery narrow ledge section before finally getting to the end, where it was still narrow but now quite misty.
That made taking pictures and videos with the Sony Alpha A73 a bit challenging, but then I remembered that I also had my phone, which does a bit better in such misty environments.
It also did better equalizing the lighting where the falls were in shadow but the highway just above it was not.
Regardless, after having our fill of this waterfall, we left at 11:55am.
And that was when we opted to take the Wagon Trail back instead of the super busy Franklin Falls Trail, as I had recalled the signage at the trailhead recommending doing a loop as such.
Sure enough, we had ourselves a pretty wonderful time on this trail as we were pretty much all alone so we didn't need to wear masks the whole time.
Clearly not many people read the signs because they did recommend doing the trail in a loop in this manner, but I'd imagine that most people seemed to want to follow AllTrails or do the lemmings effect.
Even though this trail was further away from South Fork Snoqualmie River, this change of scenery and tranquility was the appeal of doing this forested and generally gently downhill track, which seemed to parallel and cross the one-way road in a couple of spots.
By about 12:30pm, we finally made it back to the car, which was fortunately still in the shade.
But we could clearly see that the parking situation had definitely gotten quite a bit worse as we realized that the road crossings that we had done which featured even more parked cars were actually still quite a ways further north from the lot as well as our parked car!
Anyways, barely a few minutes later, we started driving off, and eventually the one-way road put us back to that spot where we were turned back earlier on.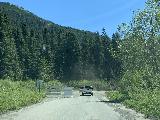 Next, we drove the I-90 west into downtown Seattle without much incident though as we were driving through the city towards the Hyatt House by the Space Needle (where we were staying), I noticed lots of tent cities in many of the downtown areas.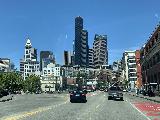 There were also more boarded up businesses in the downtown area in much the same way it was in Portland, but at least there did seem to be quite a bit more foot traffic around as well.
Finally at 1:55pm, after briefly stopping in an alley way so Julie could check in and retrieve the keys, we finally got a parking spot inside the garage of the Hyatt House.
And by 2:35pm, we finally sanitized our unit and got settled with the aid of a dolly where we took up pretty much almost everything that we needed.
By about 2:55pm, we then went downstairs back to the car and drove out towards the Tamarind Tree for a lunner.
At 3:15pm, we got to the restaurant, which was actually a familiar Vietnamese spot that Julie's cousin Linda took us to in the past.
Anyways, we ordered a lot of food here as we had gotten Goi Cuon for Tahia (it was kind of Brodard style with the eggroll shell inside the spring rolls), a Bun Beo (rice cake topped with dry shrimp and crispy onions), Bun Xeo (Vietnamese Crepe), Bun Khot (some kind of coconut mini-cup stuffed with shrimp), and Mango Salad with chicken satay.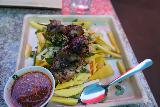 Julie even got a Bun Bo Hue, which was a spicy soup.
By about 4:30pm, we were done with the late lunch, and we indeed decided that we didn't need another meal after this.
We then pursued more stainless steel bottles at Costco because of my little predicament with the missing cap on my larger 40 oz water bottle.
And after running that errand (and picking up swimming trunks for myself since I had forgotten to pack it again!), we then went to Whole Foods where we picked up some primarily fresh fruits and a kefir as well as pasta sauce in case Julie was going to cook something tomorrow night.
Finally at 6:15pm, we dropped off the foodstuff and the bottles in the room, and then at 6:35pm, we went back out to pursue Kerry Park.
Julie's GPS actually routed us to the bottom of Kerry Park (Kinnear Play Area or something like that), and after parking the car at 6:55pm, we had to walk up steps to get up to the busy Kerry Park Viewpoint.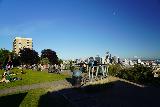 And then we tried to use the tripod to take family shots of the familiar skyline of downtown Seattle backed by Mt Rainier.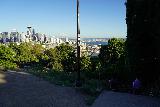 It was still quite bright at this time of the day so the mountain didn't quite jump out at us, but I knew that if we waited another couple of more hours, then the sun would start to relent and start to make Mt Rainier maybe turn reddish and pink.
Neither Julie nor Tahia wanted to wait around for that long so we ultimately returned to the car at 7:30pm after having some success taking family shots, and then we returned to the Hyatt House at 7:45pm, where we called it a day and settled in.
Tomorrow was going to be a rather long divide-and-conquer day, which made me a little nervous because it involved going to Walupt Creek Falls, which I knew wasn't a formal hike, but I'll have to see how that turns out…