Day 9 (June 21, 2021 – Seattle, Washington): "Balancing Act"
It was 4am when I awoke to the alarm, but I took some time to get caught up with yesterday's blogging while also preparing my own kefir breakfast without waking Julie and Tahia up.
By about 5:40am, that was when I finally went downstairs into the garage to get going.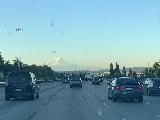 The drive out on the I-5 south was pretty uneventful for the most part except for glimpses of the imposing Mt Rainier in the distance.
I also had to do a fill-up of gas since I didn't get to do it yesterday though I was a bit surprised at the California like prices here.
Nevertheless, the GPS routed me towards some surface streets after leaving the I-5 and the WA-512 shortly thereafter onto Steele Street.
From there, I followed some interesting rural roads (on the Spanaway Loop according to BaseCamp) instead of the main throughfare (on the WA-7) that I recalled having to do to get to Mt Rainier.
Still, this little detour was surprisingly smooth because it was devoid of traffic signals, and I might consider doing that again the next time I come back to Mt Rainier.
But today, the goal was to get to Walupt Falls, and maybe that had something to do with the Garmin Nuvi's algorithm this time around.
Regardless, I was fighting a little road fatigue (probably the lack of sleep throughout this trip was catching up to me) as I was driving against the morning sun on the WA-7.
Then, I'd ultimately reach the town of Randle along the US-12 where the DriveSmart 50 GPS insisted that I should go south on the WA-113.
I knew from my pre-trip research that I was better off heading towards Packwood as I didn't recall needing to go south from Randle to get to where I needed to as far as the Walupt Falls start was concerned.
Eventually at 8:25am, I'd reach the NF-21 Road, which my pre-trip research suggested I should be going, and I did that as I already saw signs pointing the way to Walupt Lake.
The NF-21 road was a fairly washboarded unpaved road full of fairly deep potholes so I really had to temper my speed and the angle at which I would try to avoid them (or runover them if unavoidable).
When I went deep along this road, I saw glimpses of another big volcano in the distance, which I suspect was Mt St Helens, which kind of planted in the back of my mind of how far south I had gone from Seattle (as it felt like I was closer to Portland at this point).
Then, the road intersected with the NF-2160 Road, which was surprisingly paved, and that seemed out-of-place considering it took a lot of unpaved driving just to even get there.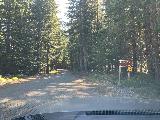 And pretty much, this paved road persisted all the way to the Walupt Horse Camp, where shortly after the turnoff for its entrance, I reached what I suspected was the Walupt Falls "Trailhead" where I saw a couple of parked cars here already at 9:30am.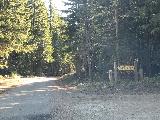 It took me about 10 minutes to gear up and get started, where I had to ensure I put on lots of sunscreen thanks to Julie taking my hat.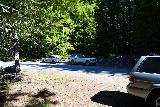 I also had to put on a lot of bug spray because there were quite a few mosquitoes buzzing around me looking to take a free shot.
Just as I was about to get started, there were about three cars that showed up, which gave me the sense that this place wasn't as isolated and remote as I had thought (though I wondered if they were all from the same party).
And so I proceeded ahead on the trail, where it didn't take long before I started to see some orange ribbons tied to twigs or trees.
From there at about 10am, the route-finding scramble had already begun as now I had to find a way to get across Walupt Creek, which was flowing quite high.
Good thing I brought my trekking poles, but I could see straight away that I had to change out of my boots (making me wish I hadn't brought them) and change into Keens.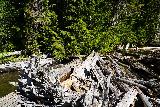 Knowing that there was a high risk of dunking electronics in water, I made sure to clip the Sony A73 onto my Cotton Carrier while I put the phone in my shirt's velcro pocket.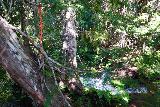 I also put my wallet and keys in one of the upper compartments of my Osprey Manta 34 daypack, and thus there was nothing in my pants just in case I might find myself thigh-deep or deeper in water.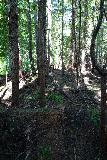 Then, I carefully tried to balance on lots of fallen logs on my way across Walupt Creek.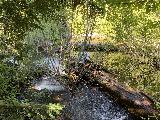 There were still some orange or pink ribbons kind of suggesting what was the next log crossing to do, but truthfully, some of those logs were too slippery to stay balanced on so I had to find an alternative.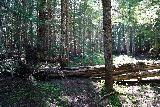 After a bit of back-and-forth and even wading knee-deep in some spots where I used the Alpine FLZ trekking poles to probe the depth of the water and the stability of my next step, I finally made it to the other side.
Following a few more pink ribbons, I'd eventually see what appeared to be some kind of use-trail though it was by no means obvious.
But at least since I had done quite a few hikes that involved scrambles, I could kind of tell where people had gone before.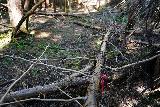 Besides, as I continued downhill on this "trail" along the north side of Walupt Creek, I could see that the ribbons were pretty much gone except for one (making me wonder if there was an alternate crossing that was less dicier than the one I had just taken).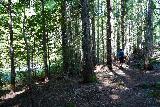 Anyways, I continued on the faint trail which was becoming more obvious to follow though there were a few moments of head-scratching due to false trails or fallen trees.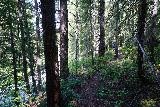 Yet even as I was going it alone at the time, there was one person who managed to catch up to me.
I told him, "You seem to know where you're going."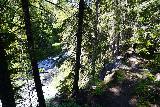 And he replied, "Yeah, I just follow the creek." Then, he followed up, "This place seems to be popular. I saw a lot of cars at the start."
To that I replied, "I'm betting we have AllTrails to blame for that," which drew a chuckle from him before he sped forward.
I initially tried to keep up with him, but in between wanting to take pictures to document the experience and some of the intermediate cascades along the way, he was long gone.
At about 10:45am, the trail started to descend noticeably more steeply while the scenery was opening up, revealing the impressive Walupt Falls as well as some conical peak in the distance that still had snow on it.
I took a moment to check out the falls from here, where I saw the guy that passed me was already down by the banks of Walupt Creek well downstream of the falls.
So I knew that that was where I needed to go eventually, and thus I continued down the path until I reached some kind of unsigned fork at 10:55am.
At first, I wasn't sure which way to go, but since I knew the waterfall was on the left, I started down that way, but in the back of my mind, I wondered where that other trail went.
Now, the trail descended even more steeply, but I noticed an offshoot trail going left across some temporary stream before reaching a precarious bluff with an in-your-face view of the main drop of Walupt Falls.
The lighting was already harsh at this time of the day and there were also trees in the way of the view, but I did take shots of what I could despite the obstacles.
Finally at about 11:05am, I reached the end of the "trail" where I was surprised to find quite a few people here in addition to the guy that made it here first.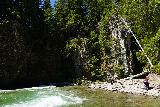 They must have been the group that showed up shortly after me right when I got started.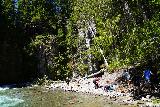 One of the ladies asked me in kind of an accusatory tone, "Where were you? We were here about a half-hour and never saw you. We thought you had gotten lost."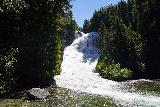 I basically told her that I was checking out some alternate views of the falls on the way down.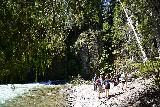 But I did ask about the trail split on the way down, and they thought I had gone that way earlier on, but one of the other ladies said that it was the wrong trail.
Even though it seemed like they concluded that I had gotten lost somehow, I basically told them that I was taking my time and left it at that, but at least they satisfied my curiosity about that other trail so I felt there was no need to pursue where that went.
Anyways, now I could finally look upstream somewhat against the harsh midday sun and check out Walupt Falls.
After getting my fill of taking my initial photos of the falls, I then got into my day pack and ate a few cherries that I had brought with me.
For a moment, I thought I was completely left alone at the falls when that group left around 11:30am, but it turned out that the guy that had showed up first here was still there using his tripod to take his shots.
Remembering that I had my SwitchPod with me, I mounted my iPhone on it and took some shots of myself at this waterfall to prove that I was here (as if that was a thing since I'm not on Social Media anymore).
I wondered if this place was better off being visited in the afternoon given the harsh lighting conditions at this time, which left about half of the main drop of the waterfall in shadow.
But I'm not sure I'd do this hike again if Walupt Creek were running as high as it is now, especially given that dicey logjam crossing that I wasn't looking forward to on the way back.
So by about 11:55am, I finally started to leave Walupt Falls and leave the lone guy left here to take his photos in peace.
As I was making the steep climb back up, I noticed that there was a rope here that I hadn't noticed before.
Regardless, by about 12:05pm, I made it back up to the trail split, and then I resumed my return hike, which made me pretty hot and sweaty at this point given the elevation gain and increasing heat of the day.
By about 12:30pm, I then made it back to the ribbons again, which meant that the log crossings were near, and sure enough, when I got to it, I stowed my camera and iPhone.
But just when I heard one of my sticks fall, I couldn't find the other one!
It took some moments to really look around the overgrown area I was standing in before I finally saw downstream a handle that was just above the water as the pole was luckily stuck and not floating any further downstream!
With that, I proceeded to do the crossing, which was just as hard and as confusing as on the way in.
And in one moment, I made a misstep and actually fell on my butt in the logjam, which was also partially submerged in water so my butt was wet.
Fortunately, I had stowed all my stuff higher up the pack and in my shirt pockets so the only things that got wet were my underwear, my socks that were left in the open part of the day pack's outer pouch and the toes of my boots.
Finally, when I got through the rest of the overgrowth and logs (with a few more tense moments as the trees pushed me into the water which was luckily thigh-deep and no more at one point), I finally made it to the other side.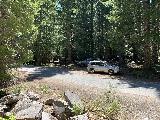 And after following the rest of the orange ribbons back to the trail, I then made it back at 12:55pm, where I took another 10 minutes to change out of the stinky Keens, braved the swarming mosquitoes, and finally started driving at 1:05pm.
The DriveSmart 50 GPS still insisted on taking me back to Randle, but I knew better, and proceeded north on the NF-21 to Packwood.
Then, once I was on the US12 (there was a sheriff waiting at this junction) as I was following some car that I had caught up to and was kicking up dust in my direction, I then continued east towards Clear Creek Falls, which was my next target.
The drive definitely had more cars as I continued past the Ohanapecosh turnoff towards Mt Rainier National Park, and then I headed up towards White Pass on the US12.
There was one moment of single-lane traffic, but the wait wasn't too long.
There was also a scenic view that I had driven past that had a nice view of Mt Rainier, and I made a mental note to come back here as soon as I'm done with Clear Creek Falls.
By about 2:20pm, I had finally made it up to the Clear Creek Falls Overlook, which only had two other cars, but as I was getting my camera and stuff, the lot filled up pretty quickly.
I first went in the upstream direction as I noticed a bench and sign up there, and it turned out that this was an overlook for the upper drop of Clear Creek Falls, which could only be seen partially.
Then, once I had my fill of that, I followed the fencing downhill past the lot and restrooms towards a picnic table and overlook, which provided a partial view of the lower main drop of Clear Creek Falls.
I learned that this spot was really more of a morning location given its east-facing position, but at least the open scenery down the canyon was attractive.
I finally made it down towards the dead-end where there was another sign as well as some shrine that someone had left here with the Hispanic name of someone that had passed away here.
Over there, I saw a really attractive lake way down the canyon, and slightly further up the canyon was perhaps the best view I was able to get of the lower drop of the Clear Creek Falls.
Eventually at 2:55pm, I had my fill of the Clear Creek Falls and returned to the car, which was actually quite hot given that it was around 95F according to the car's thermometer!
So I drove back west along the US12 and then I stopped at the scenic viewpoint of Mt Rainier, where there were a handful of folks from North Carolina occupying the views before taking off.
Five minutes later, I continued the drive after getting my obligatory shots, which was surprisingly tricky given how bright the snow was compared to the rest of the scenery.
As I followed some slower cars down the US12, I then went towards the Ohanapecosh Entrance to Mt Rainier, where I showed my Interagency Pass and Drivers License and got the map and news publication for this park.
Then by 3:40pm, I unexpectedly encountered a waterfall on Falls Creek so I briefly stopped here to take some long exposure shots from the bridge.
Lots of other cars were content to just take their shots from their car before continuing on.
Then, I continued on some more as there was a brief stoppage on the Stevens Canyon Road, and eventually by 4:15pm, I arried at the unsigned trail access for the Wonderland Trail closest to Martha Falls.
Once I was all geared up (concerned about the creaking of the car's parking brakes since this pullout was sloped), I then proceeded to go down the shaded Wonderland Trail.
There was still snow on the ground in some spots as well as mosquitoes as it was getting late in the afternoon.
But it was pretty uneventful when I descended the last of the switchbacks and then approached the one-sided log bridge fronting Martha Falls at 4:45pm.
Although I knew that this waterfall was way taller when seen from across Stevens Canyon, this trailside view only revealed its last drop, which wasn't very tall, but it threw up lots of mist.
Martha Creek was actually running so high that it was running OVER the far side of the one-sided log bridge.
I had no intention of crossing this bridge anyways but I did manage to get to the middle of the precarious crossing to document this experience.
After having my fill of Martha Falls, I then sweated my way back up the Wonderland Trail to regain the car at 5:15pm.
Even though the trail was mostly in shade, it was still a hot a sweaty hike back up given that there was no breeze along the way.
I then took about 15 minutes to eat an apple before getting back on the Stevens Canyon Road en route to Seattle.
As much as I was tempted to make stops for Myrtle Falls, Narada Falls, and Christine Falls, I also didn't stop for Carter Falls (which I wondered if I might regret that decision).
There were also lots of cars for Carter Falls, but again, it was getting late and my ETA to return to Seattle was 8pm.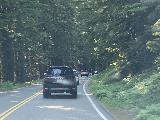 So I pretty much didn't stop except for one gas stop that was way more reasonably priced than closer to Seattle (I think I paid $4.29 for 92 octane instead of $4.89 that I paid earlier on this morning).
And ultimately by 8:05pm, I returned to the Hyatt House Garage, and ten minutes later, I was back in the room to rejoin Julie and Tahia.
I basically finished Julie's spaghetti, and I also tried out some treats that Julie bought from a couple of different patisseries in downtown Seattle.
But the rest of the evening was a blur as I was dead tired. So I got cleaned up and pretty much just crashed for the night knowing that tomorrow was going to be another long day of driving towards the Olympic Peninsula…