Day 10 (June 22, 2021 – Forks, Washington): "Return To The Twilight Zone"
It was about 4am when I awoke to my alarm, which afforded me some time to get caught up on yesterday's blogging due to what a long day it was for me.
I also took advantage of the early morning wake-up to grab one of the dollies in the lobby so we could pack up and haul our stuff to the car in one trip.
So it took me a little over 90 minutes to get that done as well as getting caught up on organizing and naming photos as well.
And it was only around that time that Julie finally woke up, which began the rush of us doing what needed to be done to get out of here.
In addition to packing up, Julie and Tahia going went downstairs to bring up some of the included breakfast, and at the same time, I ate my kefir breakfast as well as Tahia's burger and prime rib leftovers from Elevation 486 in Twin Falls a couple days back.
It wasn't until about 7:25am when we finally loaded up the car, which was later than the 6 or 7am ferry that I was hoping to catch to maximize the amount of daylight to do excursions today.
Anyways, not much longer, we checked out and started to drive towards the Bainbridge Island Ferry, which was surprisingly tricky because there was a stalled train on the railroad tracks that kept us from going to the street along the waterfront per the Garmin DriveSmart 50's directions.
So instead, I made a left onto one of the inner streets paralleling the original route, which passed by the familiar park near Pike's that we had a picnic at with cousin Linda and Chris and their family back in 2017.
Eventually, we detoured through lots of construction at the waterfront before reaching the Bainbridge Island Ferry after paying some $34 for our cruise with the car and waiting to board.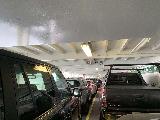 When the ferry started taking off, I didn't bother getting out of the car to go upstairs to take photos like the last time we did this ferry crossing 10 years ago since it was an overcast morning, and I already knew what looking back at the Seattle Skyline was like up there from 10 years ago.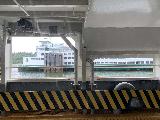 Once we were done with the half-hour ferry crossing (approaching at around 8:30am), we then followed a long line of traffic that was gradually thinning out as we went from one town to another until we eventually got to somewhere near Port Angeles to do a quick pit stop.
It wasn't lost on Tahia since we were indeed approaching one of the mentioned towns in the Twilight Saga books though this town had more of that big box feel.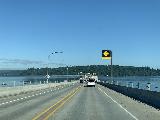 We'd eventually rejoin the US101 as we swung further west of Port Angeles and towards the more remote corner of Washington's Olympic Peninsula en route to Sol Duc Falls.
I had fancied visiting both Madison Falls, Marymere Falls, or even Rocky Brook Falls en route to Kaloloch Lodge.
However, after being honest about how long these excursions would take in addition to the long drive times, we ultimately settled on only visiting Sol Duc Falls, Ruby Beach, and then settling in at Kaloloch Lodge with the possibility of visiting Kaloloch Beach.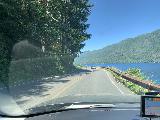 And so after we went past Port Angeles (one day I'm going to go up to the Hurricane Ridge to see what's up there), we then continued west on the highway as we passed alongside Lake Crescent (looking scenic under the sunny skies as the marine layer burned off) en route to Sol Duc Falls.
After getting past the western edge of Lake Crescent, that was when we saw the turnoff for the Sol Duc Hot Springs, and we ultimately took that road into the Olympic National Park boundaries, where I had to show my Interagency Pass along with photo ID at the entrance kiosk.
It wouldn't be until about 11:30am when we finally got up to the trailhead for Sol Duc Falls, which had plenty of parking.
Still, it took Julie and Tahia quite some time to get ready so we didn't start hiking until around 11:50am.
During that prep time, we actually took out my stinky Keens to air out by leaving them on top of our parked car assuming no one would take them.
It also certainly felt way hotter than the forecasted high temperatures of 67F (the car said it was more like 75F).
And yet, it felt even warmer than that because there was noticeable humidity in the air.
Anyways, we proceeded on the busy yet mostly shaded rainforest hike to Sol Doc Falls, which definitely had a different ambience than our first time here 10 years ago when it was raining while we did this hike.
Even though this hike was pretty easy and well-shaded, I kind of liked it better when it was overcast and rainy because it really brought out the vibrant greens in the lush foliage and tall trees towering over us.
The hike was only 0.8-mile in each direction, but it seemed like it took a bit longer to reach Sol Duc Falls mostly because there were lots of people on the trail in either direction so we would often stop with masks worns to let people pass by.
That way we wouldn't be constantly breathing other peoples' globules while walking behind them or going past in opposite directions. After all, even though CDC made confusing guidance about people not needing to wear masks if vaccinated, this is based on the honor system.
And we know how dishonest people have been…
Speaking of masks, it seemed like once again we were in the minority in terms of masking up, and there might have been a handful more of people that also donned masks, but the vast majority of people didn't bother.
We ultimately made it to the familiar bridge fronting Sol Duc Falls, which was actually made muddy thanks to the mist being thrown up by the triple-segmented waterfall.
That shot that Julie showed me the other day, which featured a bridge fronting one of the segments of Sol Duc Falls, was misleading and I suspected it was taken from a drone.
There was no way I'd want to hop the fence and try to edge out closer to the unstable gorge edge with the rushing Sol Duc River below.
After having our fill of the Sol Duc Falls, we then returned back downhill towards our parked car as we got there at 1:25pm.
My stinky Keens were still on top of the car, and they still reeked even though they were bathed in the sun during most of the hike.
Anyways, we got back in the car and proceeded to head towards Forks en route to the Kaloloch Lodge.
However, as we were starting to get momentum, we noticed some kind of Salmon Cascade Exhibit, and I figured that since it had the potential to be another waterfall stop, we mind as well stop for it and check it out quickly.
So by 1:45pm, we were at the Salmon Cascade Exhibit's parking spaces where there was a family picnicking here.
Julie and Tahia stayed in the car while I solo'ed the short jaunt to the overlook that yielded a more sideways view of the cascade where I'd imagine salmon would be jumping their way to try to go further upstream.
I also took a short scramble a little further downstream for a more frontal view of the cascade with no salmon to show for our viewing opportunities.
Nevertheless, it didn't take long to have my fill of this spot and to document the experience before rejoining Julie and Tahia in the car, and then taking the road back down towards the US101.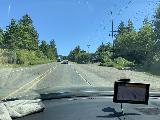 We then went west on the US101 in the direction of Forks, but we had to have endured at least two or three lengthy road work delays.
Eventually, the car lines started thinning out again, and we ultimately wound up at the very busy parking lot for Ruby Beach at 3:25pm.
Even though it had been sunny and warm throughout the day from the time we arrived on Bainbridge Island to the time we passed through the busy Forks, it seemed like Ruby Beach was right at the edge of the sun where the fog was about to take over.
Indeed, the sunny day that we had experienced earlier gave way to fog rolling in just like it did when we were here 10 years ago.
So it made the Ruby Beach experience a bit more gray that we were hoping, but it was still a neat little beach with sea stacks (two of which had natural arches), and a nice fern-walled trail connecting the parking lot with the pebble-sand beach.
We probably took nearly an hour taking pictures (especially family shots using Julie's Huawei monopod stick with three little feet for standing stability.
Once we were done checking out this attractive beach, we returned to the car at about 4:20pm.
As we continued heading south from Forks, we ultimately reached the Kaloloch Lodge at around 4:35pm, where Julie checked in.
We learned that the Kaloloch Restaurant was open, but only for takeout.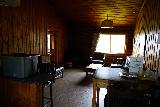 Well, they at least assigned us to a cabin close enough to the lobby and restaurant to walk there, which Julie and Tahia promptly did.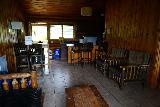 As much as it would have been nice to have rooms with views towards Kaloloch Beach, I think they charged a premium for those, and we were merely content with our more basic arrangement.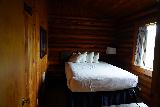 Anyways, we were done sanitizing the room and loading foodstuffs and the rest of our luggage to finally settle in at 5:25pm.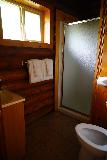 Since we hadn't really eaten anything substantial since breakfast, Julie went to the restaurant and lobby with Tahia (the latter was hoping to get internet in the lobby while they waited for the takeout food to arrive) to get dinner.
She ultimately ordered an elk burger along with king salmon dish, and a clam chowder with bacon bits in it (in addition to clams).
And so we devoured our food, fought the post-meal food coma, and then set up the fireplace that actually burned dry wood for a bit of ambience.
The skies remained foggy and drizzly outside so there would be no sunset here, and I guess that makes it 2 for 2 in cloudy days at the Kaloloch Lodge in our history of coming here 10 years apart.
The more I thought about it, this was the first time throughout this start-of-Summer trip that the weather had changed and it wasn't constantly sunny.
I wondered if this was the start of a longer trend since we're now pretty much along the Pacific Northwest coast region for the next couple of days.
Anyways, Julie didn't have any interest in pursuing the Kaloloch Beach under this weather as it was getting cold really fast, so she pretty much crashed in the accommodation after dinner.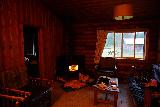 Meanwhile, as tired as I was (seems like my lack of sleep on this trip was finally catching up with me), I did share some father-daughter bonding time sitting in front of the fireplace and feeling the warmth coming from the "oven" or whatever you call these things (a hearth?).
Tahia had taken out the picnic blanket and wanted to play Uno with me, but I was too tired to do that so we just had a chat and stared at the fire side-by-side together.
Tahia wound up playing Uno with her dolls (Buddy and Rollie), while my fatigue finally caused me to go to sleep (she said I went to sleep at 9:30pm, which was the earliest I went to bed).
I recalled Julie and Tahia having some kind of conversation in the middle of the night with the living room lights and fire still going so maybe there was a mother-daughter moment while I was out.
It's amazing what you can accomplish without internet, though I'm sure our daughter didn't see it that way.
Anyways, tomorrow, we head into Oregon's Cannon Beach, but we'll stop at Mt St Helens' Johnston Ridge Observatory en route, and it would be another light day from a waterfalling standpoint…