Day 11 (June 23, 2021 – Cannon Beach, Oregon): "Blast Core"
It was about 6:05am when I awoke without an alarm.
I don't think that I had ever slept that much (apparently I had slept by 9:30pm according to Tahia) for the entire trip thus far, and it seemed like I needed this (or at least my body was telling me this).
Anyways, we took our time having a quick breakfast of fruits and eggs.
During this time, I was starting to feel some work guilt, which I happen to feel from time to time when I'm on these trips.
But I keep reminding myself that I'd much rather not regret having these life experiences spending Q-time with the family than wishing I worked more.
It has definitely helped my mental health adopting this strategy, especially since most of this time is spent in Nature instead of in stress-filled work environments or in the rat race in the city.
So it wasn't until about 8am when we left the Kaloloch Lodge under drizzly skies.
Indeed, this was the kind of weather we tend to associate with the Pacific Northwest, which we've largely avoided throughout this trip up to this point.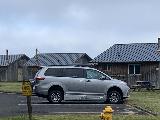 Just as we left, I pointed out to Tahia some vehicle parked nearby that looked out of place – it seemed to have been elevated but it had regular sized tires so it wasn't exactly off-road ready.
Anyways, we continued driving south on the 101, which was largely uneventful with lots of lush forest as well as plenty of zones with denuded forests.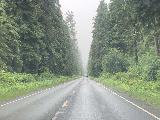 I got the sense that logging is a very big deal in this part of the state, and it seemed like the Olympic National Park regions kept most of their trees while the parts outside the park boundaries had vast denuded areas.
It just goes to show you the perverse economic incentives that we abide by, which pretty much tells you that Global Warming doesn't exist, and I'd bet that these parts are more Republican than Democrat since doing the responsible thing would impact the means of earning a living in these parts.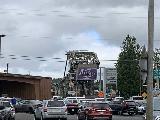 When we finally got to the city of Aberdeen at 9:25am, we made a quick gas stop, but we can totally see how this city and its port (as well as that of Port Angeles) probably doesn't exist without logging.
From our observations in Yellowstone where the effects of the 1988 fires were finally seemingly fully recovered by about 2017 or 2020 (when we were last there), that goes to show you that it takes at least 30 years before the trees come back fully grown.
Yet if we cut trees down at a faster rate than that, then our rate of consumption is unsustainable, and that's where we're at, especially as we've become aware of the lumber demand when dealing with house projects.
Beyond Aberdeen, we ultimately took more highways that eventually led us to the I-5, which we then cruised along briefly before taking the exit leading us to through the town of Toledo (i.e. the Gateway to Mt St Helens).
Beyond Toledo, the road eventually joined up with the WA-504, which ultimately continued further to the east towards Mt St Helens.
Perhaps what was concerning about this drive was the road signage suggesting that the Johnston Ridge Observatory was closed!
I worried that perhaps we couldn't even make it up to the end of the road due to a possible road closure or something, but then again, I swore I had read something out of the official website that maybe the visitor center was closed but the viewing area was not.
So what's going on here? Whatever the case, I was going to push forward until the closure point if we happened to encounter it, and then deal with what happens next.
The weather remained overcast, but it looked like it was lightening up the further east we went, and then suddenly as the road started climbing above 1000ft, the clouds then seemed to have disappeared.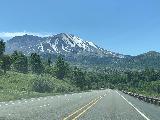 As the temperatures rose, so did the elevation of our drive as we eventually got up to around 3000ft.
Although there were scenic pullouts and viewpoints along the way, we ultimately decided to keep going past them thinking that if the views at the end weren't good enough, then we might come back to stop at these for more distant photos of the blown volcano.
Eventually by 11:40am, we made it to the Loowit Viewpoint, which already revealed the gaping maw of the caldera of Mt St Helens, where the eruption and subsequent landslide happened 41 years ago.
It was already quite hot and sunny out here, which produced high contrast between the partially-snow-covered volcano and the sky itself.
There were also some wildflowers blooming around the overlook area, but it was quite clear how extensive the damage caused by the eruption was as we could see bare lands and fallen trees all around us with only a few trees left standing.
Anyways, after having our fill of the Loowit Viewpoint, we then retreated to the car, and then we continued the final stretch of the drive to the Johnston Ridge Observatory.
We got to the rather busy parking lot at 12:10pm, so apparently quite a few people weren't deterred by the closure signs that I had noticed.
And so we first walked to the main lookout where the lookout directly in front of the visitor center was pretty busy.
Then, after having our fill of this lookout, I decided to go up to the upper lookouts, which ascended some ramps.
Meanwhile, Julie and Tahia went into the store, which was apparently open.
Up at the upper lookouts, there were more interpretive signs as well as more views towards the Boundary Trail that possibly led to Loowit Falls.
It was a good thing I didn't pursue this longer trail to get to the waterfall becaues it was totally exposed to the sun, and it was a longer hike than the one I was planning for from the Windy Ridge Trail.
After having my fill of this upper overlook area, I then descended back to the visitor center area, where Julie told me that the restrooms were working inside (despite what the misleading signage said; what's up with all this misleading signage anyways?).
We then had a quick lunch together courtesy of the food truck in the parking lot, where we got chili and a cheeseburger, and we split those two things just to hold us over to dinner.
I actually combined my portion of the chili with my portion of the cheeseburger to make sort of a Tommy's chili burger.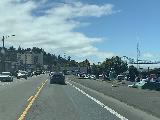 And by 1pm, we were back in the car and resumed our long drive towards Cannon Beach as we were about to leave Washington State momentarily (since I anticipated coming back for some hiking in the Gifford Pinchot National Forest).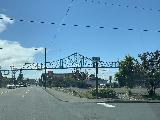 The drive pretty much went uneventfully under the sun as we took the 504 back to the I-5, and then we continued west on the US30 towards Astoria.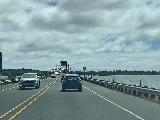 When we had crossed over the bridge on Oregon Way over the Columbia River to get to the US30, we were shocked by the massive lumber yards that were clearly being exported on these huge container ships at the mouth of the river.
Indeed, if logging wasn't a major part of the economy in both Washington and Oregon, I don't know what is!
We'd eventually pass through the town of Astoria, which was on Oregon's northwest tip near the mouth of the Columbia River.
We noticed that there was a huge bridge spanning the mouth of the Columbia River, and it kind of reminded me of the bridge we crossed between the Upper and Lower Peninsulas of Michigan over the "Big Mac".
It also was kind of like a smaller version of some of the Atlantic Coast drive that we had experienced in Norway.
That bridge was like the direct coastal link between the two states of Washington and Oregon.
Anyways, after turning the corner and heading south on the US101, we then passed through the rather large town of Seaside, which was just north of the smaller and more intimate Cannon Beach.
Finally at 4pm, we arrived at the Waves Motel, where we checked in, but we could clearly see that parking was a bit more difficult.
We got lucky with scoring one of our old parking spots temporarily, but we also learned that our room was 407 instead of 404, which happened to be on the first floor (so we'd hear our neighbors' footsteps from above), and the room was a little smaller than the one we had back in April.
It didn't take long before we finished sanitizing the room while also dropping off our luggage, foodstuffs, and cooking supplies in the room.
Since Tahia was keen on checking out tide pools, I knew that it would be possible to have that experience at Hug Point and not Cannon Beach.
Besides, just like with Kaloloch, we seemed to have re-entered the marine layer zone so it was all overcast again.
So Julie opted to stay behind in our room while I quickly got back in the car with Tahia at 4:30pm to pursue Hug Point.
We ultimately got back to the familiar parking lot at 4:45pm, and there were plenty of parking spots this time around.
Tahia and I quickly got out of the car and proceeded to walk down onto the nice beach area though I saw immediately that the tides were a little higher than they were when we were last here two months ago (even though it was "low tide").
We quickly made a beeline for the waterfall, which was still flowing though it appeared to have split into two thin segments.
I don't know how much longer this waterfall has to keep flowing, but it seemed to delight many people checking out this beach, especially above the waterfall itself.
Then, after having our quick fill of the falls, we then continued over to the shelf of Hug Point, where we had to time our approach since some of the waves and surges were actually inundating the walkway before receding.
Once we got onto the shelf, I was a little nervous about getting stranded on here, but I kept recalling in my mind that we were in low tide until 5:56pm.
As we walked higher up the shelf before it dropped down to its lowest point, that was when we encountered the tide pools along with the barnacles and mussels all over the place.
Inside the pools, Tahia identified the anemones and went nuts touching them to watch them close.
The whole time Tahia was enjoying herself, I had one eye looking towards the ocean at all times in case any rogue wave was approaching (not that we could do anything about it though).
Once she had her fill of this precarious spot, we then retreated to higher ground where we saw a few more pools (including one with a crab inside it) while she was touching more anemones and barnacles as well as mussels.
Then, we retreated back to the beach where we checked out the waterfall one last time while Tahia was playing in the sand building volcanoes (clearly inspired by her witnessing Mt Rainier and Mt St Helens on this trip).
Finally, we returned to the car at 5:30pm, where we then returned to Cannon Beach.
Unfortunately, Julie called us and told us that she couldn't book anything for dinner from Castaways, which we enjoyed the last time we were here two months ago.
That was a bummer because we knew that other places would be difficult to book this last minute.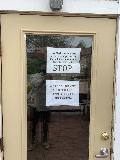 And when we got to the Castaways Restaurant to see what was up, we could see that the place was unoccupied with signage on the door saying that dinner was sold out this evening.
So when we got back to the Waves Motel at 5:50pm, Julie joined us and we decided to walk into town in search a place to eat.
We ultimately settled on this place called Ecola Seafood at 6pm, which was a more informal fish and chips kind of place.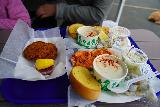 Sure enough, it was one of those spots where we just got food to go and sat at one of their outdoor tables.
And so we did that by ordering grilled halibut, grilled salmon, and a pair of fried crab cakes.
It wasn't as satisfying as the Castaways experience back in April, but at least we got decent seafood and now we could retreat to the room after the dinner was finished.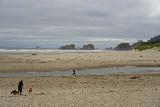 So by 6:40pm, we returned to the Waves Motel, and we wound up spending the remainder of the evening taking care of business as I was busy organizing and naming photos while also blogging about today.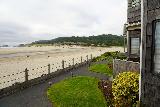 I also made a booking for the Lewis River Waterfalls for tomorrow since I didn't think they'd let us check into the Hyatt House in Portland early anyways, and I was nervous about driving around the city with so much stuff in our car to go sightseeing with (just asking for a break-in).
Indeed, I was calling an audible here, but I also was nervous about the record heat forecasted for this weekend, and hopefully it wouldn't come on days when we'd go hiking…
In any case, Julie was busy booking for an upcoming Iceland trip and Tahia was busy playing games, and sometimes we'd have to stop and look out the window to check out the beach scene before us as the skies were slowly getting dark.
The skies finally pretty much got dark after 9:30pm, and so ended this eventful day, but now we needed an early start given the little audible that I just called…