Day 12 (June 24, 2021 – Portland, Oregon): "Calling Another Audible"
It was 5am when I awoke to an alarm, and not long thereafter, I managed to get Julie to grudgingly wake up.
We managed to coerce Tahia to wake up by bribing her with 2 hours of screen time if she helped with packing and finished her breakfast.
So it wouldn't be until about 6:35am when we finally headed out to an overcast morning.
Based on last night's last-minute booking for the Lower Lewis Falls (since we couldn't check into Portland until early afternoon anyways), the Garmin Nuvi had us drive back towards Astoria before heading east towards Longview along the Columbia River.
There were a surprising number of cars on this stretch of road before we filled up gas somewhere near Longview.
Then, we went south on the I-5, which also had a bit of heavy traffic.
Shortly thereafter, we got off the I-5 and headed east towards Cougar, which went by pretty uneventfully as I was able to get Portland sports talk stations (especially the one with Dan Patrick followed by Jim Rome).
There was one fairly lengthy delay due to some rock slide mitigation at 9:30am, but we ultimately made our way towards the manned roadblock where a ranger checked to see if reservations had been made to park in the Lewis Falls Recreation Area.
While they preferred having printouts of the permit or confirmation of the reservation, it just wasn't practical for us since we had no access to a printer last night at Cannon Beach.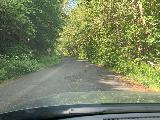 So the ranger let us through, as we drove past some other road work zone as well as some pretty nasty hidden dips where it seemed like the forest road had sections that were sinking.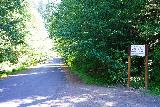 By about 10:15am, we made it up to the Quartz Creek Trailhead, which was apparently the nearest trailhead parking for the Upper Lewis River Falls.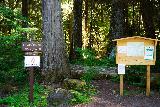 But upon realizing how far we had to drive to get from the Lower Lewis River Falls day use parking turnoff (our assigned parking area) and this trailhead, I abandoned the idea of having Julie drop me off here and meeting them at the Lower Lewis River Falls parking lot.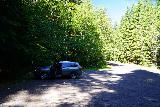 Maybe another time I might finish this kind of muti-waterfall hike more thoroughly starting from the Upper Falls and ending at the Lower Falls, but not this time.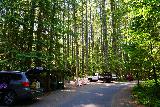 Besides, the original plan was to spend more time in Portland, but I had reservations about doing city touring with all our stuff in the car and with still the concern about the Skid Row-like situation in the downtown area where we might be a target for break-ins.
And so the best middle ground was to return to the Lower Lewis River Falls day use area, which we were permitted for, and just enjoy the waterfall there before heading south to Portland with maybe a stop at Panther Creek Falls along the way.
Thus, by 10:30am, we finally made it to the Lower Lewis River Falls, where we were checked once again for the permit as well as the Northwest Pass (though they also accepted our Interagency Pass and just requested that we show that pass on our dash).
There were a handful of cars already here, but it didn't at all feel crowded or overrun, and perhaps this permit system during the peak season between June 15 and September 15 was paying dividends as far as managing this area was concerned.
Knowing that the walk to the viewing areas for the waterfall was short (1/8-mile according to the signage), only Julie put on legitimate hiking shoes while Tahia and I had sandals on.
It didn't take long before we finally reached the lookouts for the Lower Lewis River Falls, and it was both wide and impressively voluminous.
Julie reacted by stating that this was the most impressive waterfall that she saw on this entire trip, which was saying something because it also included Shoshone Falls.
We managed to view this waterfall from a few different positions, including near its brink as well as from a more direct view further downstream with some bench and a memorial on it.
There was even a rainbow looking down from the brink in the spray from the most powerful part of the waterfall.
And we managed to take some people shots on the iPhone since I didn't bother bringing the legitimate Manfrotto BeFree tripod for this excursion.
While I did notice one family wade across the river towards a dry spot right in front of the Lower Lewis River Falls, I found the trail that they took to get down to the banks of the river.
However, the rope-assisted descent at the very bottom looked too dicey for my liking, and I didn't bother going down there to unnecessarily incur risk for that in-the-river shot of the waterfall.
And so by 11:15am, we were all back up at the car, and we started driving out, which made this visit rather short.
So now instead of retracing our route back through Cougar towards the I-5, we now went south on the Curly Creek Road and then eventually on the Wind River Road en route to Carson.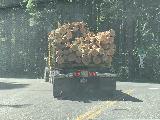 However, I decided that we should make the detour towards Panther Creek Falls, which involved going on the Old State Road, and then following the narrow Panther Creek Road for a ways.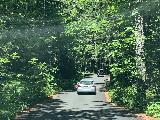 That road was narrow enough to pretty much be no wider than 1.5 cars in many spots, and we had to be careful about the blind corners.
But it was nothing I wasn't used to considering we had driven bi-directional single-lane roads in Europe (especially in Norway) but I'm sure most Americans (especially with our giant cars) aren't used to driving these roads.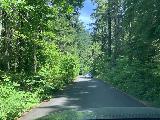 Sure enough, we caught up to a couple of cars in front of us when went real slow on this road with no opportunities to pass and with the lead car not bothering to use any of the pull-outs until there was finally a car going in the other direction.
Maybe that freaked out the lead car and encouraged her to wave her arms for us to pass them.
And eventually by 12:35pm, we finally arrived at the unsigned parking area closest to the Panther Creek Falls (at least I knew it was here according to my pre-trip research).
It was quite warm when I got out of the car, and I wasted no time to get my camera and hat and get moving while Julie and Tahia opted to stay behind.
And so I had to walk along the road back in the direction we had driven from before seeing the trail descend into the foliage cover.
There was one couple with a dog coming up from that trail, which helped me to know where to go (otherwise, I'd have to pay attention while looking at my Gaia GPS app, which had the surveyed trail).
Anyways, I descended this trail which then split shortly thereafter, and I took the right fork first to get to a viewpoint.
At that viewpoint, I saw that there was a partial view of the main tier while there was also a hard-to-see segment coming in from the right.
It appeared that there used to be ways to see more of these waterfalls from this vantage point, but the railings and signage tried to close off such accesses, and I was in no mood to rebel and try to get that shot that people have done in the past.
So it didn't take long before having my fill of this viewpoint, and then I went back up to the fork, where I then followed the sign indicating that the other fork went to the bottom of the falls.
Initially, this trail followed along a ledge in an uphill direction, and it went for a little ways, which made me question whether it was really going to the bottom or not.
But soon enough, the trail turned and then followed another narrow ledge in a downhill trajectory back down towards the Panther Creek Falls.
Eventually, I'd make it down to the end of this trail, where I had a more in-my-face view of the main drop of Panther Creek Falls, but I couldn't see much of the lower drop, and I couldn't see much (other than a trickling segment) of the segment of falls coming in from the right.
Again, there was signage and railings to try to deter people from scrambling to improve the views and see these other hidden tiers of the waterfall in the interest of safety and to prevent any further erosion to the landscape.
And so it didn't take long before I had my fill of this place just as another couple had arrived at this lookout as I was on my way back up.
After passing by another couple on their way down to the bottom of the falls, I finally rejoined Julie and Tahia at the trailhead parking area at 1:05pm, and then we finally resumed the drive towards Portland.
The return drive went by uneventfully though I did have to follow one of the many logging trucks reminding me of the paradox of deforestation along with Global Warming going against the economy telling us that we have to do destructive things to earn wealth.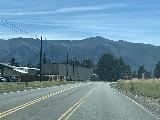 With the forecast for this weekend to be record breaking heat (up to 108F in Portland on Sunday), I was already thinking about having to readjust the tail end of our itinerary.
After all, we were expecting to be in Bend, Oregon over the weekend, and we were also expecting to be in Salem on Monday when we should be hiking Silver Falls State Park, except it wouldn't make sense to do the Trail of 10 Falls in over 100-degree heat.
And so I floated the idea to Julie about changing our Monday night's accommodation to Medford or Ashland and abandon doing Silver Falls State Park.
I also was mindful that I did have a long hike to Loowit Falls tomorrow and so I absolutely needed an early start before the onset of the heat wave when hopefully all the climbing would be over (since I knew Mt St Helens area had little to no shade).
So with all these things in our minds as yet another one of Nature's reminders that Global Warming is here and has been for years, we ultimately made it to the Hyatt House in Portland at 2:35pm.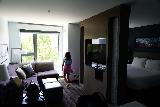 Having done the familiar drill of check-in and getting out the dolly, we pretty much emptied out the car as best as we could, and then brought everything up to our room in one go.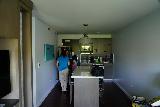 The room was one of the smaller units with the small-sized fridge, but we made do.
We also sanitized the room per our usual drill.
Once we were done with these errands, we returned the dolly and then regained the car at 3:20pm.
Now, we could do a little exploring and errand-running in downtown Portland, and that started with a drive towards the Pittock Mansion, which was something we hadn't done before.
After getting through some of the hilly streets of the city, we'd eventually reach the Pittock Mansion's parking area at 3:40pm, where we scored one of the shaded parking spots.
Then, we paid about $32 total for the three of us to do a tour of the interior of the Pittock Mansion, which I knew Julie would appreciate because she loved going into furnished mansions and/or palaces or castles.
While I had this cynical attitude of how the rich with concentrated wealth could come up with things like this, it did provide us with a window of what life was like in the early days of the city of Portland as it grew from its early days in the 19th century.
We went from room to room and saw the combination of old and new appliances and furnishings as well as a couple of oil paintings of waterfalls that happened to be about Yosemite (i.e. Lower Yosemite Falls and Bridalveil Fall) instead of local waterfalls in Oregon.
Anyways, after we were done with the brief walkthrough of the Pittock Mansion, then we walked around to the backside of the garden where we got a regal view over the city of Portland backed by Mt Hood.
This viewpoint was impressive, but Mt Hood looked quite small compared to the city, which didn't really have signature landmarks in the way that Kerry Park in Seattle had the Space Needle backed by Mt Rainier.
So after having our fill of this viewpoint, we returned to the car at 4:45pm, and then we drove back down to the downtown area to finally have a legitimate meal.
During the drive through downtown, we witnessed two instances of a Portlandia sketch where in one instance a driver was letting another driver get into the street, but that other driver was insisting on letting the other person go so there was a standstill.
It actually opened up the opportunity for me to make a left turn while this was going on.
In another instance, a pedestrian insisted on letting a driver go by while making a left turn, but the driver insisted on the pedestrian going across first.
Indeed, as far fetched as some of the scenes in Portlandia had gotten, there was still that underlying "being courteous to each other" mentality that the show poked fun at in those instances, and we all got a real good laugh at it.
By 5:05pm, we ultimately arrived at this Vietnamese place called Luc Lac (after the beef dish, which was kind of a Vietnamese take on cut up filet mignon with salads).
And we found some street parking near the restaurant, where we then used some Parking Kitty app, and then we ordered at one of the windows at Luc Lac before taking one of the outdoor tables and waited for the order to be complete so we could bring the food to that table.
This was our dinner, and it pretty much consisted of the signature luc lac, Julie's pho, Julie's rice-wrapped crispy roll, and Tahia's nem nuong (spring rolls).
We also got a dragon fruit kombucha as well as some kind of blue mango lushee, which Tahia really liked.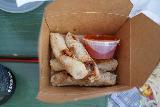 And this meal pretty much hit the spot though having pho in takeout like this wasn't ideal as the broth wasn't hot enough to keep cooking the meat pieces.
Both Julie and I felt that the luc lac here was probably the best we've ever had as the meat was so tender, and it was certainly a fresher take on this dish compared to all the other Vietnamese-influenced joints that we've eaten at back home in LA or even in Seattle.
By 6pm, we were done with the dinner, and then we made our way towards the Whole Foods, where we ultimately got to at 6:10pm after finally finding its parking garage across the street.
Our grocery run was done by 6:45pm, as this was the first time we managed to do such grocery shopping in at least 3 days (not since Seattle).
And so by 7pm, we were finally back in our room at the Hyatt House after parking at the familiar Douglas Garage, which definitely had more cars on this day than it did two months ago when we were last here.
The rest of the evening was spent taking care of the change in accommodation situation as we switched from Salem to Ashland after Bend to try to alleviate the problems with extreme heat that was coming this weekend.
Hopefully, the wildfires won't be starting at this time, but you never know with these things as such problems only continue to get worse as long as we have actors in government (and the voters who enable them) refusing to address the pink elephant in the room when it comes to the environment.
At the same time, we were also trying to finish making reservations for an upcoming Iceland trip, so there was definitely no shortage of things to do.
But in the end, I needed to get some sleep because I was expecting an early start to try to head off the incoming heat wave on my long hike to Loowit Falls and possibly Harmony Falls in the Mt St Helens area again…