Day 13 (June 25, 2021 – Portland, Oregon): "Sunken Roads"
It was 4am when I awoke to my alarm as I needed the early start to ensure that it wouldn't get too hot whilst I would still be hiking uphill on my anticipated Loowit Falls hike today.
So I wasted no time eating my kefir and fruit breakfast while still not trying to wake up Julie and Tahia, and then I headed out the door and to the car with my gear by 5:20am.
It was still dark outside but sunrise was coming as the daybreak was coming in the horizon.
After leaving the structure and paying the $24 for the overnight parking, I then followed the GPS directions towards the I-5 north as it took me towards Vancouver, WA, and then eventually towards the WA-503.
There were a surprising number of cars already out on the road, but traffic rolled pretty smoothly, and there were even a handful of patrol cars looking out for speeders already.
The Garmin Nuvi actually wanted me to go further up the I-5 towards the Johnston Ridge Observatory, but I knew that was a longer hike, and I knew the way to Cougar and beyond from yesterday's drive to the Lower Lewis River Falls.
Thus, by the time I got to the WA-503 exit, I then filled up on gas, and then I finally made the familiar twisty drive against the morning sun towards Cougar and beyond.
With the Dan Patrick show keeping me company throughout the drive, it was pretty smooth sailing, but then once I got past the NF-90 turnoff and kept on the NF-25, that was when things got interesting.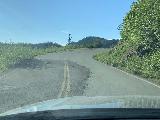 Indeed, much like how the road to the Lower Lewis River Falls was surprise dips, the NF-25 also had similar surprise dips that could really make the car bounce and even catch air if going fast.
I don't know what's up with the roads sinking like this in this part of the state of Washington, but I presumed that there wasn't the integrity in the engineering to keep the water running underneath the roads instead of eroding its base.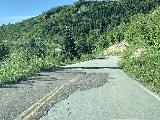 That's because I never encountered so many sunken roads in such a short stretch that were persistent like on the southern and eastern slopes of Mt St Helens.
Heck, when Julie and I did this drive back in August 2009, I never remembered having this much difficulty with the road conditions back then.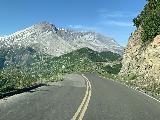 Anyways, that complication made the drive seemingly longer than I had hoped for, and it didn't help matters that the road was also quite twisty and frequently making me face the morning sun.
Good thing I had gotten the early start because there weren't many cars on the road at this time.
Eventually at 7:45am, I had made it to one of the lookouts on the Windy Ridge Road, where I took photos of the northwest face of Mt St Helens.
Somehow I had missed the famous photo spot where one guy actually took a series of photos of the actual Mt St Helens eruption in succession, like I remembered doing back on our 2009 trip.
But I guess in the interest of time, all roadside stops had to be brief.
Anyways, the Windy Ridge Road (NF-99) was also full of sunken roads as well, and in many cases it was worse than what I had been on to this point.
Some sections were completely unpaved on one side of the road while there were other long stretches where the road was noticeably sinking towards the cliffs or slopes that compelled me to drive on the wrong side of the road to avoid them.
Ultimately by 8:05am, I had finally arrived at the Windy Ridge Viewpoint and its spacious parking lot.
This place had a different look and feel than when we came here in August 2009, but then again, memories fade like looking through a foggy mirror (to quote an MGMT lyric).
I saw the gate marking the end of the public road access of the drive, and I now it was time to gear up and get going on the long hike to Loowit Falls.
Funny how I didn't remember seeing that gate before in the past, but I did recall seeing the steps leading up to the top of a ridge with likely a more elevated view of Mt St Helens as well as Spirit Lake, which was clearly visible now (whereas it wasn't as visible from the Johnston Ridge).
After gearing up and making sure I brought all my water, I then checked out some of the signage (one showed that David Johnston and Harry R Truman actually chose to stay during the eruption, which was why place names here were in their honor), and I finally started hiking at 8:20am.
There were a couple of young ladies who were in front of me and making fast progress as they increased their distance between me and them just as I was taking pictures of various features along the first 1.7-mile stretch.
This trail was clearly an unpaved road probably for service vehicles, but accordig to Gaia GPS, it was now called the Truman Trail after one of the people who opted to stay during the eruption, which ended his life.
Along the trail, it was atmospheric in that I saw Mt Adams against the morning sun to the east, I saw the top of the conical Mt Hood way in the distance to the south, and I was staring into the alluring yet destructive crater of Mt St Helens (including its growing lava dome).
All around me, I could see that there were downed trees and barren landscapes interspersed with a handful of trees and shrubs along with wildflowers that managed to live on after the blast 40 years ago.
Since I knew that trees tended to regrow every 30 years or so, their noticeable absence here told me that the landslides and pyroclastic flows must have somehow stripped the area of the kind of soil conducive to their growth in that time span.
And thus, this hike was pretty much exposed to the sun, and it was a good thing that I had gotten an early start because it was already starting to heat up.
By about 9:10am, I had made it to the end of the road part of the hike shortly after the trail had forked and I went right.
The ladies in front of me had gone left as it seemed like maybe they were going up to some viewpoint or ridge as part of the Around-the-Mountain Trail.
But I knew that I was targeting Loowit Falls and so I had to descend down to the end of the road, where there was still a USGS Forest Service pick-up truck parked there.
Beyond the truck, I then had to traverse one of the lahar zones, which were basically where mud flows from the melting glaciers or continuing presence of water would create new gullies and ravines in the wake of the landslide caused by the Mt St Helens eruption.
And that pretty much started the next 1.7-mile stretch of trail that would go in and out of the next handful of ravines and gullies that were pretty much lahar zones.
Early on during this stretch, I encountered a group of four backpackers who were resting.
They told me that they were doing the around-the-mountain hike, which would take 3 nights.
I told them that I was doing the waterfall hike, and that might have planted in their minds to spend the extra effort to check out that waterfall detour.
As we parted ways, I continued traversing one ravine or gully after another, where some sections had a bit of sketchy footing due to the steepness of the ever-changing landscape here thanks to the cutting action of the water from the melting Crater Glacier as well as snowmelt.
In at least two or three of the ravines, there were minor cascades and waterfalls that might be nice spots to cool off, but I stayed on the trail and kept going towards Loowit Falls.
At 9:40am, I reached another trail junction but I kept right since that trail on the left went towards Windy Pass.
By this point of the hike, I had to unzip the pant legs because it was getting way too hot, but that also meant I had to put on more sunscreen to protect them.
This was one of those instances where I was glad I was using my favorite pair of REI pants instead of the Outdoor Research Ferrosi pants or the Arc'teryx Gamma LT pants since those weren't zip offs.
I definitely appreciated the sudden gain in breathability while feeling some of the gentle breeze (they didn't call this area Windy Ridge for nothing, apparently).
Eventually at 10:15am, I finally arrived at the signposted trail junction where I now veered left to take the final spur (the sign said it was 1/4-mile more) to get up to the Loowit Falls.
By this time, I was definitely smelling that subtle odor of sulfur though the smell here was noticeable different than say the geothermal activity going on in Yellowstone.
Perhaps that different smell hinted at the difference in composition of the lava here, and why this spot was more explosive and viscous than say the freeflowing of lava in Kilauea in Hawaii.
Anyways, it was during this ascent that I finally started to see the Loowit Falls almost bathed perfectly in the morning sun, but I was only able to partially see it as it was backed by one of Mt St Helen's crater edges.
So that hasted my paces even more as I continued the ascent until finally I got to a giant rock cairn stack marking the end of the official trail.
Just as I got there at 10:40am, I noticed there was a mountain goat staring at me as it was making its way towards a ridge to my left.
I wanted to go a little higher to improve my view of the Loowit Falls, and that must have spooked that mountain goat, but I did manage to take a few shots of it in profile as it stood on the ridge against the morning sky.
It kept staring at me and then staring away from me because I realized that the group of backpackers that were behind me also took this detour to eventually join me at the falls, which got the mountain goat staring at them, too.
Anyways, once that mountain goat was out of sight, I took some shots of the impressive Loowit Falls, which was definitely worth the effort to reach even if it was pretty much an all-day affair given the drive and the long hike to get here.
Come to think of it, given that apparently I was standing pretty much in the mouth of the crater left behind by the Mt St Helens eruption, I bet that Loowit Falls didn't even exist before that eruption event!
Or if it did, then it must have taken on a totally different form because that major landslide from the volcano's eruption certainly created some geology conduc
Looking downslope from the waterfall, I saw the Johnston Ridge Observatory as well as full views of Spirit Lake with hints of Mt Rainier's peak behind the so-called Norway Peaks.
As the group of backpackers rejoined me, one of the ladies pointed out that there were more mountain goats alongside Loowit Creek down below; there must have been at least seven of them in total.
Indeed, it was such a surreal sight to see these guys in the presence of Loowit Falls within the volcano's mouth.
It reminded me that nature experiences like this still exist, even though we now have to go farther to attain than in the past thanks to information being so freely available on the internet making other places requiring less worth pretty much overrun.
Eventually, the backpacking group went back downhill to resume their round-the-mountain adventure, and that left me alone with the falls momentarily until a pair of guys showed up.
They also came, enjoyed the spot, and left, and I was once again alone to try to document Loowit Falls a bit more while also eating cherries and hydrating some more.
But by 11:30am, I had my fill of this place, and started the long hike back out.
The return hike was every bit as scenic as on the way in since I now got to stare at Spirit Lake more as part of my route, but I had to stay committed to the hike since I knew that I probably wasn't going to make it back to Portland until at least after 6pm.
By about 11:55am, I made it back to the main trail, and then I returned back the way I came as I went in and out of the same gullies that I had traversed earlier on.
In one of the gullies which had a lot of vegetation and an attractive cascade, I saw a trio of ladies chilling out there just as the sun was now high overhead.
Further on near the Loowit Trail junction, there was another pair of hikers wondering where that other trail went, to which I showed them my Gaia GPS surveyed trails which indicated that the other trail they considered actually rejoined the round-the-mountain trail beyond Windy Pass.
Beyond that, I ultimately returned to the road part of the Truman Trali at 12:50pm, where that pick-up was still there, but I also noticed people standing high up on the ridge above me as I heard their voices.
And then I had to make the rather long ascent along this road towards the Windy Ridge Viewpoint again, but along the way, I did notice that Mt Adams was starting to be surrounded by thunderclouds so its peak was blocked.
I also noticed some cascades in the distance across the ravine on my right thanks to the improved lighting, which revealed how extensive they were (kind of reminding me of the same kind of miscellaneous cascades that I had encountered on the Goat Falls hike earlier on in this trip).
As I turned around and looked back at the gaping maw of Mt St Helens, I also noticed that I could see Loowit Falls partially in the distance (funny how I didn't notice that before on the way in)!
By about 1:30pm, I had made it back to the Earth Scope Geostation site and bunker, and by 1:45pm, I made it back to the Windy Ridge Viewpoint, where there were a handful more cars than there were when I first got here.
Even though I was pretty much tired at this point, I kept my hiking boots on as I got back in the car and drove off towards the Harmony Viewpoint in pursuit of the Harmony Falls.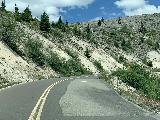 I knew that if I went straight back to Portland without making that Harmony Falls attempt, then I'd be back in the city some time at around 4:30pm, but I figured since I was here, I mind as well go for that waterfall.
But I could forget about doing the Iron Creek Falls, which I saw on the forest service maps that it was a possibility, but that was adding too much to this long day.
By 1:55pm, I ultimately got to the Harmony Viewpoint where all the legit parking spots were taken up so I parked in one of the long vehicle parallel spots.
Indeed, there were lots of people chilling out by their cars at the trailhead, and they seemed to have Southern accents.
Anyways, I was already geared up so it didn't take long for me to get out my gear, lock the car, and head down the Harmony Falls Trail.
Contrasting the Loowit Falls experience, this trail was a lot shadier and more lush so I was constantly brushing up against the overgrowth.
Since my pant legs were still zipped off from the Loowit Falls hike, I was concerned about poison oak exposure here, but I just couldn't be bothered with putting the pant legs back on at the moment.
So I continued with the quick trail run downslope towards the Harmony Falls (knowing that it was going to be a brutal uphill hike on the return) while avoid the handful of people making their way back up (there were at least 3 or 4 parties that I noticed).
Finally at about 2:25pm, I had made it to the Harmony Falls, which was a bit of a smaller waterfall.
I wanted to get that Gregory Plumb photo looking across the waterfall with Mt St Helens in the background, but unfortunately, there was too much overgrowth and I just wasn't into doing more bushwhacking just for that photo.
I already had enough cut up limbs from sharp branches slicing me this way and that.
So I basically took photos and videos looking down at the falls, and then I went across a logjam to get to a more fontal view of the falls across its inviting plunge pool.
When I had my fill of this waterfall, at 2:55pm, I briefly went downhill a bit more to check out the shores of Spirit Lake with closeup looks at the ghostly remains of the trees that once stood before the eruption and now lie dormant floating on the sapphire blue lake.
There was one other family that was down on some of the log jam down below, but for all intents and purposes, I had my fill and now it was time to go back up.
The hike back up was definitely brutally hot as anticipated, and I used my trekking poles to help with the stability and to propel me up with every step.
I also put the pant legs back on so I had one less worry about poison oak exposure on my legs.
After one refreshing stop where I let a spring splash on my hot head (and a little bit of my pack and camera), I finally made it up to the Harmony Viewpoint at 3:30pm, where there was now only about 3 cars left.
Now, I could finally get out of my hiking boots and hiking socks and let my feet breathe in my Chacos.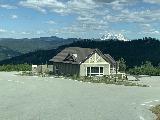 And from there, I did the long drive back out towards Portland but not before a few more jarring catching-air moments on the sunken forest service roads en route to Cougar and then back onto the I-5 south into the Rose City.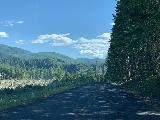 By 6:15pm, I had made it back to the Douglas Parking Garage, and eventually by 6:30pm, I had made it back to the Hyatt House, where I rejoined Julie and Tahia to unwind on the day.
They had crepe leftovers from their late lunch so that was going to be my dinner as they had no room left for a legit dinner.
And even though Julie did fancy going out once again for a smores joint, I think I had had enough of driving and walking around on this day.
Heck, as much as I wanted to check out the Alberta Arts District or other Portlandia spots, I think I had my fill of this day, especially since Portland was noticeably hotter (93F) than it was back at Mt St Helens (high 80s).
That said, tomorrow was going to be the start of the extreme heat wave, and thus any waterfalling left on this trip would have to be pretty much light roadside excursions…