Day 14 (June 26, 2021 – Bend, Oregon): "From Chill Wave To Heat Wave"
It was 4:25am when I awoke without my alarm, which was set for 5am.
That gave me some time to get caught up on yesterday's happenings since it had been a long day for me and I was dead tired.
So it took me until around 6am when I was finally done with what I had to get done, and then I had another kefir breakfast with fruits.
Julie intended to go downstairs to bring up the included brekkie, but she didn't realize that for the weekends, that breakfast room didn't open until 7am instead of 6 or 6:30.
Thus, she gave up on waiting for the grub, and she contented herself with eating the stuff that we brought.
By about 7:30am, we finally loaded up the car and left Portland just as it was already starting to warm up as the record high was now forecasted to be 105F with tomorrow forecasted to be 115F!
If these unprecedented temperatures in the Pacific Northwest weren't Global Warming, then I don't know what is.
The first order of business was to drive the I-84 east towards Outlet Falls.
There was a lot of traffic on the I-84 as it seemed like loads of people were driving in this direction, and it wasn't just for the Columbia River Gorge.
Perhaps annoyingly, as a result of this high traffic, a big chunk of the congestion was due to people occupying the fast lane because they keep the cruise control on but are barely moving faster than the people they're trying to pass.
It's something I noticed was more prevalent in both Oregon and Washington on the high-speed highways, and there were also some out-of-state drivers clogging the fast lane much like people in California pretty much do (which you can see a lot of on the I-15 between LA and Vegas).
I guess that's the drawback when you're not on long drives in less populated regions like earlier on in the trip when we were passing through Northern Nevada, Southern Idaho, and both Eastern Oregon and Eastern Washington.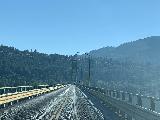 We'd eventually reach Hood River, where we then took the toll bridge across the Columbia River into Washington State again.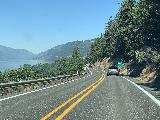 This time, we took the roads north towards this town called BZ Corner, and then we followed some rural highway towards Outlet Falls, which apparently sat within the Klickitat Reservation.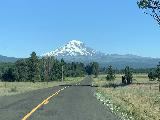 As the drive went from forest into open farmlands, that was when we had gotten views of Mt Adams looming in the background.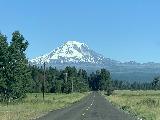 There were no formal places to pull over and get a view, especially since the roads didn't have shoulders so we had to be content with taking road shots.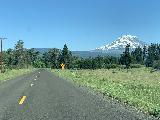 Ultimately by 9:30am, we got to the very easy-to-miss and unsigned parking area for the Outlet Falls, where you really had to know this place was here to even find it.
It even got Julie to doubt that we were in the right place.
The key to even knowing to pull over here was that there was a pole as well as a smaller reflector kind of surrounding the small rutted parking area between trees.
But upon getting out of the car, I could hear the sounds of falling water so I knew that we were in the right place.
However, it took some time to scramble around looking for the proper place to scramble to get a proper view of the waterfall.
Eventually, I'd hike in the downstream direction and see some rocks that I could carefully scramble onto, which led to a ledge that peered right down at the plunging Outlet Falls, which was half in shadow.
Julie saw how dicey some of the scrambling and dropoffs were here and didn't bother joining me.
In any case, I got my views of Outlet Falls, got my photos and videos, and then returned to the car at 9:55am.
Then, since we had passed by Hood River on the way here, we now backtracked towards Hood River so we could have an early lunch at the Broder Ost Restaurant.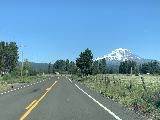 I had entertained the thought of continuing east towards the Kickitat Canyon Overlook, but in the interest of time, I ultimately decided that we were heading straight to Broder Ost to minimize any wait times for that early lunch.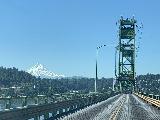 We'd ultimately get there by 10:45am, just as it was becoming 93F in the town.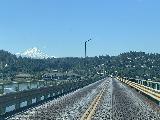 The inside of the restaurant was air-conditioned, but it was crowded, and since Tahia still wasn't vaccinated yet, we didn't feel safe bringing her in there.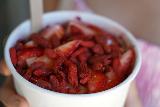 So we opted to sit at one of the three tables outside, which was definitely subjecting ourselves in the scorching heat in the name of her safety.
Anyways, we had ourselves some Danish pancakes, Swedish meatballs, Salmon fishcakes, and my Lindstrom Burger, all of which we had before when we were last here two months ago.
So the meal definitely hit the spot, but we did so while sweating it out despite having cold water and Tahia having her acai bowl from a neighboring establishment when we were waiting to get seated.
We were back in the car at 12:15pm, and at this point, we could finally make the drive towards Bend, which was the next place we were staying at.
The drive pretty much went uneventfully as we skirted by the eastern slopes of Mt Hood, and then we ultimately got to the drier parts in the rainshadow of the Cascades.
As we continued south on the US97, we could see more volcanic peaks still with snow on them like Mt Jefferson as well as the Three Sisters.
Eventually, we'd make it to the Riverhouse on the Deschutes, which was where we were spending tonight and tomorrow night, and we got there at 2:55pm.
That gave us plenty of time to sanitize the room, put the refrigerated stuff in the mini-fridge, and then let Julie get to her 4pm massage appointment at the neighboring spa.
It wasn't until about 4:25pm when I was finally done doing the chores in the room since Julie was at her massage appointment, and it was only thereafter that Tahia and I could finally go to the pool together.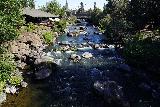 When we got to that pool, we could see that there was a very crowded outdoor pool as well as a far less utilized indoor pool, which felt like a greenhouse inside despite the doors being open.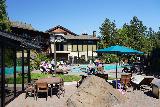 So we did the indoor pool, where we'd spend the next hour or so doing things like playing tag or subjecting Tahia to some rasslin' moves that involved flipping her into the water.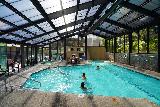 Eventually, Julie found us at the indoor pool, and by 5:45pm, we got back to our room to shower off the chlorine.
By around 6:15pm, we all went back in the car so we could head our for dinner as well as do a Target run.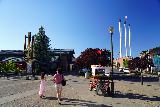 We ended going to the Old Mill District, which was basically a charming little outdoor mall that was once a sawmill area.
It featured a huge REI that had three towers rising from its building, and the Old Mill area also featured a walkway or bikeway along the attractive Deschutes River – the same river that split our accommodation.
We eventually got to this place called Flatbread Pizza, where we got to try some Napoli-style (i.e. Neapolitan) pizza with both gluten and gluten-free crusts of margherita and quattro stagioni, respectively.
The pizza really hit the spot though the margherita crust was burnt so the waitress accommodated us for another one that ultimately stuffed us.
Tahia then got her raspberry sorbet gelato, to help offset the heat though it was feeling pretty good thanks to an afternoon breeze as we were sitting in the shade as we had dinner.
Then, after the dinner, we briefly checked out the Deschutes River before exploring the fancy REI at the Old Mill District, where its interior had some remnants from this building's milling days.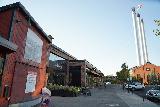 We didn't buy anything though we did try to find a replacement bottle cap for my 40 oz stainless steel bottle that was missing a cap.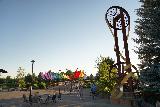 Anyways, the place closed at 8pm, and eventually after making a Target run, we ultimately got back to our accommodation by around 8:30pm, where we'd then finally wind down the day as we looked forward to finally seeing Tumalo Falls tomorrow.
But whether we'd have to walk in record temperatures or not would depend on how quickly we wake up and get there, especially given how busy Bend was with out-of-towners…