Day 15 (June 27, 2021 – Bend, Oregon): "AO River!"
It was 5am when I awoke to the alarm, but I knew that getting choice parking spots for Tumalo Falls was going to be difficult if we didn't get the early start so I embraced getting up even though I felt a bit groggy.
As the sun rose at 5:30am, Julie finally got up, and she immediately went about preparing some hot dogs in the pressure cooker so we could picnic with it as breakfast at Tumalo Falls.
So by 6:10am, we were in the car and headed out.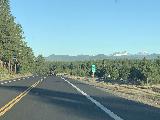 The Garmin Nuvi had me go on some weird routes, which ultimately took me to some kind of dead-end that we had to detour around due to road construction.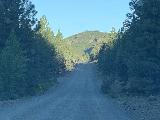 But we'd eventually be on the right road as we were following Skyliners Road west into the mountains en route to Tumalo Falls.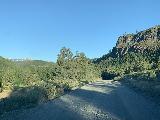 During the early morning drive, we saw numerous mountain and street bikers as well as joggers trying to get their exercise in before the record heat was forecasted to overtake much of the Pacific Northwest.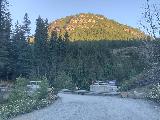 Even Bend was subject to 100F while Portland was forecasted to get over 110F today!
Regardless, our drive towards Tumalo Falls was pretty smooth until we got to the gate, where the remaining 2.5 miles was on unpaved road.
This was the part that kept us from visiting two months ago when this road would be closed while it would still have snow covering it.
So finally on this day, we sought out Tumalo Falls, which had long been on our bucket list (especially Julie's) for many years but we've never had the chance to experience it given its location.
Finally at 6:40am, we arrived at the end of the road and the Tumalo Falls parking area, which only had room for perhaps a dozen cars or so.
There were already a handful of cars here, but we managed to snag one of the closest spots opposite the restroom facility.
Just as Julie and I were getting started while Tahia was still asleep in the car, there were more cars that were pulling in, which attested to how busy this place was.
We first went to the nearest lookout, which had the classic view up Tumalo Creek towards the classic-looking waterfall (almost reminding us of Rainbow Falls near Mammoth), where we took a few shots.
Then, Julie retreated to the car so she could have her breakfast in the car.
At the same time, I was taking a few more pictures (and swatting away some pesky mosquitoes already out this morning) before I pursued the upper lookout.
Along the way, I noticed a well-used but unsigned spur trail leading to the right somewhere near half-way up the ascent.
In following this path (noticing that most people out and about this morning didn't pursue this path), I continued following the well-used trail, where I even saw some infrastructure suggesting to me that it's a legitimate trail despite the lack of trail signage.
The narrow trail continued to skirt towards Tumalo Creek before veering to the left and skirting some pretty steep cliffs holding up the overlooks directly above.
Eventually, I got to some nice close-up views of Tumalo Falls fronting some trees just as I was starting to feel the waterfall's spray.
Continuing further, the slippery trail ultimately descended past more roots towards the almost-back-side of Tumalo Falls, where most of the spray was happening.
Technically, I couldn't go totally behind the waterfall since it was too wet and slippery there, but I got the idea of this impressive waterfall from up so close.
Once I had my fill of this spot (and getting some mosquito bites along the way), I then backtracked towards the main trail where I saw two more parties of people making the climb.
Indeed, this place was popular.
I'd eventually make it up to the upper lookout, where most of the people crowded at the overlook protruding over the cliff.
I went ahead and proceeded towards the brink of Tumalo Falls, took my videos and pictures, and then backtracked to the lookout when the place was mostly vacant once again.
It was around 7:30am when I had gotten up here, and I could see further downstream that the parking area was pretty much full even though it wasn't even 7:30am yet!
Good thing we indeed got the early start.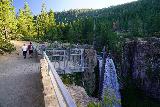 After having my fill of this spot, I then returned back down the trail to the parking lot, where I rejoined Julie and Tahia for some breakfast.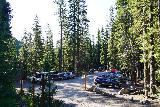 But before digging into the cooler, Julie, Tahia, and I went back to the nearest lookout for some selfie shots before retreating back to the car.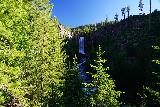 I helped get the jungle juice out so we could better protect ourselves against the mosquitoes, and do this while having the hot dog wrapped in lettuce breakkie.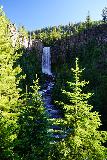 Finally at about 8am, we had our fill of Tumalo Falls, just as the sun was breaching the immediate cliffs around us, which caused light and dark zones.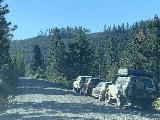 Someone was gonna get lucky getting our spot, but in any case, we still had another waterfall to pursue in the Newberry Crater National Monument, and try to explore that place before it would really get hot.
And so we took the local roads back to the US97, and then we followed the US97 south for quite a while.
During the drive on the US97 southbound, Julie and Tahia were dead asleep in the car.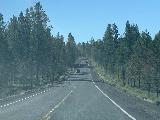 In the mean time, I was paying attention to the traffic (including one cop on the other side that I made a mental note to watch out for on the return drive) as well as some signage mentioning things like a Lava River Cave as well as other turnoffs for Newberry Crater.
Eventually, we reached the signed junction leading towards Paulina Lake, and we took this side road past a scenic overlook of the Three Sisters, and eventually to an entrance kiosk.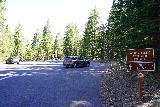 I showed my Interagency Pass and Photo ID, as once again, having this pass was paying us dividends even for places that we didn't expect there to be National Park entrance fees (though National Forests and National Monuments also seemed to honor my pass).
Ultimately at 9:10am, we arrived at the Paulina Falls parking lot, where we managed to snag one of the few shaded spots.
Julie and Tahia were still asleep so I went ahead and solo'ed this excursion, where I started with the 1/4-mile path leading down to the base of the falls.
There was a friendly guy whom I spoke with earlier that said he was beating the heat, especially in Portland, just as everyone else was apparently headed to the coast.
They were headed to the overlook on the right so when I went left and went to the bottom, I was all alone.
It was a good thing that I showed up to the bottom of the falls by 9:30am because it was just when the sun was about to breach the cliffs and trees and force me to look against the sun.
So I got what photos and videos that I could from this spot before it would become too unwieldy to take pictures.
And after having my fill of this impressive spot where I got to look up at the pair of segmented waterfalls, I then went back up towards the signed junction.
Then, I went left and went towards the main overlook, where there was a family taking a family shot there with the help of another guy.
I then had time to check out the lookout where the sun was more or less behind me so I could look across the pair of falls despite the shadows and high contrast.
Once I had my fill of this spot, I then continued along a 0.3-mile trail leading to a bridge over Paulina Creek at the mouth of Paulina Lake.
It was tempting to scramble across the stream and shave off a chunk of this hiking distance, but I thought better of it, and went the longer more sanctioned way.
After crossing the bridge and taking the trail back downstream, I'd finally make it to the overlook on the opposite side of Paulina Creek, which was pretty much against the sun and also concealed the larger segment.
I got here at 10:15am, and it didn't take long before I retraced my steps, then rejoined Julie and Tahia right at the overlook (apparently she had gotten my texts since there was some cell reception up here).
So we took a few minutes to take people shots before more people started showing up around this lookout.
Finally, at 10:40am, we were back at the parked car, where we then debated whether to check out the Newberry Crater (I wasn't sure if the photo on the newspaper was from a drone or from a legitimately high spot) or just head back to Bend.
We ultimately decided on going back to Bend since I doubted that the attractive photo of Newberry Crater would have been taken from terra firma.
We also decided not to pursue the Lava River Caves since we had seen numberous lava tubes in our lives.
Once we made up our minds, we then drove back down towards Bend while making one stop at a scenic view of the Three Sisters Wilderness.
The drive back towards Bend was mostly uneventful though I was quite surprised by the volume of traffic already out and about on the roads.
It got me thinking that maybe tomorrow morning, we should get an early start to have a smooth go towards Crater Lake on the way to Medford and Ashland.
By about 11:40am, we returned to Bend, where we stopped at a Natural Grocers right across the street from the Riverhouse on the Deschutes.
There, we picked up some stuff that we could Instantpot for lunch, and we picked up some refrigerables like kefir, fruits, and even a Strauss Cookies 'n Cream ice cream.
By 12:05pm, we were back at the Riverhouse on the Deschutes where we had our choice of parking at one of the few shaded spots.
And so for the next couple of hours, we were having ourselves a family lunch in the room while listening to the sounds of the Deschutes River.
After the lunch, I decided that I was going to pursue Benham Falls though Tahia and Julie could check out the outdoor pool this time around…
I know that I had greater ambitions for chasing waterfalls in the Three Sisters Wilderness when I planned out this trip, but the history-making heat-wave in the Pacific Northwest didn't make that idea practical.
And so I had to settle for the 0.5-mile hike to the rapids or smaller cascades on the Deschutes known as Benham Falls.
Regardless, food coma was already setting in, and with the tremendous heat of the day, I'd have to fight that temptation to sleep to really be in the moment enjoying this scenery before me.
I left the Riverhouse on the Deschutes at 1:50pm with the car still sitting in the shade, fortunately, because it was really scorching hot at this time.
The car's thermometer had the outside temperature at somewhere over 100F, and I went ahead on the US97 south as I followed my Garmin Nuvi's directions towards the Benham Falls Recreation Area.
Eventually, I'd get off an exit that also featured the Lava River Cave, but I just continued on the 4-mile unpaved route (with some deep potholes along the way) until I ultimately got to the Benham Falls East Trailhead at 2:15pm.
Without wasting any more time, I went ahead and geared up while deciding to hike in my Chacos (as I had been doing all day long).
Aside from watching some people floating on the calmer parts of this section of the Upper Deschutes River, I went ahead and followed the wide 1/2-mile trail back towards a footbridge further downstream.
From this footbridge, I could see that there were lots of people swimming in the river on the other side of the bridge to cool off.
As I continued past the bridge, I was then on a continuation of the wide trail (more like an unpaved road) that had plenty of moments of shade so I was vacillating between flipping my hat on and off (given the extreme heat).
The river remained calm for a stretch as the trail went alongside it, but I noticed on the opposite side of the river were large lava fields consisting of the more sturdy basalt rocks as opposed to the more pudding-like texture that I saw on the Big Island of Hawaii years ago.
Ultimately, I'd get towards the parts where the Deschutes River was going turbulent, which was just as the wide trail started to split with a narrower trail following along the banks of the river.
I initially followed the wider trail (not sure if the narrower trail was sanctioned or not), but when I got to the next merge of the trails, I then decided to follow the narrower riverside trail just as the Deschutes River was really getting good.
At one point, I got down to the banks of the river where it was making a bend jut between some really turbulent (maybe Class V) rapids.
As I continued along the trail, I noticed more offshoot trails leading to pretty dicey viewpoint spots on rocks perched high above what I presumed to be the Benham Falls.
From this vantage point, it was hard to get the whole rapids in one go with the camera, and it was hard to convey the butterflies-in-the-stomach as well as the immense scale through the lens.
In any case, the side trail rejoined the main trail again, but this time I saw that there was another fork that went to the Benham Falls West Trailhead.
That made me wonder if I could have saved time by driving to that other trailhead instead of the East Trailhead, which forced me to walk a half-mile in each direction.
Then again, at least I could see that the East Trailhead approach allowed more opportunities to cool off in the calmer parts of the river whereas the western side was pretty much all fast-moving rapids downstream of Benham Falls.
Eventually at 3pm, I followed a wooden-railing-lined pathway that ultimately led me to what appeared to be the official lookout for the Benham Falls.
There was a memorial sign here for someone who lost his life at a young age so I could see why it was a good idea to have this overlook so the off-trail scrambling towards dropoffs would be kept to a minimum.
After having my fill of this spot, there was a father and daughter who was making conversation with me, and I learned that they were from San Juan Capistrano, which was just a bit further south from where we live.
He mentioned that he met other Southern Californians on his trip, and it seemed like we were taking over the Pacific Northwest.
I told him that we drove out this way to try to beat the heat that will inevitably bake SoCal, but it seemed like the heat followed us up here (and a record one at that).
When I mentioned the unprecedented nature of the temperatures in these parts, I noticed his hesitation (which made me wonder if I might have touched upon the sensitive subject of Global Warming, which many people still deny).
He insisted that the heat up here was more of a dry heat, which is something we're used to, but I also warned him that if he was going further north towards the rainforests, then the heat becomes muggier (as we had experienced in the Olympic National Park a few days ago).
With that, we parted ways, and I explored a little further downstream just to make sure that I covered my bases as far as Benham Falls was concerned.
By 3:25pm, I made it back up to the Benham Falls West Trailhead, and then I made a beeline back to the East Trailhead, which I got to at 3:45pm.
I was a hot sweaty mess by this time, but I guess that's to be expected since the car's thermometer now said that it was about 105F!
With the discovery that I could maybe fit in one more waterfalling excursion on the Deschutes River before returning to our accommodation in Bend, I decided that I should pursue Dillon Falls, which was a little further downstream from Benham Falls.
I wasn't going to hike another 3.5 miles for it though, but I figured I could try to drive to it instead on the way back to the accommodation.
And so I would follow the road back to the US97 northbound, and then I'd take the exit that would ultimately lead me to the Cascade Lakes Highway.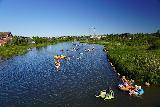 Along the part of the drive that passed through downtown Bend, there was one bridged crossing of the Deschutes River, where I saw hordes of river tubers floating downstream in a scene that totally reminded me of the AO River sketch in Portlandia.
It seemed like floating in the river was a thing in Oregon, but on a day like today, it made total sense that this was THE thing to do when the temperatures get hot (or historically hot like today).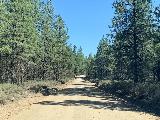 Eventually, when I got to the Cascade Lakes Welcome Center, I then took a left turn onto Conklin Road, where a sign indicated that I was entering the Upper Deschutes River Recreational Area.
After a few miles of driving (getting past other spots like the Great Eddy and the Lava Island Falls), I'd eventually reach a signed turnoff for Dillon Falls on the left with the Benham Falls Trailhead another 3/4-mile further.
Taking the Dillon Falls turnoff, I then got onto a rather dusty unpaved road leading down to some boat launch areas though the very end of the road ultimately led to the day use parking area.
I got there about 4:30pm, and then I proceeded to quickly walk downstream on the trail as it followed along the Deschutes River before reaching some series of forks near where the Deschutes River was getting turbulent again.
Keeping right at the junctions, I found a few spots to get some across-the-river looks at the Deschutes River (I couldn't tell if it was the official Dillon Falls) until I got to a rock outcropping further downstream with a more regal view of the falls and its surroundings.
Indeed, with this particular waterfall, it seemed like there were lots of hardened lava fields flanking the opposite side of the Dillon Falls and Deschutes River, which made this waterfall more unique than Benham Falls.
I'd eventually go far enough downstream to remove any doubt about whether I had finally seen Dillon Falls, which was tricky because there wasn't an obvious signed or railed lookout to let me know that I had arrived at the best viewing spot.
Like with Benham Falls, there were more precarious rocks to scramble onto in order to get somewhat satisfactory views of the rapids looking more like waterfalls from this vantage point.
Nevertheless, after having my fill of the Dillon Falls, I then backtracked the way I came and eventually got back to the parked car at 5:05pm.
With this final waterfall of the day being over with, I then drove back towards the Riverhouse on the Deschutes again.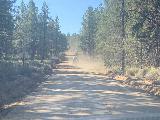 I was running late, but when I eventually got back to the roadside crossing of the Deschutes River, I just had to capture the AO River scene though it was a bit on the unsanctioned side because it involved walking onto a busy road bridge to get the desired shot.
Regardless, by about 5:40pm, I had finally returned to our accommodation, where Julie and Tahia went down to rejoin me in the car so we could go hit the desired dinner spot, which Julie had her sights set on this place called Spork.
Unfortunately, when we got there at 5:50pm, the restaurant had just closed for the next few days! Bummer!
I guess we should have eaten here yesterday when we wound up getting pizza instead.
Moreover, when Julie was exploring places to eat in Ashland or Medford for tomorrow, it turned out that both Sauce and any of the tapas joints were closed.
Indeed, it felt like Julie's fooding attempt were coming up empty.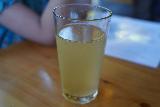 So we wound up eating at this charming little house called Kebaba where an outdoor seat was just made available when we showed up.
We were hungry, and Julie wasn't going to be denied an eat-out dinner after all the strikes earlier on this afternoon.
We ultimately got something like 4 refreshing glasses of pear kombucha from a draft along with a chicken kebab, a spicy lamb over hummus, a yellow curry dish, and a salmon kebab.
The meal ended with a dessert of the "mud puddle", which was basically a delicious lava cake brownie (with crispy texture) accompanied with three scoops of vanilla ice cream that really hit the spot.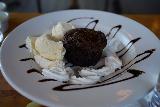 That dessert was much appreciated by Julie and Tahia because they were suffering in the heat of sitting outdoors in much the same way we were sweating bullets while having lunch in Hood River yesterday.
By about 7:15pm, we were finally back in the car after paying the bill of the rather reasonably-priced dinner though it seemed like we just beat the rush of more parties of people waiting to be seated.
Ultimately by 7:35pm, we made it back to the Riverhouse on the Deschutes, where we looked for a shady spot close to our unit so we could easily pack our stuff and go tomorrow.
But there was one guy who double-parked in a shady spot that prevented us from having that spot.
Another guy was over the line when he parked so it was tight.
So in the end, we got a rather sunny spot, but we knew that we weren't going to go back outside in the hot evening sun later on tonight so it didn't matter too much at this time.
When I got out of the car, I noticed that my wallet appeared to be protruding from the lone zippered pant pocket of my REI pants, which was worrisome because I had the car keys in that pocket during my hikes.
I could have easily lost the car keys over cliffs and not even know about it! So that was a close call!
Anyways, with the surprisingly long day that I've had, I was ready to get cleaned up and crash, especially since it took some time to clean up my feet since I had been hiking in Chacos all day long and I was getting Naked and Afraid dirty feet.
Tomorrow, the temperatures were forecasted to rise even more, but at least we were intending to auto tour in Crater Lake and see if there's a spot to have an early dinner in Medford or Ashland while perhaps letting Tahia play in a pool again.
Indeed, we were on our way home, and this trip was about to come to an end in the next couple of days…