Day 9 (April 9, 2021 – Sacramento, California): "Wildflower And Basalt Bonanza"
It was about 4:55am when I awoke, and I immediately started the day with some catching up on the blogging and then having a kefir breakfast with the remaining fruits that went unconsumed.
Once again, it took Julie and Tahia time to get up and ready for the day, but I think the motivation of not lingering in Eugene was enough to get them up and ready to check out.
By about 7:15am, I started to load up the car, and it was definitely a rather chilly morning where there was even frost on the windshield of the car.
Regardless, not much later after I was done playing tetris with our luggages and belongings, Julie showed up and we were ready to go.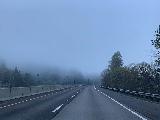 And so began a rather very long drive from Eugene down to Sacramento by way of Oroville and the Phantom Falls.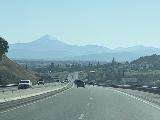 Aside from some noteworthy volcanoes seen from the I-5 south like Mt McLoughlin as we were approaching Medford and Mt Shasta as we were returning to California.
By and large, the drive was very smooth and most people respected the road rules to keep right except to pass (though there are always a few exceptions of people who apparently act like they own the fast lane).
We made one stop in Medford, Oregon to fill up on gas (they still did full service down there) as our last chance to fill up without the higher gas prices in California.
There was a Dutch Coffee place there, but the drive-thru line was way too long for Julie to bother with it so she settled for the watery coffee from within the gas station, which she regretted.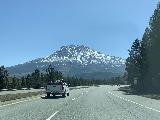 Anyways, at 10am, we were done with the gas and doing our pit stop before we resumed the long drive.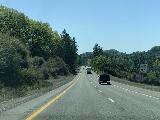 Finally at 1:50pm, we arrived at a very busy parking lot on Cherokee Road.
Since there weren't road signs for this spot, I had assumed that this was indeed the North Tablelands Ecological Preserve parking lot and thus the trailhead for Phantom Falls.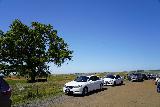 I never imagined this place to blow up the way it did like this, and I suspected that the whole Instagram phenomenon and websites touting this place that it has forever changed into a very busy one from a rather obscure one.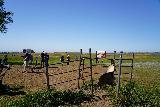 Fortunately, there were plenty of parking of spaces from what I could tell both along the rough and bumpy (but still paved) Cherokee Road and within the rocky unpaved parking lot.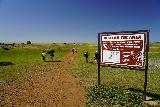 Heck, there were even about a dozen portapotties sitting outsite next to the lot as well as a food stand by the roadside, which further attested to this place's popularity.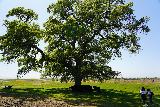 Also quite apparent was the wildflower display right from the parking lot, which at least would occupy Julie and Tahia while I would go out and pursue the Phantom Falls.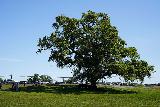 Plus, it was already quite a hot day (a stark contrast to the rather chilly weather throughout both Idaho and Oregon).
Indeed, I guess being back in California meant being back in the drought conditions as well as warm temperatures, and I wondered whether home would be seeing more Summer-like temps in the Spring.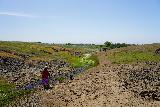 Anyways, after gearing up (mask, hat, backpack with two waters, boots, and leaving the trekking poles and tripod behind), I finally started hiking at around 2:05pm.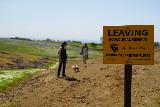 After passing a sign (where it had a QR code to pay for entry into the trail though I wondered how many people actually paid) and a cattle maze, I then followed a very busy and quite wide trail that was a combination of dirt and basalt while wildflowers can be seen as far as I can see.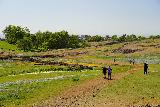 While this place wasn't the superbloom that we had experienced a couple of years ago, it was still beautiful and colorful.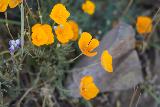 It wasn't long before I reached a signposted trail junction where Hollow Falls went to the left and Phantom Falls with Ravine Falls veered to the right.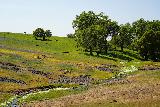 I didn't recall in my pre-trip research that such a sign was here, but perhaps this must have been a new development where the authorities managed to add more infrastructure to turn this excursion into a sanctioned and easy-to-follow system of trails.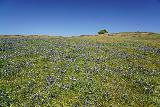 Due to the volume of people on the trail (very few of them wearing masks since I guess we were in Trump country again after seeing all the MAGA and Trump 2020 signs throughout the drive to get here), I had to breathe through my mask for much of this stretch of the hike.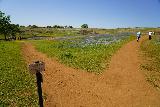 Speaking of Trump supporters, I suspected that most parts of rural California voted Republican because it comes down to how you make your money, and most farmers don't want regulators telling them how they can use their land.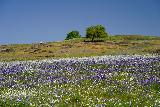 Of course, freedom to do what you want also comes with responsibility for your actions, and I guess when it comes to using chemicals, taking freshwater resources, clearing land, etc., they're all part of the SOP to maximize wealth building.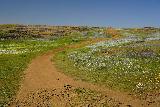 Unfortunately, that means they're profitting off of not paying for their own pollution or other impacts to the environment and to society (due to the anti-pest or high-yield chemicals) as such societal costs are externalized.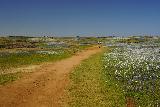 And thus, it's that familiar theme of market distortions in our policies forcing people to behave like money matters regardless of what the moral compass says, and it's why I contend that our system forces all of us to be a**holes to other people as well as the environment.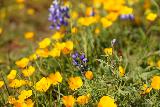 If we want to solve Global Warming, an equitable society, and overpopulation, it must be solved at the policy level or else doing the responsible thing can only be accomplished by the well-meaning rich (as well as fought off by the not-so-well-meaning rich).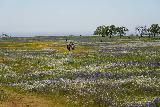 But that's where the cancers in our governing bodies are primarily doing the wealthy corporations' and magnates' bidding since they're bought off.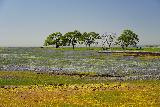 Speaking of the cancers, we've seen quite blatantly during the Trump Administration that they're pretty much coming from the Republican side, but I've seen that there are plenty of Democrats haven't exactly gone about government policies effectively either.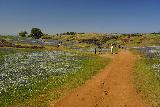 In my mind, it's quite similar to oil princes in the Middle East or drug cartels in Central and South America buying off police and politicians.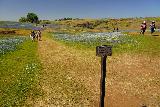 That's the reality of the situation around the world, and why I suspect the breaking point is worldwide armed revolution or a war.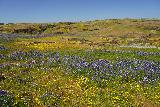 Such societal cataclysms would reset the world order, but new world order is not guaranteed to be functional since it's as random as the people who come out on top after all the chaos has settled, and that's pretty much been the randomness exhibited throughout the course of human history.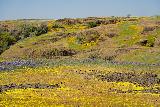 Indeed, doing road trips like this constantly remind me of why traveling in America is not as stress-free and invigorating as traveling to other countries (which the pandemic has put a halt to), but it is what it is, and it's really up to the randomness of fate that drives us forward.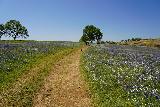 Sure enough, nothing works in a vacuum and in the end, it's all interrelated so for better or for worse, we just try to control things in our own local situation as much as possible even though external forces continue to undermine our own sense of well-being.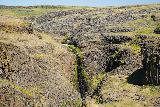 Regardless of all my mind exercises as I adjusted to the crowds, I then got back to appreciating the trail and the wildflower displays, which easily could have occupied my time and attention by themselves if not for the Phantom Falls pursuit.
Eventually, I reached a sign at a junction pointing the way to Ravine Falls (and Phantom Falls), and I noticed a hard-to-see trickling waterfall dropping into the aptly-named ravine.
The low flow of this waterfall was kind of concerting to me as it appeared that maybe I might be set up for disappointment as far as the performance of Phantom Falls would be concerned, but as I documented the experience, I did hear voices coming from within the ravine itself.
Clearly, there must be a way down, and so I continued on the trail, which actually descended into the ravine without a scramble.
Sure enough, there was a signpost right at the spur for the base of Ravine Falls, and by 2:50pm, I got right at its base, which had a nice, cool setting here.
There were a small group of Vietnamese glamour photo takers (we see this at home as well on some of the local waterfalling spots) as well as a scattering of other people chilling out and enjoying the light-flowing waterfall.
It was apparent that this waterfall was merely the lower section of the sun-bathed upper tier that I saw earlier.
In any case, after having my fill of the Ravine Falls, I then had to go up the narrow trail, which eventually went into another little fence-maze backed by what seemed like more yellow and orange wildflowers (were they poppies?).
The trail then continued to ascend towards another signed trail junction where the left fork went towards the Phantom Falls overlook as well as the Lower Ravine Falls while the right fork continued to the Phantom Falls.
All these signs and infrastructure definitely made me think that this wasn't the cross-country grassy scramble amongst cows and cow patties that it was in the recent past (at least from what I gleaned in my trip research).
And indeed, the authorities definitely did a good job at controlling the flow of traffic to minimize impacts to the adjacent farmlands I'm sure, but they really should have staff on hand to enforce proof of payment to hike this area to keep it sustainable.
I had a feeling the vast majority of visitors here didn't even bother paying.
Anyways, I first kept left and went towards the Phantom Falls Overlook, which at first was blocked by trees, but then I noticed an outcrop reached after a fairly dicey scramble past a dropoff while clinging to a narrow basalt ledge.
And finally at 3:15pm, I witnessed the glorious scene of Phantom Falls still flowing in the distance with a sister waterfall barely flowing in the foreground merely leaving a trickling streak on its basalt cliff.
I guess I was perhaps a month too late to really see the falls flowing at their best on this year (which was turning out to be one of our drought years), but the wildflowers throughout the hike made up for the diminishing flows.
I was also appreciative of the fact that I was pretty much all alone on this outcrop while the vast majority of people hiked closer to a different bluff looking down at the main Phantom Falls (which I could see the flow of traffic from my vantage point).
In addition to the waterfalls, I also noticed these eagles or condors (I couldn't tell what they were) gliding through the sky this way and that.
Too bad I didn't have my super telephoto camera with me to capture photos of them at high speed.
But at least for this brief moment on the hike, things were somewhat right with the world watching Nature do its thing despite all the things around them going to hell.
After having my fill of this spot, I then carefully scrambled back to the main trail, and then I decided to continue pursuing the Lower Ravine Falls just to see where it was going.
The trail continued through an open flat area going past burnt trees and wildflower mats set back from the cliff edges before reaching a fence with a narrow opening that I had to squeeze through with my pack.
Then, the trail descended a rather narrow path with lots of loose basalt rocks on them (there was only one pair of male hikers on this route that I encountered) before I finally got down to the top of Lower Ravine Falls at 3:45pm.
So I took some time to take pictures and videos of this spot before heading back up, which was right before a Hispanic couple apparently was coming down from the other side of the Ravine Creek.
There was no way I was going to continue to extend the hike for another mile or so downstream to pursue the Beatson Falls though maybe one of these days, I might consider doing that one in the future.
Finally at 4:05pm, I had returned to the main trail and the associated crowds and I had to breathe through my mask once again.
Five minutes later, I finally reached the bluff with a closer and somewhat direct view of the plunging Phantom Falls, which actually produced a light rainbow in the afternoon lighting.
Then, after having my fill of this spot, I went ahead and pursued the rest of the Phantom Falls Trail according to the map on my Gaia GPS app, which actually went past the brink of the falls.
And so I followed along the cliff edge yielding even more unusual views of the waterfall before the steep descent ultimately crossed the so-called "Gold Run" (which I guess was the name of this seasonal creek) at 4:25pm.
Then, the trail steeply ascended past the creek as I then found myself hiking amongst a post-bloom area of flower fields that might have seen the peak of its bloom pass a few weeks ago or so.
Still, the trail was becoming fainter and less obvious, and eventually at 4:35pm, I reached one of the basalt bluffs looking back at the Phantom Falls.
Just as I was doing this, I noticed that Hispanic couple that I saw over by Lower Ravine Falls apparently finding a way down to the alcove behind the plunge of Phantom Falls.
I thought to myself that this couple must be local to this area because they knew exactly what they were doing, and they took the less-traveled trail to get there.
I had contemplated figuring out a way to enter the ravine the cliff-hugging descent that they took to get down there.
But with all the faint trails all around, I knew that without having the local knowledge at this point, I'd have to scramble (and perhaps impact the fields while possible encountering a rattlesnake along the way), and I just didn't have the time for it with Julie and Tahia waiting for me.
And so this was my turnaround point as I kind of knew that we wouldn't be in Sacramento until rather late in the evening.
By 4:55pm, I had returned to the top of Phantom Falls, where I carefully made my way all the way to the cliff edge just to document a few more photos and videos before making my way back up the steep incline and ultimately back to the main trail.
I had entertained trying to take a more flatter approach back to the parking lot, but I could see that the trail signage and fencing ensured that there would be no trespassing shortcuts to return.
In fact, the sanctioned trail went back to the fencing by the wildflowers and descent back to Ravine Falls (getting back there at 5:15pm), and even when I emerged on the other end, there was a side track that went closer to the cows before rejoining with the main path again.
Along the way back, there was one trio of guys hiking with tripods who asked if I had gotten any good shots (seeing that I was holding a Sony A7 3 camera in my hand).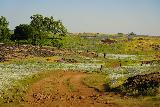 I told him that I got some OK shots, and one guy then asked why not wait around longer for the lighting to calm down to take photos.
That was when I told him that I had a wife and daughter waiting for me back at the trailhead, and he goes, "Ah yep, the wife and daughter. Always making timing your photographs harder."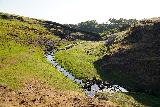 Yeah, we had that moment of mutual understanding of the constraints in life, and I chuckled and wished them a good time, and then continued on.
Finally at about 5:40pm, I returned to the signed trail junction for Hollow Falls.
Despite all the hiking and side excursions that I had done to this point, I still took the time to pursue its path, which actually went alongside an active stream where I had noticed the sound of frogs ribbiting loudly.
Of course, when I would got closer to the stream, the croaking stopped as they could obviously sense that I was coming.
I couldn't see any of the frogs though as I'd imagine they were submerged in the water since they were amphibious.
Anyways, there were still a handful of people around the top of Hollow Falls, but I just merely followed the trail signs which clung along a basalt ledge, and it ultimately took me downstream of the falls before making the final approach back up to the base of the falls.
The croaking got louder as I was approaching the partially-shaded Hollow Falls (which made photography rather difficult).
Once I was down to the stagnant plunge pool at 5:55pm, I was briefly joined by a lady and her dogs, but they then quickly left.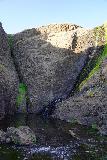 Yet, there was enough noise and disturbance to cause the frogs to stop their croaking and so I tried to document the experience in silence as much as possible.
And after a few minutes, the croaking returned until another couple came and went.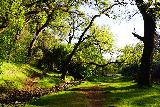 I lingered for a few more minutes just as the croaking returned again, but when I tried to see if any of the frogs would show themselves, they can hear or feel my presence whenever I moved, and then the croaking stopped again.
I guess these frogs were trying to play tricks on me, but I knew that it was probably a survival instinct where they'd croak to attract mates but at the same time, they'd lay low whenever they felt any presence of danger.
Anyways, I had my fill of this falls and I made my way back up to the main trail again (but not before I noticed another sign indicating at Beatson Falls was now about 2 miles further downstream of this point).
Given that that waterfall was further downstream, it might get the benefit of merging streams and so perhaps that waterfall might be worth pursuing in the future, but for now, I was getting tired and we still had a fairly long drive to get back to Sacramento.
And so by 6:25pm, I finally made it back to the car though I was surprised at how many people were still at the trailhead (and some were even starting their hikes at this time).
Julie and Tahia told me that they only spent all this time taking wildflower pictures, but I told them that they really missed out by not at least trying to visit Hollow Falls or even Phantom Falls as they really missed out.
Regardless, after getting out of my boots and into more breathable Chacos, we were finally leaving at 6:35pm.
We then took the bumpy Cherokee Road south towards Oroville before continuing south on the Hwy 70 where there were worrying signs about the highway closure at Marysville between April 9-12 and suggested taking the Hwy 99 south (but I didn't see any detour signs pointing that way for it).
We actually took this road as far south as we could go before I noticed a detour sign taking us towards the US20.
There was one obstacle by some railroad tracks where it looked like someone had lost his bumper at the top of the hill right on the road, but aside from that little incident, the drive back towards Yuba City was pretty straightforward.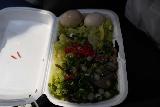 Then, we continued south on the Hwy 99 south of Yuba City as the road finally freed up into a highway once again, and we ultimately made it into downtown Sacramento where we decided to have a take-out dinner in the car at the Ramen House at 8:15pm.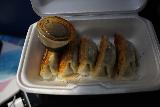 I guess Julie wanted to satisfy her craving for ramen, but I suspected that it was going to be another cheat for her.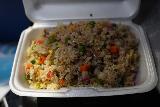 Finally after having our awkward dinner in the car, Julie then did some grocery shopping at the neighboring Safeway, where we picked up some more stuff for the final two nights of this trip.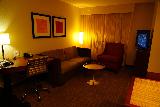 Eventually at 9:15pm, we were done and 10 minutes later, we finally arrived at the Residence Inn in downtown Sacramento.
During the drive throughout the downtown Sacramento area, it was surprisingly not run down like it was in downtown Portland and Eugene, and so perhaps we should plan on spending more time in the city instead of escaping back to Nature as planned.
We'll see what comes out of it tomorrow, but that kind of put into my mind that perhaps I wouldn't get to visit the Placer County Grove of Big Trees nor Devil's Falls on Yankee Jim Road on this trip.
Regardless, after unloading the car and sanitizing our accommodation, I then parked at the structure adjacent to the Residence Inn, and then settled into our room at 10:05pm.
At this point, Julie and Tahia were busy watching more Meteor Garden (I still don't get why they'd rather spend their time doing that instead of being in the moment on this trip), but I went as far as I could go with my photo organizing and blogging duties before I eventually crashed…
Visitor Comments:
US-93
April 26, 2021 2:59 pm
-
If you had to make time, you made the right decision to take NV 318 up to US 6. It saves a half-hour or so off the time to Ely compared to old US 93--but that's also why all the big rigs go that way, and have done so ever since NV 318 was paved… ...Read More