Day 10 (April 10, 2021 – Sacramento, California): "Calling Audibles"
It was about 4:55am when I awoke without an alarm again.
So I used the early morning hours to get caught up on yesterday's happenings considering that I was dead tired and crashed so I didn't get much done at that time.
Eventually Julie and Tahia got up at around 6:30am, and after having our own self-prepared breakfast, we finally headed downstairs and started exploring Sacramento by foot at 8:35am.
We were encouraged by yesterday night's observations so we didn't feel as uncomfortable walking around the city like how scary it was in both Portland's downtown as well as in Eugene.
The first order of business was to walk over to the rose garden and Vietnam War Memorial, which was still in partial shadow when we showed up.
Further behind the greenspace containing this attractive garden was the path leading to the California State Capitol Building, which didn't look terribly impressive from the east side.
So we spent some time walking around the south side of the building, but even that view wasn't extraordinary.
Thus, after having our fill of the building, we then walked back to the Residence Inn before heading over to Old Town Sacramento's Waterfront at 9:30am.
When we walked along L Street, we stumbled upon the Midtown Farmer's Market at 9:45am, which was bustling.
We briefly looked at the food truck options as well as the tented stalls there, but we didn't linger for long.
Then, as we continued to walk along L Street, I took a quick glance at my Gaia GPS and saw that we had been walking the wrong way all this time!
So we had to backtrack, and along the way, Julie noticed a chocolate place called Ginger Elizabeth (that was already building up a queue before they opened) as well as a place called Crepeville.
Thus, I guess our detour wasn't totally a waste of time.
Ultimately, we continued walking L Street as we passed by the DOCO and then followed a street that eventually hooked up with the Capitol Mall Street.
It was only then that we noticed an attractive Gold Bridge over the Saccramento River, and as we got closer to that bridge, we then started to notice the Old Town Sacramanto at 10:30am.
The Old Town Sacramento was basically a series of shops and eateries situated inside old-looking (almost saloon-style) buildings while there were a handful of modern joints like Joe's Crab Shack, which was right across from the ferris wheel.
There was also an interesting series of train relics as well as an active station where I guess certain paying customers could go on a joy ride on one of these things.
Looking out towards the Sacramento River, we saw some old-school steamers kind of mentally bringing us to the steamers on the Mississippi River.
Anyways, it didn't take long for us to get the flavor of the sightseeing of the Old Town, and by this time, we decided to have ourselves and early lunch at this Indonesian place that just opened when we got there at 11:15am.
The food was like home-cooked fare as we had ourselves a Laksa, Lemongradd Chicken dish (pretty spicy), and some Chicken Satay that Tahia was eye-ing.
The lunch was fairly satisfying as we had been having pretty good luck with ethnic foods on this trip.
Then, we started to walk back towards the Capitol Mall as we approached the California State Capitol Building again, but this time we were on the west-facing side, which was way more scenic.
We wound up spontaneously getting some gelato right in front of the Capitol Building (which looked like they were setting up for some kind of live performance or at least loud music), and then we eventually walked back to the Residence Inn.
Ultimately by 1:30pm, we were back in the room, where Tahia and Julie were going to stay behind to use the swimming pool downstairs while also extending their city touring (likely more like a foodie crawl).
Meanwhile at 1:40pm, I would take the car and drive it out of Sacramento and towards Auburn.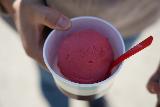 Eventually, I took the Canyon Way exit along the I-80 shortly after getting through Auburn, and then I took this local road back south towards the Yankee Jim Road.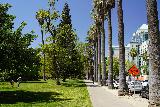 Once I was on that road, it immediately started to narrow as it went from paved to unpaved road.
Some of the road looked like it was hugging cliff ledges while also having some quite a few rocks and ruts along the way.
There were actually quite a handful of cars going in the opposite direction, which made for a few hairy situations where I had to back up to give the oncoming traffic more room to get by.
Little did I know that this was the historic Yankee Jim's Bridge though it was merely a means for me to get past the river and uphill towards Devil's Falls.
When the Yankee Jim Road descended towards a very narrow bridge over a river (which I thought was the American River or some tributary of it), there were quite a few cars parked on either side of the bridge as they were apparently after some whitewater experience on the river below.
As the road started climbing beyond the bridge, it didn't take long before the road passed in front of the Devil's Falls at 3pm, which was the target of this drive.
There were also one couple around the falls, which forced me maneuver in other positions to try to properly convey this particular roadside waterfall.
They didn't seem particularly friendly as I nodded and acknowledged them, but they seemed to want to ignore me, and the guy even seemed to have this look of disdain or annoyance on his face.
I wasn't sure if they were just being jerks or if they were particularly put off by the mask I was wearing or if they didn't like the fact that I was Asian.
So I basically savored the experience as best I could, but I just let them be as I still had to pursue the Placer County Big Trees, and I got back into the car at 3:25pm.
I decided to complete the drive along Yankee Jim Road instead of backtracking to the I-80 and then taking a separate road towards Foresthill.
Actually, the Yankee Jim Road would continue directly to Foresthill, but I wasn't sure how much rougher the road would be, and I guess I would soon find out.
Luckily for me, the road wasn't too bad, and I guess it wasn't as tight as the Devil's Falls area as well as the bridge over the river.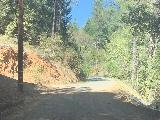 Before I knew it, the Yankee Jim Road became paved again, and I'd eventually reach the town of Foresthill.
Next, I then turned right and then made a left shortly thereafter to get onto the Mosquito Ridge Road.
Then, I followed the Mosquito Ridge Road for a long stretch despite the Garmin DriveSmart 50 having something against the Mosquito Ridge Road as it kept wanting me to take some other road even causing the estimated arrival time to be roughly 2-4 hours beyond what it should be.
Unlike the last time I drove this road with my Mom when we visited in 2016 when the road was pretty empty with very few cars (if any) going in the opposite directcion, this time, there were a handful of cars doing that.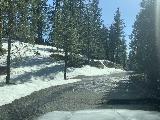 Either this road was now more popular, or perhaps today was a Saturday where all the trails and scenic spots would be occupied or filled up quickly.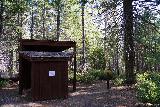 Ultimately by about 4:30pm, I finally made it to the Big Trees Trail, which required roughly an additional 5 miles or so east of the turnoff for Grouse Falls, which I didn't think I had time to do on this day.
Interestingly, I noticed that there was a sign pointing to the turnoff to the side road (I think it was Peavine Road), and I wasn't sure if there was a similar sign during our first visit some 5 years ago.
The road actually went high enough that there were some snow patches, and even on the drive down it seemed like the snow was sufficiently melted enough to allow visitation for the Big Trees Trail on this weekend.
The sign for the Big Trees Trail said that it was a 0.5-mile loop hike and so I wasted no time to get my pack, camera, and myself to get onto the hike, even despite the fact that I just wore Chacos.
The trail actually descended to the point where I had passed by some blackened trees and then descended towards a junction where a sign that said "Trail" with an arrow pointing right caused me to go that way.
Then, I reached some blank signs fronting what I'd imagine were the redwood trees featured on this trail, which was said to be the northernmost grove of Sequoia Trees.
At first there was a one giant tree as well as a trio of tall trees just further beyond, and as I continued hiking, I went past some fallen redwood tree before I ran into a snowy patch that I decided wasn't worth trying to cross in Chacos.
So I backtracked to the trail junction with the trail sign and arrow, and then I went backwards on the loop, which ultimately got me towards some signed trail junction for the Forest View as well as another blank sign fronting what seemed to be the largest of the trees in this grove.
I then backtracked on this trail and returned to the car, which I got to at 5:05pm.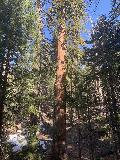 Even though there were tiny mozzies around, none of them bit me, and I was apparently the only person on the trail during my time here.
But when I returned, I saw that there was one other car parked here though no one was inside that car at the time.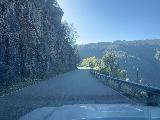 From there, I then quickly drove back along the Mosquito Ridge Road and then ultimately reaching Foresthill before taking its road all the way to Auburn, where I then took the I-80 back towards Saccramento.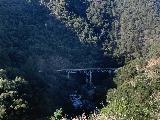 Finally at 6:40pm, I made it back to the Residence Inn, and ten minutes later, I made it back to our room where Julie and Tahia were each busy looking at their screens of choice – Julie on the phone and Tahia on YouTube on the TV.
Although I had been anticipating us driving as a family towards some crepe place that had gluten free options for Julie, she called an audible and suggested going to some pizza joint called Medici.
Apparently, she tried to make up for missing out on Tony's Pizza Teatro in Boise, and so she spent some time ordering and then we had to go pick it up.
With pizza, if we're not actually eating there, it's going to be tricky, but this joint was in downtown Sacramento, and I'm sure parking would be an issue.
Anyways, it wasn't until about 7:30pm when we left the room (our order was supposed to be ready by 7:50pm), and we actually were delayed because we waited for several cars since each one was occupied as apparently everyone was going to dinner at the same time.
So we just went into one elevator that already had one person, and then we got into the car and drove towards Medici, which was actually by the DOCO, which we saw earlier this morning while walking to Old Sacramento.
And as I had feared, the pizza joint was inside some walking street that we couldn't drive to, and thus we circled around a bit until we finally parked illegally on some alleyway or narrow street called Merchant Street.
From there, Julie went out of the car and actually walked the long way back towards L Street (or was it J Street?) even though we were parked right in front of K Street (which was what the address said).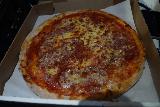 Thus, when Julie came back to the car, we immediately started eating the pizza, but as I had feared, the crusts were all soft as all the pizzas had essentially been steamed and were no longer hot.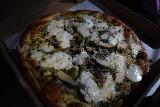 That was a pity because Julie claimed that this place got nice reviews, but it was nothing more than a disappointment and a mistaken audible that she called.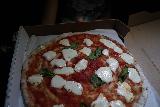 We were better off driving the 15 minutes to the crepe place and eating there since it already took us more than that time circling around trying to find a place to park and for her to walk to the pizza joint.
Oh well, our last meal in Sacramento ended up being a mistake, and we should have stuck to our guns with the crepe place with the gluten free options as well as escargot.
Lesson learned, unless you're actually eating immediately at the pizza joint or able to park close by, forget about trying to force it to happen in a downtown location where driving and parking is too difficult.
I wasn't too pleased that Julie opted for this decision being totally blind to the parking and location situation, and I attributed that to her not being in the moment as she was too busy watching Meteor Garden or whatever other Chinese drama on this trip.
Anyways, we got back to the room at around 8:35pm, and thus we settled in for one last night on our trip.
Frustratingly (but not surprisingly), she went right back to watching Meteor Garden again, and sure hope this wouldn't lead to yet another sleep-deprived night where she'd put our early start to our drive home in jeopardy and then complaining about an early wake-up…
Visitor Comments:
US-93
April 26, 2021 2:59 pm
-
If you had to make time, you made the right decision to take NV 318 up to US 6. It saves a half-hour or so off the time to Ely compared to old US 93--but that's also why all the big rigs go that way, and have done so ever since NV 318 was paved… ...Read More