Day 1 (April 1, 2021 – Twin Falls, Idaho): "Lonely Road of Faith"
It was about 4:30am when I awoke to my alarm after having gotten maybe about 4 hours of sleep, but with a long drive ahead of us all the way to Twin Falls, I knew that we as a family had to be efficient.
The itinerary for this Spring Break Trip was to do another long road trip that would start in Twin Falls, Idaho, head west towards Portland and the Oregon Coast, and then end off in Sacramento before going home.
It was sort of a path-less-traveled though I had no disillusions that it was not going to be busy since it was Spring Break, and from last year's experiences, there were lots of people out and about (and probably not working) and going outdoors instead of going to amusement parks or other city-based activities.
So I wasted no time in getting up, and resuming the loading up of the car that we had already started last night.
Usually, early starts like this are a disaster when it comes to getting Julie and Tahia up and out of bed, but they remarkably cooperated roughly a half-hour after I had gotten up.
And thus, by about 5:55pm, we were finally in the loaded up rental car and we were finally out of the house, which was pretty much as on-time as I could have hoped.
Most of the drive out towards the I-15 (as if we were driving to Las Vegas) was as smooth as I could have asked for despite there being some pretty high volume of cars even out this early in the morning.
But we were making pretty good time, and we eventually got to Las Vegas by about 9:25am where we were barely able to make it on a single tank to a gas station just east of downtown Las Vegas (in not the greatest of areas, mind you).
Ten minutes later, we resumed our drive and not long after that, we then left the I-15 for the US93, where we were now on a long drive headed north across the long part of the state of Nevada.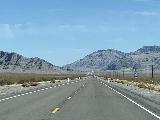 This was a highway that I had never driven before, but it was as if we were headed to Great Basin National Park, which was one of the least-visited and most remote national parks in the lower 48 states of the USA.
I had anticipated a long and desolate drive out in the middle of nowhere, and it was pretty much that.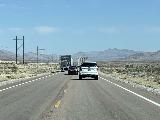 However, there were many big rigs along this two-lane highway (one going in each direction) so we had to do a lot of passing, which was always a dangerous situation considering how many vehicles I saw going in the opposite direction.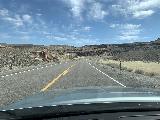 That said, fortunately, this highway was not nearly as high-traffic as the US395 along California's Eastern Sierra spine, and it was light enough that even big rig trucks were passing other big rig trucks or RVs pulling trailers or other vehicles.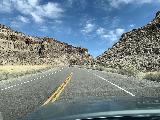 With Southern California getting into the 90s yesterday and forecasted to do the same today, we were worried that the deserts of the Great Basin that we were passing through would be even more brutally hot, and we were dealing with the start of April!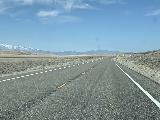 But as we went further north on the US93 for a long stretch, we were surprised to see fairly thick blankets of snow in the mountains flanking the US93 and then the US318.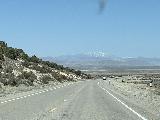 The snow then became an even more persistent presence going north on the US6, which was yet another surprise, and it made me start to wonder if we should take a week to come back to this part of the state this Summer to finally explore the Great Basin National Park.
We wouldn't have the time to do it on this trip, and we'd probably run into complications with the snow if we had changed the itinerary to accommodate it.
But all that snow was a good sign that an early Summer trip where maybe we have another shot at bringing Tahia's cousins along with my parents would be possible, especially with the uncertainty around travel given complications with vaccine rollouts and vaccine passports being established.
Not only that, but our daughter won't be able to have her vaccinations until perhaps first quarter of next year.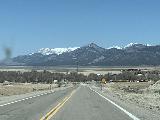 Anyways, aside from one speed trap spot where the speed limit got to as low as 25mph for a fairly significant stretch of one of the towns along the way (and a cop that was on the lookout for speeders), the drive continued on fairly smoothly.
Indeed, at a time when we wanted to minimize contact with people (especially with all the Asian-American hate crimes that were happening in the US) and seeing a lot of Trump 2020 signs along the way (which further undermined our confidence in our safety), taking this less-popular route seemed to be the way to go.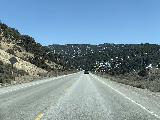 It was about 1:05pm when we ultimately got to the town of Ely, which seemed to be right at the crossroads with the way to Great Basin National Park to the east, Reno to the west, Provo or Salt Lake City all the way to the east, Las Vegas to the south, and Twin Falls to the north.
Julie and Tahia by this time were getting hungry and we happened to see an authentic Mexican place called Rolberto's while filling up on gas.
So we decided to extend our stop in town by getting some burritos and a quesadilla for takeout just so we could see how this place compared to King Taco back at home.
Julie saw the reviews for this place, and it definitely did way better than the Taco Time which was across the street.
So after spending some time having our lunch in the car, by about 1:50pm, we finally resumed the drive north as we were leaving the surprisingly fair-sized town of Ely.
It still looked like the town was surrounded by snow-covered mountains in all directions, and in stretches, there were even small patches of snow off the highways since apparently we must have driven past some spots that got up to about 7200ft in elevation.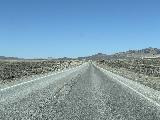 Anyways, the long and desolate drive (save for a few cars and trucks) still went by smoothly though the scenery seemed even more remote than towards the south.
That said, continuing to see the thick snow covering the mountains kept things interesting as far as scenery was concerned, and it turned out to be a rather pleasant drive despite the moments of needing to pass onto oncoming traffic to get beyond slower moving vehicles.
Finally at around 6:30pm, we made it to the familiar Shoshone Falls, where there seemed to be quite a few cars and people visiting here.
We had lost an hour when we passed into Idaho as apparently they observed Mountain Time, so that was a bit of a bummer as we had lost yet another hour after needing to Spring forward earlier this month.
Unlike 8 years ago when Julie and I were last here, no one was collecting an entrance fee this time, and it did appear that the waterfall had a little less flow than it did before as well.
Still, I was kind of hoping to see the waterfall appear even wider than that first time, but it still looked like the right side of the falls remained unimpressive though there were a few segments of flowing water on that side just like last time.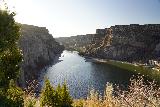 I guess to see Shoshone Falls put on a show, it really had to flood, but how often does that happen? Did we miss that event by a month? Or perhaps the thawing of the snow hadn't hit its peak yet?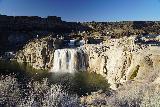 Regardless, we didn't linger for too long at the main overlook for the Shoshone Falls because there were quite a few people here, and (perhaps unsurprisingly), we were the only people wearing masks while no one else was.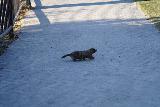 As much as Julie wanted me to try setting up the Manfrotto BeFree 3-Way tripod that we had bought right before this trip, the limited real-estate and traffic kind of made that not a very realistic idea (let alone not a wise one).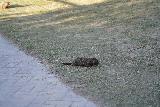 So both Julie and Tahia retreated back to the car, but I wanted to get right back up to the paved Centennial Trail as well as the old Evil Knievel jump site.
Along the way, I saw some interesting-looking marmots grazing or scurrying along the quieter pathways, and when I got to the old jump site (with some fencing still there to prevent people from going down to some lower lookout with no view of the falls), I was the only person there.
After having my fill of this spot, I then backtracked to the parking lot and then headed up a sloping lawn area up to the familiar Centennial Trail.
The old steps and shortcut directly up to that trail was closed, however, and I'd imagine that had more to do with the erosion that was quite noticeable on the hillsides there.
That said, it wasn't that big a deal to do a few more steps up to the paved trail, and there I continued to head a little further away from the Shoshone Falls, where I got to another extending catwalk with a nice frontal view of Shoshone Falls backed by a butte.
Unfortunately, the shadows started to creep further up onto the waterfall, and so that wasn't ideal as the sun was rapidly setting.
But it was quite a nice, quiet spot, as once again, I was all by myself here except for one person who had gotten here by bike, but he was leaving.
I was also checking out an apparent spring alongside the Centennial Trail, which I hadn't noticed the last time I was here.
Aside from one other person zooming by on a bike and a couple that was walking here, it was refreshingly quiet as I had my fill of this furthest of Shoshone Falls lookouts as well as a little exploration of the paved trail.
The more I thought about this paved path, the more I realized that this same paved path might be going by the top of the Perrine Coulee Falls as I had recalled that spot was also along a paved path paralleling the south rim of the Snake River Canyon.
So I'm sure this would make for a nice bike path, and it would be a far better and more scenic experience than say biking along the concrete and smelly San Gabriel River towards Seal Beach back at home.
Eventually, I rejoined Julie and Tahia back at the main parking area for Shoshone Falls, where Julie wanted us to go back to the main overlook to take advantage of the even lighting now that the entire waterfall was in shadow.
While there were fewer people at this time, we still didn't linger for too long as we still wanted to check in and wind down this day of very long driving.
Besides, there was another wave of cars and people coming in just as we were pulling out of the parking lot at 8pm.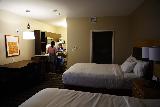 Finally at 8:25pm, we finally checked into the Towneplace Suites by Marriott, where the GPS waypoint that I had was actually incorrect. But at least this place was obviously enough to see from the main road.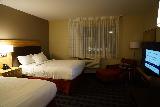 Perhaps worryingly, there were quite a few people parked at both the Fairview Inn in addition to the Towneplace Suites so indeed this place seemed to be running as if the pandemic didn't happen (and from the lack of masked individuals here, that further exacerbated the public safety risk).
Once we sanitized our room, and got settled, Julie tried to order takeout from a local Persian place, but it wasn't available as it seemed like most places had closed by 8pm.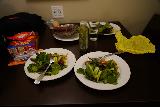 So it was going to be an instapot dinner of hot dogs, onions, and some greens that we brought up from home.
That said, the fruits and avocados were smashed from the journey so that wasn't a good thing.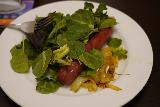 But with that, we unwound from the day as Julie had gotten in touch with a friend who lives in Boise and we were trying to organize perhaps a get-together outdoors with them on Saturday.
So that was going to change my plans for tomorrow such that perhaps we'll pursue the Thousand Springs area first instead of punting that for the day we'd go to Boise. We'll see.
In the mean time, both Julie and Tahia were busy looking at some Chinese Netflix soap opera called Meteor Garden or something like that while I was propping myself up processing photos and GPS recordings.
And it wasn't until a little after midnight that we finally went to sleep…
Visitor Comments:
US-93
April 26, 2021 2:59 pm
-
If you had to make time, you made the right decision to take NV 318 up to US 6. It saves a half-hour or so off the time to Ely compared to old US 93--but that's also why all the big rigs go that way, and have done so ever since NV 318 was paved… ...Read More