Day 2 (April 2, 2021 – Twin Falls, Idaho): "Superspreader Places"
It was about 5:30am when I awoke to my alarm. It was still dark outside, which wasn't surprising, but I brought it upon myself to wrap up on some blogging and file organizing chores that I was too tired to finish off last night.
It wasn't until some time after an hour later that Julie finally got up grudgingly, and after a self-cooked breakfast, we were finally in the car by about 8:35am.
As we passed through the lobby of the Towneplace Suites en route to the car, we all noticed that there was an included breakfast buffet, which Julie wanted to check out.
But then, when we saw how many people were self-serving themselves without wearing masks, that pretty much sealed the deal as far as trying to get the included brekkie buffet.
There were simply too many unmasked people that carried on as if the pandemic didn't exist, and I even noticed two employees walking around without masks.
So right off the bat, we were already wondering if we were in the Twilight Zone again where it just seemed like we were in the minority as far as public safety was concerned.
Anyways, this was a bit of a later start than I was hoping for considering that we had changed our plans around such that we'd visit most of the waterfalls around the Twin Falls area today, and then see if we can meet up with Dana's family tomorrow at Boise.
And by most of the waterfalls, the big targets were checking out the Thousand Springs State Park as well as any other waterfalls that I could solo in the afternoon.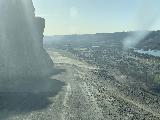 In the mean time, we had already sold Tahia on playing in the indoor pool today, but we would have to divide and conquer in the afternoon to minimize the likelihood of encountering too many people at the pool, especially if there were going to be unmasked people in such confined spaces.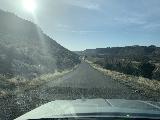 I had originally thought that maybe it would be wiser to go to the Thousand Springs area tomorrow since it was on the way to Boise, but then I realized that perhaps it'd be better to just do it today and backtrack to Twin Falls to free up the list of things to do tomorrow.
First up, we drove straight to the Niagara Springs, which I figured was roadside and it would be a nice place to check out quickly before aiming to do the hike to Box Canyon later on.
After heading west on the I-84 and then heading south on some agricultural roads after leaving the Wendell exit (though Thousand Springs were pretty well-signed), we eventually got to the Niagara Springs at 9:15am.
This was a nice gushing waterfall beneath the cliffs of the Snake River Canyon situated right across from some kind of trout farm.
We were the only people at the limited parking spaces for this waterfall, but already the sight of such a nice-looking spring exceeded expectations (albeit lowered).
It made me wonder how we had missed this kind of place 8 years ago when Julie and I first went to Twin Falls.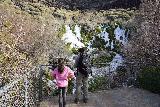 In any case, we quickly went to the lookout area fronting the attractive Niagara Springs and we also wanted to give the new Manfrotto BeFree tripod a go.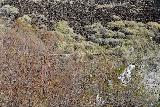 Unfortunately, when I first set it up, the lower section of one of the legs came right off, and my first thought was that this was not supposed to happen for such a new tripod!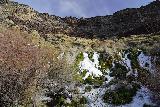 Fortunately, I was able to just stick it back in, and then it seemed to stay in place, but it was disturbing that the tripod was already behaving like this. Was it defective? I did recall some reviews complaining about this.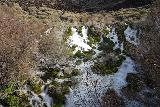 But at least it didn't happen in a place or at a time when something disastrous would happen (like a camera toppling over or the leg being lost over a dropoff).
It was actually quite loud at the Niagara Springs so I didn't give it another go trying to talk in front of the waterfall, but I did take a few smooth panning videos as well as my usual free-form.
I had learned yesterday that it definitely takes practice to get in front of the camera as you definitely can't just do this cold. You have to have an idea of what you want to say.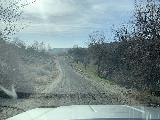 By about 9:50am, we were back in the car, where my mind was already towards heading to Box Canyon, but out of curiosity, I kept going eastwards on the main road just to see where else it went.
It didn't take long before I saw signs saying that the Crystal Springs was further along this road and so I wanted to go check that out before heading back in the direction of Box Canyon.
The drive pretty much exposed us to a handful of more springs spilling into a calm series of pools on one side while there was the Snake River flowing on the other side of the road.
There appeared to be an unmanned gate where you're supposed to pay $7 to enter, but I wondered if anyone was doing that or if anyone was enforcing it because I didn't see where the collection envelopes were though I did see a drop slot.
While there were other parking areas along the way that we could have stopped at to check out Crystal Springs as well as some Snake River views and picnic areas, we ultimately stopped the car where there were a handful of other cars at the end of the public part of the road at 10am.
Most of the people here were apparently trout fishing at the Crystal Springs Lake, but the road was private further on so it made sense to stop the car here.
We spent a few minutes walking away from the trout fishers leaving them be while we were checking out the spread out Crystal Springs across the calm body of water that is Crystal Springs Lake, which seemed to be man-made.
There was definitely a strong smell of manure, and I had attributed that to the heavy agriculture that was going on here while perhaps the calm body of water below the Crystal Springs were perhaps pools for trout fishing.
As we looked closer at the waters, we saw that there were a lot of algal growth in them, and so we weren't sure if it was that way due to whatever feed that the trout need or if it was the heavy agricultural presence essentially "polluting" the water.
That made me think that the Snake River itself was probably not as pure of a river as it was when it was flowing through Yellowstone National Park further to the east.
By about 10:15am, we had our fill of this spot of the Crystal Springs and then we backtracked to another picnic and parking area where there was a building as well as a handful of docks.
There was also a nice view across the Snake River where there were large long-necked geese (or swans? or storks? I never really knew what kind of birds these were) on a couple of "islands" on the river.
Meanwhile, Julie saw more little fish in the calmer waters beneath one of the docks as well as a couple of dead trout, where we wondered what killed them.
By 10:25am, we then had our fill of this nice serene section of the Crystal Springs area, and now we were finally headed out to Box Canyon to do some hiking.
It was about 10:45am when we made it to the Box Canyon trailhead parking area though we did pass by some kind of man-made fire as a couple of guys appeared to do something for land management and it wasn't an accidental fire apparently though it was quite visible throughout the drive.
There were quite a few handful of cars at the Box Canyon Trailhead when we were taking time to get ready, and it was relatively quiet until about 4 cars showed up and it appeared to be a group of families.
Finally at 11:05am, we started the hike, and we headed towards an overlook at the very head of the gorge, which was probably the namesake Box Canyon.
While there were still some shadows partially obscuring the colorful blue pools below, we could see that there was a dry fall at the very head of the boxed in canyon, but there was also some powerful flows further downstream.
So clearly the water source must have been bubbling up underground or there must have been an unseen cave where water was gushing out unseen to us as a spring.
When other people started to show up unmasked at the lookout, we then started our hike as we went up and over a stile and then followed a wide rocky trail skirting the rim of the Box Canyon.
The hike allowed us to look down into the Box Canyon, but I also saw where people were heading down from the rim. So that kind of told me how far we should be hiking along the rim before going down into the canyon itself.
By the time we got to the descending portion of the hike, I saw that there were some steel rope and poles essentially telling us where we should be descending.
Julie and Tahia almost missed that turnoff as they kept going forward until I told them that they had overshot the descending portion.
In any case, the descent was not too bad and it didn't take long before we were along the trail alongside the watercourse of the Box Canyon, which by this point was very much acting like a high-flowing river.
By about 11:50am, we finally made it to the waterfall that I had read about concerning Box Canyon, and for a few minutes, we had this place to ourselves until the next couple showed up.
So we took some time taking photos and documenting the experience, but there was one trio of ladies that asked me to help take their picture.
I balked at first, but I then agreed to do it, which made them happy, but I was mindful of the pandemic risk for touching someone else's phone, especially since we were the only people on this trail wearing masks around the presence of other people.
I asked the ladies how the scenery was further downstream, and they not surprisingly said it was nice, but they then told me that it probably wasn't as nice as the waterfall we were at.
So that kind of told me all I needed to know as far as how much further we should walk since we wanted to head back to Twin Falls sooner rather than later (making me wish we had left an hour earlier this morning so we would have a bit more time to explore).
It also made me realize that most of the people doing this hike were actually doing the much longer loop all the way down to where this spring-fed watercourse would feed the Snake River.
However, I already made my mind up about just targeting this waterfall before heading back.
While Julie and Tahia were busy chilling out around the brink of this Box Canyon Waterfall, I went a little further downstream towards a yellow-painted stream gauge where I scrambled onto a rock that let me get a more direct look at the waterfall.
After having my fill of this view, I then rejoined Julie and Tahia back at the brink of the falls before we headed back to the trailhead parking area.
During the hike back, Julie was giving me a hard time about my orange hiking pants, which were actually pretty comfortable.
I had gotten it from the REI-outlet.com so I was able to apply my 20% off coupon on a second item (I had applied the first one for the Black Diamond Distance FLZ trekking poles).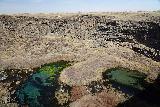 Anyways, at the same time, Julie wasn't too pleased with Tahia's behavior because she was getting antsy about going back to Twin Falls to go play in the pool, and she was especially displeased about me wanting to go check out Ritter Island before heading back.
I figured that we were already here and we weren't going to backtrack for it tomorrow, so why not seize the moment. After all, it really seemed like the Thousand Springs area kept wanting to keep us here longer than we were anticipating.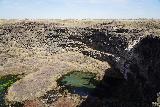 When we returned to the head-of-the-gorge lookout, I was pointing out to Julie that the stream responsible for the waterfall was fed by a spring, which she didn't believe me.
So we were looking for the feeding watercourse when we were here, and sure enough, there wasn't a stream above ground that we could see at this head of the box canyon.
Tahia hypothesized that the spring gushed out of a cave at the base of the cliffs somewhere beneath the dry fall, but I had read that the water was actually coming up from one of the pools from underground beneath it.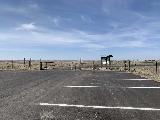 By about 12:20pm, we made it back to the car, where it appeared that more cars had showed up but there did seem to be quite a few more available parking spaces.
Anyways, it was already a bit of a warm day, and now we needed to turn on the AC. It made us wonder just how much warmer it must be at home, especially since it had broken 90F for each of the last two days when we were there.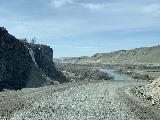 It was only a few minutes drive to get towards Ritter Island, and sure enough, when we were descending past the hydroelectric plant fronting the entrance towards Ritter Island, we saw a nice-looking waterfall tumbling beneath the cliffs.
We briefly pulled over to get a more elevated view of this Ritter Island Waterfall beneath the power lines at around 12:35pm, and then we continued past a nice picnic area before parking the car at the dead-end closest to the base of the waterfall.
At 12:45pm, we got out of the car, and headed towards the misty base of the Ritter Island Waterfall where we got a few shots of it albeit against the midday sun.
Most of the people were unmasked and checking out the falls from along the trail as it seemed most people were doing the full Ritter Island loop.
Again, we weren't going to do that as we were primarily here for the waterfall, but we were already starting to get a little bit of waterfall fatigue from what the Thousand Springs were producing here.
How on earth did we miss this place the first time we were in Twin Falls 8 years ago?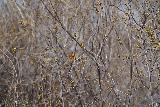 After getting our fill of this Ritter Island Waterfall both from its base as well as along the trail, we were then back at the car at about 1:10pm, and now we could finally head back towards Twin Falls to indulge Tahia on her pool pursuits.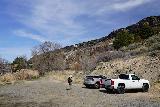 Along the way, I thought we might make a brief stop for the Upper Salmon Falls, but the GPS took me to a dead-end so I took that as a sign that maybe we should just pursue it tomorrow on the way to Boise since the Greg Plumb book suggested that it was roadside.
So the drive back to Twin Falls was uneventful as Julie was having this craving for some Afghani food that was actually in Twin Falls of all places.
It was closed when we wanted to try it yesterday, but now was our chance to have it for lunch.
It wasn't until about 2:05pm when we finally got this place called Naz's Kitchen, which was kind of way towards the southern end of Twin Falls away from most of the commotion of town closer to the Snake River Canyon and the Perrine Coulee Bridge.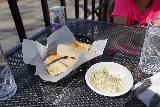 We also saw that there was outdoor seating and that it wasn't too busy there as we were making our order.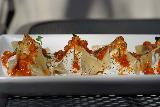 Anyways, to make a long story short, we were savoring our lunch which consisted of mantu (some kind of Afghani dumplings), some Afghani beef stew special, a chicken curry, and a chicken kebab.
The mantu really took us by surprise, and we liked it so much that Julie actually order 10 more of these (5 came with each dish)!
Needless to say, we were totally stuffed when we got back to the car at 3pm, and we wondered if the owners of the Naz's Kitchen must have thought that we were nuts for ordering as much food as we did.
Still, we love ethnic food, and it definitely made anything American taste very bland, as far as we were concerned. In fact, we're now in the mindset of trying to see if there are Afghani restaurants in the LA area.
Though from our experiences, they either lump all the Middle Eastern foods together and call it "Persian food" though there are Armenian food (Raffi's), Lebanese food, Pakistani food, Tunisian food, etc., but they generally don't say if something's like Iranian food, Iraqi food, etc.
Anyways, we were back at the accommodation at 3:15pm and at that point, Julie and Tahia stayed behind there so we could finally indulge Tahia's need to play in the pool (hopefully without people, which seemed to be the case at the time).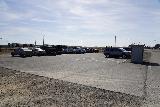 At that point, I headed out to pursue Pillar Falls, and after filling up on some much-needed gas, I finally got to the busy trailhead parking at the corner of Pole Line Rd at 4pm.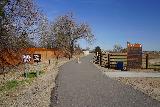 After gearing up, I at first went along the paved bike path that went between some homes as well as some new housing developments.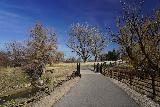 However, when I saw across someone's yard that there was no access to the Pillar Falls trailhead from this bike path, I realized my mistake, and I had to backtrack to the parking lot again before walking along Pole Line Rd to reach the proper trailhead.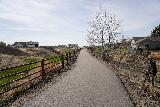 Strangely, just about everyone seemed to be taking the bike path, and it made me wonder if I was missing anything.
But eventually after walking along the residential area, I then finally made it to the signed trailhead for Pillar Falls which was next to some kind of water pipes as well as lots of signage saying that the road was private along Pole Line Rd beyond this point.
There were some cars that would pause at this trailhead (clearly going off of GPS waypoints likely acquired on the interwebs), and then had to turn around upon seeing these signs.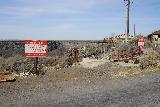 Right at the signage and trailhead were some kind of diversion pipes as well as a cascading waterfall tumbling down adjacent to the pipes here.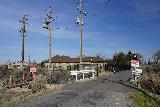 The path was steeply descending and I could already see that it was useful to be wearing hiking boots here for it possessed quite a bit of loose gravel.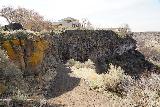 I decided that now was the time to start using the Black Diamond Distance FLZ trekking poles, which was attached to one of my shoulder straps, and as I was busy fumbling with the velcro ties, there were a pair of girls going past me as they made their descent.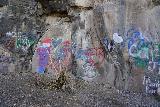 However, they didn't appear to be wearing the proper shoes (instead wearing some kind of running shoes or trail runners or whatever), and they were already gingerly slipping and sliding down the steep trail.
Even though they were way ahead of me as I was busy tending to my poles, it didn't take long for me to catch up to them since I had taken advantage of both my poles as well as my hiking boots.
There was some unsightly graffiti near the first of the switchbacks, which was an unfortunate sight.
Nevertheless, throughout the steep descent, it was nice to see even more bits of the tumbling waterfall, and I kept thinking to myself that this would be quite the cascade if seen with a drone or from across the canyon.
Anyways, the steep descent continued as I let the girls continue ahead of me (still struggling with the terrain) as the trail would eventually be less steep as the worst of the initial stretch of the descent seemed to be over.
However, I was still captivated by the scenery of the Snake River Canyon, including the Perrine Coulee Bridge further downstream from the lofty vantage point of the trail.
Eventually at a little before 5pm, after descending past one yellow building that was apparently making use of the diversion pipes alongside the cascading waterfall, I noticed a fairly obvious fork in the path.
Thinking in the back of my mind that there was one person on Alltrails who suggested going left at this fork, I went ahead and did just that.
There was another steep and slippery eroded path going down this way, before it reached the very bottom of the attractive cascade where there was a very nice plunging tier of the waterfall that itself could have been a destination in and of itself.
On the other side of the stream, I saw that there was another small yellow building, which made me wonder if this was merely a side trail to allow access by whoever managed the diversion contraptions here.
So I lingered for a few minutes more to bask in the scenery, and apparently I was all alone here while most of the other hikers would skip this little descent.
It made me wonder if I was in the right spot to continue towards Pillar Falls in the first place, but I nevertheless enjoyed my time in isolation here considering how heavily-used the Pillar Falls Trail was.
After having my fill of this nice waterfall, I then continued down the trail as it flattened out and reached the bottom of the steep descent where I now found myself weaving between trees at the base of some very interesting and shapely cliffs.
I'd eventually reach the banks of the Snake River where I could see the Pillar Falls and the namesake pillars way in the distance across the river, but I wasn't sure how I could get there.
Just when I was about to abandon all hope and settle for this rather disappointing view (thinking that perhaps I should have gone right at the fork instead of left), I did see that there was a shelf that I could scramble onto to stay dry.
And upon seeing that there did appear to be a way around the head of this section of the Snake River to get amongst the pillars, I went ahead and went past some more graffiti before I started to pick up another trail.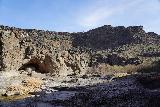 I thought to myself that perhaps this was where that right fork ultimately went to and I made a note to myself to go back up this way to complete the experience once I'm done with Pillar Falls.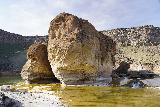 Anyways, I'd eventually get past a few more trees and cliff bases before needing to cross some shallow parts of the stream as I then found myself on top of the peninsula harboring the pillars of Pillar Falls.
And at this point, I took some time to explore the rock formations here as I went further upstream just to see what else there was to see here.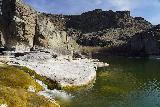 From the research in Greg Plumb's book, I kind of knew that Pillar Falls itself wasn't really the main draw despite the name suggesting otherwise.
Instead, it was hiking amongst the pillars, and so now was my chance to experience these eccentric geologic formations for myself.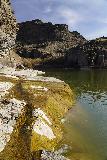 As I was getting towards the far eastern end of the peninsula containing the pillars, I did notice some more annoying graffiti as apparently tagging natural places wasn't just limited to the urban blight in the Southern California area.
But given this place's close proximity to Twin Falls, perhaps this shouldn't be surprising.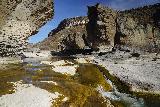 That said, instead of gangster tagging from what I suspected were from Hispanics, the graffiti I saw here were more political as there were lots of "f*** Biden" everywhere.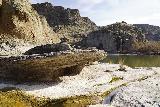 Given how the right tended to politicize mask wearing (a major reason why we in the US can't control the pandemic spread and allowing variants to run rampant) as reflected in how we saw people were behaving in Twin Falls, perhaps this shouldn't be surprising.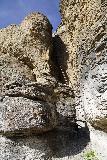 Anyways, the scrambling around the pillar formations on this peninsula was like a choose-your-own-adventure where I was able to scramble and find my way around the impassable areas while still in the presence of these eccentric pillar formations.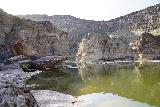 By about 5:35pm, I made my way towards the brink of the rapids and the wide shelf over which the actual Pillar Falls went.
Despite the falls not being very tall (maybe 5ft or less), it was still quite noisy here.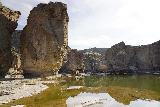 After having my fill of this spot, I then backtracked and went further upstream past a smaller segment of Pillar Falls before I found myself at the base of two of the attractive thumb-like pillars.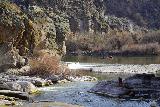 Since I saw some couples come from further to the north end of this peninsula, I figured that there must be a way across what seemed to be impassable parts of the Snake River.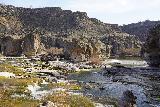 Sure enough, I spotted some areas where I could hop "islands" and then through tall reeds before getting to an area where I could see more rivuleted rapids as well as some people fishing nearby.
Behind them (or further downstream of them) was a distant view of a fair bit of the Pillar Falls though if I pushed it and scrambled further, it appeared that there was a small island in the way.
So I was satisfied with my views from here, then I decided that now it's time to go back up to the trailhead because it was getting late.
I had probably spent at least an hour around the pillars and looking for ways to best experience the Pillar Falls, but now that it was about 6pm, I decided not to push my luck by scrambling towards where the fishers were.
And so I backtracked my way to the pair of pillars before going straight past some collapsed cave-like alcove and then making my way towards where I had seen graffiti and where I suspected the more used trail was.
From there, I ascended the steep and narrow track, but I knew I was going the right way because I was a group of four guys going in the opposite direction.
Again, given the close limited real-estate, I was masked up but these guys weren't, and I was once again getting awkward silences and strange looks from people wondering perhaps why I'm one of the few people on the trail wearing a mask around other people.
Not much later, I had picked up the trail once again, and a few minutes later, I saw the familiar junction that I had gone left at earlier on.
This was right when I saw a pair of women and their dogs going by towards the Pillar Falls.
Anyways, I now resumed the fairly hot and sweaty ascent back up to the Pole Line Road though I eventually decided that I no longer needed to be carrying my trekking poles anymore.
So I collapsed them and secured them to one of my shoulder straps of my Osprey Manta 46, and I then I resumed the steep ascent while still taking photo breathers along the way.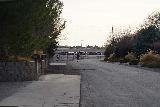 There were a couple of women who went past me as I was fumbling with my stucks as well as a few more smaller groups of people heading down towards Pillar Falls at this time.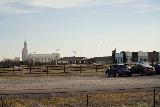 But eventually at 6:35pm, I finally made it back up to the Pole Line Rd where I saw yet another car idling and perhaps trying to figure out a way to make a U-turn upon seeing the no parking and private road signs right at the trailhead.
Finally at 6:45pm, I made it back to the car where there were some high clouds obscuring the afternoon sun thereby cooling things down a bit from earlier on.
And eventually at 7pm, I finally made it back to the Towneplace Suites where Julie and Tahia were busy watching Meteor Garden on the iPad.
Tahia seemed to be in a good mood because they did get a chance to play in the pool at the accommodation long enough to the point where Julie said that her hands and feet were pruny.
But it was when people started to show up without masks on that they finally left the indoor pool area. So I was glad that Tahia at least got a chance to have this play time.
Anyways, given how late it was, I asked Julie if she wanted to order take out and get some of that Idaho trout that she wanted to try out.
So she looked up the reviews and saw this place called Elevation 486, which sounded familiar, and it turned out to be the very same spot where we had eaten at 8 years prior when we first showed up to Twin Falls.
We eventually ordered take-out from there, and I also saw this as an opportunity to do a sunset walk to the brink of Perrine Coulee Falls while Julie and Tahia would be getting the food and eating in the car.
And so by about 7:30pm, we made it to the familiar Elevation 486 where the place looked quite packed so we could see why Julie and Tahia would have to wait until the food was ready.
Again, it was as if the pandemic never existed because hardly anyone was wearing masks inside the restaurant and all the tables on the outside were occupied so it was a good thing we opted not to dine in.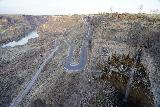 If there was a definition of a superspreader location, this would be it though I got the feeling that pretty much the entire state of Idaho was like this except perhaps the city limits of Boise (or so I suspected).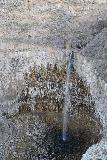 Nevertheless, I went ahead and followed the paved Centennial Trail en route to the Perrine Coulee Falls where there were just a handful of people going back and forth (again, I was the only person masked throughout the entire path)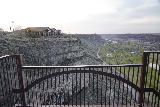 It didn't take long before I got to an overlook of the main drop of the Perrine Coulee Falls with the Perrine Coulee Bridge in the distance.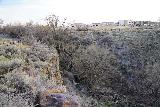 There were a handful of other people checking out the nice spot there as they were probably going for this stroll while waiting to be seated at Elevation 486 since I had overheard some people talking about it.
Anyways, after having my fill of this spot, I then continued further along the Centennial Trail.
By about 7:50pm, I reached the other overlook which didn't have as nice of a view of the Perrine Coulee Falls though it did offer a decent look at the uppper drops of the falls.
Finally at about 8:15pm or so, I rejoined Julie and Tahia in the car where they were almost done with their dinner of trout and some other dish (I forgot what we got).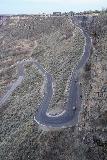 Regardless, after the very good Afghani food that we had for lunch, this "high end" food was bland by comparison, and it was a good thing that Julie limited what we got even though it costed about the same as what we paid for our over ordered lunch (around $50-60 in total or so).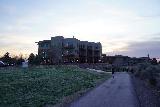 By about 8:25pm, we were done eating and five minutes later, we were finally back at the Townehill Suites where we called it a day.
Indeed despite all the political stuff that was in our faces on this day, it was still a good day, especially since we got to see a side of Twin Falls that we didn't get to experience the first time around 8 years ago…
Visitor Comments:
US-93
April 26, 2021 2:59 pm
-
If you had to make time, you made the right decision to take NV 318 up to US 6. It saves a half-hour or so off the time to Ely compared to old US 93--but that's also why all the big rigs go that way, and have done so ever since NV 318 was paved… ...Read More