Day 3 (April 3, 2021 – Boise, Idaho): "Catching Up With Friends"
It was 6:45am when I awoke though I had never heard the alarm.
So that kind of limited the catching up that I had to do that I was simply too tired to accomplish last night given the full day of activities that we had.
Nevertheless, after having our breakfast in the room (forsaking the dangerous and busy breakfast buffet area from the lax or non-existent enforcement of masks), we finally got into the car and left at 8:55am.
The first order of business was to drive down to the base of the Perrine Coulee Falls since I knew that it was an easy one to visit.
I guess given that we were going to meet up with Dana's family in Boise at around 1pm today, that kind of forced us to keep things simple as far as any waterfalling excursions on the way there were concerned.
We ultimately got down to the familiar pullouts near the barricaded hairpin turn, where there was some runoff waterfall next to some snow at about 9:05am.
Even though there were a couple of cars here, aside from one person who was heading back to the car, we were pretty much alone at this waterfall, which was actually flowing somewhat lightly compared to how we had seen it 8 years prior.
It was also quite chilly down here as I was in my short sleeves while walking beneath the dripping alcove as I went around the Perrine Coulee Falls to try to capture the experience though I didn't bring my tripod.
When I backtracked to the start of the trail where Julie and Tahia were witnessing the falls, we then took a few people shots before we had our fill and returned to the car at about 9:30am.
Five minutes later, we then went to the Target store nearby so Julie could make a few more purchases of water, a gift for Dana since she was making the picnic lunch, and a swimming trunk for me since I had forgotten to pack mine.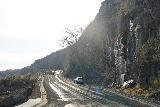 By about 10:05am, we finally left the Target and started to leave the Twin Falls area.
As we went past the Perrine Coulee Bridge, I then pursued the directions in Greg Plumb's book as I pursued the alternate view of Pillar Falls that he captured in there.
The directions here were vague and I suspected that the old Golf Course Road (which he described as "dusty") was now the Shoshone Falls Road, which was a paved two-lane road.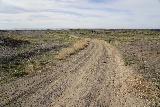 But since there was no signage nor an obvious place to pull over to stop the car, I had to trust my pre-trip waypoints and Gaia GPS to find a suitable place to stop and then walk one of the many criss-crossing 4wd roads.
Julie and Tahia weren't keen on joining me in this pursuit so eventually after a little back-and-forth of driving and finding a suitable place to stop, I finally parked at about 10:20am and then walked on my own.
This time, I came armed with two cameras – one was the Sony with the 24-105mm zoom while the other was the Canon with the 100-400mm telephoto zoom.
I figured that it was going to be a rather distant view of the Pillar Falls so why not bring the second camera and make use of that powerful telephoto capability?
And so I followed the dusty 4wd road where it was apparent that pushing my luck with the rental car on this road would not be a wise move and I was glad I stopped the car where I did.
Nevertheless, Greg Plumb's book described passing through an old "dumping site" though I did see only the remnants of a single dump litter at one 4-way intersection though the rest of the traces of any dumpsite were pretty much gone at this point.
Perhaps there were signs threatening fines of $1000 or more for illegal dumping activities that put an end of what Plumb say before.
Anyways, I was pretty much on my own in this pursuit of the Pillar Falls overlook as I had Gaia GPS on my phone in hand as I followed the roads to the nearest overlook spots at the north rim of the Snake River Canyon.
It didn't take long before I finally followed some smaller grassy "road" going past some cow patties when I ultimately reached the sought-after overlook.
Indeed, it was quite a scenic spot, but I was also surprised at seeing Shoshone Falls in the distance as well as the full cascade of that waterfall that I had seen yesterday when I hiked down to the Pillar Falls.
There was also some activity below where there were a couple of boats – one that was parked right before the wide shelf containing the Pillar Falls itself while another was docked and there was one guy fairly high up below me apparently doing some kind of work.
Then, I switched cameras and used the powerful telephoto zoom to capture as much of the partial Shoshone Falls as I could before sweeping over across the canyon for the cascade and suburban runoff springs adjacent to that cascade.
Then, I looked down at the Pillar Falls where there were the zoom was so powerful that I could make out the rapids funneling then fanning out towards the rivuleted section towards the north side of the peninsula as well as the long shelf of the main falls.
However, I was able to zoom so far in that I could only capture part of the shelf, which was interesting.
Anyways, after having my fill of this falls, I then backtracked towards the parked car, and I eventually rejoined Julie and Tahia at 11:15am.
From there, we could finally drive towards Boise and meet up with Dana's family as we then had about a couple of hours to do the drive to get to the city.
Ultimately through Julie texting Dana as we were heading west on the I-84 in a very smooth drive, we arranged to meet their family at the Julia Davis Park, which was a nice greenspace in the downtown Boise area.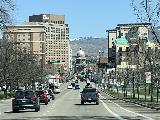 When we finally got to the downtown Boise area, we were making our way north on Capitol Blvd where we could see the Capitol building up ahead backed by some attractive snow-covered mountains.
Eventually, we'd get to the meet-up spot which was near some tennis courts at the Julia Davis park at around 1:05pm though we had a chance to unwind and set up the picnic spots as we waited for Dana's family to arrive.
We also noticed a giraffe sticking its head up above the fence at the borders of the park, which was interesting since there was a zoo here.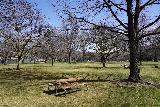 Eventually at about 2pm then came with the food and their kids, and that really excited Tahia as she finally got to play with other kids more or less her age (Aubrey was two years younger than Tahia while Blaze was in a kindergartner and Reese was a little over 2 years).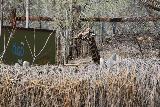 And so we spent the next couple of hours having home-cooked chicken kebabs while we were catching up like old times.
Justin was saying that regarding the mask mandates, it was only within the city limits of Boise though there was a big fuss about it where it couldn't be enforced for most of the state, and especially just outside the 50-mile radius of Boise.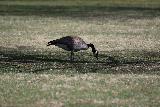 I guess that explained a lot regarding the pandemic-nonexistent behavior we observed at Twin Falls and along all the waterfall trails.
Nevertheless, we stayed masked up and kept the social distance since we didn't want to bring any virus issues to them considering where we've been, and especially since their kids had some allergies.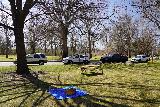 Justin also said that there was quite a bit of cold and wet weather up until this week, and that it only started to thaw when we arrived. So that might have explained the state of Shoshone Falls when we saw it a couple of days ago.
He said that it wasn't snowy and that they actually got less snow than normal, which was surprising.
Regardless, we traded stories about how virtual learning and hybrid learning was going, but it seemed like the school districts that they were in as far as Boise was concerned was starting to do the full-time in-person school.
Our school district was dabbling in a hybrid solution though we were worried about LA USD going back to full-time and likely spreading the virus again after Spring Break was over.
And while all this was going on, Tahia, Aubrey, and Blaze were busy building a "shelter" out of twigs that were lying around in the park.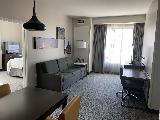 Finally at around 3:45pm, Aubrey asked when we were going to do a waterfall hike (since that was also in the plans), and so that kind of got us moving as far as winding down our pleasant picnic experience.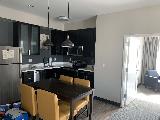 So we next went to check in at the Residence Inn in Boise at 4pm while Dana and family went back home to get Reese's shoes and to gear up for the hike.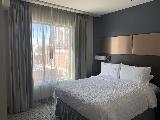 Since I knew that Jump Creek Falls was roughly an hour's drive from Boise, we still had time on our side though coming back for dinner might be a different issue altogether.
When we were done doing our check-in duties (the lady at the reception thought we were doing a 'staycation' as we wished us a pleasant 'Staycation'), we then met up with them at the Trader Joe's lot across the street at 4:30pm.
When they showed up at 4:45pm, we then proceeded to take the I-184 west and ultimately to the I-84 west as we all headed to Jump Creek Recreational Site with them following me.
Ultimately, at about 5:50pm, we made it to the Jump Creek Recreational Site at 5:50pm, and I was quite surprised at how busy it was.
We wound up parking at the large wide open upper lot though I had forgotten that there was a lower parking area (was that there before?) that people could drive down to.
Nevertheless, we all hiked as a group together as it was fairly straightforward with some stepping stones at the lone crossing of Jump Creek before reaching the base and plunge pool fronting the Jump Creek Falls.
Not surprisingly, there were lots of people here though I knew that there was more space on the other side though it took a little scrambling between the boulders to go up there.
So after taking some time in the busy front side of the plunge pool with the waterfall, we eventually scrambled our way to the other side (though I was in Chacos so I could wade my way across without needing to scramble).
We took some time taking tripod photos of our families here while the kids were busy chucking rocks into the plunge pool.
Aubrey and Blaze were really having fun grabbing bigger and bigger rocks to chuck into the plunge pool though I was getting concerned with how high up they were climbing given how slippery the slope was here.
In fact, there were more than one occasion where people were slipping and taking spills after emerging from the little "tunnel" between the large boulders.
They were clearly with the wrong shoes and didn't realize you had to try to step on buried rocks since that was where the most stable footing was.
One woman took a hard enough spill that her knees were bleeding pretty badly, and fortunately, we always carried first-aid with us so we gave her some gauze and bandage to help clean up her wound.
There was another kid that took a spill backwards and broke his fall with his wrist which looked painful but he recovered fine after shaking it off.
There were even more people slipping and sliding behind us, and it made me wonder if my tripod was in danger if someone would slip and fall far enough to roll into it as we were taking family shots from here.
Anyways, the rest of this experience passed uneventfully and we ultimately had our fill of this spot a little over an hour after we started hiking.
As the families were making their way back to the trailhead, I told them that I was going to go up the upper trail to check out where that was going since I hadn't do that before 8 years ago.
So I quickly made my way up the steep path (there were lots of false and misleading trails causing further erosion to the hillsides here), and ultimately I made my way towards a signed partial overlook of Jump Creek Falls a few minutes later.
There were signs here saying that only the trails were maintained for the West Rim Overlook and Jump Creek Falls, though it seemed like there was still more trail continuing beyond the sign.
But as I made my way towards where a family was enjoying the elevated view of Jump Creek Falls, it was clear that the trail was a bit dicier here, and I wondered how much longer this trail would stick around before it was be too eroded to safely continue here.
Regardless, I got my shots and my videos from this vantage point, and then I backtracked to the main parking area eventually getting there at 7:45pm.
It was really nice to see Dana and Justin's family again as we were enjoying some bacon jerkies and broccoli snacks, but since we knew that Trader Joe's would close at 9pm (and tomorrow was closed for Easter Sunday), we had to get back to Boise as soon as we could.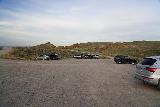 So we said our farewells, and then we quickly made our way back to the city, ultimately getting there at about 8:40pm.
The whole time, I managed to find a station playing the Final Four where I got to listen to the tense drama of UCLA and Gonzaga battling it out for the right to play in the final game on Monday.
And while Julie was busy shopping for groceries, that was when I listened to the game going into overtime, and then right before it was about go into a double overtime, Gonzaga beat UCLA on a last second heave.
It was a bit of a heartbreaking loss for my alma mater, but then again, this was one game where I really wished I would have seen it on TV. Oh well, at least radio was the next best thing.
Ultimately, Julie got back to the car at 9:05pm, and then we ordered Guido's Pizza since they were open until 11pm. We wanted to go back to Tony's Pizza Teatro (which we really liked the last time we were here 8 years ago), but they were already closed at 9pm, which was a bummer.
But Justin recommended Guido's for New York style pizza, and that was where we ultimately had to go, but the food wouldn't be ready until 9:40pm.
We ultimately got to the front of the small hole-in-the-wall joint at about 9:30pm, and five minutes later, Julie came out with the giant box (we didn't realize the large pizza was so big) of pepperoni and basil.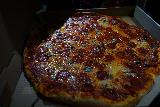 It was a bit too big for our family, but I we ultimately ate the whole wheel in one sitting (where I had 5 of the 8 slices).
And while this pizza was more like the pizza-by-the-slice you might find in the street joints in NYC, we really wished they had the ingredients that Tony's had. So I guess we'll have to make it a point to do that the next time we're back in Boise.
Finally, at 10:15pm, we parked across the street at the Residence Inn (their unsheltered overflow parking next to the Shell station) because their more convenient lot was completely full.
So that meant that I had to bring even more stuff up to our room just to not invite any break-ins, but we still had more sanitizing to do since we didn't get around to doing it earlier this afternoon.
But eventually, by about 10:40am, we finally settled in and cleaned up, but Julie and Tahia were still watching Meteor Garden well past midnight, and I was worried about when they'll be waking up tomorrow morning, especially with the long driving ahead of us…
Visitor Comments:
US-93
April 26, 2021 2:59 pm
-
If you had to make time, you made the right decision to take NV 318 up to US 6. It saves a half-hour or so off the time to Ely compared to old US 93--but that's also why all the big rigs go that way, and have done so ever since NV 318 was paved… ...Read More