Day 4 (April 4, 2021 – Kennewick, Washington): "The Tri-State Detour To The Tri-Cities"
It was about 5:30am when I awoke to my alarm (not making the same mistake as yesterday when I apparently didn't set the alarm as it was reoccurring).
During that time, I did the proactive thing and got the dolly up from the lobby since there were only three of them.
Julie and Tahia didn't get up until around 7:30am since they were busy watching Meteor Garden well past midnight, and they kind of kept me up with the noise they were making.
So I wasn't particularly feeling spry as I was getting caught up on activities from yesterday.
Anyways, we did have a full breakfast as I knew that today was a light day as far as sightseeing or activities were concerned.
And so our breakfast consisted of kefir, fruits, and eggs. It was pretty much the fresh stuff that Julie picked up from Trader Joe's yesterday.
After loading up the dolly, we finally took it down to the reception entrance area while I then went across the street to get the car.
From there, I drove back towards the reception entrance to load up the car, and finally be around 9:35am, we finally started to leave Boise shortly after Julie dropped off the key cards with the reception and checking out.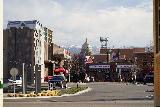 During that time Julie was doing her thing, I took a few more shots of the attractive capitol building backed by hints of snow-covered mountains in the distance.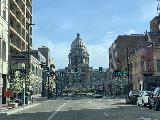 And so began the long drive to get all the way to Palouse Falls, which was our lone excursion for the day before checking into the Kennewick.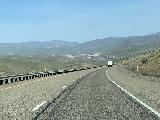 The drive pretty much involved us going west along the I-84 to leave Idaho, and then cut through some combination of mountains and farmlands in the northeast corner of Oregon before we then went up into the Southeast corner of Washington state.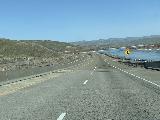 We passed through Walla Walla, which was where Julie and I had stayed at the last time we were here 8 years ago, but then we went by the Washington State Penitentiary, which was a fairly large-looking facility before we then went on some rural roads.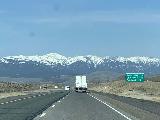 I found it strange the the GPS took us on these roads, but at least it was consistently over 50 mph though there were plenty of curves along the way.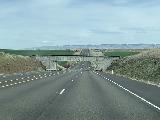 It felt like we were one of the few cars going on this route, which made the drive refreshingly quiet, but I did wonder if we were better off taking the US12 from Walla Walla and then taking that all the way up to the 260 to get to Palouse Falls.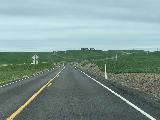 Instead, we took this farm road that ultimately got us towards the 261 through lots of seemingly flat pastures full of wheat and canola oil fields.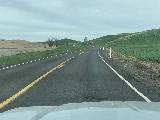 I got the feeling that most people would visit Palouse Falls from the north because it seemed awfully quiet for almost the entire duration of our drive between Walla Walla and Palouse Falls.
Besides, I knew that the parking area for the Palouse Falls would be crazy busy, especially since today was Easter Sunday.
Sure enough, after taking the well-signed turnoff onto the 2-mile unpaved and washboarded road to the parking lot for the Palouse Falls, my suspicions were confirmed as the place was quite busy at 1:40pm.
At first, I saw that there was a ranger here perhaps enforcing that people who are parked here have paid their day use fees, and we were about to pay via the old-fashioned cash-in-envelope.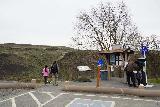 But when a Hispanic family asked how you're supposed to pay via the cash envelope, they then told me that there was a machine that took credit card payments down at the lower lot.
When I heard that and saw that there were some available parking spaces, I went ahead and got back into the car and went down to that lower lot where I promptly snagged one of the remaining spots and then paid my $10 day use fee.
Given that I knew there were dropoffs without railings, I went ahead and put on my hiking boots just for that extra grip to ensure I don't have a slip and fall around any of the cliff edges.
We then promptly went down to the main lookouts where we used the tripod to take some smooth videos as well as some family shots.
I was curious about a way to go down to the bottom of the falls, but whatever trails that I thought I recalled seeing in the past, they were pretty much fenced off and all gone now.
And so Julie wanted to go towards the corner spot where we can attempt to photograph Palouse Falls with the canyon downstream of it.
Indeed, there were lots of people all around the rim of Palouse Falls, including the familiar "mohawk" above the falls. But I didn't think that on this day, we were going to do that like I did last time.
Anyways, within a few minutes, we were at the corner where there was a very precarious ridge where it was possible to get a wide angle shot of both the Palouse Falls together with the canyon downstream of it.
Under the overcast skies, it was just so we can take the shot and say we did it, and there'd be no way that we'd be getting any fancy Instagram-worthy doctored sunset shots on this day.
The whole time we were along the canyon rim, we were a little nervous for Tahia since she was walking around in Crocs though he did have her help me carry the tripod to keep her mind off the dropoffs.
She was obviously being extra helpful because she was expecting a reward for playing Roblox later on today when we'd get to Kennewick.
Anyways, we finally had our fill of the Palouse Falls by 3:10pm when I was done with the Fryxell Overlook and returned to the car where Julie and Tahia were eating some Walla Walla shave ice from the truck that was there.
I wondered if the state park and this truck had some kind of agreement or concessioners license, because I thought it was kind of strange that they allowed this sort of thing at a state park.
There was also a ranger that was here, and maybe he didn't do anything about it or they really did belong here.
Regardless, they seemed to be making good business here since there really wasn't much else in the way of a town or any concessions besides this truck.
Nevertheless, we then took off and headed towards Kennewick thinking that there ought to be a kitchen at the next place so we could have a proper cooked dinner while putting all this fresh stuff we have in our coolers into the fridge there.
Anyways, the drive out from Palouse Falls was similarly uneventful as we were driving through the scablands of Southeastern Washington en route to Kennewick.
And after continuing on the 261 all the way to the 395, we then followed the 395 south to Kennewick, which was pretty much a high-speed divided highway.
As we got closer to Kennewick, which was actually one of three cities next to each other (so they called this part the Tri-Cities), it was actually starting to drizzle and rain.
Indeed, this was probably the first bit of weather that we've had all trip long, and I was fearful that we'd be seeing more of this as we headed further west towards Portland and then the Oregon Coast.
Finally at 4:30pm, we made it to the Kennewick Suites though we could tell straight away that this place was more like a typical motel and we started to doubt if this place actually had a kitchen facility.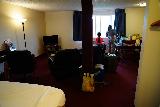 Sure enough, after Julie checked in, we saw that indeed they didn't have a kitchen, they also didn't have two beds (though they did promise us a rollaway bed), and it was quite the sleepeazy.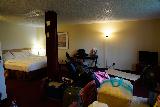 I thought to myself that this had better be the cheapest accommodations that we had booked on this trip because this also didn't seem like the greatest of neighborhoods either.
I guess every trip that we've done will always have some unpleasant surprises, and I guess this experience was it. But then again, maybe we were spoiled by our other accommodations to this point in both Boise and Twin Falls (superspreader conditions and all).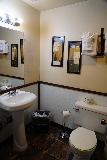 Anyways, after unloading the car in the rain, we then sanitized the place per our usual protocol, and then we got settled at 5pm.
Even without a kitchen, Julie made use of her Instapot to make a spaghetti dinner so we still had ourselves a nice cooked meal without the need to eat out again.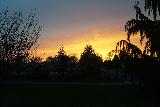 We had to use paper plates though since there weren't utensils or plates, but we improvised and made lemonade out of lemons as Julie likes to say.
Meanwhile, Tahia was playing Roblox while Julie was watching Meteor Garden again, and I was busy catching up on the last two days on the computer while also taking a few nice shots of the setting sun settling beneath the clouds and coloring them orangish and purple.
And so ended this day where maybe we can finally sleep on time and perhaps wake up early to resume of drive towards Portland tomorrow…
Visitor Comments:
US-93
April 26, 2021 2:59 pm
-
If you had to make time, you made the right decision to take NV 318 up to US 6. It saves a half-hour or so off the time to Ely compared to old US 93--but that's also why all the big rigs go that way, and have done so ever since NV 318 was paved… ...Read More