Day 5 (April 5, 2021 – Portland, Oregon): "Return To Portlandia"
It was 5:30am when I awoke to my alarm, but when I looked out the window, I wondered if I should have set the alarm for 4:30am because we got back an hour when we crossed from Idaho into Oregon and Washington.
Regardless, Julie and Tahia didn't get up until about 6am, and I was using the sleepeazy conditions as motivation for us to have our brekkie and get out towards Portland as soon as possible.
After having the leftover spaghetti, we eventually loaded up the car. During this time, I checked out the tall sign for the Kennewick Suites and noticed that it talked about a full kitchen as well as pool and HBO while being the "Home Away From Home".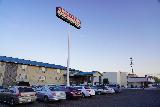 Well, we didn't get the full kitchen (though we did make do), and we didn't get our 2 queen beds as our confirmation had said, which didn't sit well with us.
Then again, maybe they were oversold yesterday since it was Easter Sunday.
In any case, the sleepeazy experience was over, and we finally headed out at 6:55am as the sun was already up.
Had this been Mountain Time in Idaho, then it wouldn't quite be sunrise yet.
Anyways, the weather looked a lot clearer today than the light cold rain we were getting yesterday, and that gave me some degree of home that maybe the weather might be looking up going forward as we would eventually settle into Portland tonight.
However, I was still concerned about forecasted rain at Cannon Beach on Wednesday, when we're supposed to be there after our time in Portland would be over.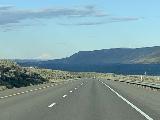 Regardless, we still had stuff to do to enjoy this beautiful day in the outdoors, and the first order of business was to head towards White River Falls on the way to Hood River.
The drive west along the I-84 as it skirted the Columbia River was very scenic, and I was already starting to see the conical snow-covered Mt Hood in the distance as well as a hint of Mt Adams on the opposite side of the river.
The drive also went very smoothly as most people followed the road etiquette, and the traffic was relatively light.
Eventually when we made it to The Dalles, we then took the US30 heading south in the direction of Tygh Valley.
I saw that Bend was also along this route in another 130 miles or so, but I knew that seeing Tumalo Falls (near the town) this early in the year was too ambitious as there's still snow there.
Regardless, the drive south along the US30 was quite smooth, and given the beautiful blue skies, we could see the snow-covered Mt Hood contrasted against against it.
Eventually, we turned off the US30 (there was a White River Falls sign at this point), and we then took it to the signed picnic and lookout area ultimately getting there at 9:10am.
It was quite chilly outside when we first showed up, which caused us to put on our jackets as well as some head gear (Julie and Tahia put on beanies), but aside from one other party of two that showed up and left, we pretty much had the falls to ourselves.
At the familiar nearest lookout, we saw the wide uppermost drop of the White River Falls with some kind of butte behind it.
Tahia and I also noticed a bit more hydroelectric infrastructure around the falls that I didn't really pay attention to the first time Julie and I were here some 12 years ago.
In addition to enjoying the falls, we also started to see a rainbow in the wafting mist.
And after having our fill of the uppermost lookout, we then walked along the trail leading lower towards the defunct hydroelectric plant.
Along the way, there was a ridge where we managed to get a more frontal view of the White River Falls, where we could see all three tiers of it as well as an even bolder and larger arcing rainbow appearing with the morning sun that was behind us.
We took our time taking family shots as well as videos with the tripod with Tahia helping out, but once they had their fill of the falls, they went back up.
This left me to do a little more exploring on my own, and I continued down the trail towards the defunt power station where the trail dead-ended at a gauge.
The station itself had bars set up to prevent access into the turbine relics though the graffiti inside there suggested that perhaps people have defaced it in the past before the bars were set up (or someone figured out how to climb up and get down through the top?).
Regardless, it was interesting to see how the White River was harnessed for energy, and I wondered what such energy production had powered when it was online.
Anyways, after finally getting my fill of the power station, I headed back up and made one last go at the area a little further upstream from the closest lookout to the parking lot.
While up there, I noticed that there were more smaller tiers upstream of the uppermost drop as well as some other diversion and pooling infrastructure probably as remnants of the power station that was once here.
Then, I finally rejoined Julie and Tahia at the car at 10:30am.
With it already being late morning, I asked Julie if she was up for an early lunch at Hood River since we were headed in that direction.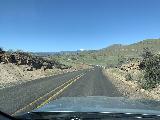 And she thought it was a good idea (especially since I figured that getting to Curly Creek Falls would take at least an hour's drive in each direction.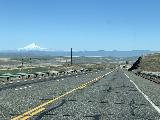 Plus, access was not guaranteed considering that we might run into snow blockage like we did the first time we tried to visit this falls back in late March 2009.
And so after heading back along the US30 towards the I-84 with Mt Adams showing up in the distance from time to time, we eventually arrived at the quaint main drag of Hood River at 11:30am.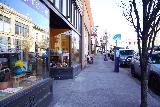 Julie had this craving to check out Broder Ost because they had Swedish Meatballs and other Swedish and Danish fare, which made her miss the time we were in Sweden in Summer of 2019.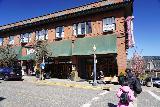 But when we got up to the restaurant, we could see that all the outdoor seating was taken, and we weren't really keen on dining inside.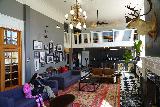 So we decided to order the food takeout so we can eat in the car. And while we were waiting for the food to arrive, Julie and Tahia went down the street to get an acai bowl while Julie got some kind of coffee, and they got me a kombucha.
When the food arrived, I paid for the food and noticed that the tipping column suggested a minimum of 20% up to 30%!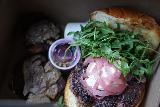 I don't think I've seen that before, and I wondered if they're doing this to try to help struggling businesses since the onset of the pandemic.
When I found Julie and Tahia, we retreated to the car, and then ate in there. It turned out that Julie ordered the Swedish Meatball, some Fish Cakes, and a Danish Donut (I think). I also added on a Lindstrom Burger, which came with Swedish Hashbrowns.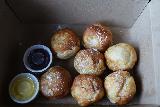 It turned out that the food was quite fresh and delicious, and it affirmed my conviction that Portland and its neighboring cities and towns really take local freshness and boutique styles very seriously.
By about 12:30pm, we were done with the food, and then we started to drive in the direction of Curly Creek Falls, but not before filling up on gas.
It turned out that the Chevron we filled up at was actually full service so I guess this quirk of Oregon was still alive even though Baker City let us self-service our fill-up when we were passing through northeastern Oregon en route to Palouse Falls.
Regardless, once that was done, we then drove across a narrow toll bridge over the Columbia River (costing us $2) as we entered Washington State and then drove west along the north side of the Columbia River.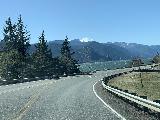 I've never driven this road this far from the east between Hood River and Cascade Locks, but it was quite scenic and I wished that I could stop to photograph Mt Hood fronted by the Columbia River.
Nevertheless, we ultimately got towards the small town of Carson and then we headed up the Wind River Road en route to the Gifford Pinchot National Forest.
We saw that there was a huge lumber warehouse in the northern outskirts of Carson, and then we saw depressingly bare forests as there was some extensive clearfell logging (though it wasn't nearly as depressing nor as extensive as what we saw in Northeast Tasmania a few years ago).
As we drove further up the Wind River Road (passing by some waterfall opportunities that I was hoping to make time for one of these days like Panther Creek Falls and revisiting Falls Creek Falls), I started to notice snow alongside the road.
I got worried because the road kept climbing and the snow banks looked like they were starting to get thicker.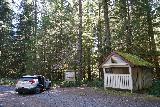 Fortunately, after getting past some summit with some snow play possibilities, we eventually got to the Curly Creek Road (I think it was NF-90), and then we ultimately made it back to the Curly Creek Trailhead 31A at 2pm.
My memory must have failed me this time around because I could have sworn that there was a bridge near the trailhead that we were supposed to cross before going on the short path to the overlook of Curly Creek Falls.
But instead, there was merely a sign and an outhouse with a turf roof, and even more amazingly, we were the only people here (aside from two trucks parked closer to the bridge over the Lewis River).
In any case, we took advantage of the relative solitude, and promptly walked down the short well-forested trail towards a junction with the Lewis River Trail.
Then, we continued on the right downstream along the Lewis River before reaching the first lookout, which was for the Curly Creek Falls.
Just like it was the last time around, the lighting was such that the falls was in shadow, but there were plenty of trees in the way that were getting the benefit of the afternoon light.
It was almost as if we were better off experiencing this waterfall only if it was a cloudy day so the lighting would be even and the falls wouldn't be as hidden in the shadows.
Nonetheless, unlike the last time we were here 12 years ago, this time the falls was actually flowing well, and it was the very first time in three tries that we finally got to experience Curly Creek Falls the way it was supposed to be experienced.
So after taking some time to document the experience, we then walked a little further down the trail towards the next lookout for the Miller Creek Falls, which was also flowing quite well.
Then, after having our fill of this place, we returned to the car getting there at 2:55pm.
That said, I did briefly explore where the other trail went, but it was nothing more than the continuation of the Lewis River Trail and it didn't bring me to a second parking area where those two trucks were earlier as I had thought.
Anyways, we then took off and drove back towards the Columbia River Gorge as we were intent to visit Multnomah Falls once again.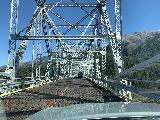 Eventually after getting through Carson and then taking the Bridge of the Gods (another $2 toll to cross the Columbia River back into Oregon) at Cascade Locks, we then drove the I-84 west in the direction of Portland.
Knowing that we could take the Old Columbia River Gorge Highway at the Ainsworth State Park exit (since finding the Columbia River Gorge waterfalls when heading west on the I-84 was harder than the more frequent exits when heading east), I went ahead and took that exit.
However, I then saw a road closure as I got onto the Old Columbia River Highway as apparently there were landslide issues likely from the soil destabilization resulting from the 2017 fireworks-caused wildfire that devastated the beloved Columbia River Gorge.
It has been nearly 4 years since that incident, and we're still feeling the adverse effects of that act of blatant disregard for Natural places.
And so after backtracking onto the I-84 west, we then took the dedicated Multnomah Falls exit in the middle of the I-84 between the westbound and eastbound lanes.
Not surprisingly, this parking lot was very busy, but we managed to score a spot so we could make our brief visit at 4:05pm.
At least the majority of people here were wearing masks, which was a stark contrast to much of Idaho. Heck, there was even a mixed baggage of people acting in the interest of public safety in Southeastern Washington at Palouse Falls.
So as beautiful as the Multnomah Falls was to check out, Tahia was kind of throwing a bad attitude as perhaps she was getting some waterfall fatigue (though Julie and I knew that she was only interested in playing in the pool or playing Roblox).
Anyways, as we walked towards the Multnomah Falls Lodge and the main lookout area at its base, I couldn't help but notice that the parking lot was pretty much empty in front of the lodge.
That made me think that the Old Columbia River Highway must have been closed in both directions (likely as a result of the complications of the fires from 2017, I'm sure).
And it planted some doubt in my mind that perhaps visiting Latourell Falls on this day might not happen.
Regardless, we took our shots of the Multnomah Falls as the volume of people here made us a little nervous.
Then, we went into the gift shop to pick up some marionberry jams as gifts as well as for ourselves.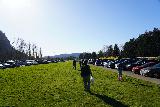 By about 4:45pm, we returned to the car and started to drive west on the I-84 again. The whole time, I was keeping an eye out for any exits that might take me back towards the Old Columbia River Highway hopefully without backtracking.
But unfortunately, the first exit where I saw a bridge was near the Rooster Rock State Park exit, which I think was near the Vista House, which I could see perched on the bluff to the left.
However, I knew that it was beyond Latourell Falls, and since it was getting late, I decided not to pursue that waterfall on this day.
Eventually, after some traffic as the I-84 merged with the I-205 and I-5, we ultimately arrived at the Hyatt House at 5:20pm though the parking situation already looked a bit tough.
But the valet person here allowed us to park the car for 30 minutes or so to allow us to unload and bring our stuff up to our room.
However, she was trying to discourage us from parking in the public structures nearby because there had been a series of break-ins last night.
She actually recommended finding street parking, but I knew that would be a very difficult task.
Now the Hyatt House did offer $55 per night valet parking, but not only did that pose a COVID-19 risk for someone else was driving our rental car, which we sanitized, but it was a rip off, especially since we were spending 2 nights here.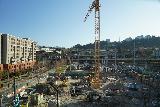 After getting up to our room, we did see that there was a Residence Inn across the street and they had their own underground parking structure. So perhaps that was a lesson learned on our part that we should have booked there.
This was especially the case since we had a pretty positive experience earlier on in this trip.
After sanitizing our room and getting unloaded while our perishables were in a legit refrigerator, we then went back down to the car at 6:10pm.
We then drove out towards our dinner spot at Nong's Khao Man Gai, which was on Akeny St, but we had to take a detour for the Hawthorne Bridge.
And as we did that, we saw that there were a lot of cops tending to one half-naked guy disturbing the peace and preventing us from crossing the detour for the Hawthorne Bridge.
So we drove further north to cross a different bridge across the Willamette River and that was when we saw there were numerous stores in the downtown Portland area that were boarded up.
Not only that, but we noticed a lot of "tent cities" as the pandemic must have really hit people hard here (though the homeless problem was even prevalent before the pandemic exacerbated the ills even more).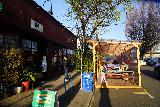 At 6:25pm, we finally found street parking across from the Nong's Khao Man Gai, and then we promptly sat at one of the outdoor tables to eat there while the food was still fresh.
It was pretty much like comfort Chinese food as there was sort of a Hainan-style chicken rice as well as a pork stew that reminded me of some Taiwanese street dishes.
We also got a coconut ice cream, which hit the spot, and we also got some broccoli to round out our meal.
It was simple fare, and we managed to get our food and eat it just before they closed up shop at 7pm.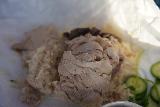 By 7:05pm, we were done eating, and while there was still daylight, I had considered maybe driving around to check out some Portlandia spots (especially the In Other Words bookstore or Mary's Club).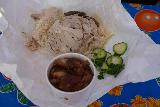 However, the bookstore (which Portlandia made famous for the Women and Women First Bookstore) was actually shut since June 2019 so we decided not to bother looking for it.
In the mean time, Julie decided that since the Portland Japanese Garden was closed tomorrow, we should at least go back to the Chinese Garden for the first time since our late March 2009 visit.
Then after that, we might briefly walk around to find some other Portlandia spots before perhaps chasing waterfalls again while the weather would still cooperate.
It was too bad that the forecast called for rainy weather on Wednesday (the day after tomorrow), which was when we'd actually be staying in Cannon Beach and spending time chasing waterfalls and beachcombing.
Oh well, I guess that's how it goes sometimes, and you can't control such things.
Anyways, we drove back towards the Hyatt House, and after circling around the immediate area in search of street parking, we ultimately settled on parking at Douglas Structure at 7:30pm.
We gave it a valiant effort but it just wasn't meant to be. And when we got back to the entrance of the Hyatt House, the valet that warned us about parking in the structure asked, "You didn't just park in a structure did you?"
Unfortunately, we said yes, and then we chatted with her to get a little more clarity on what's going on.
Apparently, the underground lot opposite the Douglas structure that we parked at was where a series of break-ins had occurred last night, but in the back of my mind, I knew that any car parked here could easily be broken into.
So with that unease of mind combined with all the depressing things we saw around the somewhat dead downtown Portland area, that made me wonder if the Dream of the 90s was pretty much dead by now.
We'll have to keep our fingers crossed that I won't find a broken window or other damage to the rental car come early morning tomorrow when I expect to visit the Willamette Falls a bit better than the first time around back in Summer 2017.
But we really don't have other options if we're putting our health at risk versus monetary loss from theft or damage to the rental car from vandalism.
In the mean time, we returned to the room at 7:45pm, and we'll have to see how things go moving forward…
Visitor Comments:
US-93
April 26, 2021 2:59 pm
-
If you had to make time, you made the right decision to take NV 318 up to US 6. It saves a half-hour or so off the time to Ely compared to old US 93--but that's also why all the big rigs go that way, and have done so ever since NV 318 was paved… ...Read More