Day 6 (April 6, 2021 – Portland, Oregon): "The Dream Of The 90s Has Died"
It was 6am when I awoke as I was both worried about people breaking into cars overnight as well as the anxiety about accomplishing some waterfalling excursions while Julie and Tahia were sleeping in.
I was also a bit uncertain about what we were intending to do in Portland today considering I didn't really have anything planned for the rest of the day after I hit the waterfall target of Willamette Falls.
If time permits, then I might pursue Latourell Falls and the Upper Latourell Falls (the latter of which I had never had a chance to do before).
Without any kefir breakfast that I could have powered up on before heading out, I then just got my pack, tripod, camera, and whatever else I could remember before heading downstairs towards the parking lot.
I was quite anxious about the state of the rental car, but by 6:25am, I got to the car and was relieved that nothing happened to it.
Perhaps even more interesting was that I saw a parking enforcement guy already out and about looking at peoples' license plates to see if the street parkers were supposed to be there.
Even though the Douglas Parking Structure that we parked at was $24 overnight while the other one was a mere $8.50 every 12 hours, that warning about breakins the night before in that lot made me reconsider.
Perhaps the Douglas one was more supervised, which was why they commanded more money though there was no one manning the collection booth as that was all machine automated.
Anyways, just as I was about to drive off, I realized that I had forgotten to get the parking ticket so I had to run back to the Hyatt House and our room.
But when I got to the entrance, the valet asked where my mask was, and in that moment, I had forgotten to bring it. Then, just before I was about to head back to the parking lot, the valet said he would bring me a couple of masks so I wouldn't have to make the trip.
Sure enough, he did that, then I went back up to our room to get the parking ticket, and then finally at 6:35am, I was back in the car and only then was I ready to go.
I first drove south along the I-5 towards Oregon City, where I ultimately followed the flow of traffic towards the I-205 east.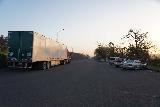 Then, I took that freeway and this time I took it all the way to a rest area stop with a vista getting there at 6:55am.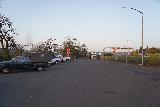 Unlike the last time we were here 4 years ago when we took one of the earlier exits and wound up spinning our tails being unsuccessful at finding a proper place to pull over and experience the falls, this time I did a little more research and followed through on it.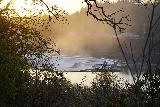 Indeed, I used Google Maps to figure out where I should have gone in the first place (Greg Plumb's instructions on this part of the write-up was a little vague given all the urban jungle chaos), and the first logical place to stop was indeed that rest area.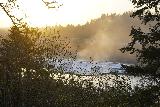 When I got to the overlook, I was surprised at how many trucks and cars were pulled over here, and I suspected that most of them were not here to sightsee but they were actually using the rest area to perhaps overnight and sleep in the car.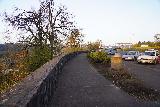 Still, there were a handful of available parking spots, and I took advantage of them to get out and take photos towards a partial view of Willamette Falls against the rising morning sun against the haze.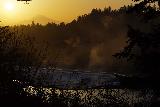 The first view that I got wasn't remarkable given the overgrowth that conspired to make it difficult to photograph, and looking against the rising sun didn't help my cause either.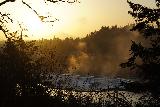 But then I walked towards far eastest end of the rest area, and I had a similar view except there was also the silhouette of Mt Hood in the background.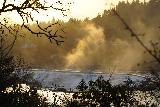 On a clear sunny day like today, perhaps this rest area would have yielded the best viewing experience early in the afternoon where shadows wouldn't be as much of a problem and seeing the snow-covered Mt Hood together with the falls would have really made it special.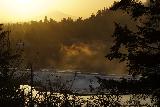 Once I had my fill of this spot at 7:10am, then I continued driving towards the next exit where I then made a right at the off-ramp and took it across the bridge into downtown Oregon City.
Once again, instead of finding street parking somewhere near this bridge (where we got frontal but distant views of Willamette Falls), this time I drove past a tunnel and then pulled over at a designated viewing area for Willamette Falls at 7:15am.
Being the only person who bothered to stop here while there was a lot of road traffic zooming by, I got my camera and documented the experience here.
It was merely an overlook and I didn't see any elevator that I could have sworn I saw in someone's trip reports though perhaps I should have checked out the tall tower that you see when driving across the bridge.
Oh well, that will have to wait until the next time we happen to be in the Portland area again, but perhaps that seeded in my mind that we should take a few minutes to come back here on the way to Cannon Beach where we're staying tomorrow (even though it would be a bit of a detour).
Anyways, the view of Willamette Falls from this closest of lookouts was actually a little above most of its brink and it probably could have used the elevated view.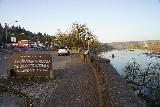 Nevertheless, I could not only hear the falls but also appreciate its power a bit better here though the hideous plant across the river definitely made this waterfall feel stale.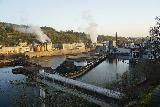 I had read about work to establish the Willamette Falls walkway and really improve the experience here back when we were last here 4 years ago, but it seemed to me that it hasn't really progressed a whole lot since that time.
By about 7:25am, I had my fill of the falls and then returned to the car where I took it further east on the I-205 towards the I-84 as I decided to pursue Latourell Falls and Upper Latourell Falls for the first ime.
I figured that Julie and Tahia would still be asleep if I returned to Portland so I just went for driving back to the Columbia River Gorge to experience the waterfall since the rest of the waterfalls weren't accessible due to landslides and road closures.
So I guess the area was still feeling the effects of the 2017 fire caused by a Vancouver boy who threw fireworks into Eagle Creek and created the most damaging wildfire in the area's history.
Fortunately, when I got off the familiar Bridal Veil exit 28, I took the road a little to the east before I got to the road closure, and then the Old Columbia River Highway going west was available to so I took that towards the familiar parking lot for Latourell Falls at 8:05am.
It was very cold here when I got out of the car, and after taking a few obligatory shots (even setting up a tripod briefly closer to the base), I took my time though my hands were losing feeling and coordination given how cold it was.
There was one couple that showed up while I was taking photos and videos here, but I soon found how cumbersome it was to even set up this shot when I knew that I still had a hike to do.
So I then stowed it onto the pack and swung around back to the parking lot and then up to the upper lookout, where I was sharing the view with one guy who was here trying to compose his shot.
I couldn't believe that he was in a T-shirt because it was freezing here, but to each their own I guess.
Once I had my fill of this spot, I then continued walking up the trail where it immediately stopped being paved as most of the elevation gain was on this stretch.
After passing by a viewing bench, I managed to get some unusual angled views of Latourell Falls before the trail eventually flattened out a bit while still generally going uphill.
Given how cold it was down by Latourell Falls, it didn't take long to warm up during that climb, and I was making good progress until I made it to the Upper Latourell Falls at around 9:10am.
This was a two-tiered waterfall that twisted away from the trail so I was glad that I did this hike in a clockwise manner since I was descending towards the falls.
When I got down to the base of the falls, the upper tier started to become more hidden from view, and when I went into the alcove that was somewhat behind the lower drop of the falls (kind of reminding me of Ponytail Falls, only the lower drop was visible.
Sure this waterfall didn't quite have the height and plunge of the lower waterfall nearly 0.8-mile further downstream, but it was a nice secluded spot as I was the only person here to enjoy it though the morning sun was conspiring to make light and dark contrast zones.
After having my fill of the Upper Latourell Falls, I then continued the loop hike as it was for the most part downhill until it started to ascend a little as it got towards the rim of the Columbia River Gorge.
There was one woman walking her dog that I saw along this stretch of trail, and she was the only person that I saw the whole time.
That was when I noticed a fork where the unsigned path on the right took me down to a scary-looking bluff with a commanding view at the short walks and trails by the Latourell Falls parking lot as well as a partial view of the brink of Latourell Falls itself down to my right.
Due to the shadows caused by the morning sun, the hint of the snowy-covered mountains in the Gifford Pinchot area across the river were either blown out if I aimed the camera down or they were nicely lit while the Latourell Falls walking area below were completely black.
There was no in between to best take this shot to get it all so I did set the camera to raw in the hopes of perhaps postprocessing the shots I'd take here to correct that.
After having my fill of this spot, I then took the trail down a fairly gradual grade as it actually veered away from Latourell Falls before dropping me further west along the Old Columbia River Highway.
I was surprised that it crossed the road here, and I guess I could have walked along the road back to the Latourell Falls parking lot, but I opted to continue following the trail, which continued descending below the road to its north, and then swing around past a picnic area.
From there, the trail then went underneath a road bridge spanning Latourell Creek, and eventually I found myself on the other side of the bridge fronting Latourell Falls.
Not surprisingly, there were more people content to check out the falls going as far as the bridge before heading back up, so I briefly documented the state of the falls (and the partial lighting at this point), and returned to the car at 10:10am.
I was very surprised at how busy the Latourell Falls parking area was at this point, and I was quite glad that I had gotten the early start.
Next, I then drove back along the Old Columbia River Highway and made a brief stop at the Shepperd's Dell Waterfall at 10:20am.
Unfortunately, the walk leading down towards the brink of the lower falls was closed (and I wondered for how long), and so I was content to take my views of the falls from the road bridge instead.
Five minutes later, I had my fill of the falls, and then I finally started to drive back to Portland to meet up with Julie and Tahia to finally start our brief touring of Portlandia.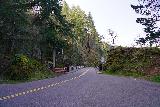 At 11:05am, I finally made it back to the Hyatt House, where I waited in one of the valet spots until Julie and Tahia made it down at 11:20am.
Next, we drove towards the Lan Su Garden but the drive up 4th street was a bit of a depressing scene of lots of boarded up businesses and rif raff with tent cities everywhere.
If there was a place that was perhaps most adversely affected by the global pandemic, it was probably Portland as the rough downtown area kind of reminded us of how quickly you move from the gentrified areas of downtown LA towards Skid Row.
But with all the anti-Asian sentiment going on, Julie was especially afraid of being attacked in the city since it seemed like we were being blamed for the whole pandemic situation.
Clearly, they must have ignored the fact that Trump got rid of the CDC outpost in China and didn't handle the pandemic at all, whereas other administrations (even the Bush and Obama Administrations saw through the handling of SARS, the Swine Flu, the Bird Flu, MERS, and Ebola).
The closure of businesses and activity during the pandemic was also exacerbated by the Black Lives Matter protests and riots and hence the boarded up businesses as well as perhaps people moving out as a result.
Indeed, it really seemed like the Dream of the 90s that so endeared a lot of people to the city of Portland looked like it was dead as we drove through the downtown area.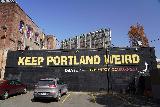 Nevertheless, we did make a brief stop at 350 Burnside Street to check out the "Keep Portland Weird" mural behind Dante's Live Music and next to the Voodoo Donuts though it was actually Austin that first had that sign that was since adopted in Portland.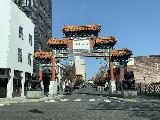 Then, by about 11:40am, we then found street parking around the Lan Su Garden, which was also in a pretty bad area of Chinatown as there were even more tent cities and rif raff walking around (one was holding a cup of pee).
Julie and I didn't remember the garden being this rough around the edges when we were last in this garden 12 years ago, but man did it really being out the paranoia in her as she was blasting me for losing one of our mace spray bottles that would fit in a pocket.
We ultimately paid for admission and waiting until 12pm before we were let into the garden area.
The staff here really tried to maintain social distancing by controlling the point of entry, and now the garden was a self-guided tour instead of the last time when a lady was actually explaining things when we first came here in 2009.
So that made for a much different experience, and plus there seemed to be a lot more interest in this garden area in recent years as opposed to our first experience.
Julie never really watched Portlandia so she thought this garden wasn't shown in the show, but then Tahia and I reminded her of the one where Lance (played by Carrie Brownstein) was chilling out with "his" look-alike doppleganger in real-life Justin Long when Lance's Mom was dating him.
Anyways, we took our time since we had an hour here to tour the limited real-estate of the Lan Su Garden, which was very well-done and brought us back to our time in Suzhou and Tongli also back in 2009.
We then chilled out at the tea house having a light lunch and some fresh tea though it was basically a takeout affair given the pandemic situation.
Finally after having our fill of the garden, we then got back to the car at 1:10pm where Julie and I were debating about just walking from the garden to the main Willamette River area with cherry blossoms (as she noticed them from where we were parked).
But she really didn't like the idea of walking to that area even though it was only a couple of blocks, so we actually spent a few contentious minutes trying to find "closer" parking and we ultimately parked a bit further away and had to walk further as a result of this escapade.
I really thought Julie was letting her anti-Asian paranoia and Skid Row-like experience of Old Downtown Portland get the better of her, but regardless, we scored another parking spot at 1:15pm, and then walked along the Willamette River.
At least the park and riverfront walk not far from where the Dream of the 90s thesis was shot in Portlandia was a bit more atmospheric than the run down downtown area, but there were still lots of tent cities and rif raff underneath some of the bridges we had to go under along the way.
Nevertheless, I think the tension in Julie's mood was relaxed upon seeing the cherry blossoms, and there were also a lot more people in this part of the park, including one busker playing some music.
Now this was probably more like what we had envisioned the real-life Portlandia experience to be like, and the cloudless day was further enhanced by the blossoms as well as the Hawthorne Bridge in the distance.
Eventually at 2pm, we returned to the car after having our fill of seeing what we thought was the best of the sightseeing in Portland, but now we had to make an executive decision about what to do next because rain was in the forecast tomorrow for Cannon Beach.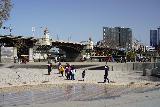 And so even though it was already getting late in the afternoon, we decided to head towards Cannon Beach and get there while there was actually low tide.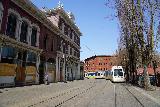 So next we drove the 26 west out of Portland and towards the US101 along the Oregon Coast, but this drive actually took a bit of time because it only had a 55mph speed limit though it was very easy to go way after than that.
Plus, there seemed to be a lot of cars going in that direction, and ultimately we then followed a caravan of cars going south on the US101 past Cannon Beach, and then ultimately to Hug Point.
When we pulled into the limited parking lot there, we actually scored a spot by a not-so-obvious No Parking spot next to some signs where someone else was also parked next to us there.
We weren't sure if we were going to get ticketed or towed, but given the chaos here of people trying to wait out a spot, we just stuck with our decision at 3:45pm, which was exactly during the low tide on this day.
While Julie and Tahia were getting ready, I went down first into the beach at Hug Point where it was both sunny and also quite a bit chilly.
There were lots of people all around the beach at this time, and I could see that the tides were also far enough away to really allow people to spread out and experience this spot.
All I had to do was to walk a short distance around one of the bluffs before I could see the short waterfall that was the main reason why we were at Hug Point to begin with.
And from this point, I spent a lot of time trying to somehow capture the experience though I couldn't be bothered setting up the tripod.
I guess I was finding out something about myself where I really wanted to experience the moment and spend less energy trying to produce something though I was glad that the BeFree tripod that we had bought just before this trip was relatively quick to set up.
As I was exploring some of the adjacent caves around the Hug Point Reserve, I then was about to walk around another bluff towards the next series of caves when I noticed Julie and Tahia were approaching the Hug Point Waterfall.
At the same time, I also noticed that there were also quite a few people on a shelf slightly above the ocean.
That must be the Hug Point that this area was named after, and I made a mental note to go back there to check it out but I had to return towards Julie and Tahia so we could take pictures and experience the waterfall together.
So we took a few moments to let Tahia play in the sand, taking family photos, and also taking a brief moment to climb up to the brink of the Hug Point Waterfall before Julie and Tahia started heading back to the car.
At that point, I took some additional time to check out the caves as well as the shelf at Hug Point.
One of the caves was actually somewhat of a curling arch though you couldn't really see through it, but you can definitely climb through it.
On the shelf, there were lots of mussels both dried and wet stuck to the shelf itself and there were numerous families on it really enjoying the tide pools here in addition to the experience of feeling like you're walking on a spot where the ocean can take it back in just a few hours.
At the end of Hug Point, I could see that the shelf actually went towards a less busier and more secluded beach.
I wondered if it's possible to go from the Acacia Beach lot to this point as an alternate experience though the emptiness of this beach made me think it was harder to do so from there.
Anyways, I thought I had read that this shelf used to be an old access that could only be done during low tide, of course, but I couldn't believe that people used to travel around that shelf as a route given how precarious it was to Mother Nature taking over.
At 4:55pm, I finally got back to the car, where Julie and Tahia were waiting for me.
Fortunately, we weren't ticketed, and I did notice that a lot more people have left this lot at the time as it must be getting late in the afternoon.
Next, we finally drove back towards Cannon Beach, eventually finding the public parking for the Haystack Rock at 5:10pm, and like 4 years ago, we walked past the Wayfarer's (the place we ate at last time we were here), and then we walked onto the fine sandy beach.
With Haystack Rock in the distance, we managed to recreate our afternoon shot with a tripod set up, but the lighting in the Spring wasn't quite as nice as it was in the Summer since Haystack Rock was still mostly in shadow.
It was quite cold and windy at Cannon Beach even with the nice weather, and it was too bad the weather was going to turn tomorrow, when we were to stay here.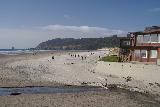 Anyways, by 5:50pm, we were finally back in the car, and then we headed back towards Portland, where we still had to do a grocery run as well as to check out a Moroccan Restaurant for takeout before returning to the Hyatt House to wind down the day.
When we finally made it back to Portland (almost getting pulled over by a cop when I was speeding past one state trooper waiting but maybe he was noticing something else; man that 26's slow speed limit was a real speed trap), we then went back to the rough part of downtown Portland.
That was where we finally found the Tangier Restaurant where we got our takeout and awkwardly ate in the relative safety of our car as there were quite a few passerbys as the skies were getting dark.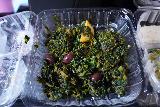 The meal was good and filling as my lamb tagine was basically a big lamb shank with rice, while Julie and Tahia got a chicken which tasted quite good.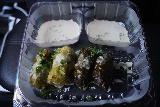 We also had a Greek-like rice wrap with a cabbage wrap with meat and rice in it, which was also different and good.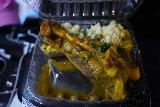 Indeed, this experience affirmed to us that Portland still knows how to do foodie experiences though Julie was still bumming that the Cultured Caveman had shut its doors during the pandemic.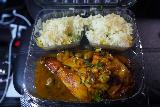 I guess with the market distortions we have, it's hard for healthy eating joints to make enough margins to stay in business, especially with our propensity to eat and hype up places that tend to be unhealthy for us (such is the paradox of eating out).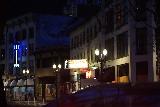 At 8:05pm, we were done eating and then we drove towards the Whole Foods in downtown Portland while passing by some familiar Portlandia sights like Mary's and Powell's Bookstore (both Portlandia opening credits scenes).
Finally at 8:15pm, we arrived at the Whole Foods, which actually seemed to be in a bit of a nicer gentrified area as opposed to the Skid Row-like downtown area that was really rough around the edges.
By 8:35pm, Julie was done with the Whole Paycheck run, and then we entertained the idea of stopping by Voodoo Donuts just to try out and see what the hype was about.
But when we returned to Burnside Street and saw the huge line still waiting to get their donuts before the place would close, we decided to not go for it.
It totally reminded me of the Brunch Village episode in Portlandia where people would be waiting for hours just for a hyped up foodie experience (Marionberry pancakes in that episode), and so there was no way we were going to bend over backwards on this night.
By 9pm, we parked in the familiar Douglas Parking Structure, where we will eat another $24 for the overnight parking.
At least when we left and headed back to the Hyatt House with the groceries and trying to leave nothing of value in the car, we did see one security guy doing the rounds.
Perhaps that's a good sign that there shouldn't be a recurrence of the series of breakins that victimized a lot of people when we first showed up to downtown Portland yesterday.
And with that, we ended the day with Tahia and I watching Brunch Village and the Dream of the 90s sketch just for old times sake as now the Portlandia spots had more meaning to us.
Tomorrow was going to be a lighter day of touring with the expected bad weather, but we were intending to do the foodie experience before leaving for Cannon Beach and the rain…
Visitor Comments:
US-93
April 26, 2021 2:59 pm
-
If you had to make time, you made the right decision to take NV 318 up to US 6. It saves a half-hour or so off the time to Ely compared to old US 93--but that's also why all the big rigs go that way, and have done so ever since NV 318 was paved… ...Read More