Day 7 (April 7, 2021 – Cannon Beach, Oregon): "Wet But Perfect Family Afternoon"
It was about 6:10am when I awoke though I noticed that the 5am alarm had gone off for a bit before Julie must have gotten up to turn it off.
So when I got up the skies were already starting to get brighter, and it was a bit later than I would have liked to get caught up on some chores as far as organizing the photos and videos from yesterday.
I also had to get caught up on the blogging which took the better part of a couple of hours.
Julie and Tahia didn't get up until around 7:30am, and by this time, I figured that it would take them even more time to eat breakfast and get all packed up and ready to go.
So I decided right then and there to go back to Oregon City to check out the McLoughlin Promenade for an elevated view of Willamette Falls to complete the experience.
When I was done eating the kefir and fruit breakfast so I could hold myself over for the rest of the morning, I suspected that we're probably not going to have lunch today.
This was especially the case since we were intent on getting Voodoo Donuts and some gluten-free desserts at Petuna in downtown Portland as we were getting the last vestige of foodie culture in the city before going back out to Cannon Beach.
Sure enough, I managed to lug some of my luggage and belongings to the car in the interest of making things easier on Julie and Tahia with the dolly for efficiency.
And when I got to the car at 8:40am, I was once again relieved at not having our car broken into, but now I suspected that the Douglas Parking structure was more expensive than the underground one across the street for a reason – it was likely supervised.
So the extra expense was probably justified.
Anyways, I headed out and did the familiar drive south on the I-5 towards the I-205 North (which actually went east), and under the cloudy skies this time around, I skipped the rest area exit for the Willamette Falls.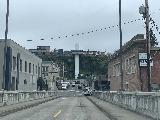 On the next exit, I took the familiar drive towards the West Linn Bridge, and then I headed back though the tunnel before heading up the hill on 2nd Street as I then looked for High Street as I followed the signs for the Promenade and Elevator.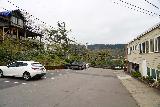 Eventually, I found street parking next to the block where there were parking meters for some spots opposite some kind of accounting or attorney office right where the signs pointed the way to the Oregon City Historic Elevator.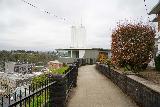 After getting my camera and phone, I walked towards the McLoughlin Promenade, which was basically a paved walkway with views over Oregon City's paper mills while also backing some attractive historic-looking fancy homes (some of which had signs for them).
I first went towards the top of the elevator, where there was a friendly guy who greeted me.
After briefly checking out the views from the elevator through some windows, I then chatted with the staffer about the River Walk Legacy Project.
We knew that it was going to be a slow process, but I asked him how much longer it would take considering that we were here in Summer 2017 when the project was already underway in the planning process.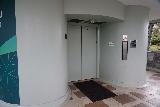 Well, apparently, the planning process continued, and he said there was another 18 months to go since the pandemic kind of slowed things down.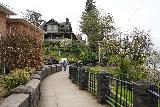 He also said that there was land owned by the local Native American tribe which also had their own approval process in addition to the defunct paper mill that had a fire not too long ago.
Given all the delays and multiple parties pulling the project this way and that, he suspected that it might be at least another 3 years before completion, and well, it's basically a case of it's gonna get done when it's done.
With that, I thanked him for the chat, and then I was on my way in the opposite direction as I followed along the Promenade.
There was one lookout spot with a nice view towards the Willamette Falls in a more satisfying manner than the brink view down by the street.
However, as I continued along the Promenade, I saw that it descended towards a bridge that went across the busy street and ultimately along that street back towards the lookout at the brink.
So I guess it was possible to connect the Promenade experience with the lookout, and while we're at it, we could even do the grand trifecta by taking the elevator down and walking from there towards the West Linn Bridge for a distance but frontal view of Willamette Falls.
Nevertheless, I was content with my elevated views of the falls from the Promenade, and then I walked back towards the parked car at 9:40am.
Next, I drove back towards downtown Portland at the Hyatt House ultimately getting there at 10:15am.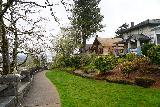 I then I took one of the valet spots and headed back up to the room since Julie and Tahia needed help with the dolly to bring the rest of the luggage down to the car.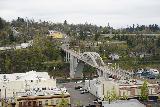 Eventually after helping Julie and Tahia get the luggage back down to the car, we checked out, and then we ultimately loaded up the car and finally left at 10:35am.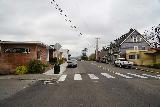 Now, Julie could finally order Voodoo Donuts and the gluten-free stuff at Petuna.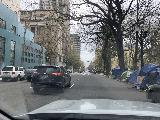 By this time, I was pretty familiar with the downtown Portland streets and took 4th Street all the way to Chinatown without the aid of Julie's routing on her phone.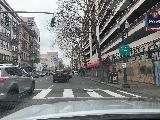 Ultimately at 10:45am, we then turned to the Keep Portland Weird mural and parked there as Julie went to get the much-hyped donuts.
So after taking a few more selfies of the whole family standing in front of the famous "Keep Portland Weird" mural, Julie then went across the street to pick up the doughnuts.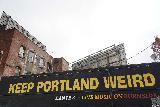 There was already a line of people waiting to get the goods, but since Julie ordered ahead of time, it didn't take long before she came back to the car with the pink box of Voodoo doughnuts.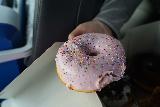 I wasn't sure what the hype was all about, but I liked the good ol' fashioned chocolate glazed, which was pretty much like a glorified Winchell's as far as I was concerned.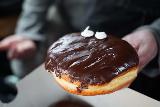 But we also got some other interesting flavors like the Homer, the Dirt (oreo on white filling), a custard-filled chocolate donut, and a bacon-maple one.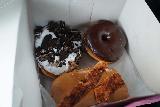 This was a serious cheat as far as really blowing up or careful diet (we've been blowing it this entire trip), but I was especially concerned for Julie as her rashes were coming back, and these super sweet doughnuts didn't help her cause.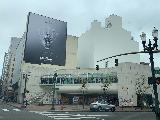 Next, after eating some of the doughnuts (and getting stuffed already), we then drove towards Petuna, which was in a sloped street between a couple of churches in downtown Portland.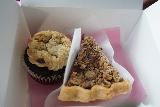 We got there at 11:05am, when Julie then went into the shop and got a gluten-free cupcake and some kind of gluten-free pie before we finally headed out twenty-minutes later.
At this point, we were now going to leave Portlandia for good and head back to Cannon Beach again.
I was pretty much listening to Jim Rome as we were driving along the speed-trap-heavy Hwy 26 before the show ended at noon, and then I was pretty much playing the Portlandia song on repeat until we got to the bustling Cannon Beach.
Despite the weather being cloudy with intermittent rain, the town was busy and I was concerned about running out of parking at Ecola State Park.
Nevertheless, we first went to our accommodation at The Waves at 12:45pm in the hopes of an early check-in, but our room wasn't ready.
So we had to bite the bullet and do a hike in Ecola State Park with all our stuff in our rental car as we drove off at 12:55pm.
After driving the narrow road with some degree of dips and water damage to the paved road, we eventually got to the familiar parking lot for the Ecola State Park parking lot at 1:05pm, and there were actually plenty of parking spaces on this day.
However, with the cold and cloudy skies, the winds were quite gusty and so it was already inducing runny noses as we made our way to the familiar viewpoints of Crescent Beach as well as the sea stacks.
There were definitely lots of trail closures due to active landslides, and thus there was one in particular that prevented people from climbing up to Ecola Point for a closer look at the lighthouse and even the Sea Lion Rock.
The view looking out the north end was kind of limited and disappointing, and we weren't about to take the trail leading further north to Indian Beach.
And so with that, we then went back towards the Crescent Beach Trailhead ensuring that we were properly dressed for warmth as well as hiking boots as we were well aware of the trail conditions such that they were muddy, slippery, and steep.
Even a sign said so as it was for "experienced hikers only", and I considered us certainly fitting the bill with that description.
So the trail started off with an ascent going back up to the main road briefly before branching back into the moist and vegetated terrain where we then encountered another fork in the trail.
Apparently, there were some fallen trees on the path to our right, but then we saw another trail that bypassed the first series of fallen trees and actually resumed behind them.
I wasn't sure where the trail on the left went, but we pursued this trail on the right anyways just to see where it went.
But before long, the trail descended then skirted along the vegetated ledges with nice views down to the Crescent Beach and some sea stacks jutting out into the water in low tide.
So far, the trail wasn't too bad as far as muddiness was concerned, but then we encountered some massive fallen trees that we had to get over, and those were kind of slow going.
Not much later, we then reached a trail junction where the path on the left (tagged with pink ribbons) apparently joined up with our trail, and I knew right then and there that the trail we had skipped was actually a detour to bypass the fallen trees that we had just scrambled past.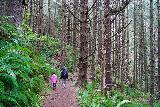 Note to self, we would definitely take the pink-ribboned trail on the way back.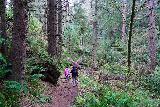 Regardless, the hike was pretty pleasant as the three of us were enjoying each others' company as we were busy negotiating muddy obstacles along the Crescent Beach Trail.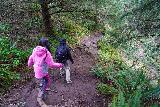 Aside from the odd fallen tree here and there, the hike was pretty straightforward though it did feel somewhat slow-going and long for a 1.25-mile hike (according to the signage).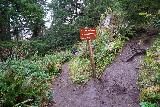 We might have encountered maybe one or two groups heading out while we were on the way in, but it had been pretty sparsely used trail for much of our hike, which was quite refreshing.
I had feared a more tense situation had there been better weather at Cannon Beach like it was yesterday, but in the back of my mind, the poorer weather forecasted today might have opened the door for a less-crowded experience, and that certainly seemed to be playing out.
Eventually, the trail got around some pretty bad muddy patches where some flowers were actually growing out of the moisture within them, and the sporadic rain that seemed to come and go didn't seem to penetrate most of the tree cover surrounding the trail.
After what seemed like forever, the trail then descended to a signed junction, where we then went right and continued a rather steep and slippery descent en route to Crescent Beach.
Some of the slippery muddy slopes gave Julie the jitters as she didn't believe in my philosophy of using the downward momentum to get past the dicey parts as stopping during the descents (which she was doing) was more likely to result in a slip-and-fall.
Fortunately, no one took a slip-and-fall, but it was pretty dicey to say the least.
Ultimately, we made it down to the wooden steps leading down to Crescent Beach at 2:55pm, but the last series of steps apparently broke off so we actually had to sit and descend the other side to reach the sands of the beach.
From there, we then walked towards the north end among the stacks for a few paces before finally standing before the Crescent Beach Waterfall.
However, I also noticed that there was a hidden upper tier of the waterfall though it was twisting and hard to see the whole thing in one go.
And for what seemed like a very long time, we were pretty much alone at the waterfall though there was one guy who was walking even further to the north along the Crescent Beach possibly getting up to what appeared like a cave in the distance.
So we took quite a bit of time given how we earned this experience, but it was already feeling like the perfect afternoon of family time as I couldn't imagine this place being this sparsely visited yesterday when the weather was so much nicer.
Indeed, we took family shots that might probably wind up being those cherished Kodak moments that we should blow up and hang up somewhere, and I made sure to take these images in Raw so if there needed to be postprocessing, then at least that option's available.
Eventually at 3:35pm, we then had our fill of the Crescent Beach Waterfall and then pursued going to the southern side of Crescent Beach to check out some sea arches there.
I swore I saw a pair of them, and so now I was keen to get up to them to see them up close.
I wound up getting to the arches myself as Julie and Tahia were taking their time checking out crabs and sand dollars apparently washed up deep onto the wet sand with the receding tides.
And after having my fill of documenting the sea arches (though it was hard to see both at the same time given how their spans were angled), I then backtracked to Julie and Tahia so we could get more family shots.
Sure it was cold and windy at each of the spots we took photos and I couldn't take off my Les Stroud shirt to show off the underlying waterfalls shirt, but I wouldn't trade these precious moments for the world.
Finally at 4pm, we left the double arches and started to hike back to the trailhead.
Along the way, Julie noticed that there was a second trail with steps, and at that trail, there was another stream with a waterfall except that one was thinner and harder to see.
There was one woman who was hiking here alone and she apparently took that trail back up (probably coming from Cannon Beach is my guess), and that was what made Julie point out that alternate trail to me.
Anyways, we got back to the steps that we took, and then made our way back up to the signed trail junction.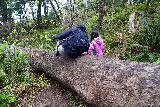 On the way back, we probably encountered 3-4 parties, where the last one was with a dog, and the lady was wearing what looked like Vans, which I'd imagine they might be ruined if she actually follows through to Crescent Beach.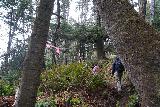 We actually took the pink-ribboned detour on the way back, which was a bit smoother going through that path also had one fallen tree that looked like it fell not too long ago.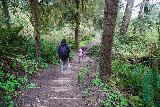 Finally, we made it back to the Ecola State Park parking lot at 5:10pm where there were now a lot fewer cars, but just as we were trying to take off our shoes and bag them up since they were caked in mud, a rain squall showed up.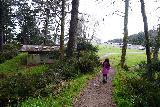 I guess it was good timing that we finished the hike when we did because this one surely would have make us cold and miserable had we been caught in the elements like down at the beach.
I wondered how the people we saw on the trail would be doing at this time, especially in the dicey parts.
In any case, we then drove back to The Waves Motel, where we finally got to check in at 5:30pm, and then after driving to the beachfront unit that we had booked and sanitizing our lovely room, we then finally got settled at around 6pm.
By this time, our perfect afternoon got even better as we were enjoying the beach views, which even featured surprising kitchen amenities that we weren't actually expecting in this motel.
I imagined that this was probably the most expensive night that we spent on this trip, but also felt that it was well-deserved, and I'm sure Julie didn't want to be denied the experience.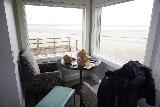 We then enjoyed a takeaway dinner just before they closed from Castaways, which featured Jamaican Jerk Chicken, Jambalaya, and (Mango) Curried Prawns.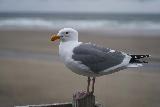 We had fancied getting clam chowder from Driftwood or some other establishment, but the food from Castaways was enough to fill us up, and we had to keep some as leftovers for tomorrow's breakfast.
It was too bad that the weather wasn't the greatest so there'd be no sunset on this day, but it was a fine way to cap off perhaps the most magical day of this trip.
Who knew that such a day could happen on a cold, rainy, and windy day?!?
And so ended this day as Tahia got to play her Roblox, Julie was watching something on the iPad in front of the natural gas fireplace, and I was busy catching up on today while enjoying the views at the corner of the room before the daylight faded into night.
We'll see how tomorrow's follow-up act will turn out, but it will start the long southbound journey home as we've passed the half-way point of this Spring Break trip and leaving Portlandia for a while…
Visitor Comments:
US-93
April 26, 2021 2:59 pm
-
If you had to make time, you made the right decision to take NV 318 up to US 6. It saves a half-hour or so off the time to Ely compared to old US 93--but that's also why all the big rigs go that way, and have done so ever since NV 318 was paved… ...Read More