Day 8 (April 8, 2021 – Eugene, Oregon): "The Good, The Bad, And The Ugly"
It was 6:25am when I awoke as I slept past the alarm. I guess part of me wanted to recuperate by getting a proper night's sleep, especially given how nice of a place our accommodation was as I could see the beach from my sprawled position in bed.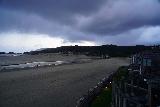 Nevertheless, I got up to check out the early morning views of the sea stacks right before another squall showed up and dumped its load onto Cannon Beach.
Aside from the residual instability of the weather, it did look like it would be improving on this day.
Anyways, not long thereafter, I got up to have a kefir breakfast while helping Julie to heat up the leftovers from last night.
Eventually, after the usual routine of getting packed and ready to go, we were finally heading out at 8:20am, which was a bit later than my plan of leaving by 7am, but I think we just wanted to savor the views as much as possible so we weren't in as much of a hurry.
Of course, the price to pay for this was that we'd be checking into Eugene later in the day as we were starting the long drive south on this day.
The drive south along the US101 along the Oregon Coast was scenic as usual, but it was also a bit long as we passed through Tillamook and ultimately reaching the community of Beaver by the Nestucca River.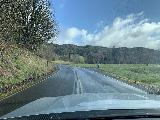 It was then that we left the US101 and headed east on Blaine Rd. It was a good thing that we saw a sign for the Niagara Falls Trail, which gave me the confidence that the GPS didn't take us on a joyride.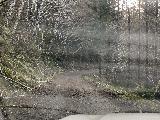 So the drive continued for a bit on this rural road as it passed through some stretches of farmlands and forest before we ultimately reached a signed turnoff at the Niagara Road.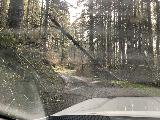 At that point, the road narrowed considerably more as it started to become an unpaved road for the remaining 5 miles or so.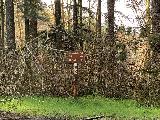 As I continued down this winding road, I noticed that there was quite a bit of branches and twigs lying on it that fortunately the SUV's could clear without issue.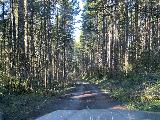 However, the fallen trees just off to the side of the road did give me cause for concern about whether any more of them might drop onto the road after we'd pass through, do the Niagara Falls hike, and then come back to strand us here.
Nonetheless, even though there were all these fallen trees flanking the road, it did seem to get some maintenance as most of them seemed to be positioned with enough clearance to get by such obstacles.
Plus, the Niagara Falls Trail continued to be signed at each turn, so that was also reassuring that wherever we were going was going to be some sanctioned spot and not an out-of-the-way attraction that wasn't worth the trouble.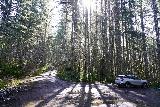 Ultimately at 10:10am, we made it to the Niagara Falls Trailhead, where it was a bit on the muddy side at the limited parking spaces here.
Given how remote thsi spot was, perhaps it wasn't surprising that we were the only people here.
Anyways, it was quite cold in the morning despite the sun's rays coming through, so I geared up and kept my jacket on for this hike.
However, Julie and Tahia opted to stay asleep in the car so I was going to do this hike solo.
The sign indicated that the falls was a mile away, and seeing how muddy it already was on the trail, I needed to wear hiking boots to maintain traction and protection from the sloshy conditions.
With that, I proceeded to do the mostly downhill trail as I passed through an attractive and moist forest full of ferns and moss-covered trees, which was the norm in the rain-rich Pacific Northwest.
The silence of the forest was invigorating, and so I made pretty good progress at a relatively fast pace given the downhill momentum as well as hiking solo.
Thus, by about 10:50am, I finally started to see the Pheasant Creek Falls in the distance (I originally thought it was the Niagara Falls) as I was making the final descent.
And I saw that it was an attractive plunge waterfall every bit worthy of the detour to get here.
I didn't think this waterfall was in our Greg Plumb book (actually it was upon looking it up again; wow, what a thorough book!), but I think I came across it on the Siuslaw National Forest site to confirm that this place was legit after it popped up on Google Maps.
Anyways, just as I was rounding the corner during this final descent, then I saw that there was also another tall waterfall that I thought must be the Pheasant Creek Falls (actually, this was the Niagara Falls), which tumbled towards a footbridge.
It was too bad that the two waterfalls were too far apart to photograph together in a single shot, but have this pairing of falls (each must be over 100ft tall or so) definitely made this hike worthwhile.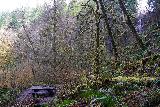 Indeed, I was of the mindset that Niagara Falls might ordinarily be a 2.5 or 3 in the scenic rating, but the Pheasant Creek Falls' presence definitely made it at least a solid 3 in my mind.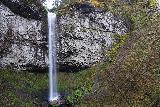 So I took some time to try to document both the Pheasant Creek Falls and the Niagara Falls as the morning sun was starting to make shadows against the lush forest further down the canyon.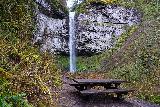 However, I was also starting to look against the sun at the Niagara Creek Falls before the footbridge.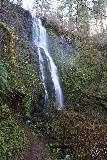 Over by Pheasant Creek Falls, there was a picnic table as well as a couple of use-trails where one went down to Pheasant Creek while the other went to a bump beyond the picnic table for a more elevated but unobstructed look at the waterfall's entire plunge.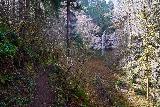 As much as I wanted to linger and really document the experience, I also knew that we had a long drive plus another waterfall hike on the way ahead of us, so I didn't bother unslinging the pack to take out the tripod and set it up.
Thus, the videos I took trying to convey the presence of two waterfalls across the head of this canyon or gorge was of the usual shaky variety.
Regardless, when I was done documenting this experience, I then started to head back on the now mostly uphill hike up to the trailhead. Indeed, all that downhill was now a bit of a warmer hike back up in an upside down profile.
And thus, I started to get a bit hot and sweaty towards the end of the hike even though the weather momentarily started to change and apparently I was starting to get caught in a little bit of a squally rain.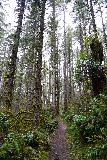 My expensive Arc'teryx Gamma LT hiking pants and my trusty waterproof jacket were quite up to the task in repelling the water, but my hat and camera weren't so I had to try to limit the weather-exposure on at least the camera during the return hike.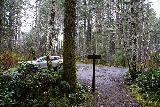 Finally, at 11:25am, I made it back up to the Niagara Falls Trailhead where Julie was still asleep in the car though Tahia must have been awake and entertaining herself.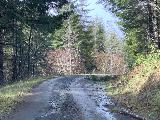 I kept my hiking boots on as I started to drive out since I knew that there was still one more waterfall to visit at Drift Creek Falls on the way back towards Salem and ultimately to Eugene.
And so we spent the next phase of the drive uneventfully continuing down the US101 (now with a lot more vehicles on the road) before heading east on the OR-18 somewhere north of Lincoln City.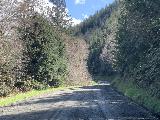 Then, we turned right as instructed onto Bear Creek Road, where there was signage for the Drift Creek Covered Bridge (though curiously not for the waterfall), and then we found ourselves on another rural road.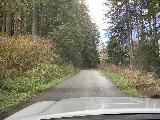 This time, we had to go about 4 miles to the Drift Creek Falls Trailhead, but there was one stretch of unpaved gravel road before the road went paved again, but then it was a bit narrower 1.5-lane road.
I was pretty used to driving these kinds of roads, especially since this was actually two-way traffic throughfare in Norway, but quite a few cars going in the other direction seemed to hog the middle of the road so I had to slow down and try to give cars going the other way room to pass.
Given the number of vehicles I saw heading back while we were heading in, I suspected that this place was going to be considerably busier than the Niagara Falls Trail, and this was despite the fact that access from the US101 was closed due to a fallen tree or two blocking the road.
Nevertheless, by about 1:05pm, we finally made it to the well-signed Drift Creek Falls Trailhead, where there were maybe a couple of parking spots left in the surprisingly very busy parking lot.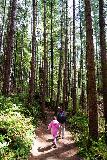 This time, Julie and Tahia geared up and joined me on this hike but now we had to wear our masks since I had a feeling that we were going to be passing lots of people.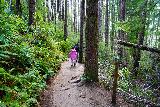 In any case, a sign at the trail said that it was 1.5 miles from here to the bridge, which I knew was a suspension bridge with a top down view of Drift Creek Falls (per the pre-trip research).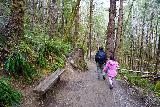 And like with the Niagara Falls Trail, this hike was mostly downhill on a moist rainforest flanked by tall moss-covered trees and ferns.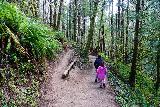 Surprisingly, a fair bit of people weren't wearing masks on this trail, which was kind of a surprise considering how it seemed like the state of Oregon (at least around Portland and Cannon Beach) seemed to be taking COVID-19 pretty seriously.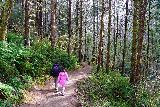 We weren't sure if most of the unmasked people were Oregonians that probably leaned politically more to the right or if they were out-of-towners from places that didn't care (much like how it was when we were in Idaho).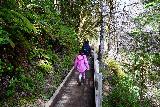 Anyways, by the time we got to a trail junction, I knew to keep right and not go for the upper loop, but just as we were doing so, there was a couple coming down from that loop trying to tell us that we were going the wrong way.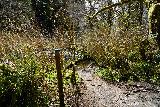 That made Julie hesitate, but I wasn't sure I understood what they were talking about since I knew the direct trail (and all the foot traffic) was on the path we were on.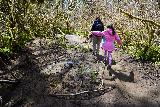 When I mentioned that they were on the longer loop to Julie, the couple then changed their story and said that the trail they were on was "better".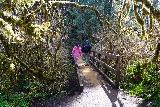 I just told them that we'll eventually try this trail (more like I will do it just to see what it's like), but in the back of my mind, I was wondering if this couple was trying to troll us.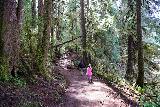 Was this racially-motivated? Or were they just being jerks and they would have tried to prank anyone they came across to get them to take the longer trail.
Regardless, that didn't sit too well with me, but I had a feeling Julie's Anti-Asian anxiety on this trip was probably coming back with this incident.
Anyways, we continued with the downhill hike as it ultimately reached another trail junction (likely the other branching off point for the North Loop), and then we took the final spur down to the Drift Creek Falls as we passed over a muddy bridge.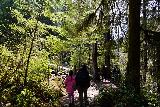 Eventually, at around 1:55pm, we made it to the swinging bridge where there was one couple waiting in front of the bridge while there were quite a few people on the narrow and bouncy suspension bridge taking pictures.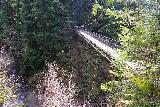 It was on this bridge that we finally saw Drift Creek Falls making its dramatic plunge against the backdrop of an attractive half-shadowed canyon.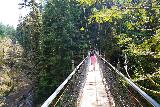 I wondered how much better the lighting would be under cloudy skies, but even with the early afternoon sun, we were seeing some slight rainbows towards the base of the waterfall.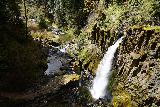 When we got towards the latter two-thirds of the long suspension bridge, there was one pair of African American ladies taking pictures of themselves seemingly oblivious to the traffic jam they were causing on the bridge.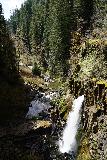 At some point after waiting for them to finish, it seemed like they weren't going to finish so I asked if we can squeeze through as soon as one person was done taking her selfie.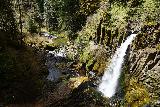 She just gave us this blank (or was it annoyed?) look, and then we passed by without incident though I wasn't sure what her deal was.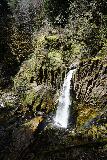 Regardless, by the time we got to the other side of the bridge, we then descended to a nice overlook spot that was a bit muddy and shadowy.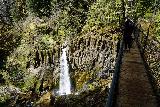 So while it was good to take a bright picture of the Drift Creek Falls with swinging bridge next to it, we couldn't really take out the tripod to set it up and take a family shot.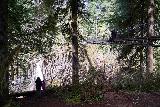 It was not only too much trouble, but the lighting was not great for that kind of shot.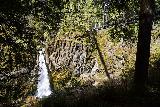 At this point, Julie and Tahia didn't want to continue hiking down to the bottom for another look at Drift Creek Falls and so they started to hike back to the car.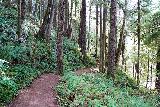 Meanwhile, I went all the way down to Drift Creek after one switchback, and then got a very nice angled look at the waterfall backed by the swinging bridge (getting down there at 2:05pm).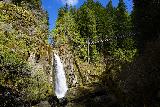 It was a scene that kind of reminded me of the experience at Stuibenfall in Austria, but that one had a lot more steps and swinging bridges across an even deeper gorge than this one.
When I looked up towards the swinging bridge, I saw Julie and Tahia walking across and waving at me, and when they made their way across the bridge, I then resumed my documenting of this experience.
There was one couple that managed to scramble up to some rocks fronting the falls, and after having my fill of this spot, I then started to head back up just as there was a trio of people showing up while I saw a larger group of people going across the bridge.
Indeed, this was quite the popular spot, but now that the last waterfall of the day was over, it was time to go back to the trailhead.
Given how late it was getting in the afternoon (it was 2:30pm), I couldn't believe that I had entertained trying to squeeze in Silver Falls State Park on this day, but now it was quite apparent that that wouldn't happen on this trip.
Anyways, after going back across the suspension bridge and squeezing by more mostly unmasked people taking pictures and/or slowly making their way across (and one even bringing a dog), I then made it back to the signed junction.
This time, I saw how the signs actually seemed to suggest going right onto the North Loop to return to the trailhead, which I thought was kind of odd.
Regardless, just to complete the experience, I went ahead and too the North Loop just to see what it was like, and I suspected that I wouldn't need to breathe through my mask for most of this stretch as I'd likely be the only person on it (or so I thought).
And so this stretch of the hike probably added another half-mile or more to the overall hike, and it was a little more up and down so it definitely caused a bit more effort.
Also the scenery wasn't a whole lot different from the direct trail through there were stretches of a slightly less dense forest as the trail followed narrower ledges and slopes before descending back down to the main trail.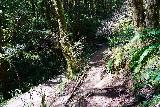 It was only after doing this stretch of the hike that now I knew for sure that that couple we saw earlier suggesting that we went the wrong way definitely had not-so-nice intentions.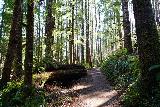 I guess when you combine that with how many unmasked individuals on this trail, and I guess we kind of saw the more "bad" side of the state.
By about 3:25pm, I made it back to the trailhead where apparently Julie and Tahia moved the car from our previous parking spot (maybe to stay out of the sun?).
It was certainly a bit warmer now than it was earlier this morning, but now I could finally take off the hiking boots and get back into the more comfortable Chacos for the remainder of the long drive towards Eugene via Salem.
As I was doing this and making one last toilet run, I overheard one woman complaining that she needed water because she had caught a bug.
She was coughing from the lungs and she was unmasked, which was quite concerning, and it seemed like she was oblivious to the fact that she was now a spreader of whatever bug she had caught (coronavirus or not).
That made me a little more vigilant about staying away from her and keeping my mask on, and hopefully her germs wouldn't spread to me as I took the adjacent bathroom that she had occupied (trying to touch as little as possible when opening the doors).
And with that, at 3:30pm, we finally left.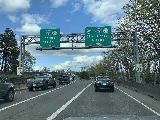 The drive going into Salem was fairly smooth going, but when we got into the city, apparently we hit their rush hour traffic because it was crawling and the traffic was quite dense.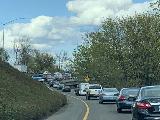 Even when we filled up gas at 4:55pm as we were headed towards the I-5 south and away from most of the volume of traffic at the city center, the traffic volume was pretty heavy.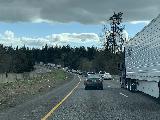 And so that slowed us down, and also on the I-5 going south towards Eugene, there was quite a bit more traffic though it was at least a bit faster moving, but there were more drivers clogging the passing lane (a foreshadowing of what's to come when we return to California tomorrow?).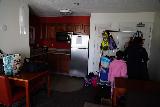 Regardless, at 6pm, we finally made it to the Residence Inn in Eugene, where we then took time to sanitize the room before settling in.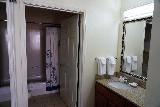 Then at 7:10pm, we got back in the car intent to eat a healthy take-out dinner at Laughing Planet since all the other places Julie wanted to check out were closed.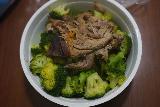 However, shortly after Julie got her food, she saw there was a homeless man asking for handouts and he approached three young people (likely University of Oregon students).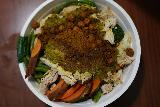 As one reached into his wallet to give the handout, Julie got back in the car and urged me to drive off instead of eating in the car.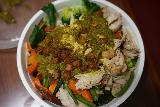 Since we were only less than 2-3 minutes drive from our accommodation, we decided to eat there instead of uncomfortably in the car in an apparently sketchy area.
As we were returning to the freeway, we passed underneath a bridge and saw a huge tent city in an apparent city park, and perhaps that was an indicator of how even the city of Eugene was falling on pandemic-related hard times.
Actually, this tent city looked quite a bit bigger than anything we had seen in downtown Portland, and that further made us think about the impact COVID-19 was having on the state of Oregon.
Indeed, there was this strange irony where Idaho proceeded as if there was no coronavirus (public safety notwithstanding) and they seemed to weather the economic depression so far, but Oregon actually took things seriously and now we can see how their cities are looking more like Skid Row.
Now we started to wonder if we were going to experience this in Sacramento, where we're going tomorrow.
And so after having this ugly side of Oregon, we finally got back in the room at 7:30pm, where we had our meal (though apparently the $2.50 avocado wasn't in Tahia's bowl so we got ripped off I guess).
But in the grand scheme of things, putting things in perspective, that $2.50 was nothing compared to the seemingly bigger economic disaster that had we had witnessed on this trip…
Visitor Comments:
US-93
April 26, 2021 2:59 pm
-
If you had to make time, you made the right decision to take NV 318 up to US 6. It saves a half-hour or so off the time to Ely compared to old US 93--but that's also why all the big rigs go that way, and have done so ever since NV 318 was paved… ...Read More