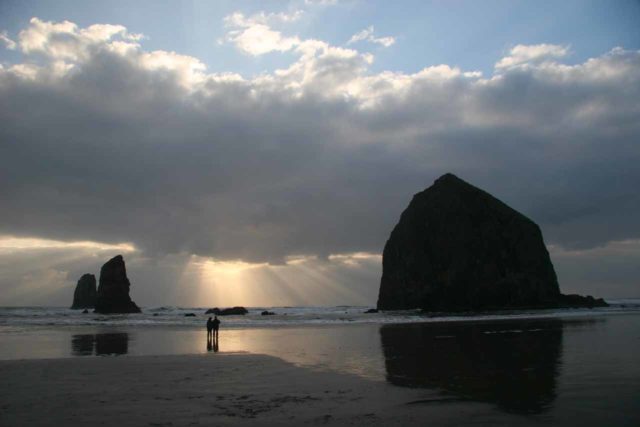 27-March 2009 to 4-April 2009:
We headed back down to the 126 and then headed north towards Koosah and Sahalie Falls. But as the road climbed, we could see the rain was turning into snow. We even passed by a couple of snow plows on the way up.
Before we got deep into the white stuff (without chains), we decided to turn around and call it a defeat. So we wouldn't see neither Koosah nor Sahalie Falls as I had feared. I guess sometimes you can't fight Mother Nature, and this trip exemplified what happens if the trip is poorly planned and done at the last minute…
Day 1: CURLY CREEK CURSE
After a brutal 4am start to the day to meet our 7am flight and somehow losing our boarding pass at security in LAX, we managed to get caught up on some much needed sleep before our short flight landed at Portland.
Moments before the plane descended beneath the clouds, Julie said to me, "This is the last time we're going to see the sun for a while."
We both knew that the forecast didn't look favorable this week and we also anticipated something similar to what we experienced in Seattle a couple of years ago where it was either a bunch of rain or drizzle for days on end.
We arrived in Portland under overcast skies and drizzling conditions. It immediately felt chilly (totally contrasting the warm and sunny skies back at home), but we managed to get shuttled from the airport and arrived to pick up the rental car shortly after 10:15am.
On tap for today was to try to sneak in a trip to the foothills of Mt St Helens in the hopes of trying to catch the Curly Creek Falls, which was known to have a pair of natural bridges spanning over the stream between tiers of this unique waterfall. Even though this trip was meant to tour Oregon, I thought this quick trip into Washington would be a pretty good kick off to the trip.
So we wasted no time heading north towards this attraction – especially since we knew this drive would take a little over 2 hours each way.
As we headed north along the Hwy 503, we noticed a lot of idyllic scenery passing through various farms, rolling hills, and tiny towns. It was too bad the skies were so overcast with a mix of drizzle and sometimes moments of normal rain.
I had secretly hoped that this part of the visit might provide views of the infamous Mt St Helens, but all the clouds and precipitation made that all but impossible. Moreover, we started to notice numerous closures of picnic areas as well as snow starting to show up on the banks of the roads.
We did notice some forests with bare spots as well as other spots with trees of different color than the normal green alpine varietes we expected to see. We figured that was all due to logging, which probably supports many of the communities down here.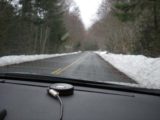 Much later in the drive, we started to see that snow was becoming more prevalent on the sides of the road. And finally, at around 12pm, the road (now NF90) was blocked by snow. It was too bad because we could see on our GPS/Topo
! combo that we were so close to Curly Creek Falls.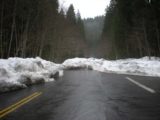 But it just wasn't meant to be on this trip. I guess that's what we get for doing this trip at the very last minute with insufficient planning.
So with that bit of disappointment, we headed back to a chilly and drizzly Portland. And by 2:40pm, we checked into our motel near the airport and got settled.
It was still around 4:30pm when we got unpacked and settled, and there was still some daylight left to check out the downtown Portland area.
At 4:50pm, after finding parking in one of their smart park locations, we walked to a restaurant called Carafe. It seemed like we beat the rush because it got busy not long after our appetizers showed up. It was apparent that right across the street, there was a performing arts auditorium exhibiting "Wicked."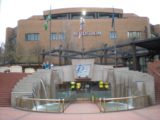 We tried to walk off the dinner by walking to the downtown area by Pioneer Square.
Portland seemed like a pretty quiet and laid back city. It didn't have much of the gaudy attractions and helter-skelter pace that other cities like New York had, but we got the feeling that Portland wasn't really trying to be like that.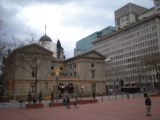 In fact, we got the sense that the city really seemed like a pretty friendly, progressive, livable place. Even one of the locals offered to help us with directions and apologized for the weather upon learning we were from California.
After walking about 10 city blocks, we finally reached the Pioneer Square. It really wasn't much and we figured we probably got enough of the flavor of the city's downtown. So we walked back to the car park and then headed back to our motel.
I filled up on some gas in anticipation of some driving tomorrow, but learned quickly thereafter that the service station was all full service. I thought I might be paying extra for this, but the attendant said all the pumps here were full service, and I wondered if all the gas stations were this way statewide.
We were back at the Clarion a little after 7:30pm. Just in time to see the last bit of the Sweet Sixteen round of March Madness.
Day 2: LEGITIMATE RAIN
We awoke from a pretty restful evening only to see that it had been raining this morning. Given that the forecast called for heavy rain to be coming this afternoon, I thought it was a bit early for rain to be this heavily. It definitely wasn't a good sign for touring the Columbia River Gorge today, which was the plan.
After a hearty breakfast, we left Portland a little before 7:30am, and proceeded to head east along the I-84 before finding the Bridal Veil exit. Along the way, we saw an attractive waterfall from the highway, but experience told us that the main waterfalls in the gorge were to be much more substantial. And even though no-namers like this one would get some love in Southern California, they're a dime a dozen in the Pacific Northwest. So we didn't stop for it.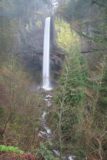 From the Bridal Veil exit, we backtracked towards Latourell Falls. Along the way, we saw more waterfalls while rubbernecking along the Historic Columbia River Highway. Again, we didn't stop for these since we knew there'd be lots of more important waterfalls to see while at the Gorge.
At 7:50am, we made it to the car park at Latourell Falls. The rain was coming down harder at this point, but it had been a while since we had seen a waterfall like this.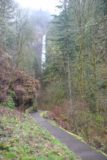 Latourell Falls was really tall (well over 200ft tall) with a narrow but classic rectangular shape. The basalt columns near its base was very reminiscent of something we saw back in Iceland. And the moss growing on the cliff walls and trees really added some bright green color to the scene.
We took photos from the upper overlook and then from near the misty base. But the relentless rain was already causing problems as water would consistently get onto the lens. I also worried that all this water might damage the camera.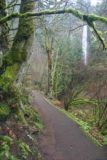 Anyways, after having our fill of this waterfall, we got back to the car at 8:40am and headed further east.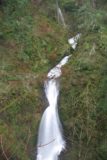 Before we could catch our breath, we stopped by a pullout just beyond the bridge over the Shepperd's Dell. I got out of the car in the pouring rain to take a look. And lo and behold there was a waterfall. Fortunately, I could look down at the waterfall here from the bridge. That at least minimized the likelihood of the relentless rain from getting onto the camera lens.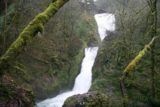 The next stop was at the Bridal Veil Trail area, which we got to ten minutes later. There, we took a short trail to a wooden platform with a top-down view of this two-tiered waterfall. Again, rain was causing problems even though we were carrying an umbrella trying to shelter the camera.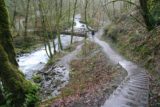 At 9:30am, we sloshed our way along the muddy and slipper trail back to the car under the still pouring rain.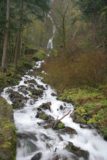 At 9:40am, we made a quick stop at the Wahkeena Falls. With the rain not relenting, we didn't bother getting closer to this waterfall let alone walking to Fairy Falls or Necktie Falls. Again, rain was problematic in even taking photographs regardless of an umbrella sheltering us.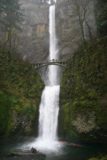 At 10am, we arrived at the much-anticipated Multnomah Falls. Even though we really wanted to spend a lot of time here, we knew that the heavy rain would make it difficult. So we did what we could in taking photographs from the viewpoints adjacent to the historic Multnomah Falls Lodge. But we didn't linger there for too long as I worried the camera was continuing to get waterlogged.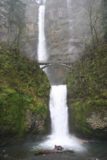 So we ended up going inside the lodge to check out their visitor center and then the restaurant. It provided a chance for us to get warmed up again while giving our equipment a chance to dry.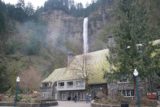 The food was a bit expensive, but the Northwest Salmon and Rainbow Trout really hit the spot. The hot chocolate and hot apple cider felt real good warming up our shivering bodies.
After a brief trip to the gift shop, we then continued on with our waterfalling tour further east at 12:25pm. Rain seemed to have gotten worse when we got back into our car.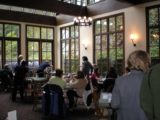 We weren't sure where we should stop next, but the obvious parking area across from Horsetail Falls seemed like a reasonable stop.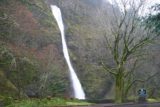 So at 12:35pm with the rain still pouring, we spent quite a bit of time trying to get satisfying photos of the impressive falls while keeping the lens dry with an umbrella and lens cloth combination.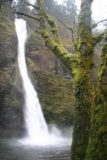 And like our previous attempts earlier in the day, it was futile. In fact, our lens cloth repeatedly fell to the ground since Julie had a bad habit of putting it in her pocket and dropping it everytime she'd get something else out of it.
Plus, it got to a point where my camera was getting so waterlogged that the shutter appeared to get stuck. It was at that point that the reality of the situation was starting to kick in and we had to just call it a day. It wasn't useful to do any more waterfalling even though there was still another good four hours of daylight.
Once we were inside the car at 1:25pm, we turned the heater on full blast and tried to dry everything out as we proceeded to drive to Cascade Locks to check into the Best Western there.
There was also condensation all over the insides of the zoom lens as well as the viewfinder on the camera body. Not good.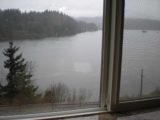 By about 2:10pm, we finally got to Cascade Locks, got checked in, and then just watched March Madness for the rest of the afternoon. It didn't help that the internet wasn't working so Julie took a nap and I had to patiently watch the local news for the latest on the weather, which promised to improve late tomorrow and most of the day Monday.
We'll see about that…
The rain kept falling hard on this day though it did let up at around 4pm. But as we left for Hood River for a dinner at around 6:30pm, it was a mixed bag of some moderate rain and light drizzle.
At least the restaurant we ate at (Celilo's) was excellent and helped to alleviate some of the crappy weather and disappointing touring results of today.
But as much as we tried to take the high road on today's weather, I had to admit that this trip had the makings of being another expensive mistake (kind of like the one we experienced back in the Big Island on Super Bowl Weekend). None of the hikes we planned for today took place and so we'll have to adjust our next two days' activities accordingly.
All the while, we were hoping that the weather wouldn't be as depressingly soggy as today…
The reality of the situation was that there were going to be many areas we had planned on visiting on this trip that simply weren't going to happen. And later in this trip, we were supposed to visit Crater Lake. But upon realizing that it was going to be covered in snow over there and hardly any of the viewpoints would be accessible, we did our first act of improvising on this trip. And that was to cancel our Crater Lake reservation and spend an extra night at Bandon on Oregon's southern coast.
Day 3: FRAUDSHOTS
It was 6am when we awoke. Anxious to put yesterday's crummy weather behind us and get some real waterfall touring underway, I anxiously looked out the window only to see that it was still raining. At least it wasn't raining as hard as yesterday, but it looked like doing some hikes within the Gorge area wasn't a good idea this morning.
But from seeing the local weather forecasts on TV yesterday with all that time we had, we decided to head further east to see White River Falls before returning to the gorge area when the weather is supposed to be improved.
So by 7:45am, we left the Cascade Locks area and proceeded to head east on the I-84.
Something that caught our eye along the way was an offramp indicating the Starvation Creek Picnic Area. I had read somewhere in the literature that there was a waterfall worth seeing here so we went ahead and stopped here.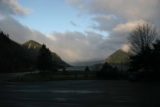 It was quite cold when we got out of the car, but it was already an encouraging sign that we could see the weather was starting to break.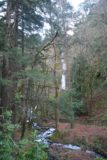 It was only a few minutes of walking uphill on a well-paved path before we could hear the familiar sounds of a waterfall. And soon enough, we could see this one was quite tall. Already the day was starting off pretty well…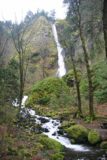 A few minutes later, we continued east on the I-84. It certainly seemed that the further east we went, the more the clouds had gotten lighter and the more frequent we were seeing sun.
After passing by Hood River and then reaching The Dalles (rhymes with "The Pals"), we then headed south on the 197 and well on our way to the Tygh Valley Area. By now, there were more blue skies than clouds.
The further south we went, we could see that the clouds were stuck further west amongst what we reckoned was Mt Hood as well as the rest of the Cascades. Apparently, we had gone into the rain shadow of the Cascades.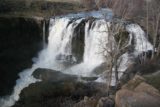 We could see it from the predominantly brownish grasses and rolling hills as opposed to the immensely mossy green scenery back in the Gorge. I began to wonder whether we should've come out this way yesterday afternoon instead of trying to tough it out in the rain-sogged Gorge nearly destroying our camera equipment in the process.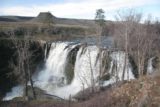 By 9:20am, we arrived at the White River Falls State Park. Immediately when we got out of the car, we can the hear the loud roar of a waterfall nearby.
When we walked out to the fenced viewpoint nearest to the falls, we could see there was a pretty wide segmented waterfall before us. But as we gazed further downstream, we could see the river disappear into yet another ravine beyond.
So that beckoned us to walk further down the path.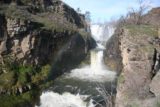 And lo and behond, we were presented with a spectacular view of a multi-tiered waterfall that exhibited properties reminiscent of a Mitchell Falls except there weren't red rocks surrounding this one.
In fact, this roughly 150-200ft waterfall exhibited more rocky and drier surroundings than what we were getting used to seeing in the sodden Columbia River Gorge.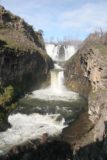 So we took our time taking photographs and wondering how some folks managed to take Webshots photos of this waterfall.
There was one in particular where someone put a canoe seemingly between two waterfalls. I wondered how that was possible, but now after seeing the scene firsthand, it was pretty clear that that photo was a fraud or at least a little bit of trickery by the photographer.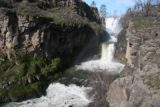 You see, basically that person must've composed the photograph in such a way that 5-ft third falls (which I'm sure would be runnable by kayak or canoe) was cropped in such a way that that tier looked much bigger than it really was. The position of the photographer must've been precariously atop one of the bluffs overlooking the narrow gorge looking straight down at that pool.
Needless to say, we weren't going to reproduce that effect, especially since it involves extensive off-trail scrambling and unnecessary drop-off exposure. Besides, we didn't have a canoer or kayaker handy to wait in between the 2nd and 3rd tiers of the falls.
So by 9:50am, we left the park.
Next up, we were supposed to be headed back to the Gorge area, but considering our success this morning, I was wondering if it would be a good idea to swing around the south and head north towards Hood River while visiting Tamanawas Falls on the way.
So that was the plan and we wasted no time heading south on the 197 then west on the 216.
It seemed like we might be able to salvage one of the waterfalls that seemed to have jeopardized due to the lost day of touring yesterday. But when we started to see cars coming our way with snow still on their roofs, I began to wonder whether we might have to turn back.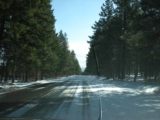 The skies were still blue where we were at, but then the road started to show more snow on its banks. Eventually, snow drifted across the road and it got to the point where I felt we couldn't proceed any further considering we didn't carry snow chains and we were heading into regions where dark clouds were still hovering ominously overhead.
So it turned out that this became an hour-long detour and we eventually returned to Hood River by 11:50am to have pizza for lunch as well as to buy a Northwest Adventure Pass so we could legally park in the Forest Service car parks while we would be out hiking.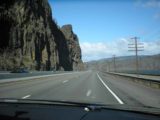 We continued west along the I-84 and it appeared that the weather turned from sunny to partly cloudy to on-and-off rain. It was amazing how quickly the weather changed from one side of the Cascades to the other (not even 30 miles), but we saw something similar to this in Hawaii.
There's just something about volcanoes that attracts rain and leaves its other side dry except in this case, we're talking about Mt Hood and not something like Haleakala or the twin volcanoes on the Big Island.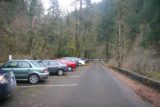 As we passed the Cascade Locks, I was having trouble trying to find the exit we were supposed to take for the Eagle Creek Recreation Area. In fact, we ended up going all the way to a Multnomah Falls exit in between the I-84. Then, we turned back and finally found our desired exit.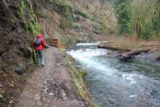 By 1:25pm, we entered the very busy Eagle Creek Recreation Area. Since it was getting late in the afternoon to start a hike, we were wondering if we might find parking in a reasonable spot instead of extending the hike by another half-mile or so.
Fortunately for us, there was one spot near a portapotty available.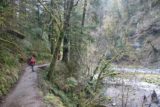 From there, we started the hike under overcast skies.
We could tell there had been rainfall given how muddy the trail was. But that didn't deter the many hikers that were still on the trail going in both directions. Apparently, this trail was quite popular as the guidebooks and internet websites had said. It seemed like everyone and their pet dogs were on this trail…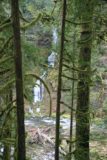 The Eagle Creek Trail basically hugged the steep cliffs on the gorge. Draped along both sides of the gorge itself were lacy waterfalls and weeping walls. Sometimes we had to walk under some of these weeping walls while not getting too close to some sheer dropoffs.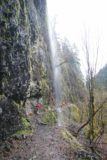 At the same time, some of the waterfalls making their presence known on the other side of the gorge could've easily been given names and some love in Southern California. But out here, they're a dime a dozen and passed by routinely by most of the visitors (including us).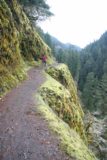 We could tell that the waterfalls of any significance would be on the main stream at the bottom of the gorge itself. These side tributaries were attractive, but they didn't get the attention and nomenclature more typical of "famous" waterfalls. So that meant that the anticipated waterfalls of Metlako Falls and Punch Bowl Falls must be pretty big.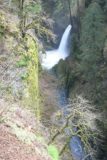 Nearly 1.5 miles out into the hike, there was a spur trail that deviated from the main Eagle Creek Trail and headed out to a fenced off overlook right at the edge of a vertical cliffed narrow gorge area.
Looking further upstream from here, we could see the impressive Metlako Falls thundering from a distance. I could also see hints of another waterfall just to the left but the cliffs and foliage growing from it blocked any photographability of that one. Still, the falls was impressive.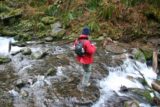 We continued further on the main trail where we crossed one unbridged creek with submerged stepping stones. Good thing our Goretex boots were on because that one easily could've allowed water to come in to the top of the boots.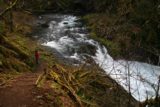 Not long thereafter was a spur leading to the Lower Punch Bowl Trail. The trail descended to the top of what we had originally thought was the Punch Bowl Falls. Fortunately, this was merely the Lower Punch Bowl Falls as this unimpressive 5- or 10-footer made its descent in a semi-horseshoe shape.
I knew this waterfall didn't have the shape I had seen in Webshots or calendars about the Punch Bowl Falls with that classic punchbowl appearence as seen from the creek level.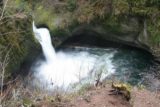 So we continued on further along the main trail and it wasn't but a few more minutes when we could hear the thundering water and railings up ahead. I knew we had finally reached the real Punch Bowl Falls at this point.
This viewpoint was from the top down. The falls itself was probably no more than 30ft, but from up here, it wasn't all that impressive. So I looked around this precarious overlook for how photographers managed to get their postcard shot of this waterfall.
We could see the forest service made great pains to discourage people from finding a way down to the creek level. When I found what looked to be a rather steep gully switchbacking its way down to creek level, I knew I might be pushing my luck in pursuing that million dollar shot on this one. Besides, the water in the creek was high and I was sure I'd have to get wet in the creek to get that frontal view of Punch Bowl Falls. Plus, it started raining again.
So I decided to not go for the money shot (thereby relieving Julie) and conclude that that money shot could be argued to be another "fraudshot" like that photographic trickery with the canoe between two waterfalls at White River Falls.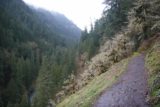 Of course, that doesn't stop the park services here from touting those images and attracting visitors even though they're no longer "legal" or "safe" to attain. So in that sense, I thought it could be a fraudshot.
Moreover, I thought this excursion was more about the trail than the waterfall attractions themselves.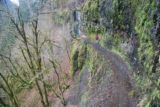 Now if the trail was less muddy and threatened of less rain with more time at our disposal, then I might have considered extending this hike into a 12-mile out-and-back hike to Tunnel Falls. But it wasn't meant to be on this trip.
Anyways, it was about 3:40pm when we got back to the car.
But given that the weather was pretty acceptable this afternoon, we should take nothing for granted and go for more waterfalls that we missed yesterday in the Gorge.
So the next waterfall we went for was Elowah Falls.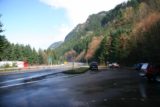 It took a little trouble trying to find the correct exit for the state park in which this waterfall resided in because it occurred to us at this point that the Columbia River Gorge was more conveniently visited going eastbound instead of westbound. But finally after doing more backtracking and making frequent offramp onramp trips on the I-84, we finally found the car park we wanted.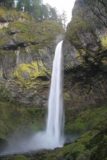 And from there, we took the uphill trail which is well within earshot of the noisy I-84. But after working up a sweat cresting the uppermost point of this short trail, we descended down the switchbacks and headed towards the impressive 289ft waterfall.
It wasn't easy trying to photograph this waterfall due to the mist generated by this falls, but it was certainly pretty.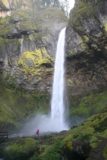 There was a bridge that crossed in front of the falls, but it was very windy and misty there. We both crossed that bridge and got more shots from the other side, but when all was said and done, we were soaking wet as we headed back to the car.
By 5pm, we got back and less than five minutes later, we ended up at the car park for Wahclella Falls.
It was already getting late in the afternoon and Julie was already getting waterfall fatigue today, but we knew that we had to continue squeezing every bit of daylight out of today given the sudden sunbreaks.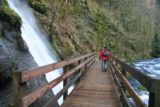 So we proceeded to walk along the paved path before it reached some kind of hydro scheme. From there, the trail turned muddy as it continued to meander alongside Tanner Creek.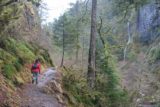 Much of the trail beyond the pavement was actually reminiscent of the Eagle Creek Trail as this trail climbed and hugged the gorge cliffs with plenty of exposure to dropoffs. Meanwhile, the trail also ran through some weeping cliffs and alongside some smaller tributary waterfalls with others across the gorge.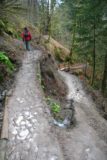 Nearly a mile into the hike, we reached a fork where the trail started its loop. We opted to take the left path which went uphill and hugged the cliffs.
And minutes later, we were before the misty two-tiered waterfall.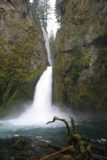 This one was quite thunderous but it had a character very different from the plunging types we had seen in other parts of the Columbia River Gorge earlier. We took our time trying to take photos of this waterfall (in which none of the photos did this waterfall any justice).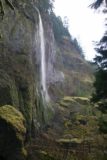 As we managed to pry ourselves away from this waterfall, we crossed the bridge and proceeded onto the lower part of the loop. There, we noticed a guy enamored with a wispy waterfall descending into a mossy wall at its base. We swore he easily spent at least a half-hour or so at this waterfall. He must've seen something in the mossy base of the falls that caught his eye.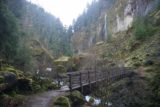 After 6pm, we were back at the car. There was still some daylight left and even though Julie was already mentally ready to settle back at the Cascade Locks, I wanted to capitalize on the clearing weather to return to Multnomah Falls and get more shots of the falls that we weren't able to get yesterday.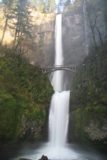 By 6:25pm, we were at the still busy Multnomah Falls. The falls was still generating lots of mist and it was still cold at the viewing area.
After spending several minutes trying to get my photos at the familiar viewing area, I noticed that my camera stopped being response with the autofocus and the info screen was putting up "00" for its aperture setting.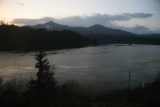 Worried that once again my camera has fallen victim to the elements (in this case an apparent stuck aperture), we called it a day. Now I had the rest of this trip to worry about how to capture the rest of the waterfalls tomorrow and the rest of the week without the SLR camera working. I wondered how much longer do I have to put up with the fragility of the Canon lens and the camera itself?
Fortunately after we had a quick truckers style dinner in town (there's not a whole lot of choices here especially since the recommended one down the street just closed for the day), I read the Canon manual and realized that the "00" meant the lens wasn't attached. Obviously the lens was physically attached, but the camera was telling me it wasn't. So that gave me the idea to detach the zoom lens and reattach it.
Turned out it worked!
I guess this trip is still not a disaster… yet!
Day 4: COLUMBIA RIVER GORGE REDUX
The weather forecast had called for good weather today. But when we awoke, it became immediately clear that "good" just meant it's not likely to rain. One look outside the window and we knew it was overcast. So basically, the sun we saw yesterday afternoon was pretty much the last time we'd see it while in the Gorge.
It was a little after 8am when we finally left the Cascade Locks. It was a bit later than I would've liked, but in any case, we were now on to do what we weren't able to do two days ago – to fully experience the Columbia River Gorge!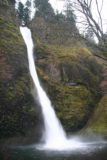 At 8:20am, we called upon yesterday's experience (since it's nontrivial to know which exit to take when heading west on the I-84) to correctly exit on Exit 35 for the Historic Columbia River Gorge Highway and arrive at the car park for Horsetail Falls.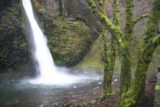 Now with the weather cooperating, we could take better photos of this waterfall before starting on the hike to get to Ponytail Falls (also known as the Upper Horsetail Falls).
There was a sign at the trailhead that said the Triple Falls Bridge was out about 1 3/4 mile from the trailhead. That got me worried because I knew this hike was around 4 miles round-trip, and so that implied that we wouldn't be able to see Triple Falls.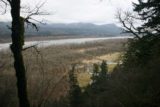 Something didn't seem right because trail maps indicated the trail doesn't cross the creek until after Triple Falls. But given the way things were going on this trip, I really wasn't sure we'd be wasting our time or not.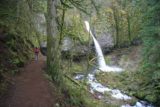 In any case, we headed up the switchbacks which climbed sharply up the gorge cliffs and ultimately led us to the impressive Ponytail Falls barely 20 minutes later.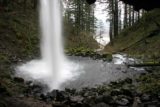 This waterfall seemed like a "Mini Me" version of Horsetail Falls since they both essentially had the same shape. However, this one had the trail go behind the waterfall. I think this was the first one we've seen on this trip so far that let you do this!
Beyond the falls, we continued onwards. But during this stretch, which the trail maps indicated was an additional 1.3 miles, I began to wonder if the bridge was out on the trail connecting to the Oneonta Trail, which was the one that ultimately led to Triple Falls.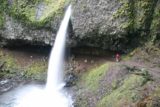 So well into the connecting trail, our doubts overcame us and we decided to turn back.
By 9:45am, we were back at the car.
Still, I had to see Triple Falls, but when we got to the Oneonta Trail Trailhead just minutes later, we were worried as we saw lots of broken glass strewn about the empty car park.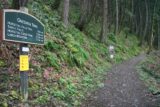 "I don't know about this," said Julie, worried about our car getting broken into.
Considering that we're looking at a 4-mile round trip hike out-and-back to Triple Falls from here, we decided that I solo this hike while Julie gets caught up on sleep inside the car.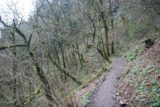 Reassuring me that I should be able to see Triple Falls was that there was a handwritten message on the familiar bridge-out sign saying that the trail still goes to Triple Falls. So I told Julie that I'd be back before 11:30am.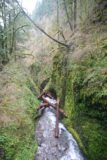 Once again, the trail climbed steeply up some switchbacks before entering the Oneonta Gorge. All the while, I was keeping an eye out for the Lower Oneonta Falls, which I knew required a scramble in the bitterly cold creek and a traverse over a potentially hazardous logjam.
But there was too much foliage blocking any chance at a view of that Lower Oneonta Falls. Besides, I'm sure someone would've taken a photograph of it if it was possible.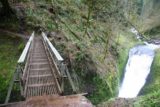 At around a mile out from the trailhead, there was a spur trail leading down to a footbridge as well as a waterfall in front of it. It turned out that that was the footbridge we would've taken had we kept going earlier this morning. I guess we made a mistake and wasted some time and energy backtracking.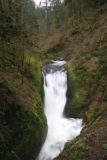 That waterfall was apparently the Oneonta Falls (though I had read later that this is merely the Middle Oneonta Falls). It wasn't tall (I'm guessing not much taller than 20-30ft). So I guess I can understand why people try hard to see Lower Oneonta Falls.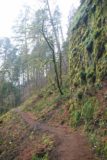 Onwards I continued as the trail continued to climb. The weather continued to be mostly drizzly and overcast with a few moments where the sun tried to break through the thin layer of clouds.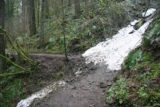 There was even a snowy patch on the climbing trail, which fortunately wasn't too much of an obstacle.
Eventually, there was a short spur that briefly descended towards a precarious overlook of the prized Triple Falls. I had to be careful getting to the edge of the dropoff getting a clean look at the falls because the ground was still wet and damp and potentially slippery.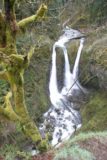 After spending several minutes photographing the falls every which way that I could, it was almost 11am and I had to head back immediately in haste so I don't worry Julie too much.
Fortunately by around 11:25am, I was back at the car managing to startle Julie out of her nap in the process.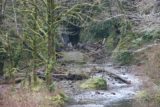 After checking out the Oneonta Gorge mouth for a few minutes (for future reference on a future trip), we headed to Multnomah Falls. And about 10 minutes later, we were there. And not surprisingly, it was quite busy, especially for a Monday.
We spent even more time getting whatever photographs we could get here as well as walking to the famous concrete bridge above the lower waterfall.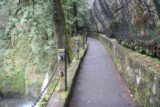 We also had ourselves another lunch here considering our dining experience in Cascade Locks was not up to par. Though the second time around didn't seem quite as good as the first. Maybe it was the crappy weather that made the food and hot drinks taste that much better the first time around…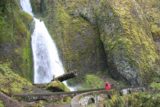 At 1:10pm, we were back on the road. And five minutes later, we were at the parking lot for Wahkeena Falls. This time, with the weather cooperating, we decided to walk the 0.4-mile round trip paved path to the bridge right at the base of the falls.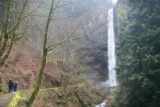 A little after 1:30pm, we continued heading west and at around 1:45pm, we were at the familiar car park for Latourell Falls. This time, this car park was much busier than on Saturday when it rained cats and dogs.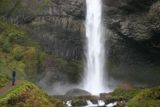 We spent some time taking photos of the falls from the bridge. This time we only had to worry about the wayward mist from the crashing water of the 249ft waterfall instead of rain showers (thereby increasing the risk of ruining the camera).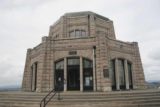 At 2pm, we were back at the car and another ten minutes later, we took the historic road up to the Vista House. There, we got incredible views of the Columbia River from the Portland side to directly across to the snowy mountains on the Washington side to the Columbia River Gorge itself to the east.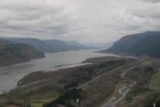 And by 2:30pm, we were back in the car and headed south to Silverton, which was our next place to spend the night.
Just before 4pm, we made it to Silverton's Oregon Garden Resort. Julie managed to secure a real good deal that included one night's dinner. And upon checking in and getting settled, it appeared that this place was a steal.
The weather seemed to be significantly warmer here in Silverton. Even the sun came out! So with the good weather and the ominous forecast for Monday's weather, I wanted us to go right into Silver Falls State Park (merely 14 miles away) and experience at least South Falls and North Falls. So we were off just a few minutes after checking in but not before Julie informed me that we had dinner reservations for 7pm today, which didn't leave us very much time to explore the falls.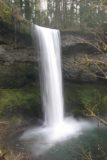 At around 4:40pm, we were at the car park for South Falls. There was a moment in the complex that a bunch of deer in dark hides standing roadside startled me. I was having flashbacks of hitting a deer in Utah.
Anyways, we wasted no time walking past the lodging complex and out to the overlooks and trails around the 177ft South Falls.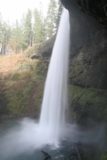 But as much as we liked the sun, it was wreaking havoc on the lighting for photographing the falls from the familiar angle we had seen on postcards and calendars.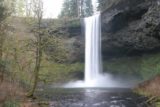 So we took this opportunity to walk behind the waterfall and then to the bridge below the falls. All the while, we were taking whatever photos we could as we capitalized on the aggreeable weather.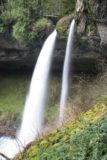 By 5:25pm, we were back at the car. And about 10 minutes later, we made it to the North Falls trailhead. We wasted no time going on the trail and getting right down to the view of this 139ft falls while walking behind this one. Seemed like the Silver Falls State Park waterfalls M.O. were was that you could go behind many of them.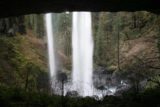 In North Falls' case, the amphitheater behind the falls was very deep. There was even trees seemingly growing within the overhanging alcoves. We even saw footprints leading steeply down to the misty base of the falls. Looked rather dangerous and we didn't bother doing this.
At 6pm, we were back at the car. I wanted to go see the Upper North Falls, which was barely 0.3 miles away. But Julie didn't want us to push it with our dinner reservations. So we'll have to come back here tomorrow.
And by 6:30pm, we were back in Silverton. Finally, we could call it a day and relieve ourselves momentarily of the waterfall fatigue we were becoming afflicted with. The complementary dinner we had later on today was very good. And Julie was telling me that she'd give this place 5 stars on TripAdvisor for the price we were paying.
Day 5: SERIOUS WATERFALL FATIGUE
I knew today was going to be the start of several days of rainy weather. And when we awoke at 7am, we actually heard the rain. But as the day got brighter and we were having breakfast, it looked like we were getting a bit of a break from the rain. Maybe the rainy forecast was a bit overblown?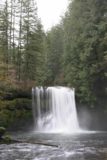 We didn't leave the resort until 8:50am. First up was the Upper North Falls, which we opted to skip yesterday. And this quick walk yielded a pretty attractive square-looking waterfall that was short but classic.
Twenty minutes later, we were back at the car.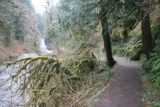 But before we headed further into the park to the South Falls car park, I came to this realization that we might have to make another act of improvisation for later on in our trip.
That's because we were supposed to stay in Oakridge in Central Oregon which would make it convenient for us to see waterfalls such as Sahalie, Koosah, Proxy, Salt Creek, Diamond Creek, and Toketee. But given the return of the bad weather, I figured we'd face similar problems with snow like we did for our ill-fated Curly Creek Falls excursion. So at that moment, we decided to cancel our booking for Oakridge. Of course, that meant we wouldn't have a place to stay until we found something else on that night. But at least, we wouldn't have to worry about carrying chains on a rental car and shoveling snow off of it.
Problem was that we weren't getting any cell phone reception so we actually drove back out of Silver Falls State Park until Julie was getting some reception. And about 5 miles or so out, Julie managed to place the call and accomplish the mission.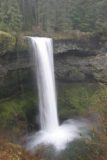 A little after 10am, we returned to the familiar South Falls car park. At this point, the light rain and mist started to turn into something more substantial. At least we took a few more photographs of the falls before the rain really started to come down as we walked further downstream from the bridge towards the Lower South Falls.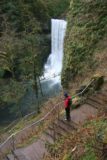 When we got to the falls at about a mile from the main South Falls, we saw a pretty impressive 106ft waterfall that was every bit as impressive as the Rainbow Falls in the Devil's Postpile National Monument. Except this waterfall here actually let you go behind it just like so many of the other waterfalls in this park.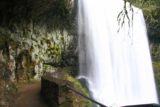 After getting our fill of this waterfall, we debated whether or not to continue along the Trail of Ten Falls and finish off the loop or just go back to the car and drive to the Winter Falls trailhead.
Turned out, we opted for the latter. We got back to the car at 11:40am and the rain really started to come down harder.
Ten minutes later, we were at the Winter Falls Car Park. We came into this hike as merely an excuse to document and photograph the several falls found here. And with the unrelenting rain in full blown downpour mode at this point, we weren't in the mood to linger at any of the falls for too long. Or at least that's what we thought going in…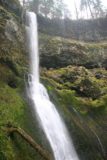 Immediately after the first couple of switchbacks as the trail descended, we got what photographs we could of Winter Falls. It was hard trying to photograph it with the rain and using our ponchos as a shelter instead of an ineffective umbrella like on Saturday. It was cumbersome, but it did work for the most part.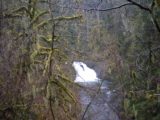 Another 15 or so minutes later, we saw the unimpressive Twin Falls after a quick 0.6-mile round trip detour. I could see how the falls got its name as a rock seemed to split the falls into two.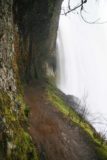 Afterwards, we continued walking downstream. With the rain still coming down hard, we saw a spur trail leading to the Middle North Falls. This waterfall looked rather impressive, but as we got closer to the falls, we could see there was a trail going behind this waterfall and it ultimately led to an alcove that is sheltered from the unrelenting rain.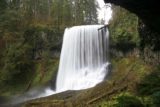 I was relishing this waterfall because I could photograph the falls while taking my time and not worrying about the rain. And from this viewpoint, we could see the falls was quite wide and had a nice squarish shape.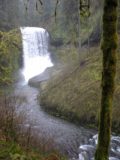 After prying ourselves away from this falls, we continued on the Trail of Ten Falls. By now, we saw at least 3 or 4 other couples here. Looked like we weren't the only ones braving the soggy weather.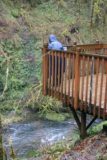 Next up downstream was Drake Falls. This one had a lookout platform overhanging from the cliff with a view of this rather dinky but powerful falls. We didn't linger too long for this one though.
Onwards we went.
Julie was already getting waterfall fatigue at this point.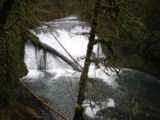 It was a good thing that the last two waterfalls on this trail were Lower North Falls and Double Falls. Both were near each other and we were already there.
We first decided to check out the Lower North Falls. Hoping it was another behind-the-waterfall blockbuster like the others named "North Falls" we were disappointed with this water slide that went perhaps 30ft high or so. With the pouring rain, it wasn't easy to photograph with the fragile SLR so I had to rely on Julie's point-and-shoot, which seemed more robust against the rainy weather.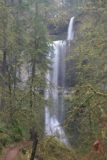 Finally, we checked out Double Falls, which was actually a very attractive waterfall that got its name because there was a small upper waterfall before plunging in a lower main tier. It was a nice finale to our waterfall collecting on this hike, but it was too bad we couldn't linger here any longer as the rain continued to threaten to damage our camera equipment and our soaked clothing beneath our ponchos.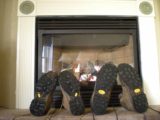 Mercifully at 2:05pm, we were back at the car. And half an hour later, we were back at Silverton to let our wet clothing dry. There, we spent the rest of the afternoon indoors drying out our wet gear and even having Thai Food in downtown Silverton.
All in all, it was a satisfying day, but we were waterfall fatigued.
Tomorrow, we were supposed to see more waterfalls in National Forest land, but with the crummy weather continuing tomorrow and the day after, there's the distinct possibility of not seeing any of these waterfalls due to snow…
Day 6: NOT AN APRIL FOOL'S JOKE
We awoke at 6am in the hopes of leaving Silverton early and getting some more waterfalling in before settling into Eugene, which was our last minute alternative to Oakridge.
The goal was to drive some 60+ miles east of Eugene to see at least Sahalie, Koosah, and Proxy Falls. And if we were really lucky, we'd drive another 60+ miles to the southeast of Eugene to Salt Creek Falls near our original plan of accommodation at Oakridge.
But with all the thoughts of bad weather, which did deliver this morning, both Julie and I got into improvising mode when we realized that this trip was too waterfall heavy and we ought to spend more time along the Oregon coast.
So we spent some time changing our 2-night Bandon plan and tried to change the 2nd night at Bandon to Cannon Beach instead. We mind as well vary up the scenery a bit and enjoy the coastal scenery with all the sea arches and sand dunes and wildlife.
We ended up being successful cancelling the 2nd night at Bandon. I'm sure the innkeeper there was tired of making changes, but they were all well over 24 hours in advance so we shouldn't be incurring cancellation charges.
Anyways, we left at 8:30am and headed south to Eugene. During the drive, Julie managed to secure an accommodation at Cannon Beach without any two-night minimums and at a special rate.
So this bit of improvising worked out.
But now, we were in Eugene and heading further east in pursuit of Proxy Falls.
But at just before 11am, we were on the 242 and reached a snow gate. It was just short of the trailhead for Proxy Falls. So it turned out this waterfall wasn't accessible year round after all (as I thought I had read in the literature).
Anyways, with all the snow gathering around the banks of the road and new snowflakes falling at this point, we weren't all that comfortable being here anyways without snow chains.
We headed back down to the 126 and then headed north towards Koosah and Sahalie Falls. But as the road climbed, we could see the rain was turning into snow. We even passed by a couple of snow plows on the way up.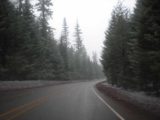 Before we got deep into the white stuff, we decided to turn around and call it a defeat. So we wouldn't see neither Koosah nor Sahalie Falls as I had feared. I guess sometimes you can't fight Mother Nature, and this trip exemplified what happens if the trip is poorly planned and done at the last minute…
By 12:40pm, we were back at Eugene. We had the whole day to chill out and do nothing. I'm sure in hindsight, we actually could've gone all the way to Bandon and stay there. But hindsight's 20/20 and we'll just have to spend the better part of tomorrow morning doing the drive to Bandon.
Who knows?
As waterfall fatigued as we were, we might be able to visit Silver and Golden Falls, which wasn't far from Coos Bay…
None of this was planned, but from here on out, we were going to act out on our improvisation plans…
Day 7: "THIS WEATHER SUCKS!"
The weather forecast from yesteday had called for more significant rainfall today. So both of us were a bit surprised to see that we were in the middle of some break in the clouds this early in the day. But with the wet pavements, we knew that another wave passed through while we were sleeping.
So we had ourselves a quick breakfast before leaving Eugene and heading further west towards the Oregon coast.
There was relief that we shouldn't have to be putting up with snow for the remainder of this trip. We also looked forward to varying up the scenery a bit as this entire week had been dominated by waterfalls.
Of course even as I say this, we were going to check out Silver and Golden Falls near Coos Bay today.
Throughout the drive heading west, we headed beneath dark clouds and got through nearly unending rain. But surprisingly as we finally glimpsed the coast, the weather seemed to have let up a bit.
When we arrived in the town of Florence, and Julie noticed some signs for the Sea Lion Caves north of town. Sure it was 11 miles in the opposite direction we were supposed to be going, but it was going to be something different.
By 8:45am, we arrived at the car park for the Sea Lion Caves. The place wasn't open yet, but we only had to wait for a few more minutes before we could be admitted and head towards the so-called "cave" itself.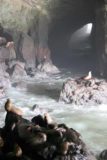 When we were finally admitted, we walked along a well-paved path leading to an elevator that dropped some 208ft into a seemingly underground area.
It was a bit eerie as we left the elevator as we heard sounds echoing throughout this cave area. A few steps beyond the elevator corridor and into the main chamber, we noticed there were some displays as if it was more or less like a museum devoted to sea lions.
To our left in the main chamber was a chain-linked fence offering up a view of the sea lions themselves in their den. It was kinda cool to see them so close though taking photographs here was a challenge as it was dark.
The scenery where the sea lions lived was also interesting as there was a wide opening that seemed to admit white water from the churning seas. Just beyond the den looked like a natural tunnel leading to daylight in a different spot. So all told, this area was technically a sea arch as opposed to a sea cave.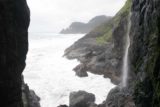 To the right of the main chamber were some stairs leading to another opening in the cave. This time, it presented a dazzling view of a lighthouse in the distance fronted by the cave opening as well as the profile of a wispy waterfall framing the scene.
By 9:35am, we had our fill of this steeply priced attraction and continued driving south.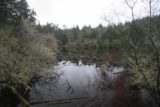 As we headed further south of Florence, we wondered whether we should check out some of the sand dunes here. After all, there were very tall dunes teasing travelers along the US101. Of course, we were looking for a place with a decent overlook of these dunes.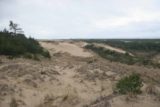 We eventually stopped at a trailhead near the Carter Lake Campground. The trail led to some overlook of the so-called Taylor Dunes. However, these dunes were underwhelming from a photographic standpoint.
We got back to the car some twenty minutes later and continued heading further south. We went to the so-called Oregon Dunes Overlook, but by this time, the rain really started coming down.
We opted to leave and come back tomorrow morning when the weather is supposed to be improved. Today's weather was supposed to be rain all day long.
At around 12pm, we arrived in the town of Coos Bay. Julie was hungry and there was a McDonald's that was conveniently located. So we ended up driving through there and eating in the car. It had been several years since we had eaten Mickie D's, and our bodies weren't used to the bombardment of crap (i.e. fat, lard, salt, transfats, etc.) after I had myself a Big Mac and fries while Julie had her cheeseburger and fries.
We didn't feel all that well after the meal (probably heartburn), but nonetheless, we at least had some energy to continue driving. Now we were supposed to get to Bandon later on today, but Coos Bay was where there was a 24-mile detour leading to Silver and Golden Falls State Park.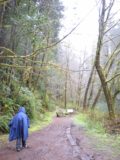 By 12:40pm, we went through the curvy, narrow road and arrived at the car park. We expected this to be the last pair of waterfalls on this trip. But both of us still had some waterfall fatigue from the earlier parts of this trip so it almost felt like an obligation to bag these falls.
Not surprisingly, it was raining pretty hard.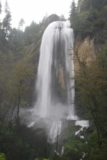 So with our ponchos ready, we headed off to explore the pair of waterfalls here.
First up was the Silver Falls. The trail to its base was merely 15 minutes round trip. But the rain made the trail really muddy and slippery.
Getting a clean view and photograph of the falls was nontrivial. That was because of the combination of mist thrown in our direction from the falls itself as well as the unrelenting rain. Still, we managed.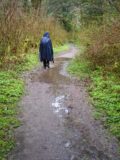 We were also greeted by a trio of adolescents who were coming back from the falls. They smiled and giggled as they told us not to go climbing around the falls. That's because they apparently did and one of the girls had dirt all over her drenched clothes as it looked like she took a spill.
After getting our fill of this falls, we headed back to the car park then continued onto another short 20-minute round trip trail to the Golden Falls.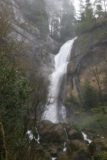 This trail was even muddier and sloshier than the first. Plus, the rain was still coming down hard. Ultimately, that made photographing the Golden Falls a bit difficult as well when we finally got to the end of the trail.
"This weather sucks!" said Julie as the nonstop rains which seemed to be the story of the weather on our trip was taking its toll on our psyche.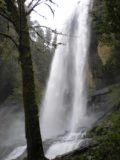 Finally, we took the so-called Upper Trail, which was the longest trail here. This was supposed to be 60 minutes round trip, and Julie wasn't exactly in the mood to do it. The trail started off by heading towards the side of Silver Falls.
It was a different perspective on the falls and under more normal circumstances, we probably would've spent a bit more time here. But the rain kind of made that option undesirable.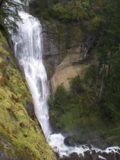 The trail then switched back and curled around the cliff towards the top of Golden Falls. It was a bit difficult to get a satisfactory photograph of the falls because of the precarious nature of the cliffs (especially given how slippery the wet rocks were). And the butterflies induced by the sheer dropoffs made it even more undesirable to get further out to the edge.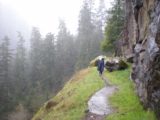 By 2:25pm, we were back at the car. With our ponchos and clothes a bit wet from the rain, we really looked forward getting settled at Bandon.
And by 3:40pm, we checked into our accommodation at Bandon Beach.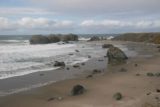 Bandon seemed to be a quiet, laid-back ocean front town. It definitely contrasted the cities and quiet mountain villages we had experienced earlier on in this trip. But the beauty of Bandon's rock stacks rising out of the sands and tides really made this place scenic. In fact, our moods changed for the better and we were looking forward to seeing the sunset supposing the weather cooperates.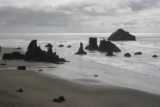 We had a pretty decent dinner with a nice view at Lord Bennet's. And after 6pm, we were back in our accommodation trying to wait out the sunset.
Unfortunately, the storm clouds weren't cooperative and there was not to be a sunset on this day. To make matters worse, the squalls were unrelenting and the bitterly cold winds were blowing hard.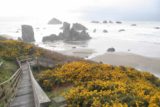 Seemed like once again a picturesque sunset here just wasn't meant to be. Oh well, hopefully things'll be better tomorrow and that elusive Oregonian sunset might be experienced at Cannon Beach…
Day 8: THE OREGON COAST
We were hoping that the weather might start to calm down today. The forecast seemed to provide some hope of this happening, but when we first got up in the dark and tried to make our early departure northwards, the weather was still chilly, rainy, and windy.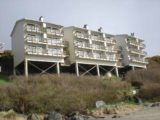 We left the Sunset accommodation at 5:45am.
I didn't get a whole lot of sleep last night so I wasn't exactly in the best of shape driving this morning. But the fear of elk running out in front of the car was always on my mind so I stayed vigilant.
Through the mixture of squalls with heavy downpours and breaks in the rain, daylight slowly revealed itself, and we arrived at the Oregon Dunes Day Use area a little before 7:30am. There was just enough daylight to get satisfactory views of this place, which we opted to skip yesterday due to a nasty downpour.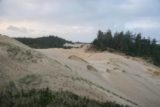 This break couldn't have come at a better time because both Julie and I were getting sleepy.
Sure the views here were interesting, but we saw an approaching squall and didn't linger very long before we left some ten minutes later.
So we continued driving northwards on the US101.
Much of the drive was spent listening to NPR Radio while still navigating through more mixtures of heavy downpours, drizzle, and even a few sun breaks here and there. But the skies were still predominantly cloudy with dark patches of squalls.
It wasn't exactly the kind of improving weather we were looking forward to.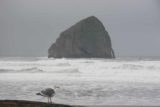 In any case, we arrived at Cape Kiwanda a little after 10am. There, we arrived at a beach that was heavily overcast with threatening downpours. But we the primary reason of our improvisation to the Oregon Coast was to do some arch hunting to kind of mix up things a bit after being severely waterfall saturated and in need of some variety.
And Cape Kiwanda didn't disappoint as we saw an offshore rock stack rising up out of the churning ocean with a jug handle arch.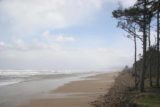 Continuing further north at what is now the Three Capes Loop, we next arrived at a place called Cape Lookout just before 11am. There, we got out of the car and braved the frosty and blustering winds to get onto the beach to check out the scenery here.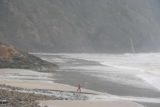 Perhaps the most interesting part of this beach was that there was a trio of temporary beach-bound waterfalls in the distance. This was something reminiscent of Hawaiian scenery, but here, Oregon was so waterlogged with late Winter storms that we happened to be caught in that it seemed like waterfalls like these were a dime a dozen.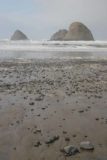 About a half-hour later, we entered the residential community of Oceanside where there was a beach strolled on. At first, we tried to get better views of the Three Arch Rocks just offshore of this beach. Unfortunately, we couldn't really get a clean look at the spans of the sea arches in each of these rocks.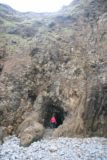 We did however walked through a pedestrian tunnel that led onto some secluded cove with more rocks and cliffs surrounding it. Still no arches visible here though.
At 12:25pm, we got back into the car and continued northwards on the Three Capes Loop.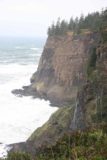 About 10 minutes later, we arrived at the busy Cape Meares Lighthouse car park.
The skies still remained overcast, but the clouds were brighter than earlier this morning. It seemed like the weather is indeed improving albeit painfully slow for our taste. After all, this was the eight straight day of absent blue skies on this trip. We felt we were due!
Anyways, while browsing around the area, we saw yet another wispy ocean-bound waterfall in one of the overlooks.
But we also saw the Three Arch Rocks again. Only this time, the overlooks here revealed the spans of 2 of the three rocks. Finally, more arches collected on this part of the trip.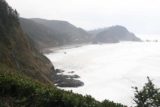 We also briefly checked out the cozy little lighthouse before heading back to the car.
A little after 1pm, our Three Capes Tour ended and we continued northwards towards our next stop – Cannon Beach. Here was where we'd spend the night.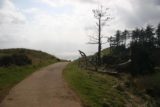 At 2:20pm, we arrived at Cannon Beach. Unfortunately, our room wasn't ready so we couldn't check in just yet. So we headed further into town for some greasy fish 'n chips. And an hour later, we arrived at Ecola State Park.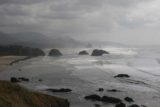 At the park, we caught nice distant vistas of the rock stacks at Cannon Beach.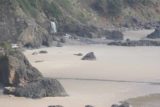 We also saw an attractive waterfall below us at Crescent Beach. But to get there, we had to hike over a mile and after all the driving we did, we didn't really feel like doing it.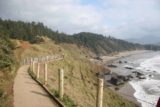 We also hunted around for a view of the arch apparently under the Sea Lion Rock nearby the viewpoint here (we were unsuccessful as I bet you'd have to somehow scramble around in low tide to get the right angle). In the distance was some lighthouse offshore on an isolated rock. Apparently, it was called the Tillamook Lighthouse. I can't imagine how hard and costly it was to erect that structure and how to keep it functional with all the violent waves and weather battering it over time.
By a little after 4:30pm, we finally checked into our Hallmark accommodation. And after dropping off our stuff, we walked down the steps and onto the famous Cannon Beach where we were right in front of the big rock stacks before the backdrop of a setting sun.
We were hoping for a legitimate sunset but there were still lots of clouds moving about on this afternoon.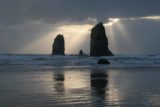 Eventually, we braved the frosty winds as long as we could and got some interesting low-light photos of the stacks with sun beams breaking through clouds behind them. But there wasn't to be any colors of the setting sun on this day.
We had ourselves a later-than-usual dinner (at Newman's) because of our sunset attempt afterwards. And it ended up being delicious though pricey.
Still, upon reflecting back on this day, this changeup in going from soggy temperate forests with waterfalls to rugged coastlines and ocean waves was a welcome change. It was too bad the weather didn't improve for us sooner to really get the best of this part of the trip.
Day 9: UNDER THE CHERRY TREES
We slept in and awoke at around 7:30am.
The first thing I saw when I looked out the window was some morning clouds. But little did I know that as the morning wore on, those clouds were merely a small patch. The rest turned out to be blue skies as the early sun started to penetrate the morning shadows and provide color to the day.
Imagine that! There's actually some color besides grey and black with a sprinkling of green. There's now the familiar orange and yellow with some blue!
So white Julie was busy browsing the web for places to eat and things to see and do in Portland, I walked downstairs and onto Cannon Beach.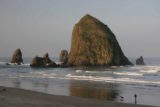 Sure it was still windy and frosty this morning, but it was unusual to see orange and green on the sea stacks that were nothing but grey and black yesterday afternoon.
We loaded up the car and left Cannon Beach at 8:45am.
We drove through a mix of sun and fog as we took the Hwy 26 into downtown Portland.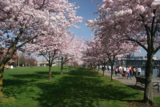 We finally arrived at a Smart Park at 10:20am and checked out the cherry blossoms by the Willamette River.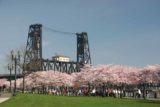 As we were checking it out under sunny and blue skies, there was a whole parade of people overwhelming the riverside walk there. We weren't sure whether this parade of people were demonstrating or taking part in some kind of rally.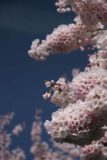 But in any case, we took photos and tried to imagine what this would've been like in Japan. I guess Portland will have to do, but perhaps this was the teaser for our upcoming Japan trip.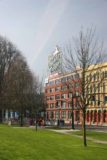 Next, we walked to the Classical Chinese Garden. On the way there, we noticed a building with a "Made in Oregon" sign on top of it. This grabbed our attention because the locals news made some hoop-la about this sign, but we still weren't quite sure what it was all about.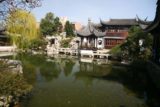 Within minutes of walking a couple of blocks, we were at the Chinese Garden. This tiny 1 acre park packed a lot of punch as we showed up just in time for a tour.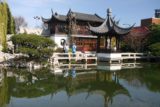 The tour itself was very informative. We learned that this garden was based on Suzhou-influences. Suzhou is supposedly the Venice of China as it's a city built on canals.
We also picked up some interesting tidbits about Chinese culture as well as poetry a thousand years ago. All this made Julie and I anticipate more our upcoming trip to China. I guess we considered this a precursor to that trip.
After eating a rather expensive but delicious small lunch at the Tea House there, we got back to the car a little after 1pm.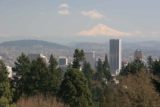 Next, we showed up at the Japanese Garden about 20 minutes later. As we drove up the sloped streets and then walked up the stairs to the garden itself, we were anxious with anticipation to get views of Mt Hood over the city of Portland.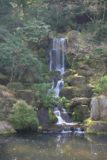 And after paying the admission for the garden, we made a beeline for the view of Mt Hood. And as we rounded the corner and saw the conical snow-capped mountain framed between trees with city buildings dwarfed below, we eagerly snapped photos and couldn't believe our luck at seeing the scene before us.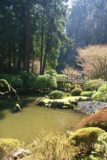 Or maybe it wasn't luck. Maybe we deserved this after suffering through 8 straight days of dreary and soggy weather. I know I don't mind having seasons every so often when at home, but when you're on holiday and rain is all you get, it kind of makes you better appreciate the times when good weather shows up. Apparently, Oregonians think so too because this garden is was bustling with activity.
At 2:40pm, we were back in the car. We opted to skip the 2:30pm guided tour so we could head back to downtown Portland to check out the Saturday Market, which we just found out about while reading through our literature waiting for the tour to commence.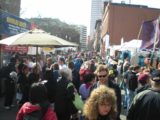 Some 15 minutes later, we went back to a Smart Park and walked to the Saturday Market.
Even though there was hardly any vehicular traffic in the city, Julie and I couldn't believe how many people were packed in this multi-block collection of tents and humanity. Apparently, Portland wasn't a dead city after all. We finally found the happening part of town after all!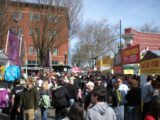 Adding to the humanity were scores of anti-war demonstrators and police near the Max tracks. I think the police were there to try to keep them from mixing with the people here to indulge in arts and crafts as well as street food.
At 3:45pm, we got the flavor of the place (both mentally and literally as we had some tamales and elephant ears – basically a cross between a churro and a big fat donut), we got back to the car.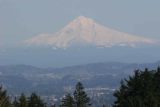 Some 15 minutes after this, we ended up at a place called Council Crest Park. It was nestled in the middle of some residential area, but the main draw of this place was that we got to take advantage of beautiful weather and see four volcanoes in one shot.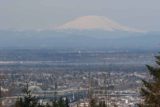 To the far right was another gorgeous view of the conical show-capped Mt Hood. To the far left was the imposing and volatile Mt St Helens with part of Mt Rainier in the distance hidden behind it. At first I incredulously thought it was Mt Rainier in front, but the plaques in the area kind of set the record straight. Finally, there was a distant view of Mt Adams in the background behind some other snow-covered rolling hills before it.
After snapping what photos we could of this place and the views around us, Julie and I relished the fact that we got the most of our touring Portland in a day under beautiful weather.
Being a waterfall lover, I thought the whole sunny weather phenomenon was a bit overblown. But after our experience on this trip where we got day after day after day of chilly rain, we really appreciated today's weather.
I guess it takes missing something to appreciate it. And perhaps we take our Southern California sun for granted.
Anyways, I found it a bit ironic how we intended to see Mt St Helens on the first day we showed up to Portland (on the way to Curly Creek Falls in Washington's Gifford Pinchot Wilderness). But we were thwarted by drizzly weather and snow. And here we are looking at the mountain in its entirety from Portland…
Indeed, it was a good day capped off with sharing the glorious views at Council Crest Park with about two dozen other people (seemingly mostly locals).
We finally checked into the familiar Clarion near the airport at 4:50pm. Even throughout the drive east along the I-84 and then the I-205, we could still see Mt Hood dominating the eastern horizon.
Now we had to pack up and get ready for tomorrow's flight back to LA.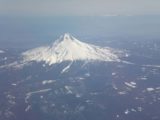 And in the next day, the flight home passed uneventfully. I even had fears that my car wouldn't start because it was having electrical problems after I tried to have a car wash place wash the underside of all the leaking oil. Fortunately, it started.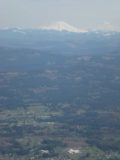 Perhaps most memorable about the flight home was the good weather that allowed us awesome views of the four volcanoes within view of the Portland area.
Immediately to the north on the Washington side was Mt St Helens with Mt Rainier sitting hazily behind it.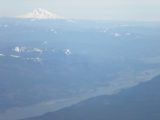 Immediately to the east on the Oregon side was the attractively conical snow-capped Mt Hood – the very mountain whose downslope cliffs to the north gave rise to the Columbia River Gorge and its waterfalls.
And looking up the Columbia River, we could also see Mt Adams on the Washington side.
Julie and I wondered how often you get to see all the peaks in one go given all the clouds and rain the Pacific Northwest is normally blanketed with. Though we certainly wished that the good weather had shown up a day earlier so we could've gotten gorgeous sunsets on the Oregon Coast.
Why is it that the good weather always arrives when we're leaving?
And so ended a trip that taught us about not taking things for granted (especially with the weather) as well as the value of pre-trip research. But at least we improvised with an impromptu Oregonian Coast trip towards the latter part of the trip.
After all, we have unfinished business to do… We still have to see Crater Lake, numerous big waterfalls that got snowed out on this trip, and getting close to Mt St Helens…
We're not sure when the return trip will happen, but we do have an Annual Northwest Pass that expires at the end of March 2010. So the clock is ticking…
Visitor Comments:
Got something you'd like to share or say to keep the conversation going? Feel free to leave a comment below...
No users have replied to the content on this page