Day 9: UNDER THE CHERRY TREES
We slept in and awoke at around 7:30am.
The first thing I saw when I looked out the window was some morning clouds. But little did I know that as the morning wore on, those clouds were merely a small patch. The rest turned out to be blue skies as the early sun started to penetrate the morning shadows and provide color to the day.
Imagine that! There's actually some color besides grey and black with a sprinkling of green. There's now the familiar orange and yellow with some blue!
So white Julie was busy browsing the web for places to eat and things to see and do in Portland, I walked downstairs and onto Cannon Beach.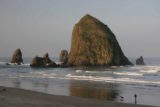 Sure it was still windy and frosty this morning, but it was unusual to see orange and green on the sea stacks that were nothing but grey and black yesterday afternoon.
We loaded up the car and left Cannon Beach at 8:45am.
We drove through a mix of sun and fog as we took the Hwy 26 into downtown Portland.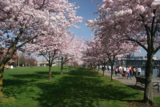 We finally arrived at a Smart Park at 10:20am and checked out the cherry blossoms by the Willamette River.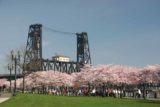 As we were checking it out under sunny and blue skies, there was a whole parade of people overwhelming the riverside walk there. We weren't sure whether this parade of people were demonstrating or taking part in some kind of rally.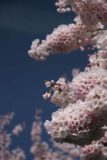 But in any case, we took photos and tried to imagine what this would've been like in Japan. I guess Portland will have to do, but perhaps this was the teaser for our upcoming Japan trip.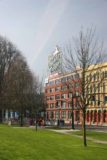 Next, we walked to the Classical Chinese Garden. On the way there, we noticed a building with a "Made in Oregon" sign on top of it. This grabbed our attention because the locals news made some hoop-la about this sign, but we still weren't quite sure what it was all about.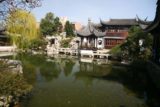 Within minutes of walking a couple of blocks, we were at the Chinese Garden. This tiny 1 acre park packed a lot of punch as we showed up just in time for a tour.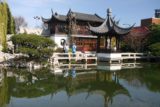 The tour itself was very informative. We learned that this garden was based on Suzhou-influences. Suzhou is supposedly the Venice of China as it's a city built on canals.
We also picked up some interesting tidbits about Chinese culture as well as poetry a thousand years ago. All this made Julie and I anticipate more our upcoming trip to China. I guess we considered this a precursor to that trip.
After eating a rather expensive but delicious small lunch at the Tea House there, we got back to the car a little after 1pm.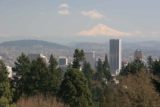 Next, we showed up at the Japanese Garden about 20 minutes later. As we drove up the sloped streets and then walked up the stairs to the garden itself, we were anxious with anticipation to get views of Mt Hood over the city of Portland.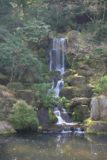 And after paying the admission for the garden, we made a beeline for the view of Mt Hood. And as we rounded the corner and saw the conical snow-capped mountain framed between trees with city buildings dwarfed below, we eagerly snapped photos and couldn't believe our luck at seeing the scene before us.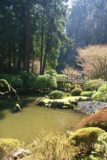 Or maybe it wasn't luck. Maybe we deserved this after suffering through 8 straight days of dreary and soggy weather. I know I don't mind having seasons every so often when at home, but when you're on holiday and rain is all you get, it kind of makes you better appreciate the times when good weather shows up. Apparently, Oregonians think so too because this garden is was bustling with activity.
At 2:40pm, we were back in the car. We opted to skip the 2:30pm guided tour so we could head back to downtown Portland to check out the Saturday Market, which we just found out about while reading through our literature waiting for the tour to commence.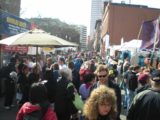 Some 15 minutes later, we went back to a Smart Park and walked to the Saturday Market.
Even though there was hardly any vehicular traffic in the city, Julie and I couldn't believe how many people were packed in this multi-block collection of tents and humanity. Apparently, Portland wasn't a dead city after all. We finally found the happening part of town after all!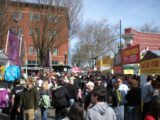 Adding to the humanity were scores of anti-war demonstrators and police near the Max tracks. I think the police were there to try to keep them from mixing with the people here to indulge in arts and crafts as well as street food.
At 3:45pm, we got the flavor of the place (both mentally and literally as we had some tamales and elephant ears – basically a cross between a churro and a big fat donut), we got back to the car.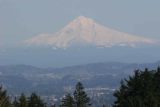 Some 15 minutes after this, we ended up at a place called Council Crest Park. It was nestled in the middle of some residential area, but the main draw of this place was that we got to take advantage of beautiful weather and see four volcanoes in one shot.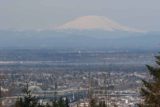 To the far right was another gorgeous view of the conical show-capped Mt Hood. To the far left was the imposing and volatile Mt St Helens with part of Mt Rainier in the distance hidden behind it. At first I incredulously thought it was Mt Rainier in front, but the plaques in the area kind of set the record straight. Finally, there was a distant view of Mt Adams in the background behind some other snow-covered rolling hills before it.
After snapping what photos we could of this place and the views around us, Julie and I relished the fact that we got the most of our touring Portland in a day under beautiful weather.
Being a waterfall lover, I thought the whole sunny weather phenomenon was a bit overblown. But after our experience on this trip where we got day after day after day of chilly rain, we really appreciated today's weather.
I guess it takes missing something to appreciate it. And perhaps we take our Southern California sun for granted.
Anyways, I found it a bit ironic how we intended to see Mt St Helens on the first day we showed up to Portland (on the way to Curly Creek Falls in Washington's Gifford Pinchot Wilderness). But we were thwarted by drizzly weather and snow. And here we are looking at the mountain in its entirety from Portland…
Indeed, it was a good day capped off with sharing the glorious views at Council Crest Park with about two dozen other people (seemingly mostly locals).
We finally checked into the familiar Clarion near the airport at 4:50pm. Even throughout the drive east along the I-84 and then the I-205, we could still see Mt Hood dominating the eastern horizon.
Now we had to pack up and get ready for tomorrow's flight back to LA.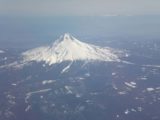 And in the next day, the flight home passed uneventfully. I even had fears that my car wouldn't start because it was having electrical problems after I tried to have a car wash place wash the underside of all the leaking oil. Fortunately, it started.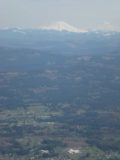 Perhaps most memorable about the flight home was the good weather that allowed us awesome views of the four volcanoes within view of the Portland area.
Immediately to the north on the Washington side was Mt St Helens with Mt Rainier sitting hazily behind it.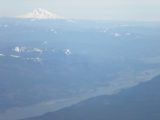 Immediately to the east on the Oregon side was the attractively conical snow-capped Mt Hood – the very mountain whose downslope cliffs to the north gave rise to the Columbia River Gorge and its waterfalls.
And looking up the Columbia River, we could also see Mt Adams on the Washington side.
Julie and I wondered how often you get to see all the peaks in one go given all the clouds and rain the Pacific Northwest is normally blanketed with. Though we certainly wished that the good weather had shown up a day earlier so we could've gotten gorgeous sunsets on the Oregon Coast.
Why is it that the good weather always arrives when we're leaving?
And so ended a trip that taught us about not taking things for granted (especially with the weather) as well as the value of pre-trip research. But at least we improvised with an impromptu Oregonian Coast trip towards the latter part of the trip.
After all, we have unfinished business to do… We still have to see Crater Lake, numerous big waterfalls that got snowed out on this trip, and getting close to Mt St Helens…
We're not sure when the return trip will happen, but we do have an Annual Northwest Pass that expires at the end of March 2010. So the clock is ticking…
Visitor Comments:
Got something you'd like to share or say to keep the conversation going? Feel free to leave a comment below...
No users have replied to the content on this page