Day 1: CURLY CREEK CURSE
After a brutal 4am start to the day to meet our 7am flight and somehow losing our boarding pass at security in LAX, we managed to get caught up on some much needed sleep before our short flight landed at Portland.
Moments before the plane descended beneath the clouds, Julie said to me, "This is the last time we're going to see the sun for a while."
We both knew that the forecast didn't look favorable this week and we also anticipated something similar to what we experienced in Seattle a couple of years ago where it was either a bunch of rain or drizzle for days on end.
We arrived in Portland under overcast skies and drizzling conditions. It immediately felt chilly (totally contrasting the warm and sunny skies back at home), but we managed to get shuttled from the airport and arrived to pick up the rental car shortly after 10:15am.
On tap for today was to try to sneak in a trip to the foothills of Mt St Helens in the hopes of trying to catch the Curly Creek Falls, which was known to have a pair of natural bridges spanning over the stream between tiers of this unique waterfall. Even though this trip was meant to tour Oregon, I thought this quick trip into Washington would be a pretty good kick off to the trip.
So we wasted no time heading north towards this attraction – especially since we knew this drive would take a little over 2 hours each way.
As we headed north along the Hwy 503, we noticed a lot of idyllic scenery passing through various farms, rolling hills, and tiny towns. It was too bad the skies were so overcast with a mix of drizzle and sometimes moments of normal rain.
I had secretly hoped that this part of the visit might provide views of the infamous Mt St Helens, but all the clouds and precipitation made that all but impossible. Moreover, we started to notice numerous closures of picnic areas as well as snow starting to show up on the banks of the roads.
We did notice some forests with bare spots as well as other spots with trees of different color than the normal green alpine varietes we expected to see. We figured that was all due to logging, which probably supports many of the communities down here.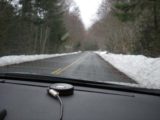 Much later in the drive, we started to see that snow was becoming more prevalent on the sides of the road. And finally, at around 12pm, the road (now NF90) was blocked by snow. It was too bad because we could see on our GPS/Topo
! combo that we were so close to Curly Creek Falls.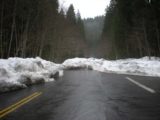 But it just wasn't meant to be on this trip. I guess that's what we get for doing this trip at the very last minute with insufficient planning.
So with that bit of disappointment, we headed back to a chilly and drizzly Portland. And by 2:40pm, we checked into our motel near the airport and got settled.
It was still around 4:30pm when we got unpacked and settled, and there was still some daylight left to check out the downtown Portland area.
At 4:50pm, after finding parking in one of their smart park locations, we walked to a restaurant called Carafe. It seemed like we beat the rush because it got busy not long after our appetizers showed up. It was apparent that right across the street, there was a performing arts auditorium exhibiting "Wicked."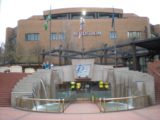 We tried to walk off the dinner by walking to the downtown area by Pioneer Square.
Portland seemed like a pretty quiet and laid back city. It didn't have much of the gaudy attractions and helter-skelter pace that other cities like New York had, but we got the feeling that Portland wasn't really trying to be like that.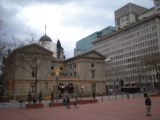 In fact, we got the sense that the city really seemed like a pretty friendly, progressive, livable place. Even one of the locals offered to help us with directions and apologized for the weather upon learning we were from California.
After walking about 10 city blocks, we finally reached the Pioneer Square. It really wasn't much and we figured we probably got enough of the flavor of the city's downtown. So we walked back to the car park and then headed back to our motel.
I filled up on some gas in anticipation of some driving tomorrow, but learned quickly thereafter that the service station was all full service. I thought I might be paying extra for this, but the attendant said all the pumps here were full service, and I wondered if all the gas stations were this way statewide.
We were back at the Clarion a little after 7:30pm. Just in time to see the last bit of the Sweet Sixteen round of March Madness.
Visitor Comments:
Got something you'd like to share or say to keep the conversation going? Feel free to leave a comment below...
No users have replied to the content on this page