Day 2: LEGITIMATE RAIN
We awoke from a pretty restful evening only to see that it had been raining this morning. Given that the forecast called for heavy rain to be coming this afternoon, I thought it was a bit early for rain to be this heavily. It definitely wasn't a good sign for touring the Columbia River Gorge today, which was the plan.
After a hearty breakfast, we left Portland a little before 7:30am, and proceeded to head east along the I-84 before finding the Bridal Veil exit. Along the way, we saw an attractive waterfall from the highway, but experience told us that the main waterfalls in the gorge were to be much more substantial. And even though no-namers like this one would get some love in Southern California, they're a dime a dozen in the Pacific Northwest. So we didn't stop for it.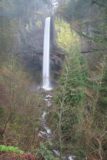 From the Bridal Veil exit, we backtracked towards Latourell Falls. Along the way, we saw more waterfalls while rubbernecking along the Historic Columbia River Highway. Again, we didn't stop for these since we knew there'd be lots of more important waterfalls to see while at the Gorge.
At 7:50am, we made it to the car park at Latourell Falls. The rain was coming down harder at this point, but it had been a while since we had seen a waterfall like this.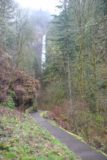 Latourell Falls was really tall (well over 200ft tall) with a narrow but classic rectangular shape. The basalt columns near its base was very reminiscent of something we saw back in Iceland. And the moss growing on the cliff walls and trees really added some bright green color to the scene.
We took photos from the upper overlook and then from near the misty base. But the relentless rain was already causing problems as water would consistently get onto the lens. I also worried that all this water might damage the camera.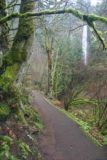 Anyways, after having our fill of this waterfall, we got back to the car at 8:40am and headed further east.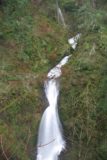 Before we could catch our breath, we stopped by a pullout just beyond the bridge over the Shepperd's Dell. I got out of the car in the pouring rain to take a look. And lo and behold there was a waterfall. Fortunately, I could look down at the waterfall here from the bridge. That at least minimized the likelihood of the relentless rain from getting onto the camera lens.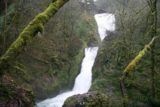 The next stop was at the Bridal Veil Trail area, which we got to ten minutes later. There, we took a short trail to a wooden platform with a top-down view of this two-tiered waterfall. Again, rain was causing problems even though we were carrying an umbrella trying to shelter the camera.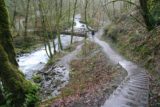 At 9:30am, we sloshed our way along the muddy and slipper trail back to the car under the still pouring rain.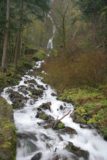 At 9:40am, we made a quick stop at the Wahkeena Falls. With the rain not relenting, we didn't bother getting closer to this waterfall let alone walking to Fairy Falls or Necktie Falls. Again, rain was problematic in even taking photographs regardless of an umbrella sheltering us.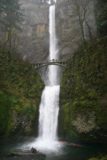 At 10am, we arrived at the much-anticipated Multnomah Falls. Even though we really wanted to spend a lot of time here, we knew that the heavy rain would make it difficult. So we did what we could in taking photographs from the viewpoints adjacent to the historic Multnomah Falls Lodge. But we didn't linger there for too long as I worried the camera was continuing to get waterlogged.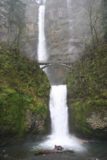 So we ended up going inside the lodge to check out their visitor center and then the restaurant. It provided a chance for us to get warmed up again while giving our equipment a chance to dry.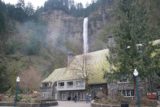 The food was a bit expensive, but the Northwest Salmon and Rainbow Trout really hit the spot. The hot chocolate and hot apple cider felt real good warming up our shivering bodies.
After a brief trip to the gift shop, we then continued on with our waterfalling tour further east at 12:25pm. Rain seemed to have gotten worse when we got back into our car.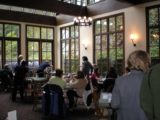 We weren't sure where we should stop next, but the obvious parking area across from Horsetail Falls seemed like a reasonable stop.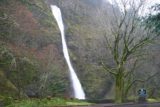 So at 12:35pm with the rain still pouring, we spent quite a bit of time trying to get satisfying photos of the impressive falls while keeping the lens dry with an umbrella and lens cloth combination.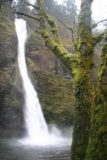 And like our previous attempts earlier in the day, it was futile. In fact, our lens cloth repeatedly fell to the ground since Julie had a bad habit of putting it in her pocket and dropping it everytime she'd get something else out of it.
Plus, it got to a point where my camera was getting so waterlogged that the shutter appeared to get stuck. It was at that point that the reality of the situation was starting to kick in and we had to just call it a day. It wasn't useful to do any more waterfalling even though there was still another good four hours of daylight.
Once we were inside the car at 1:25pm, we turned the heater on full blast and tried to dry everything out as we proceeded to drive to Cascade Locks to check into the Best Western there.
There was also condensation all over the insides of the zoom lens as well as the viewfinder on the camera body. Not good.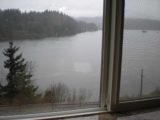 By about 2:10pm, we finally got to Cascade Locks, got checked in, and then just watched March Madness for the rest of the afternoon. It didn't help that the internet wasn't working so Julie took a nap and I had to patiently watch the local news for the latest on the weather, which promised to improve late tomorrow and most of the day Monday.
We'll see about that…
The rain kept falling hard on this day though it did let up at around 4pm. But as we left for Hood River for a dinner at around 6:30pm, it was a mixed bag of some moderate rain and light drizzle.
At least the restaurant we ate at (Celilo's) was excellent and helped to alleviate some of the crappy weather and disappointing touring results of today.
But as much as we tried to take the high road on today's weather, I had to admit that this trip had the makings of being another expensive mistake (kind of like the one we experienced back in the Big Island on Super Bowl Weekend). None of the hikes we planned for today took place and so we'll have to adjust our next two days' activities accordingly.
All the while, we were hoping that the weather wouldn't be as depressingly soggy as today…
The reality of the situation was that there were going to be many areas we had planned on visiting on this trip that simply weren't going to happen. And later in this trip, we were supposed to visit Crater Lake. But upon realizing that it was going to be covered in snow over there and hardly any of the viewpoints would be accessible, we did our first act of improvising on this trip. And that was to cancel our Crater Lake reservation and spend an extra night at Bandon on Oregon's southern coast.
Visitor Comments:
Got something you'd like to share or say to keep the conversation going? Feel free to leave a comment below...
No users have replied to the content on this page