Day 3: FRAUDSHOTS
It was 6am when we awoke. Anxious to put yesterday's crummy weather behind us and get some real waterfall touring underway, I anxiously looked out the window only to see that it was still raining. At least it wasn't raining as hard as yesterday, but it looked like doing some hikes within the Gorge area wasn't a good idea this morning.
But from seeing the local weather forecasts on TV yesterday with all that time we had, we decided to head further east to see White River Falls before returning to the gorge area when the weather is supposed to be improved.
So by 7:45am, we left the Cascade Locks area and proceeded to head east on the I-84.
Something that caught our eye along the way was an offramp indicating the Starvation Creek Picnic Area. I had read somewhere in the literature that there was a waterfall worth seeing here so we went ahead and stopped here.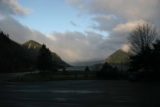 It was quite cold when we got out of the car, but it was already an encouraging sign that we could see the weather was starting to break.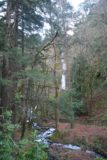 It was only a few minutes of walking uphill on a well-paved path before we could hear the familiar sounds of a waterfall. And soon enough, we could see this one was quite tall. Already the day was starting off pretty well…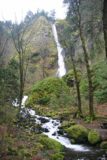 A few minutes later, we continued east on the I-84. It certainly seemed that the further east we went, the more the clouds had gotten lighter and the more frequent we were seeing sun.
After passing by Hood River and then reaching The Dalles (rhymes with "The Pals"), we then headed south on the 197 and well on our way to the Tygh Valley Area. By now, there were more blue skies than clouds.
The further south we went, we could see that the clouds were stuck further west amongst what we reckoned was Mt Hood as well as the rest of the Cascades. Apparently, we had gone into the rain shadow of the Cascades.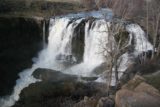 We could see it from the predominantly brownish grasses and rolling hills as opposed to the immensely mossy green scenery back in the Gorge. I began to wonder whether we should've come out this way yesterday afternoon instead of trying to tough it out in the rain-sogged Gorge nearly destroying our camera equipment in the process.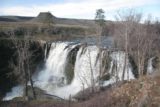 By 9:20am, we arrived at the White River Falls State Park. Immediately when we got out of the car, we can the hear the loud roar of a waterfall nearby.
When we walked out to the fenced viewpoint nearest to the falls, we could see there was a pretty wide segmented waterfall before us. But as we gazed further downstream, we could see the river disappear into yet another ravine beyond.
So that beckoned us to walk further down the path.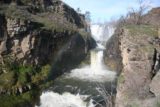 And lo and behond, we were presented with a spectacular view of a multi-tiered waterfall that exhibited properties reminiscent of a Mitchell Falls except there weren't red rocks surrounding this one.
In fact, this roughly 150-200ft waterfall exhibited more rocky and drier surroundings than what we were getting used to seeing in the sodden Columbia River Gorge.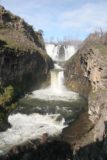 So we took our time taking photographs and wondering how some folks managed to take Webshots photos of this waterfall.
There was one in particular where someone put a canoe seemingly between two waterfalls. I wondered how that was possible, but now after seeing the scene firsthand, it was pretty clear that that photo was a fraud or at least a little bit of trickery by the photographer.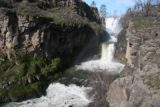 You see, basically that person must've composed the photograph in such a way that 5-ft third falls (which I'm sure would be runnable by kayak or canoe) was cropped in such a way that that tier looked much bigger than it really was. The position of the photographer must've been precariously atop one of the bluffs overlooking the narrow gorge looking straight down at that pool.
Needless to say, we weren't going to reproduce that effect, especially since it involves extensive off-trail scrambling and unnecessary drop-off exposure. Besides, we didn't have a canoer or kayaker handy to wait in between the 2nd and 3rd tiers of the falls.
So by 9:50am, we left the park.
Next up, we were supposed to be headed back to the Gorge area, but considering our success this morning, I was wondering if it would be a good idea to swing around the south and head north towards Hood River while visiting Tamanawas Falls on the way.
So that was the plan and we wasted no time heading south on the 197 then west on the 216.
It seemed like we might be able to salvage one of the waterfalls that seemed to have jeopardized due to the lost day of touring yesterday. But when we started to see cars coming our way with snow still on their roofs, I began to wonder whether we might have to turn back.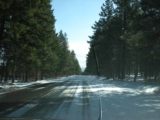 The skies were still blue where we were at, but then the road started to show more snow on its banks. Eventually, snow drifted across the road and it got to the point where I felt we couldn't proceed any further considering we didn't carry snow chains and we were heading into regions where dark clouds were still hovering ominously overhead.
So it turned out that this became an hour-long detour and we eventually returned to Hood River by 11:50am to have pizza for lunch as well as to buy a Northwest Adventure Pass so we could legally park in the Forest Service car parks while we would be out hiking.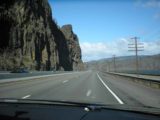 We continued west along the I-84 and it appeared that the weather turned from sunny to partly cloudy to on-and-off rain. It was amazing how quickly the weather changed from one side of the Cascades to the other (not even 30 miles), but we saw something similar to this in Hawaii.
There's just something about volcanoes that attracts rain and leaves its other side dry except in this case, we're talking about Mt Hood and not something like Haleakala or the twin volcanoes on the Big Island.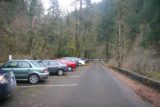 As we passed the Cascade Locks, I was having trouble trying to find the exit we were supposed to take for the Eagle Creek Recreation Area. In fact, we ended up going all the way to a Multnomah Falls exit in between the I-84. Then, we turned back and finally found our desired exit.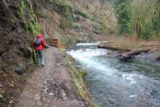 By 1:25pm, we entered the very busy Eagle Creek Recreation Area. Since it was getting late in the afternoon to start a hike, we were wondering if we might find parking in a reasonable spot instead of extending the hike by another half-mile or so.
Fortunately for us, there was one spot near a portapotty available.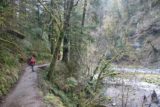 From there, we started the hike under overcast skies.
We could tell there had been rainfall given how muddy the trail was. But that didn't deter the many hikers that were still on the trail going in both directions. Apparently, this trail was quite popular as the guidebooks and internet websites had said. It seemed like everyone and their pet dogs were on this trail…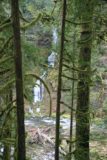 The Eagle Creek Trail basically hugged the steep cliffs on the gorge. Draped along both sides of the gorge itself were lacy waterfalls and weeping walls. Sometimes we had to walk under some of these weeping walls while not getting too close to some sheer dropoffs.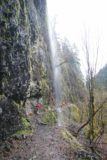 At the same time, some of the waterfalls making their presence known on the other side of the gorge could've easily been given names and some love in Southern California. But out here, they're a dime a dozen and passed by routinely by most of the visitors (including us).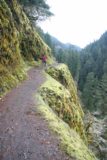 We could tell that the waterfalls of any significance would be on the main stream at the bottom of the gorge itself. These side tributaries were attractive, but they didn't get the attention and nomenclature more typical of "famous" waterfalls. So that meant that the anticipated waterfalls of Metlako Falls and Punch Bowl Falls must be pretty big.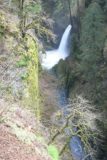 Nearly 1.5 miles out into the hike, there was a spur trail that deviated from the main Eagle Creek Trail and headed out to a fenced off overlook right at the edge of a vertical cliffed narrow gorge area.
Looking further upstream from here, we could see the impressive Metlako Falls thundering from a distance. I could also see hints of another waterfall just to the left but the cliffs and foliage growing from it blocked any photographability of that one. Still, the falls was impressive.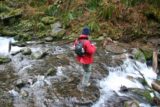 We continued further on the main trail where we crossed one unbridged creek with submerged stepping stones. Good thing our Goretex boots were on because that one easily could've allowed water to come in to the top of the boots.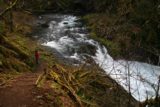 Not long thereafter was a spur leading to the Lower Punch Bowl Trail. The trail descended to the top of what we had originally thought was the Punch Bowl Falls. Fortunately, this was merely the Lower Punch Bowl Falls as this unimpressive 5- or 10-footer made its descent in a semi-horseshoe shape.
I knew this waterfall didn't have the shape I had seen in Webshots or calendars about the Punch Bowl Falls with that classic punchbowl appearence as seen from the creek level.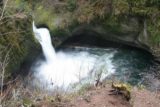 So we continued on further along the main trail and it wasn't but a few more minutes when we could hear the thundering water and railings up ahead. I knew we had finally reached the real Punch Bowl Falls at this point.
This viewpoint was from the top down. The falls itself was probably no more than 30ft, but from up here, it wasn't all that impressive. So I looked around this precarious overlook for how photographers managed to get their postcard shot of this waterfall.
We could see the forest service made great pains to discourage people from finding a way down to the creek level. When I found what looked to be a rather steep gully switchbacking its way down to creek level, I knew I might be pushing my luck in pursuing that million dollar shot on this one. Besides, the water in the creek was high and I was sure I'd have to get wet in the creek to get that frontal view of Punch Bowl Falls. Plus, it started raining again.
So I decided to not go for the money shot (thereby relieving Julie) and conclude that that money shot could be argued to be another "fraudshot" like that photographic trickery with the canoe between two waterfalls at White River Falls.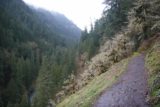 Of course, that doesn't stop the park services here from touting those images and attracting visitors even though they're no longer "legal" or "safe" to attain. So in that sense, I thought it could be a fraudshot.
Moreover, I thought this excursion was more about the trail than the waterfall attractions themselves.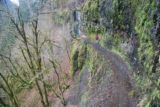 Now if the trail was less muddy and threatened of less rain with more time at our disposal, then I might have considered extending this hike into a 12-mile out-and-back hike to Tunnel Falls. But it wasn't meant to be on this trip.
Anyways, it was about 3:40pm when we got back to the car.
But given that the weather was pretty acceptable this afternoon, we should take nothing for granted and go for more waterfalls that we missed yesterday in the Gorge.
So the next waterfall we went for was Elowah Falls.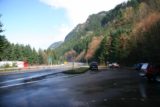 It took a little trouble trying to find the correct exit for the state park in which this waterfall resided in because it occurred to us at this point that the Columbia River Gorge was more conveniently visited going eastbound instead of westbound. But finally after doing more backtracking and making frequent offramp onramp trips on the I-84, we finally found the car park we wanted.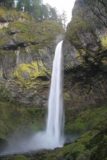 And from there, we took the uphill trail which is well within earshot of the noisy I-84. But after working up a sweat cresting the uppermost point of this short trail, we descended down the switchbacks and headed towards the impressive 289ft waterfall.
It wasn't easy trying to photograph this waterfall due to the mist generated by this falls, but it was certainly pretty.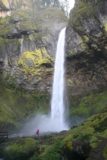 There was a bridge that crossed in front of the falls, but it was very windy and misty there. We both crossed that bridge and got more shots from the other side, but when all was said and done, we were soaking wet as we headed back to the car.
By 5pm, we got back and less than five minutes later, we ended up at the car park for Wahclella Falls.
It was already getting late in the afternoon and Julie was already getting waterfall fatigue today, but we knew that we had to continue squeezing every bit of daylight out of today given the sudden sunbreaks.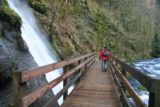 So we proceeded to walk along the paved path before it reached some kind of hydro scheme. From there, the trail turned muddy as it continued to meander alongside Tanner Creek.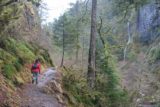 Much of the trail beyond the pavement was actually reminiscent of the Eagle Creek Trail as this trail climbed and hugged the gorge cliffs with plenty of exposure to dropoffs. Meanwhile, the trail also ran through some weeping cliffs and alongside some smaller tributary waterfalls with others across the gorge.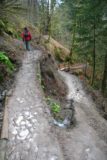 Nearly a mile into the hike, we reached a fork where the trail started its loop. We opted to take the left path which went uphill and hugged the cliffs.
And minutes later, we were before the misty two-tiered waterfall.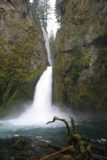 This one was quite thunderous but it had a character very different from the plunging types we had seen in other parts of the Columbia River Gorge earlier. We took our time trying to take photos of this waterfall (in which none of the photos did this waterfall any justice).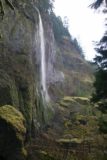 As we managed to pry ourselves away from this waterfall, we crossed the bridge and proceeded onto the lower part of the loop. There, we noticed a guy enamored with a wispy waterfall descending into a mossy wall at its base. We swore he easily spent at least a half-hour or so at this waterfall. He must've seen something in the mossy base of the falls that caught his eye.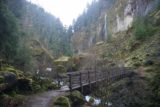 After 6pm, we were back at the car. There was still some daylight left and even though Julie was already mentally ready to settle back at the Cascade Locks, I wanted to capitalize on the clearing weather to return to Multnomah Falls and get more shots of the falls that we weren't able to get yesterday.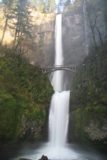 By 6:25pm, we were at the still busy Multnomah Falls. The falls was still generating lots of mist and it was still cold at the viewing area.
After spending several minutes trying to get my photos at the familiar viewing area, I noticed that my camera stopped being response with the autofocus and the info screen was putting up "00" for its aperture setting.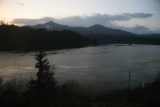 Worried that once again my camera has fallen victim to the elements (in this case an apparent stuck aperture), we called it a day. Now I had the rest of this trip to worry about how to capture the rest of the waterfalls tomorrow and the rest of the week without the SLR camera working. I wondered how much longer do I have to put up with the fragility of the Canon lens and the camera itself?
Fortunately after we had a quick truckers style dinner in town (there's not a whole lot of choices here especially since the recommended one down the street just closed for the day), I read the Canon manual and realized that the "00" meant the lens wasn't attached. Obviously the lens was physically attached, but the camera was telling me it wasn't. So that gave me the idea to detach the zoom lens and reattach it.
Turned out it worked!
I guess this trip is still not a disaster… yet!
Visitor Comments:
Got something you'd like to share or say to keep the conversation going? Feel free to leave a comment below...
No users have replied to the content on this page