Day 4: COLUMBIA RIVER GORGE REDUX
The weather forecast had called for good weather today. But when we awoke, it became immediately clear that "good" just meant it's not likely to rain. One look outside the window and we knew it was overcast. So basically, the sun we saw yesterday afternoon was pretty much the last time we'd see it while in the Gorge.
It was a little after 8am when we finally left the Cascade Locks. It was a bit later than I would've liked, but in any case, we were now on to do what we weren't able to do two days ago – to fully experience the Columbia River Gorge!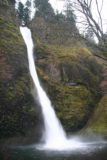 At 8:20am, we called upon yesterday's experience (since it's nontrivial to know which exit to take when heading west on the I-84) to correctly exit on Exit 35 for the Historic Columbia River Gorge Highway and arrive at the car park for Horsetail Falls.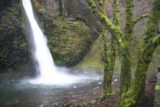 Now with the weather cooperating, we could take better photos of this waterfall before starting on the hike to get to Ponytail Falls (also known as the Upper Horsetail Falls).
There was a sign at the trailhead that said the Triple Falls Bridge was out about 1 3/4 mile from the trailhead. That got me worried because I knew this hike was around 4 miles round-trip, and so that implied that we wouldn't be able to see Triple Falls.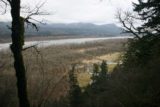 Something didn't seem right because trail maps indicated the trail doesn't cross the creek until after Triple Falls. But given the way things were going on this trip, I really wasn't sure we'd be wasting our time or not.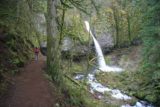 In any case, we headed up the switchbacks which climbed sharply up the gorge cliffs and ultimately led us to the impressive Ponytail Falls barely 20 minutes later.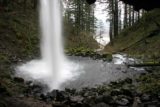 This waterfall seemed like a "Mini Me" version of Horsetail Falls since they both essentially had the same shape. However, this one had the trail go behind the waterfall. I think this was the first one we've seen on this trip so far that let you do this!
Beyond the falls, we continued onwards. But during this stretch, which the trail maps indicated was an additional 1.3 miles, I began to wonder if the bridge was out on the trail connecting to the Oneonta Trail, which was the one that ultimately led to Triple Falls.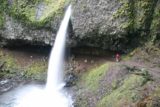 So well into the connecting trail, our doubts overcame us and we decided to turn back.
By 9:45am, we were back at the car.
Still, I had to see Triple Falls, but when we got to the Oneonta Trail Trailhead just minutes later, we were worried as we saw lots of broken glass strewn about the empty car park.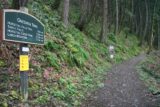 "I don't know about this," said Julie, worried about our car getting broken into.
Considering that we're looking at a 4-mile round trip hike out-and-back to Triple Falls from here, we decided that I solo this hike while Julie gets caught up on sleep inside the car.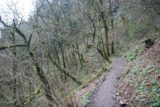 Reassuring me that I should be able to see Triple Falls was that there was a handwritten message on the familiar bridge-out sign saying that the trail still goes to Triple Falls. So I told Julie that I'd be back before 11:30am.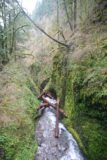 Once again, the trail climbed steeply up some switchbacks before entering the Oneonta Gorge. All the while, I was keeping an eye out for the Lower Oneonta Falls, which I knew required a scramble in the bitterly cold creek and a traverse over a potentially hazardous logjam.
But there was too much foliage blocking any chance at a view of that Lower Oneonta Falls. Besides, I'm sure someone would've taken a photograph of it if it was possible.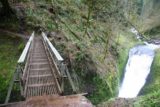 At around a mile out from the trailhead, there was a spur trail leading down to a footbridge as well as a waterfall in front of it. It turned out that that was the footbridge we would've taken had we kept going earlier this morning. I guess we made a mistake and wasted some time and energy backtracking.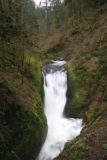 That waterfall was apparently the Oneonta Falls (though I had read later that this is merely the Middle Oneonta Falls). It wasn't tall (I'm guessing not much taller than 20-30ft). So I guess I can understand why people try hard to see Lower Oneonta Falls.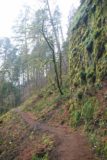 Onwards I continued as the trail continued to climb. The weather continued to be mostly drizzly and overcast with a few moments where the sun tried to break through the thin layer of clouds.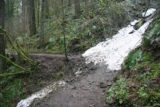 There was even a snowy patch on the climbing trail, which fortunately wasn't too much of an obstacle.
Eventually, there was a short spur that briefly descended towards a precarious overlook of the prized Triple Falls. I had to be careful getting to the edge of the dropoff getting a clean look at the falls because the ground was still wet and damp and potentially slippery.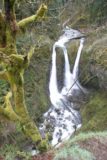 After spending several minutes photographing the falls every which way that I could, it was almost 11am and I had to head back immediately in haste so I don't worry Julie too much.
Fortunately by around 11:25am, I was back at the car managing to startle Julie out of her nap in the process.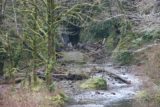 After checking out the Oneonta Gorge mouth for a few minutes (for future reference on a future trip), we headed to Multnomah Falls. And about 10 minutes later, we were there. And not surprisingly, it was quite busy, especially for a Monday.
We spent even more time getting whatever photographs we could get here as well as walking to the famous concrete bridge above the lower waterfall.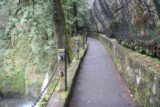 We also had ourselves another lunch here considering our dining experience in Cascade Locks was not up to par. Though the second time around didn't seem quite as good as the first. Maybe it was the crappy weather that made the food and hot drinks taste that much better the first time around…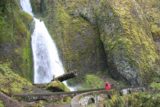 At 1:10pm, we were back on the road. And five minutes later, we were at the parking lot for Wahkeena Falls. This time, with the weather cooperating, we decided to walk the 0.4-mile round trip paved path to the bridge right at the base of the falls.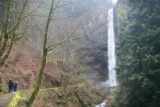 A little after 1:30pm, we continued heading west and at around 1:45pm, we were at the familiar car park for Latourell Falls. This time, this car park was much busier than on Saturday when it rained cats and dogs.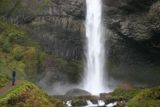 We spent some time taking photos of the falls from the bridge. This time we only had to worry about the wayward mist from the crashing water of the 249ft waterfall instead of rain showers (thereby increasing the risk of ruining the camera).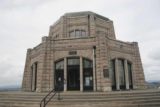 At 2pm, we were back at the car and another ten minutes later, we took the historic road up to the Vista House. There, we got incredible views of the Columbia River from the Portland side to directly across to the snowy mountains on the Washington side to the Columbia River Gorge itself to the east.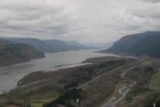 And by 2:30pm, we were back in the car and headed south to Silverton, which was our next place to spend the night.
Just before 4pm, we made it to Silverton's Oregon Garden Resort. Julie managed to secure a real good deal that included one night's dinner. And upon checking in and getting settled, it appeared that this place was a steal.
The weather seemed to be significantly warmer here in Silverton. Even the sun came out! So with the good weather and the ominous forecast for Monday's weather, I wanted us to go right into Silver Falls State Park (merely 14 miles away) and experience at least South Falls and North Falls. So we were off just a few minutes after checking in but not before Julie informed me that we had dinner reservations for 7pm today, which didn't leave us very much time to explore the falls.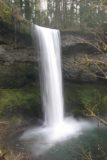 At around 4:40pm, we were at the car park for South Falls. There was a moment in the complex that a bunch of deer in dark hides standing roadside startled me. I was having flashbacks of hitting a deer in Utah.
Anyways, we wasted no time walking past the lodging complex and out to the overlooks and trails around the 177ft South Falls.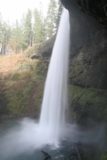 But as much as we liked the sun, it was wreaking havoc on the lighting for photographing the falls from the familiar angle we had seen on postcards and calendars.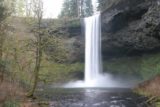 So we took this opportunity to walk behind the waterfall and then to the bridge below the falls. All the while, we were taking whatever photos we could as we capitalized on the aggreeable weather.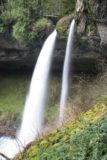 By 5:25pm, we were back at the car. And about 10 minutes later, we made it to the North Falls trailhead. We wasted no time going on the trail and getting right down to the view of this 139ft falls while walking behind this one. Seemed like the Silver Falls State Park waterfalls M.O. were was that you could go behind many of them.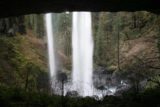 In North Falls' case, the amphitheater behind the falls was very deep. There was even trees seemingly growing within the overhanging alcoves. We even saw footprints leading steeply down to the misty base of the falls. Looked rather dangerous and we didn't bother doing this.
At 6pm, we were back at the car. I wanted to go see the Upper North Falls, which was barely 0.3 miles away. But Julie didn't want us to push it with our dinner reservations. So we'll have to come back here tomorrow.
And by 6:30pm, we were back in Silverton. Finally, we could call it a day and relieve ourselves momentarily of the waterfall fatigue we were becoming afflicted with. The complementary dinner we had later on today was very good. And Julie was telling me that she'd give this place 5 stars on TripAdvisor for the price we were paying.
Visitor Comments:
Got something you'd like to share or say to keep the conversation going? Feel free to leave a comment below...
No users have replied to the content on this page