Day 5: SERIOUS WATERFALL FATIGUE
I knew today was going to be the start of several days of rainy weather. And when we awoke at 7am, we actually heard the rain. But as the day got brighter and we were having breakfast, it looked like we were getting a bit of a break from the rain. Maybe the rainy forecast was a bit overblown?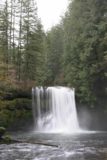 We didn't leave the resort until 8:50am. First up was the Upper North Falls, which we opted to skip yesterday. And this quick walk yielded a pretty attractive square-looking waterfall that was short but classic.
Twenty minutes later, we were back at the car.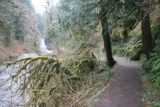 But before we headed further into the park to the South Falls car park, I came to this realization that we might have to make another act of improvisation for later on in our trip.
That's because we were supposed to stay in Oakridge in Central Oregon which would make it convenient for us to see waterfalls such as Sahalie, Koosah, Proxy, Salt Creek, Diamond Creek, and Toketee. But given the return of the bad weather, I figured we'd face similar problems with snow like we did for our ill-fated Curly Creek Falls excursion. So at that moment, we decided to cancel our booking for Oakridge. Of course, that meant we wouldn't have a place to stay until we found something else on that night. But at least, we wouldn't have to worry about carrying chains on a rental car and shoveling snow off of it.
Problem was that we weren't getting any cell phone reception so we actually drove back out of Silver Falls State Park until Julie was getting some reception. And about 5 miles or so out, Julie managed to place the call and accomplish the mission.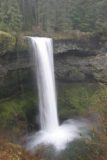 A little after 10am, we returned to the familiar South Falls car park. At this point, the light rain and mist started to turn into something more substantial. At least we took a few more photographs of the falls before the rain really started to come down as we walked further downstream from the bridge towards the Lower South Falls.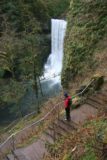 When we got to the falls at about a mile from the main South Falls, we saw a pretty impressive 106ft waterfall that was every bit as impressive as the Rainbow Falls in the Devil's Postpile National Monument. Except this waterfall here actually let you go behind it just like so many of the other waterfalls in this park.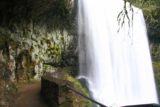 After getting our fill of this waterfall, we debated whether or not to continue along the Trail of Ten Falls and finish off the loop or just go back to the car and drive to the Winter Falls trailhead.
Turned out, we opted for the latter. We got back to the car at 11:40am and the rain really started to come down harder.
Ten minutes later, we were at the Winter Falls Car Park. We came into this hike as merely an excuse to document and photograph the several falls found here. And with the unrelenting rain in full blown downpour mode at this point, we weren't in the mood to linger at any of the falls for too long. Or at least that's what we thought going in…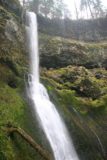 Immediately after the first couple of switchbacks as the trail descended, we got what photographs we could of Winter Falls. It was hard trying to photograph it with the rain and using our ponchos as a shelter instead of an ineffective umbrella like on Saturday. It was cumbersome, but it did work for the most part.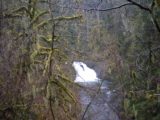 Another 15 or so minutes later, we saw the unimpressive Twin Falls after a quick 0.6-mile round trip detour. I could see how the falls got its name as a rock seemed to split the falls into two.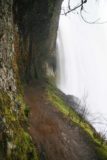 Afterwards, we continued walking downstream. With the rain still coming down hard, we saw a spur trail leading to the Middle North Falls. This waterfall looked rather impressive, but as we got closer to the falls, we could see there was a trail going behind this waterfall and it ultimately led to an alcove that is sheltered from the unrelenting rain.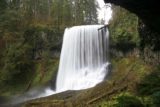 I was relishing this waterfall because I could photograph the falls while taking my time and not worrying about the rain. And from this viewpoint, we could see the falls was quite wide and had a nice squarish shape.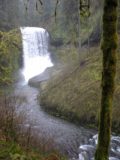 After prying ourselves away from this falls, we continued on the Trail of Ten Falls. By now, we saw at least 3 or 4 other couples here. Looked like we weren't the only ones braving the soggy weather.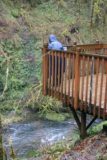 Next up downstream was Drake Falls. This one had a lookout platform overhanging from the cliff with a view of this rather dinky but powerful falls. We didn't linger too long for this one though.
Onwards we went.
Julie was already getting waterfall fatigue at this point.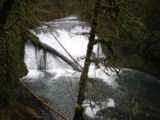 It was a good thing that the last two waterfalls on this trail were Lower North Falls and Double Falls. Both were near each other and we were already there.
We first decided to check out the Lower North Falls. Hoping it was another behind-the-waterfall blockbuster like the others named "North Falls" we were disappointed with this water slide that went perhaps 30ft high or so. With the pouring rain, it wasn't easy to photograph with the fragile SLR so I had to rely on Julie's point-and-shoot, which seemed more robust against the rainy weather.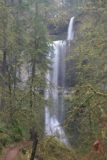 Finally, we checked out Double Falls, which was actually a very attractive waterfall that got its name because there was a small upper waterfall before plunging in a lower main tier. It was a nice finale to our waterfall collecting on this hike, but it was too bad we couldn't linger here any longer as the rain continued to threaten to damage our camera equipment and our soaked clothing beneath our ponchos.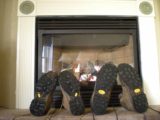 Mercifully at 2:05pm, we were back at the car. And half an hour later, we were back at Silverton to let our wet clothing dry. There, we spent the rest of the afternoon indoors drying out our wet gear and even having Thai Food in downtown Silverton.
All in all, it was a satisfying day, but we were waterfall fatigued.
Tomorrow, we were supposed to see more waterfalls in National Forest land, but with the crummy weather continuing tomorrow and the day after, there's the distinct possibility of not seeing any of these waterfalls due to snow…
Visitor Comments:
Got something you'd like to share or say to keep the conversation going? Feel free to leave a comment below...
No users have replied to the content on this page