Day 6: NOT AN APRIL FOOL'S JOKE
We awoke at 6am in the hopes of leaving Silverton early and getting some more waterfalling in before settling into Eugene, which was our last minute alternative to Oakridge.
The goal was to drive some 60+ miles east of Eugene to see at least Sahalie, Koosah, and Proxy Falls. And if we were really lucky, we'd drive another 60+ miles to the southeast of Eugene to Salt Creek Falls near our original plan of accommodation at Oakridge.
But with all the thoughts of bad weather, which did deliver this morning, both Julie and I got into improvising mode when we realized that this trip was too waterfall heavy and we ought to spend more time along the Oregon coast.
So we spent some time changing our 2-night Bandon plan and tried to change the 2nd night at Bandon to Cannon Beach instead. We mind as well vary up the scenery a bit and enjoy the coastal scenery with all the sea arches and sand dunes and wildlife.
We ended up being successful cancelling the 2nd night at Bandon. I'm sure the innkeeper there was tired of making changes, but they were all well over 24 hours in advance so we shouldn't be incurring cancellation charges.
Anyways, we left at 8:30am and headed south to Eugene. During the drive, Julie managed to secure an accommodation at Cannon Beach without any two-night minimums and at a special rate.
So this bit of improvising worked out.
But now, we were in Eugene and heading further east in pursuit of Proxy Falls.
But at just before 11am, we were on the 242 and reached a snow gate. It was just short of the trailhead for Proxy Falls. So it turned out this waterfall wasn't accessible year round after all (as I thought I had read in the literature).
Anyways, with all the snow gathering around the banks of the road and new snowflakes falling at this point, we weren't all that comfortable being here anyways without snow chains.
We headed back down to the 126 and then headed north towards Koosah and Sahalie Falls. But as the road climbed, we could see the rain was turning into snow. We even passed by a couple of snow plows on the way up.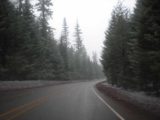 Before we got deep into the white stuff, we decided to turn around and call it a defeat. So we wouldn't see neither Koosah nor Sahalie Falls as I had feared. I guess sometimes you can't fight Mother Nature, and this trip exemplified what happens if the trip is poorly planned and done at the last minute…
By 12:40pm, we were back at Eugene. We had the whole day to chill out and do nothing. I'm sure in hindsight, we actually could've gone all the way to Bandon and stay there. But hindsight's 20/20 and we'll just have to spend the better part of tomorrow morning doing the drive to Bandon.
Who knows?
As waterfall fatigued as we were, we might be able to visit Silver and Golden Falls, which wasn't far from Coos Bay…
None of this was planned, but from here on out, we were going to act out on our improvisation plans…
Visitor Comments:
Got something you'd like to share or say to keep the conversation going? Feel free to leave a comment below...
No users have replied to the content on this page