Day 7: "THIS WEATHER SUCKS!"
The weather forecast from yesteday had called for more significant rainfall today. So both of us were a bit surprised to see that we were in the middle of some break in the clouds this early in the day. But with the wet pavements, we knew that another wave passed through while we were sleeping.
So we had ourselves a quick breakfast before leaving Eugene and heading further west towards the Oregon coast.
There was relief that we shouldn't have to be putting up with snow for the remainder of this trip. We also looked forward to varying up the scenery a bit as this entire week had been dominated by waterfalls.
Of course even as I say this, we were going to check out Silver and Golden Falls near Coos Bay today.
Throughout the drive heading west, we headed beneath dark clouds and got through nearly unending rain. But surprisingly as we finally glimpsed the coast, the weather seemed to have let up a bit.
When we arrived in the town of Florence, and Julie noticed some signs for the Sea Lion Caves north of town. Sure it was 11 miles in the opposite direction we were supposed to be going, but it was going to be something different.
By 8:45am, we arrived at the car park for the Sea Lion Caves. The place wasn't open yet, but we only had to wait for a few more minutes before we could be admitted and head towards the so-called "cave" itself.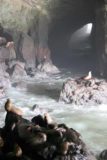 When we were finally admitted, we walked along a well-paved path leading to an elevator that dropped some 208ft into a seemingly underground area.
It was a bit eerie as we left the elevator as we heard sounds echoing throughout this cave area. A few steps beyond the elevator corridor and into the main chamber, we noticed there were some displays as if it was more or less like a museum devoted to sea lions.
To our left in the main chamber was a chain-linked fence offering up a view of the sea lions themselves in their den. It was kinda cool to see them so close though taking photographs here was a challenge as it was dark.
The scenery where the sea lions lived was also interesting as there was a wide opening that seemed to admit white water from the churning seas. Just beyond the den looked like a natural tunnel leading to daylight in a different spot. So all told, this area was technically a sea arch as opposed to a sea cave.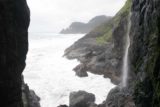 To the right of the main chamber were some stairs leading to another opening in the cave. This time, it presented a dazzling view of a lighthouse in the distance fronted by the cave opening as well as the profile of a wispy waterfall framing the scene.
By 9:35am, we had our fill of this steeply priced attraction and continued driving south.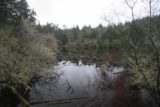 As we headed further south of Florence, we wondered whether we should check out some of the sand dunes here. After all, there were very tall dunes teasing travelers along the US101. Of course, we were looking for a place with a decent overlook of these dunes.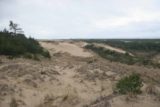 We eventually stopped at a trailhead near the Carter Lake Campground. The trail led to some overlook of the so-called Taylor Dunes. However, these dunes were underwhelming from a photographic standpoint.
We got back to the car some twenty minutes later and continued heading further south. We went to the so-called Oregon Dunes Overlook, but by this time, the rain really started coming down.
We opted to leave and come back tomorrow morning when the weather is supposed to be improved. Today's weather was supposed to be rain all day long.
At around 12pm, we arrived in the town of Coos Bay. Julie was hungry and there was a McDonald's that was conveniently located. So we ended up driving through there and eating in the car. It had been several years since we had eaten Mickie D's, and our bodies weren't used to the bombardment of crap (i.e. fat, lard, salt, transfats, etc.) after I had myself a Big Mac and fries while Julie had her cheeseburger and fries.
We didn't feel all that well after the meal (probably heartburn), but nonetheless, we at least had some energy to continue driving. Now we were supposed to get to Bandon later on today, but Coos Bay was where there was a 24-mile detour leading to Silver and Golden Falls State Park.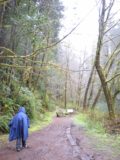 By 12:40pm, we went through the curvy, narrow road and arrived at the car park. We expected this to be the last pair of waterfalls on this trip. But both of us still had some waterfall fatigue from the earlier parts of this trip so it almost felt like an obligation to bag these falls.
Not surprisingly, it was raining pretty hard.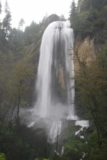 So with our ponchos ready, we headed off to explore the pair of waterfalls here.
First up was the Silver Falls. The trail to its base was merely 15 minutes round trip. But the rain made the trail really muddy and slippery.
Getting a clean view and photograph of the falls was nontrivial. That was because of the combination of mist thrown in our direction from the falls itself as well as the unrelenting rain. Still, we managed.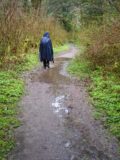 We were also greeted by a trio of adolescents who were coming back from the falls. They smiled and giggled as they told us not to go climbing around the falls. That's because they apparently did and one of the girls had dirt all over her drenched clothes as it looked like she took a spill.
After getting our fill of this falls, we headed back to the car park then continued onto another short 20-minute round trip trail to the Golden Falls.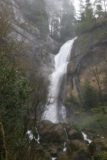 This trail was even muddier and sloshier than the first. Plus, the rain was still coming down hard. Ultimately, that made photographing the Golden Falls a bit difficult as well when we finally got to the end of the trail.
"This weather sucks!" said Julie as the nonstop rains which seemed to be the story of the weather on our trip was taking its toll on our psyche.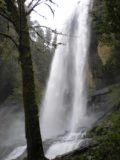 Finally, we took the so-called Upper Trail, which was the longest trail here. This was supposed to be 60 minutes round trip, and Julie wasn't exactly in the mood to do it. The trail started off by heading towards the side of Silver Falls.
It was a different perspective on the falls and under more normal circumstances, we probably would've spent a bit more time here. But the rain kind of made that option undesirable.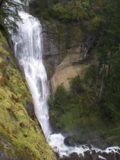 The trail then switched back and curled around the cliff towards the top of Golden Falls. It was a bit difficult to get a satisfactory photograph of the falls because of the precarious nature of the cliffs (especially given how slippery the wet rocks were). And the butterflies induced by the sheer dropoffs made it even more undesirable to get further out to the edge.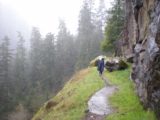 By 2:25pm, we were back at the car. With our ponchos and clothes a bit wet from the rain, we really looked forward getting settled at Bandon.
And by 3:40pm, we checked into our accommodation at Bandon Beach.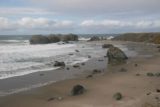 Bandon seemed to be a quiet, laid-back ocean front town. It definitely contrasted the cities and quiet mountain villages we had experienced earlier on in this trip. But the beauty of Bandon's rock stacks rising out of the sands and tides really made this place scenic. In fact, our moods changed for the better and we were looking forward to seeing the sunset supposing the weather cooperates.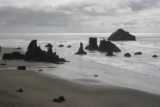 We had a pretty decent dinner with a nice view at Lord Bennet's. And after 6pm, we were back in our accommodation trying to wait out the sunset.
Unfortunately, the storm clouds weren't cooperative and there was not to be a sunset on this day. To make matters worse, the squalls were unrelenting and the bitterly cold winds were blowing hard.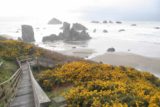 Seemed like once again a picturesque sunset here just wasn't meant to be. Oh well, hopefully things'll be better tomorrow and that elusive Oregonian sunset might be experienced at Cannon Beach…
Visitor Comments:
Got something you'd like to share or say to keep the conversation going? Feel free to leave a comment below...
No users have replied to the content on this page