Day 8: THE OREGON COAST
We were hoping that the weather might start to calm down today. The forecast seemed to provide some hope of this happening, but when we first got up in the dark and tried to make our early departure northwards, the weather was still chilly, rainy, and windy.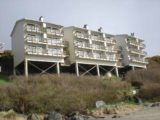 We left the Sunset accommodation at 5:45am.
I didn't get a whole lot of sleep last night so I wasn't exactly in the best of shape driving this morning. But the fear of elk running out in front of the car was always on my mind so I stayed vigilant.
Through the mixture of squalls with heavy downpours and breaks in the rain, daylight slowly revealed itself, and we arrived at the Oregon Dunes Day Use area a little before 7:30am. There was just enough daylight to get satisfactory views of this place, which we opted to skip yesterday due to a nasty downpour.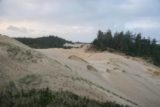 This break couldn't have come at a better time because both Julie and I were getting sleepy.
Sure the views here were interesting, but we saw an approaching squall and didn't linger very long before we left some ten minutes later.
So we continued driving northwards on the US101.
Much of the drive was spent listening to NPR Radio while still navigating through more mixtures of heavy downpours, drizzle, and even a few sun breaks here and there. But the skies were still predominantly cloudy with dark patches of squalls.
It wasn't exactly the kind of improving weather we were looking forward to.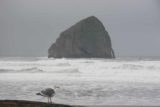 In any case, we arrived at Cape Kiwanda a little after 10am. There, we arrived at a beach that was heavily overcast with threatening downpours. But we the primary reason of our improvisation to the Oregon Coast was to do some arch hunting to kind of mix up things a bit after being severely waterfall saturated and in need of some variety.
And Cape Kiwanda didn't disappoint as we saw an offshore rock stack rising up out of the churning ocean with a jug handle arch.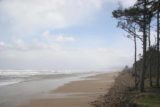 Continuing further north at what is now the Three Capes Loop, we next arrived at a place called Cape Lookout just before 11am. There, we got out of the car and braved the frosty and blustering winds to get onto the beach to check out the scenery here.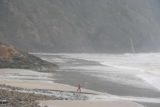 Perhaps the most interesting part of this beach was that there was a trio of temporary beach-bound waterfalls in the distance. This was something reminiscent of Hawaiian scenery, but here, Oregon was so waterlogged with late Winter storms that we happened to be caught in that it seemed like waterfalls like these were a dime a dozen.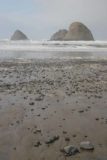 About a half-hour later, we entered the residential community of Oceanside where there was a beach strolled on. At first, we tried to get better views of the Three Arch Rocks just offshore of this beach. Unfortunately, we couldn't really get a clean look at the spans of the sea arches in each of these rocks.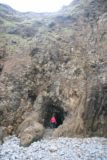 We did however walked through a pedestrian tunnel that led onto some secluded cove with more rocks and cliffs surrounding it. Still no arches visible here though.
At 12:25pm, we got back into the car and continued northwards on the Three Capes Loop.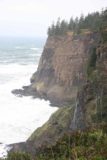 About 10 minutes later, we arrived at the busy Cape Meares Lighthouse car park.
The skies still remained overcast, but the clouds were brighter than earlier this morning. It seemed like the weather is indeed improving albeit painfully slow for our taste. After all, this was the eight straight day of absent blue skies on this trip. We felt we were due!
Anyways, while browsing around the area, we saw yet another wispy ocean-bound waterfall in one of the overlooks.
But we also saw the Three Arch Rocks again. Only this time, the overlooks here revealed the spans of 2 of the three rocks. Finally, more arches collected on this part of the trip.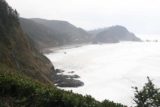 We also briefly checked out the cozy little lighthouse before heading back to the car.
A little after 1pm, our Three Capes Tour ended and we continued northwards towards our next stop – Cannon Beach. Here was where we'd spend the night.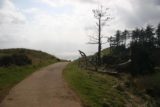 At 2:20pm, we arrived at Cannon Beach. Unfortunately, our room wasn't ready so we couldn't check in just yet. So we headed further into town for some greasy fish 'n chips. And an hour later, we arrived at Ecola State Park.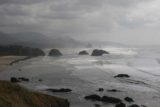 At the park, we caught nice distant vistas of the rock stacks at Cannon Beach.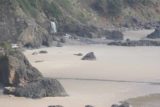 We also saw an attractive waterfall below us at Crescent Beach. But to get there, we had to hike over a mile and after all the driving we did, we didn't really feel like doing it.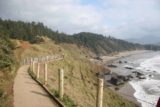 We also hunted around for a view of the arch apparently under the Sea Lion Rock nearby the viewpoint here (we were unsuccessful as I bet you'd have to somehow scramble around in low tide to get the right angle). In the distance was some lighthouse offshore on an isolated rock. Apparently, it was called the Tillamook Lighthouse. I can't imagine how hard and costly it was to erect that structure and how to keep it functional with all the violent waves and weather battering it over time.
By a little after 4:30pm, we finally checked into our Hallmark accommodation. And after dropping off our stuff, we walked down the steps and onto the famous Cannon Beach where we were right in front of the big rock stacks before the backdrop of a setting sun.
We were hoping for a legitimate sunset but there were still lots of clouds moving about on this afternoon.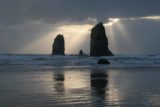 Eventually, we braved the frosty winds as long as we could and got some interesting low-light photos of the stacks with sun beams breaking through clouds behind them. But there wasn't to be any colors of the setting sun on this day.
We had ourselves a later-than-usual dinner (at Newman's) because of our sunset attempt afterwards. And it ended up being delicious though pricey.
Still, upon reflecting back on this day, this changeup in going from soggy temperate forests with waterfalls to rugged coastlines and ocean waves was a welcome change. It was too bad the weather didn't improve for us sooner to really get the best of this part of the trip.
Visitor Comments:
Got something you'd like to share or say to keep the conversation going? Feel free to leave a comment below...
No users have replied to the content on this page